Looking for an easy afternoon snack that is also healthy too? These homemade fruit roll ups fit the bill and they are super simple to make!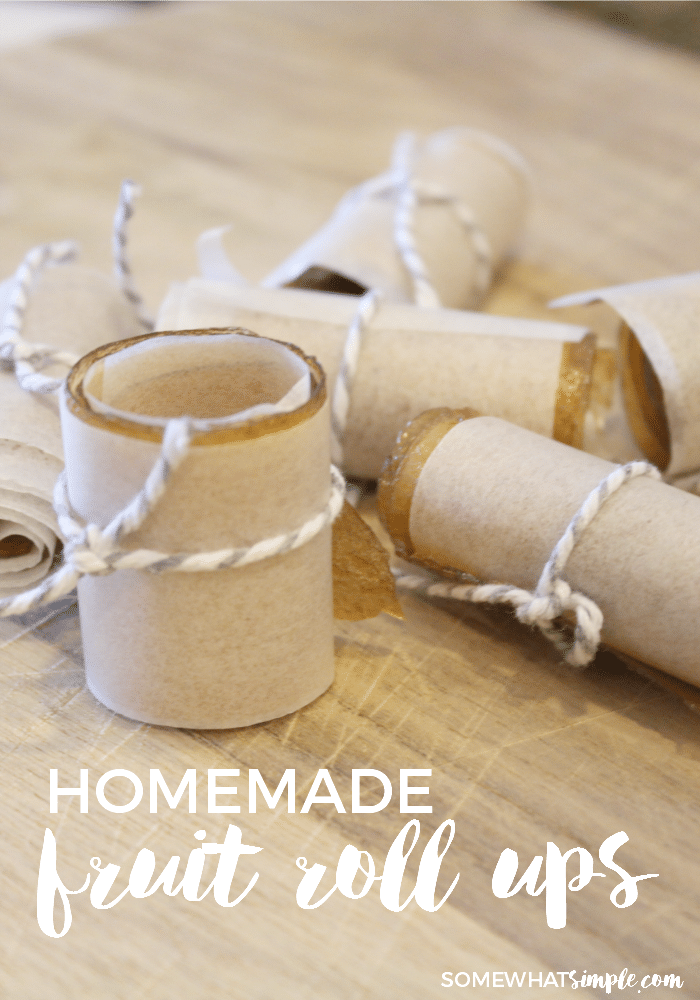 Have you ever tried making homemade fruit roll ups before? I always just assumed buying them at the grocery store was easier, so I never attempted them until last month – now my family is hooked!! Not only are they super simple to make (seriously, 1 ingredient!) but they taste delicious and are totally good for you!
To make our fruit roll ups, I usually use 100% fresh fruit pureed in my food processor then baked at a low temperature for several hours. It is hassle free AND because I'm using fresh fruit, these roll ups have no preservatives or added sugar!
Here is a short video of the process I made for Millennial Moms – check it out!
And here is the recipe:
Homemade Fruit Roll Ups
INGREDIENTS: 
fresh fruit – you will want about 4 cups of fruit once it is pureed
*You could also use applesauce that is ready to go! 
YOU WILL ALSO NEED: 
baking sheet
silicone baking mat (not required, but highly recommended!)
spatula
parchment paper
kitchen shears
bakers twine
food processor or blender
oven
DIRECTIONS:
Preheat your oven to 175 degrees.
Add your fresh fruit to your food processor and puree until it is nice and smooth.
Line your baking sheet with a silicone baking mat.
Pour your fruit puree onto the baking mat and spread into a nice, thin layer with your spatula. You can make these as thick or thin as you'd like, just keep in mind the thicker they are, the longer they take in the oven.
Bake in the oven for 4-8 hours, depending on how thick your layer of fruit is. You aren't baking this fruit, you are actually just dehydrating it.
Once out of the oven, let your fruit cool completely.
Place some parchment paper on top of your fruit leather and flip the pan onto the counter so the baking mat comes off the pan.
Peel the baking mat away from the fruit leather.
Now that you have your parchment paper with the fruit leather on top, cut it into 1 inch strips. Roll each strip and secure it with some bakers twine.
And that's it!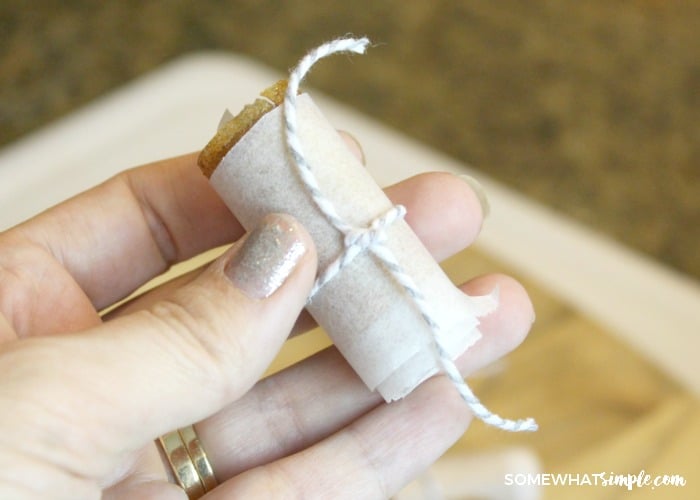 Easy and delicious!
ENJOY!