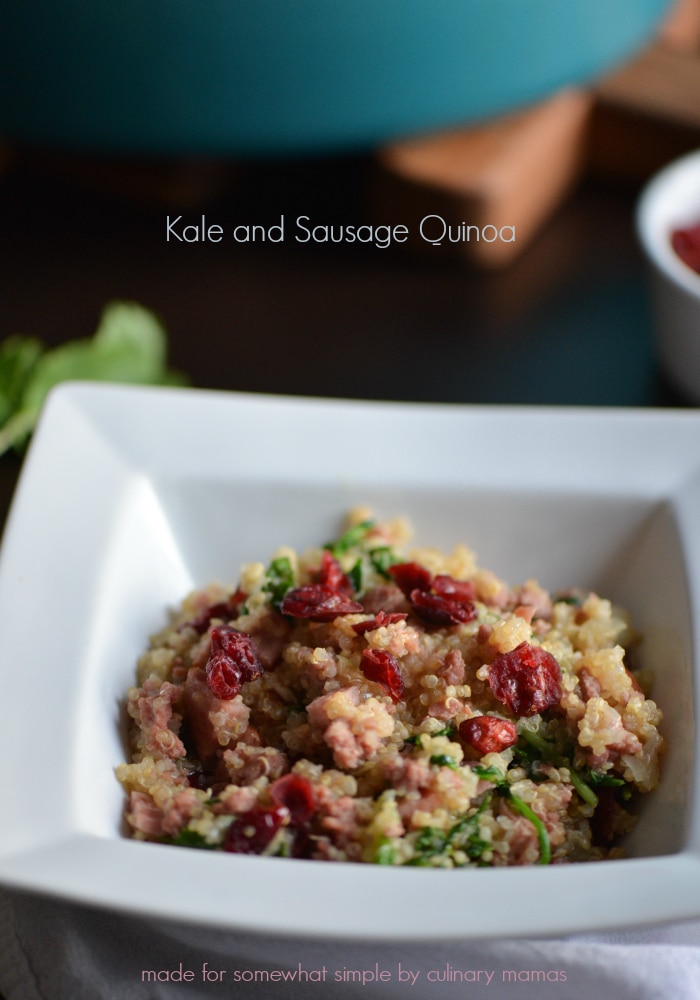 Wait! Don't go! I know some of you are thinking, "Kale and quinoa. No thanks. I don't want to eat it and I know my kids won't want to eat it." But, you have to trust me here. This one pot meal is very good! My college roommate sent me this recipe as her favorite thing she has whipped up in the kitchen in a while and when I read the list of ingredients, I was a bit skeptical too. So, I had to trust Carolyn. I went to the store and bought all the ingredients because she promised that my kids would eat it by the spoonful. She was right. It's hearty, delicious, full of flavor and with handfuls of kale, pretty good for us too.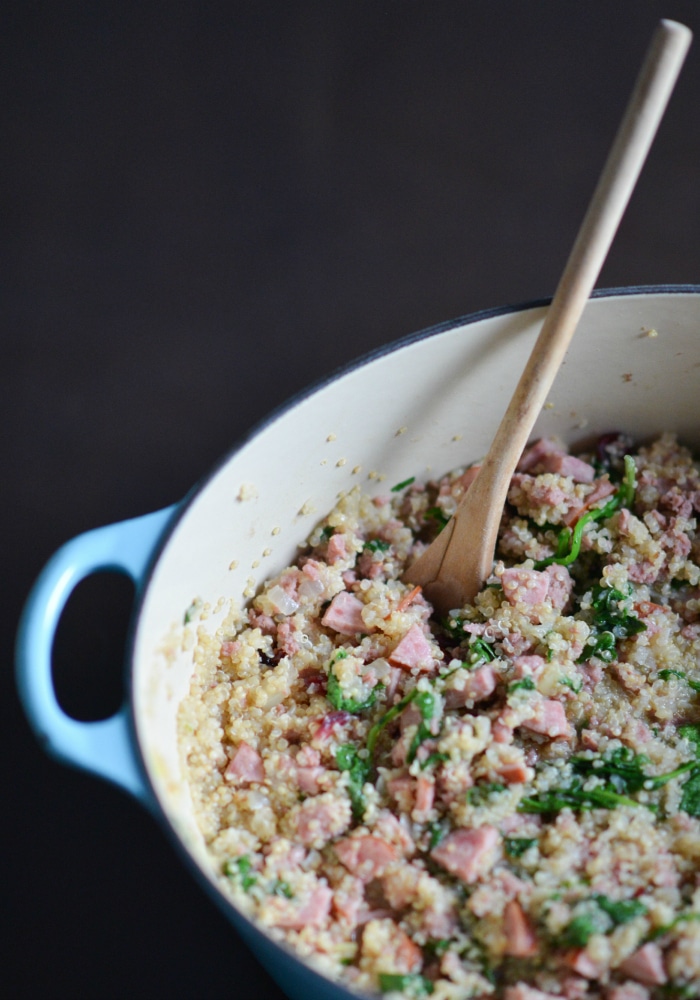 My kids loved this. My three year old asked apprehensively, "What is this?" while picking up a piece of wilted kale, but even he ate his entire serving. If you are not sold yet to the kale camp, this recipe will get you there. It's a one pot meal and it takes just over 30 minutes to create. We ate it on a Sunday and it was hearty enough to qualify for Sunday dinner but still healthy enough that I felt like I was doing my family a favor by feeding it to them. I promise the sausage will win over the husband and the kale and quinoa will make you feel like you are gifting your family precious added time to their lives.
Sausage and Kale Quinoa
serves 6-8
INGREDIENTS:
2 cups quinoa
4 cups chicken stock
1 pound sweet turkey sausage (The sausage needs to be uncooked and not in patties)
3/4 pound smoked kielbasa, cut into 1 inch slices and then cut in half again (To fool our kids that there is more sausage than anything else.)
1 medium onion, diced
3 cloves garlic, peeled and diced
1-1/2 cup Craisins
3-4 cups baby kale
DIRECTIONS:
Rinse the quinoa for 30 seconds or so in a colander and set aside.
In a large pot over medium heat cook the sweet sausage and onion unit the onion is translucent.
Add the cloves of garlic and stir until you can smell the garlic, about one minute.
Add the kielbasa and stir and let it cook together for a minute.
Add the quinoa and chicken stock. Stir a few times and wait for the pot to simmer.
Cover the pot, turn to medium-low and simmer until the liquid is mostly adsorbed, about 30 minutes.
Add the Crasins and kale, stir a few times and let it cook for three more minutes. Serve warm.
This is a fun recipe to play around with. Try fancy kielbasa or some of that yummy chicken sausage from Costco. Add a few more veggies that you think your kids will like. Let us know what you think!