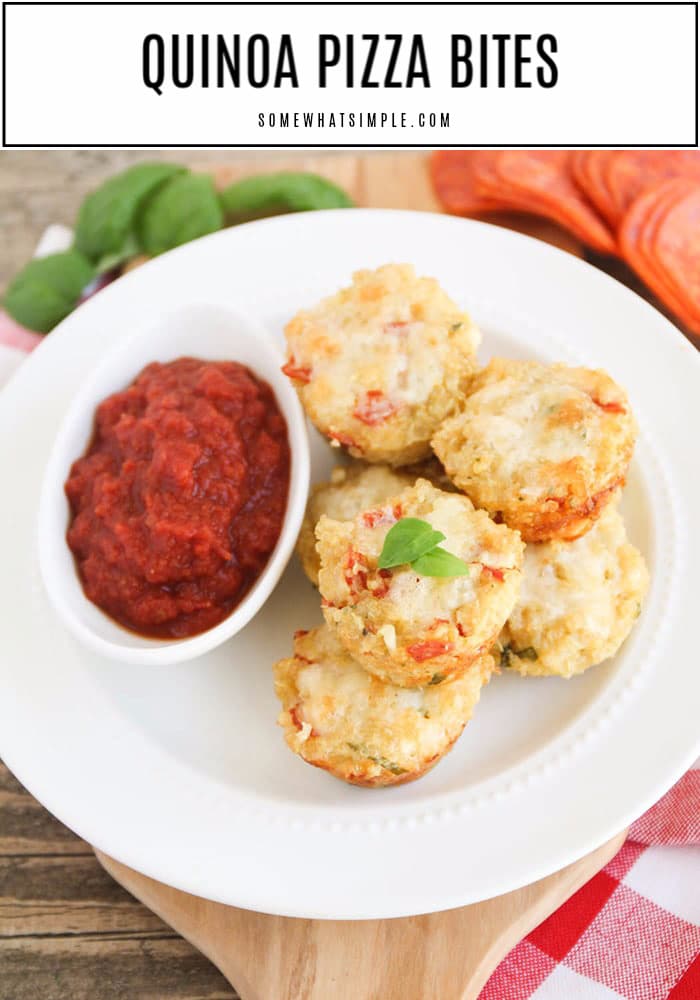 Cheesy, warm and packed with flavor, these quinoa pizza bites are amazing! These pizza bites are a 100% kid-friendly snack or meal that is both healthy and delicious!
Bite-sized pizza recipes are kind of our jam around here! We love Pizza Cupcakes, Pizza Bites, and Grilled Cheese Pizza Dippers. These Quinoa Pizza Bites are a healthier snack or meal option that are sure to please even the pickiest of eaters!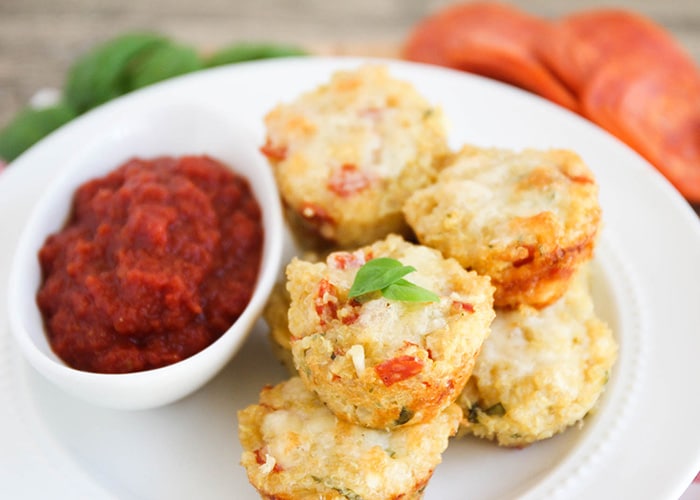 Easy Quinoa Pizza Bites
As recent as just a few years ago, I don't think I even knew what quinoa was. I had seen the word before, but had no idea how to say it! Quinoa, (KEEN-WAH) is a power house little grain that everyone now a days swears by – especially those on a Gluten free diet.
These quinoa pizza bites were one of the first quinoa dishes I made and they were a hit with almost the whole family. (My smallest eater had me pick out the green bits. I maybe should have chopped the basil up smaller.) Paired up with some pizza sauce, this made a kid-friendly meal that also filled the Momma's healthy food quota. (Pizza in bite-sized form is pretty much as kid-friendly as you can get!)
So if you, like me, are intrigued by quinoa but haven't been sure how to introduce it to your family, I recommend these for sure. If you, unlike me, already have cooked with quinoa, add these to your list of quinoa favorites. They will be a hit, especially if tiny green bits aren't your kid's kryptonite.
How To Make Quinoa Pizza Bites
Preheat the oven to 350 degrees F
In a large bowl, mix together all of the ingredients except for the pizza sauce
Spray a muffin tin and then evenly pour the mixture into the tin(s)
If you are using a regular muffin tin, bake for 20-25 minutes. If you are using a mini muffin tin, then bake for 15-20 minutes
Allow them to cool a little and then serve them warm with pizza sauce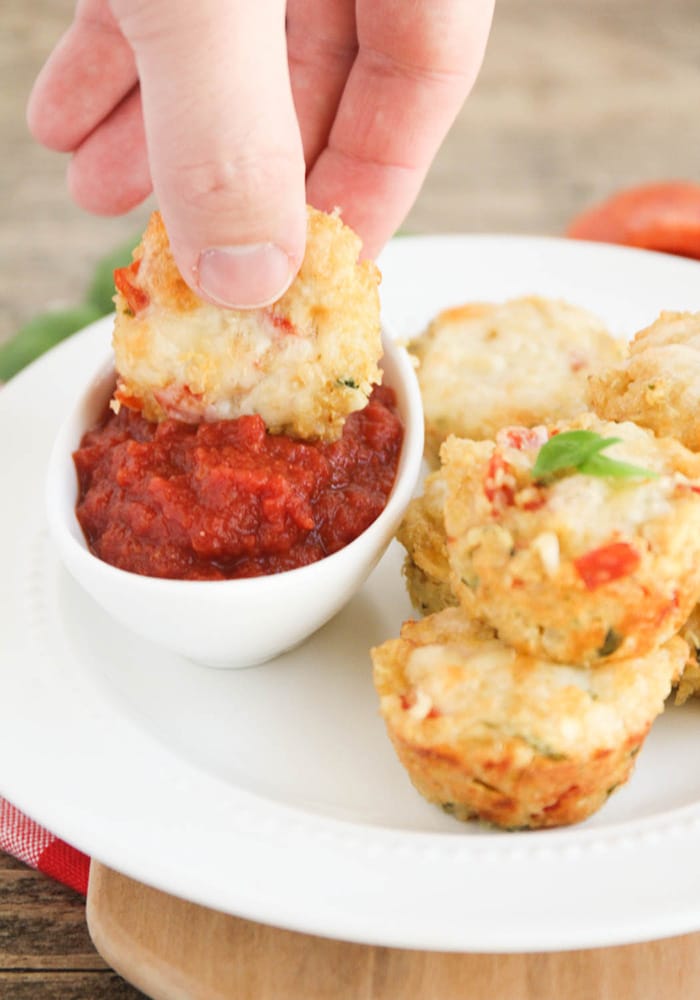 How To Store Quinoa Pizza Bites
These pizza bites can be kept fresh in the refrigerator for about 5 days. If you don't think you'll finish them by then, or if you want to make a batch for later, you can also freeze this yummy recipe. In either case, just be sure to place them in an airtight container before storing them. After you reheat them, I like to put them in a toaster oven for a couple of minutes to make them a little crispy again.
More Healthy Quinoa Recipes
Quinoa Pizza Bites Recipe
Let us know if you make these these quinoa pizza bites by leaving a comment in the section below or by tagging us on social media!
Quinoa Pizza Bites
Cheesy, warm and packed with flavor - Quinoa Pizza Bites are a 100% kid-friendly snack or meal that are both healthy and delicious!
Ingredients
2

cups

cooked quinoa

2

eggs

1

cup

finely chopped onion

1

cup

shredded mozzarella cheese

2

tsp

minced garlic

1/2

cup

fresh basil

,

chopped

1/2 -7 0

z bag of turkey pepperoni

,

chopped

1/2

teaspoon

salt

1

tsp

dried oregano

pizza sauce for dipping
Instructions
Preheat oven to 350 degrees. Spray muffin pan (you can use a regular or mini pan)

Mix together everything but pizza sauce.

Evenly distribute into greased pan. If you use a regular pan, this will fill each cup about to the top (ABOUT 1/4 cup full). If you use a mini pan, it will make about double.

Bake for 20-25 minutes for regular pan and 15-20 for mini. They should be firm.

Let them set and cool slightly.

Serve with pizza sauce.
Nutrition
Other Notes
Feeling healthier already!
ENJOY!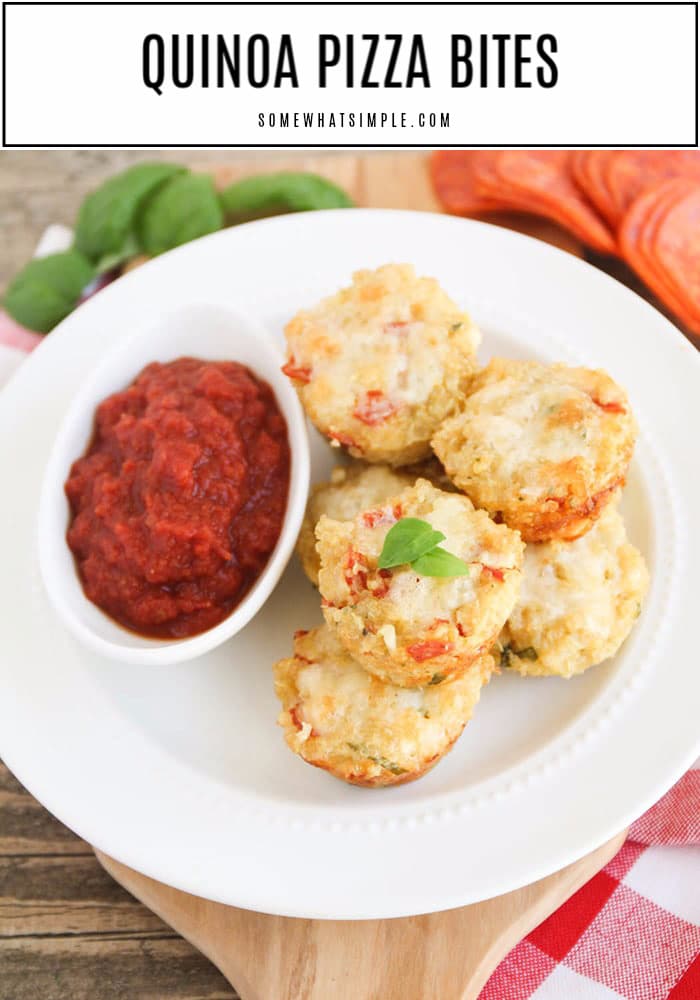 . . . . .
About the Author: Larissa is a mom of 4 boys who likes to cook and create. The former Food Contributor on Somewhat Simple (2011-12), she now shares her creative adventures full-time on her own blog Just Another Day in Paradise.
This post originally published on Somewhat Simple in September 2012.