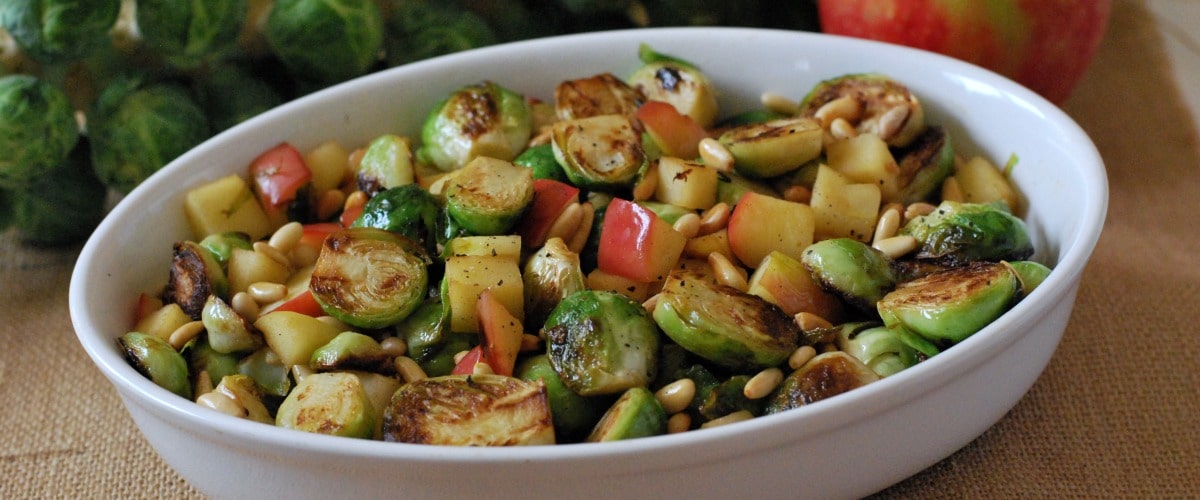 Hi! Culinary Mamas here to share a delectable fall recipe for Sautéed Brussel Sprouts and Apples. Fall is the season of apples and while savory apple recipes may not be the first way you think to use apples, it's one of our favorite preparations. This recipe blends a savory vegetable, with the sweet tanginess of an apple, plus it has an added crunch from the toasted pine nuts. This is a wonderful side to a pork chop or pork tenderloin.
When picking apples for cooking I recommend firm crisp and tart ones like Granny Smith, Pippen, or Cortland. I have to confess for this recipe I used a Honeycrisp apple because I had it on hand and it was still lovely. An inexpensive alternative to pricy pine nuts can be slivered almonds. In either case toasting your nuts is the key to bringing out their rich oils and flavor. Many recipes suggest that you toast your nuts in the oven, but I recommend owning a small cast iron pan and toasting them on the stove top. It's quick and you can stir them regularly to keep them from burning.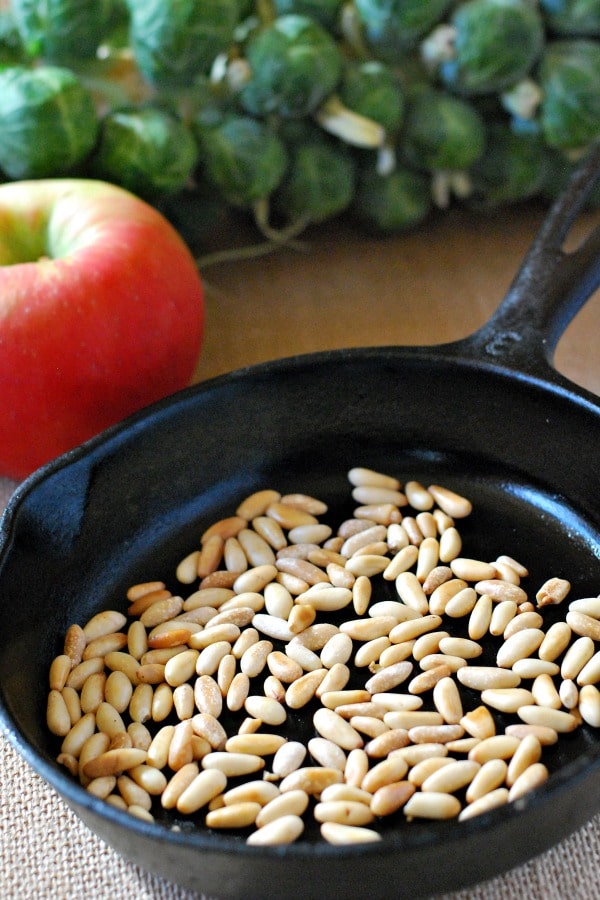 Ingredients:
3 Tablespoons pine nuts, (sliver almonds will work too)
2 Tablespoons olive oil
2 Tablespoons unsalted butter
1 pound brussel sprouts, halved
1 large apple, cut into 1/2 cubes
salt and freshly ground pepper
Directions:
In a small pan, toast the pine nuts over medium heat until brown, about 2 minutes.
In a large saucepan or skillet, add olive oil and butter and cook over medium-heat. When butter is fully melted and starting to foam, add the brussels sprouts cut side down. It's OK if they slightly overlap but don't put them more than 2 deep. Turn the heat down to medium and cook, leaving the sprouts undisturbed, for 4 minutes. Don't stir! This allows the bottoms to brown and caramelize. After 4 minutes stir sprouts so that browned sides are mostly up. Cook the second side undisturbed for another 4 minutes.
When the sprouts are browned on both sides, stir again and add the diced apples. Stir every 2 minutes until the apples are just soft, about 5 minutes. Add the toasted pine nuts, season to taste with salt and pepper.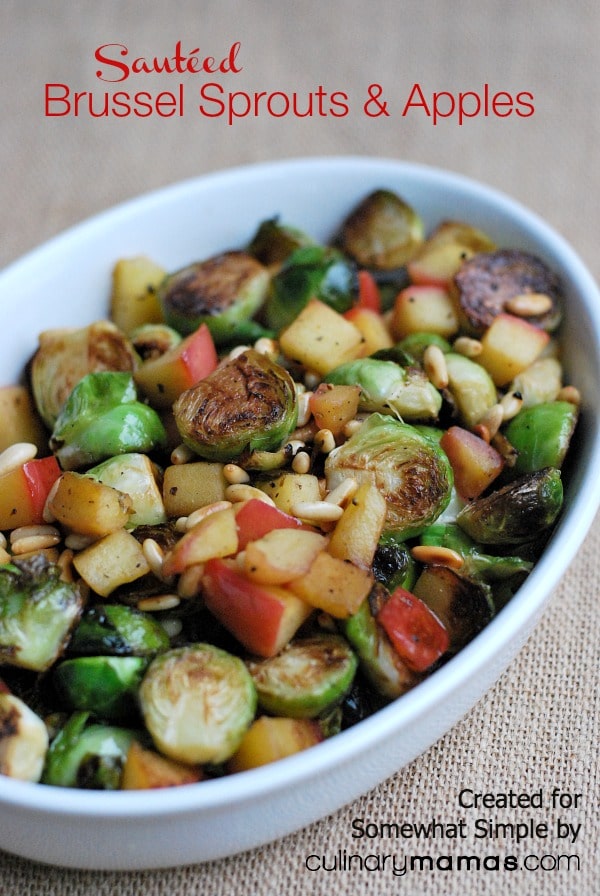 Recipe adapted from Apples, From Harvest to Table by Amy Pennington