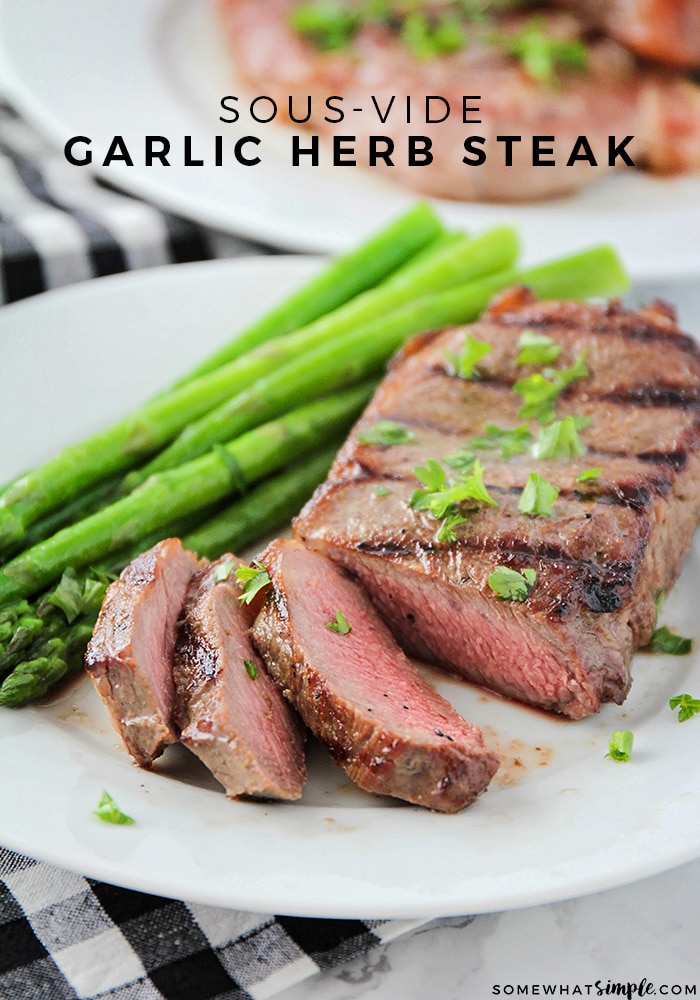 This garlic and herb sous vide steak is so tender, juicy, and flavorful. It's cooked to perfection using the sous-vide method for great results every time!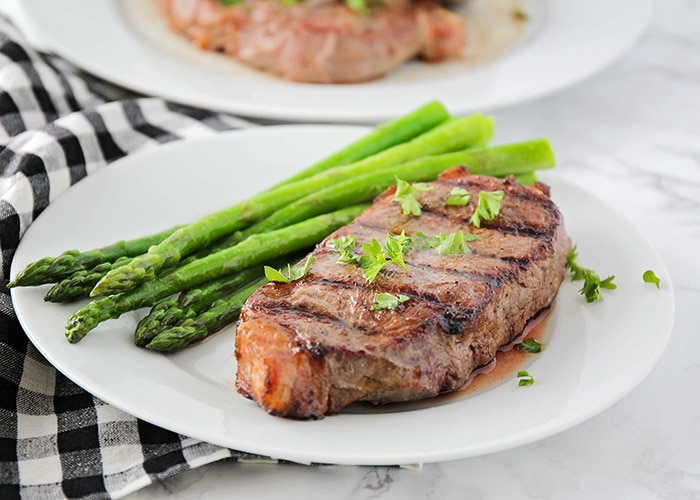 How to Cook a Steak
Steak has always been one of my very favorite foods, but I have to confess that I've never been very good at cooking it! I didn't grow up eating a lot of red meat, so my experience with steak was mostly limited to occasionally eating it at restaurants. When my husband and I were first married, I thought it would be fun to surprise him with a fancy steak dinner at home. I got to work cooking the steak, and thinking that it was similar to chicken, cooked it until there wasn't the slightest tinge of pink. (And then cooked it a little more, just to be sure.)
By the time I was done, it was basically the texture of shoe leather! My husband sawed through it, took a bite, and chewed for what seemed like hours while trying to smile and convince me that it was good. We laugh about it now, but it felt like such a failure to me as a new wife. As the years have passed, my steak-cooking skills have definitely improved, but I've still never been able to master the perfect steak… until now! This sous vide steak is everything I love about steak, and best of all, it's super easy to cook!
The Perfect Steak
This sous vide steak is so tender, juicy, and flavorful. It requires very little hands-on time to make, but tastes like steak from a nice restaurant. It's easy to customize with your favorite herbs and seasonings, and it comes out great every time. The secret to the perfect steak is to use the sous-vide cooking method!
What is Sous-Vide Cooking?
Sous vide literally means under vacuum. It's a method of precision cooking, and it heats foods to a specific temperature, guaranteeing that the food is perfectly cooked. It works wonderfully for meats, eggs, and vegetables, to ensure that they cook evenly and thoroughly, without overcooking. Food is placed into vacuum sealed bags, submerged in water heated to a specific temperature, and cooked over a long period of time.
Since the temperature of the water is controlled by the sous-vide cooker, the food cannot heat past that temperature, and therefore does not overcook. Sous-vide cooking requires only a few minutes of hands on time (to prep the food, and to finish it when it is done), and since the cooking time is flexible, your food is ready when you are.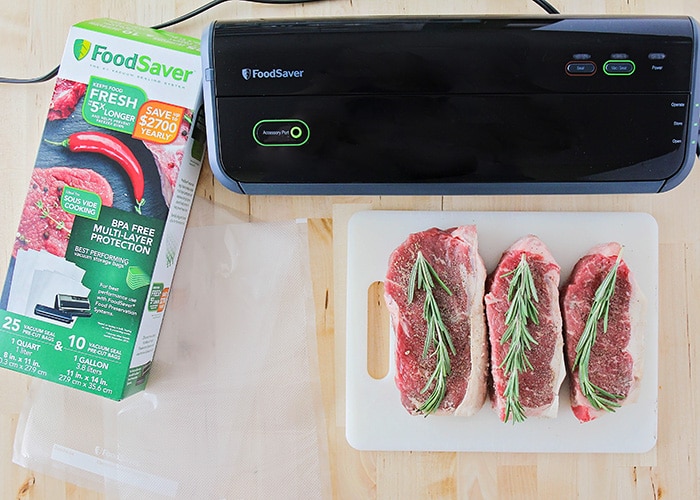 What do I need for sous-vide cooking?
To get started with sous-vide cooking, you will need the following:
a sous-vide cooker
a large pot or heat-proof container
There are many varieties of sous-vide cookers available. Some of them have features like wifi/bluetooth connectivity, which allows you to control the device from your phone. I have a very basic model, but it has worked well for me. The most important aspect is that it heats the water to the precise temperature you need.
As far as a vacuum-sealing system, I have the FoodSaver® FM2000 Vacuum Sealing System, and I love it! It's simple and easy to use, and creates a really strong seal to keep food fresh. When I'm not using it for sous-vide cooking, I frequently use it to seal pantry items like nuts to keep them fresh. FoodSaver® Sous-vide Vacuum Seal Bags are completely airtight, extremely durable, and both heat proof and freezer proof. They're available in multiple sizes, which is so convenient when cooking different sizes and shapes of food. I used quart sized bags for my steak, and they were the perfect size!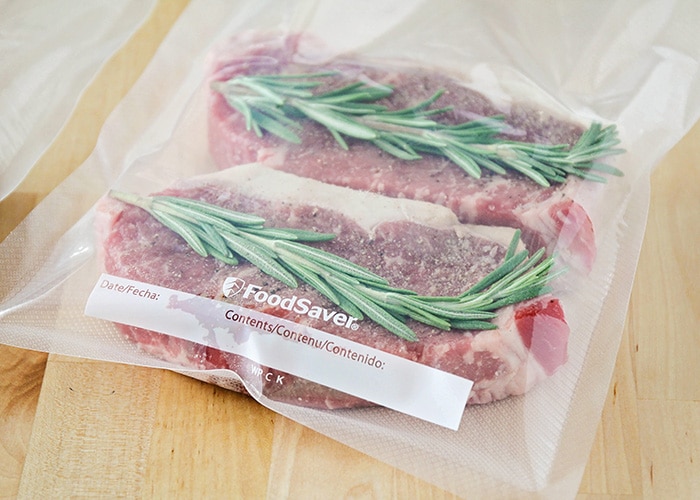 Why use vacuum sealing for sous-vide?
Vacuum sealing food into bags allows the food to cook evenly and thoroughly, and helps the food retain its moisture and flavor. Using good quality bags like the FoodSaver® sous-vide bags is important to prevent leaks and/or floating when cooking in the water bath. For best results, use the sous-vide bags with a FoodSaver® Vacuum Sealing System.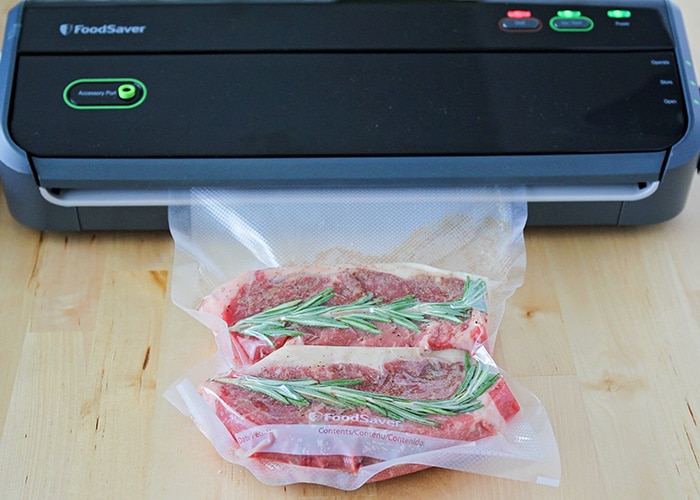 One of the great things about using FoodSaver sous-vide bags is that you can prep your food ahead of time, freeze it, and then move it straight from the freezer into the hot water bath. It totally eliminates the annoying step of thawing your meat ahead of time!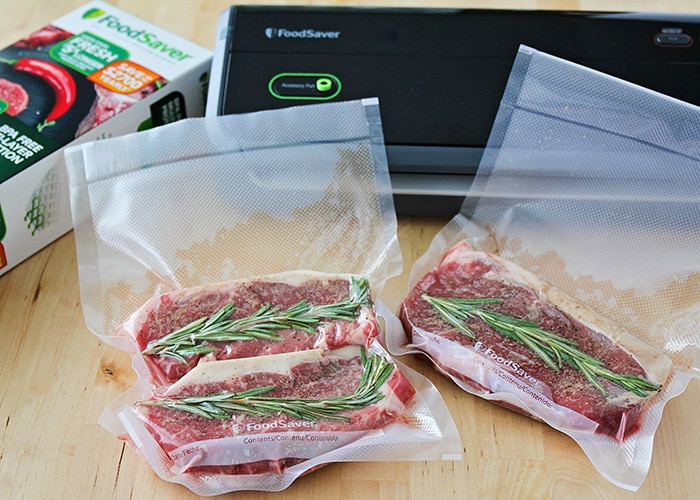 You can find the FoodSaver® sous-vide bags and vacuum sealing system at Target, either online or in store. For the month of July, they are offering 15% off both the system and the bags, which is a fantastic deal!
What temperature is best for sous vide steak?
The temperature you set the sous-vide cooker to depends on how well-done you like your steak.
for rare steak: set to 120-128°F
for medium-rare steak: set to 129-134°F
for medium steak: set to 135-144°F
for medium-well steak: set to 145-155°F
for well-done steak: set to 156°F +
The cook time will be 1-4 hours, regardless of the temperature. The steak will be cooked completely after one hour, but it can remain in the water for up to three additional hours, until you are ready to finish it. I like my steak medium, so I set my temperature to 135, and it came out perfect for me!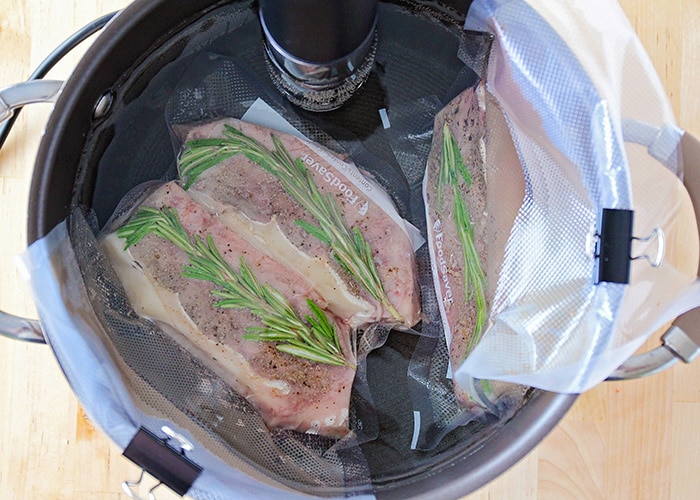 After the one hour cook time, the steak will be cooked through and safe to eat, but it won't have a nice sear on the outside. You could definitely eat it as is, but for a nicer presentation and a little boost of flavor, it's best to finish the steak on a grill or in a cast iron pan.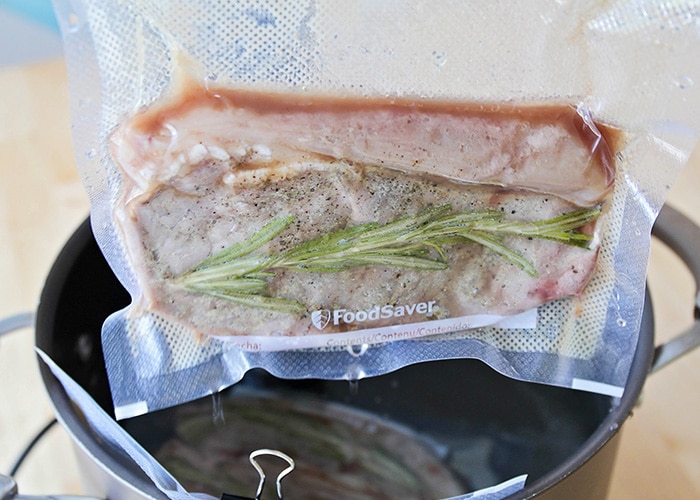 How to finish Sous Vide Steak
To finish the steak, you can either cook it in a hot cast iron skillet, or on a grill. (If you don't have a cast iron pan, you can use a non-stick skillet instead). Since the meat is already cooked through, you'll want the temperature to be very hot, so you can quickly sear the steak, without cooking it any further. I like to use the grill, so I have less dishes to clean up, but either method works well. Cook the steak for 30-60 seconds per side, until it has just browned. I like to sear the sides of the steak, too, for a prettier presentation.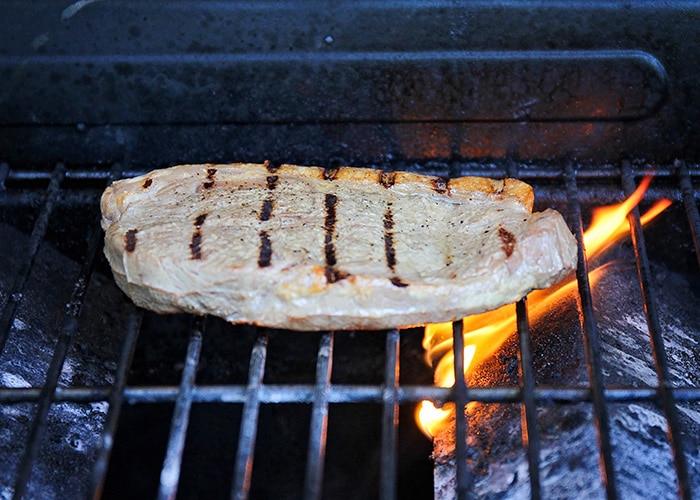 For serving, I like to top the hot steak with a little butter and some freshly chopped parsley. The butter isn't strictly necessary (or maybe it is?) but it adds a little flavor and makes the steak extra luscious. Serve it with some green vegetables on the side, and wow your friends and family with your perfectly cooked, incredibly tender, sous vide steak!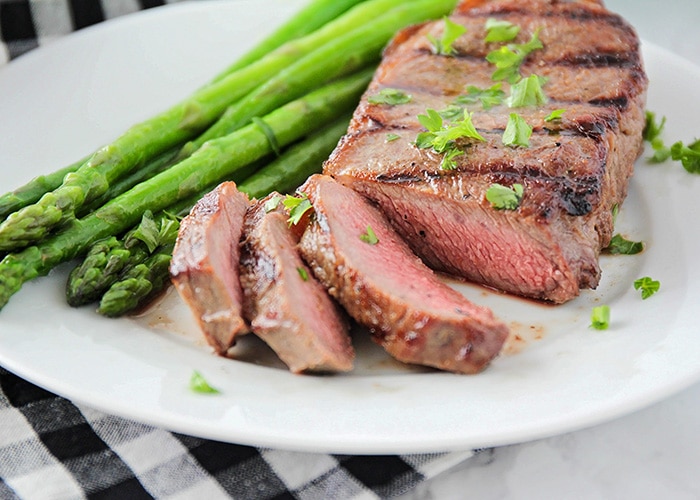 Sous Vide Steak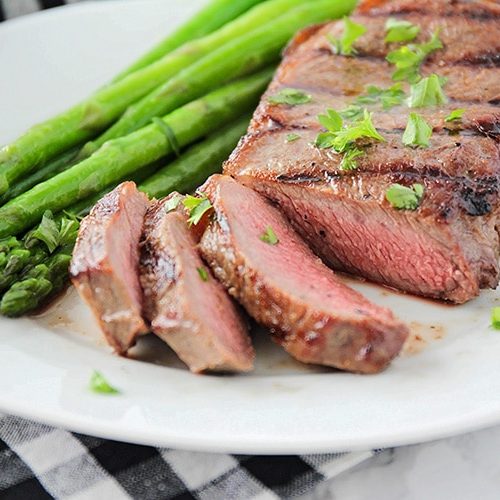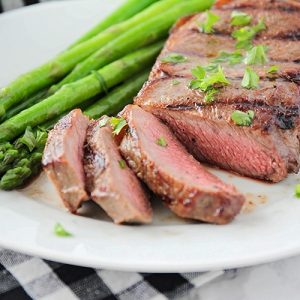 Sous Vide Steak
This garlic and herb sous vide steak is so tender, juicy, and flavorful. It's cooked to perfection using the sous-vide method for great results every time!

Total Time
1
hour
5
minutes
Ingredients
4

6-ounce steaks, at least 1 inch thick

1

tsp

coarse salt

3/4

tsp

freshly ground pepper

1

tsp

garlic powder

4

sprigs

rosemary

2

tbsp

butter

1/4

cup

freshly chopped parsley
Instructions
Pat the steaks dry and season with salt, pepper, and garlic powder. Top each steak with a sprig of rosemary. Place the steaks into FoodSaver® Sous-vide Vacuum Seal Bags, and vacuum seal to close.

Place a sous-vide cooker into a pot or heat-proof container, and add water to fill between the min and max lines. Set the temperature to 135 (or high or lower depending on your steak preference).

Add the vacuum seal bags to the pot, submerging completely. If desired, clip the bags to the side of the pot to keep them submerged. Once the water has reached the desired temperature, cook the steak for at least one hour, or up to four hours.

When you are ready to finish the steaks, preheat a cast iron skillet or grill over high heat. Remove the steaks from the pot and cut open the bags. Sear the steaks for 30-60 seconds per side, until browned. Top each steak with 1/2 tablespoon butter and sprinkle with fresh parsley. Serve immediately and enjoy.
Nutrition Facts
Sous Vide Steak
Amount Per Serving
Calories 300
* Percent Daily Values are based on a 2000 calorie diet.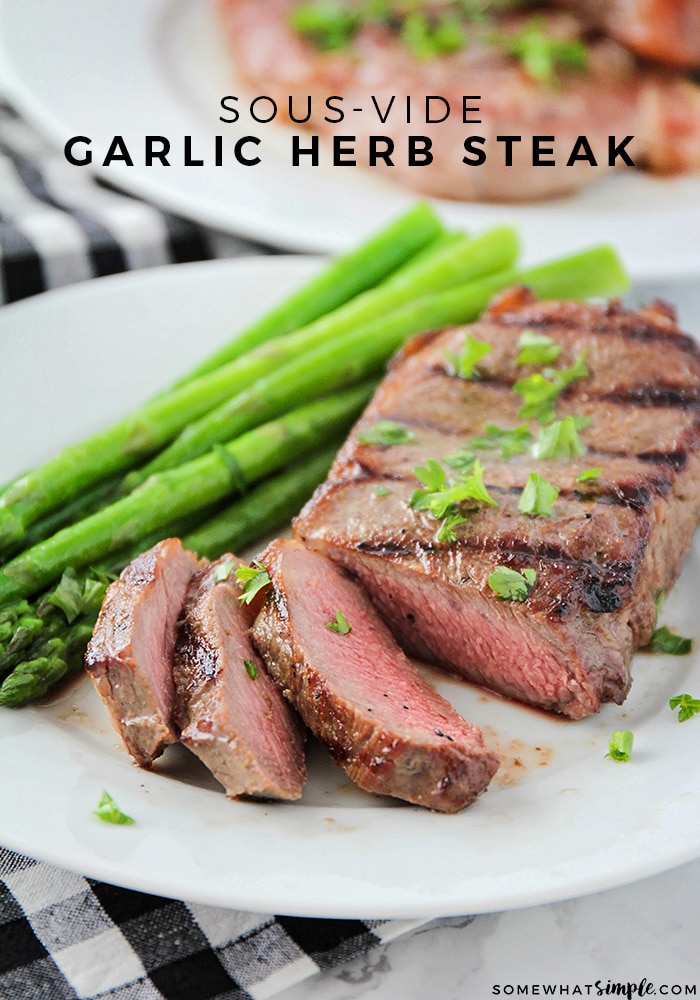 This post is sponsored by Everywhere Agency on behalf of FoodSaver®; however, all thoughts and opinions expressed are my own.