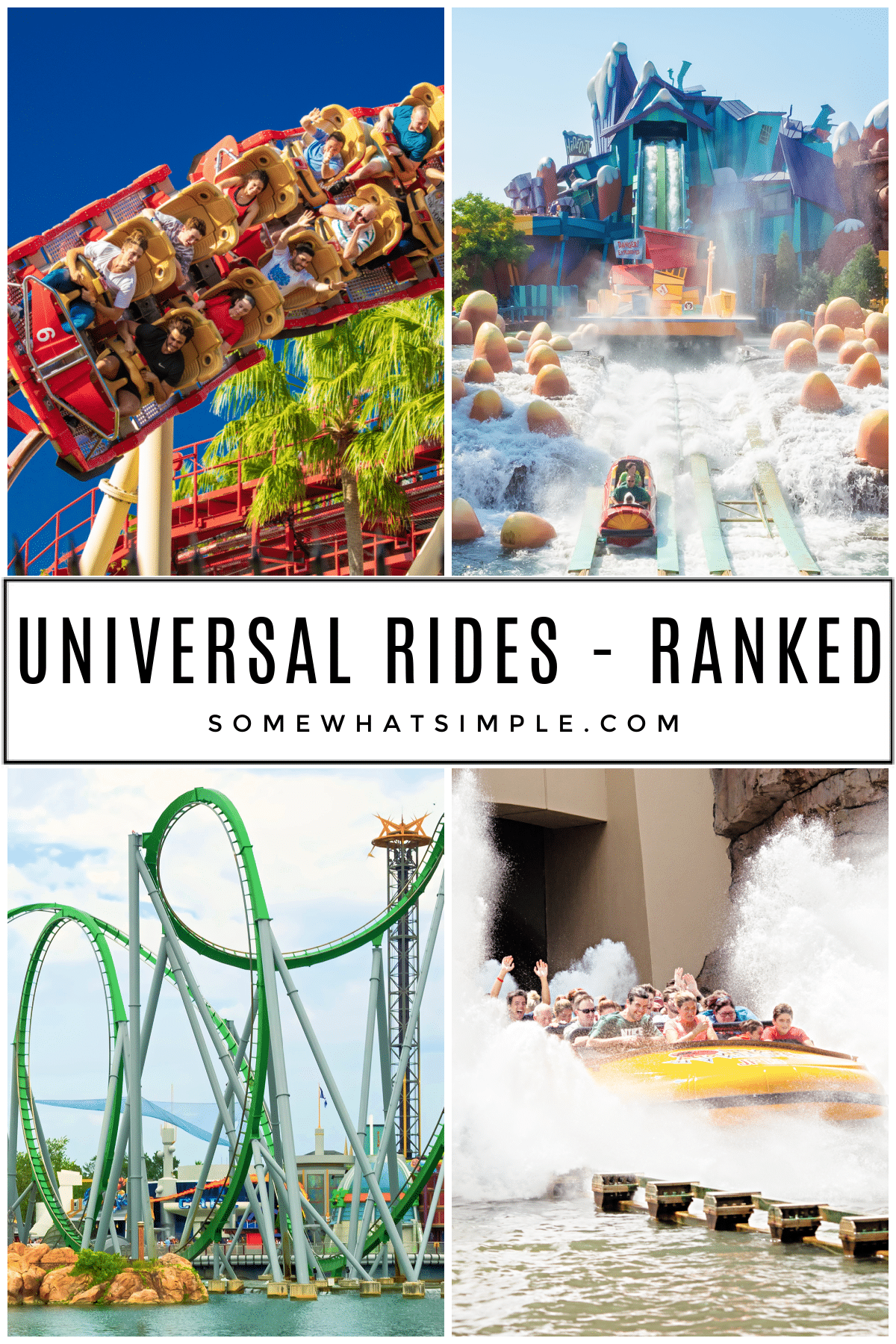 From Harry Potter to Jurrasic Park, Universal features plenty of fun rides for the whole family to enjoy. Here's a list of our favorites with all the best rides at Universal Orlando Resort.
This post is in partnership with Universal Orlando Resort. All opinions are 100% my own.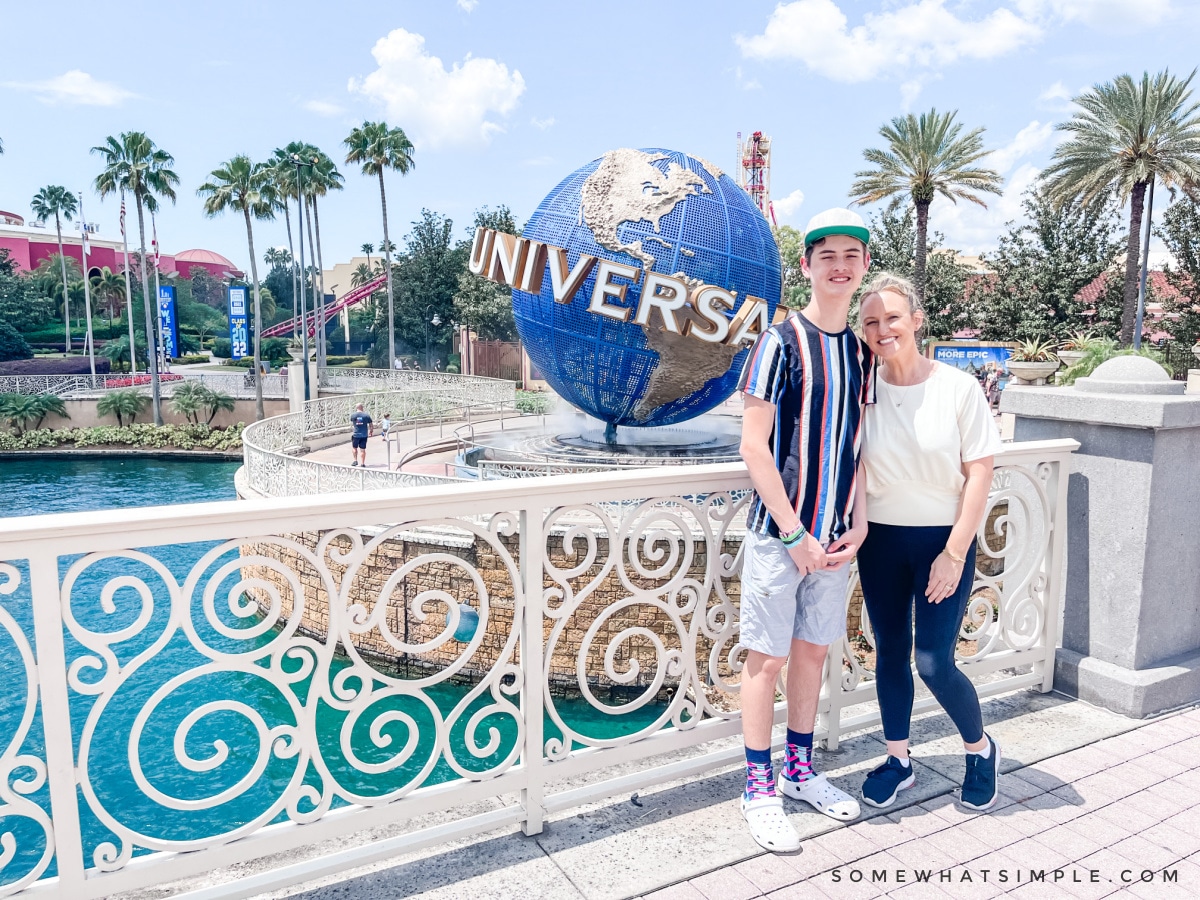 Ryan and I just got back from a trip to Florida to celebrate his birthday. The trip was so much fun, and we already can't wait to take the whole family back!
Our first full day in Florida was spent at Universal Orlando Resort. We spent our day riding as many rides as we possibly could at 2 of their 3 parks – Universal Studios Florida, and Islands of Adventure. (We didn't have time to visit their waterpark, Volcano Bay, but maybe next time!)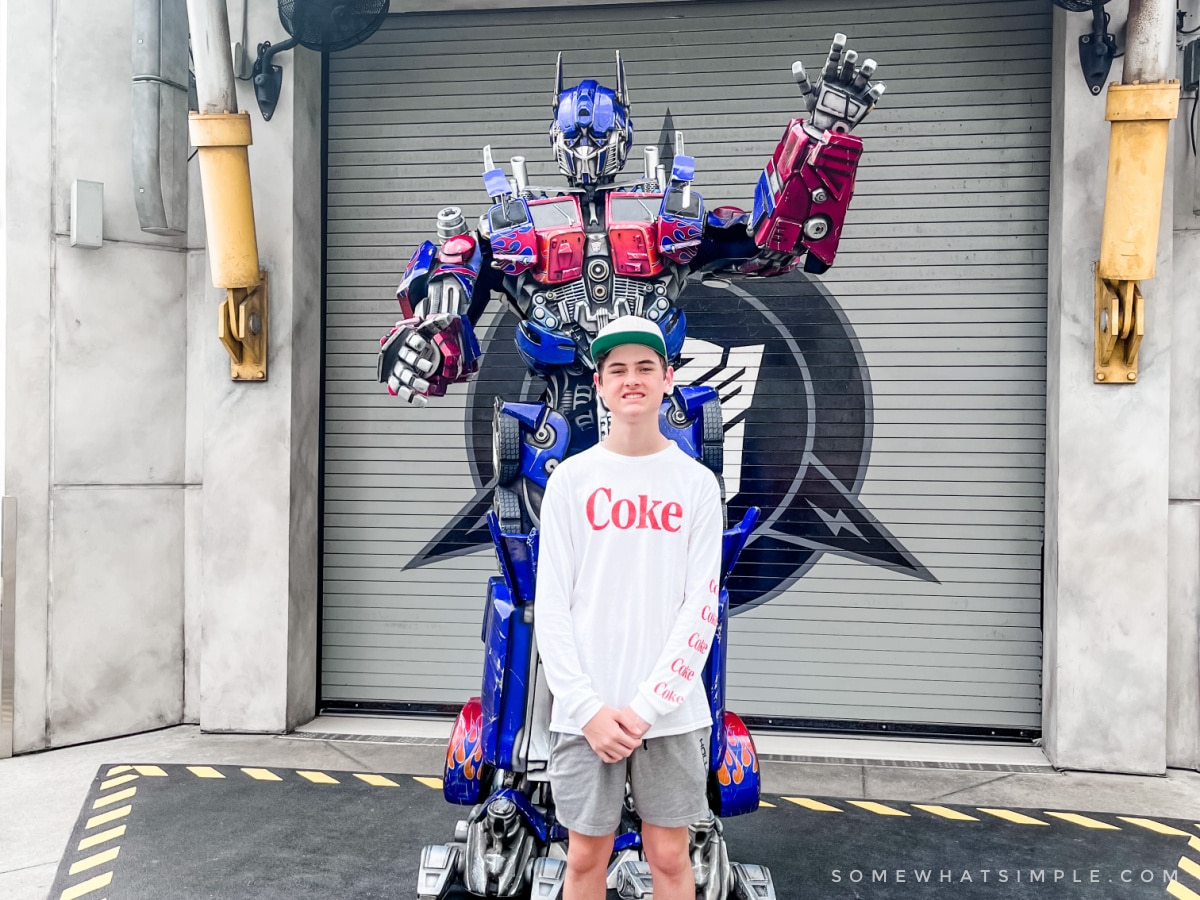 We visited the park just a couple of days before Easter, and because of the crowds and some unfortunate weather, we weren't able to see everything we wanted in a day, but we rode almost all the thrill rides, and we had time for some of the family-friendly ones, too.
Here's a list of everything we did, ranked in order of our favorites, and what we loved about each attraction: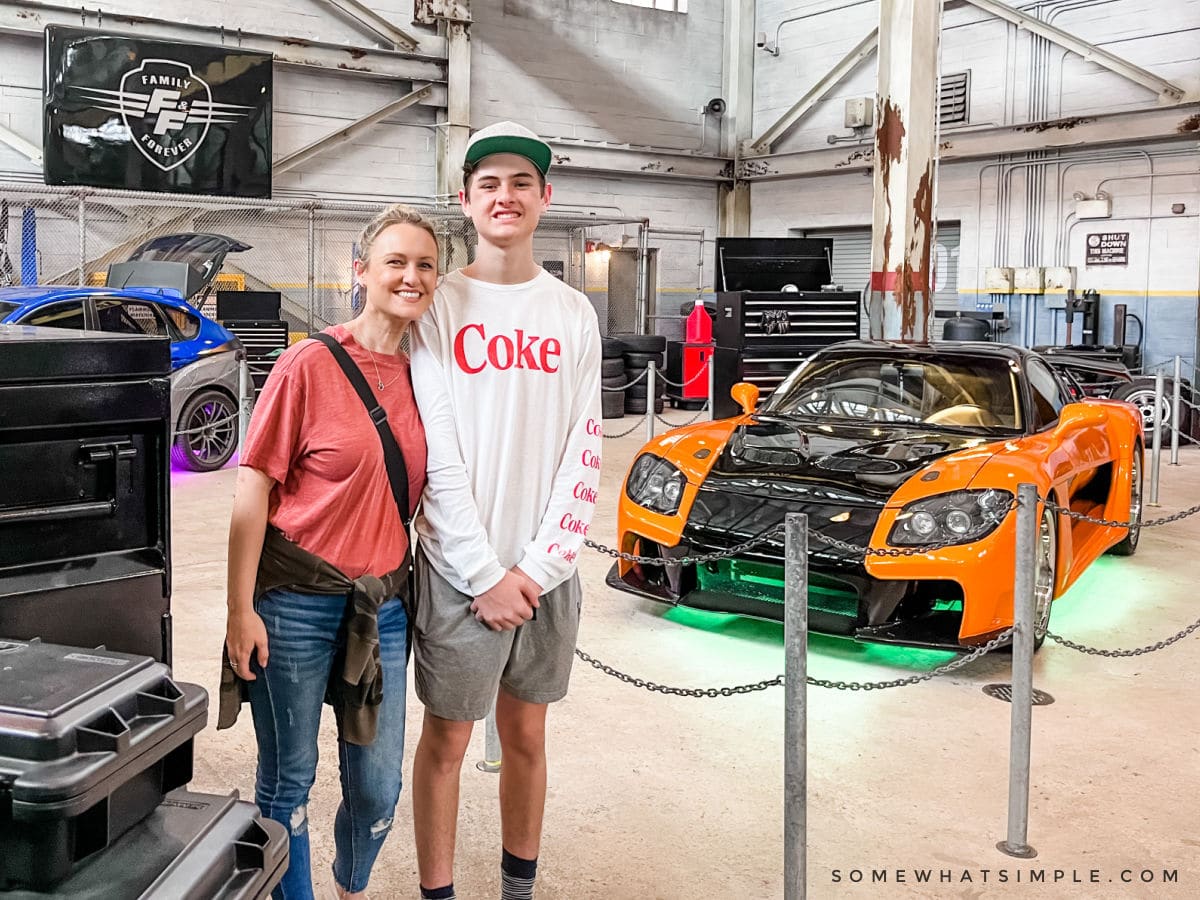 Favorite Rides at Universal Studios Florida
I was completely taken by surprise at how much I loved the Wizarding World of Harry Potter! Every inch of what we saw was absolute perfection!
Unfortunately, Revenge of the Mummy was Closed the day we went, which was such a bummer! But here's what we rode and saw, starting with our favorites –
Harry Potter and the Escape from Gringotts – Located in Diagon Alley, this was hands-down the best ride in this park! While the line was quite long (even with our Express Pass) we loved every second of this ride! (The line itself was quite entertaining with all the Harry Potter scenery – it was amazing!)
Hollywood Rip Ride Rockit – I told Ryan I didn't want to go on this one because it looked too scary for me, but he talked me into it and I'm so glad he did! Everyone gets to pick a song to play on their own personal speakers during the ride, and that made it extra fun!
The Bourne Stuntacular – The only show we saw the entire day, and it was a good one! I thought it was going to be cheesy, as the opening fight scene wasn't too impressive, but the special effects and the way they incorporate live action on stage with pre-recorded scenery was incredible! My 14-year-old loved it even more than I did, and he's a pretty tough critic!
Hogwarts Express King's Cross Station – I thought this method of transportation to get to Hogsmeade and Hogwarts was done so well! I loved walking through platform 9 3/4 – that was so clever! And then to be fully immersed in a train ride that looked nearly identical to the Harry Potter movies was just so fun!
Men In Black Alien Attack – Everyone is given a laser gun to shoot aliens with and scores are kept so you can see how everyone in your group did. Ryan loved this ride, but I think it's because he got a higher score than me. 😉
The Simpsons Ride – I think this was one of the better motion rides where you sit in front of a screen while your seat moves to the motion of the video. I thought riding through Springfield with the Simpson family was a lot of fun!
Transformers: The Ride 3D – This ride was just like something you'd see in the movie, and the 3D aspect of it was pretty awesome. Ryan is a huge transformers fan, and he loved seeing Optimus Prime and Bumblebee up close and personal!
E.T. Adventure – I liked this one a lot, but Ryan thought it was weird! Neither of us have ever seen the movie, although as a child of the 80s I understood more than he did. It reminded me of Peter Pan's Flight at Disneyland, which is one of my favorites, but instead of sitting in a pirate ship, you "fly" on a bike – I thought it was cool!
Despicable Me Minion Mayhem – This ride was another decent motion ride that younger kids would probably love! What made it not so great for us was the loooooooong line. Even with our Express Pass, we waited almost an hour for it, and I don't think it was worth that wait.
Woody Woodpecker's Nuthouse Coaster – This is a super cute ride that is actually really smooth and fun, but it's really short and kind of a letdown how soon it's over and done.
Fast + Furious Supercharged – This ride had so much potential! The line was cool and the concept was fun, but it was pretty cheesy! 🙂
Best Universal's Islands of Adventure Rides
Next time we visit Orlando, we'll start with this park first! We waited over 2 hours in line for Hagrid's Magical Creatures Motorbike Adventure, and just as we were about to board, it started raining, so they shut it down and didn't reopen it for the rest of the day. 🙁 We heard this ride was worth every minute of the wait, so needless, to say, we were pretty bummed not to be able to experience it. Because of this, we also missed riding the Jurassic World Velocicoaster – another one people really loved. But all was not lost, and we absolutely LOVED this park! Here is what we enjoyed:
Harry Potter and the Forbidden Journey – Everything about this ride was amazing! It was our favorite out of both theme parks! Located inside the incredible Hogwarts Castle, this ride had it all, and it wasn't too scary for little kids, either! I don't think you even have to be a Harry Potter fan to enjoy this – the ride was absolutely fantastic!
The Incredible Hulk Coaster – Our favorite roller coaster! It was smooth and fast, and absolutely perfect for thrill-seekers. Ryan wanted to rank this as his favorite ride of the day, but I still think the Forbidden Journey was the best!
The Amazing Adventures of Spider-Man – Ryan liked this ride because it was the comic version and not the Hollywood movie. It was entertaining and fun!
Dudley Do-Right's Ripsaw Falls – This ride should be in a water theme park!! We absolutely loved it, and it felt good to cool off for a bit, but every inch of us was completely soaked! I've never been wetter on a ride in my life!!!
Jurassic Park River Adventure – This one was relaxing and fun! We got more wet on this one than we were anticipating. Not as wet as Ripsaw Falls, but still pretty soaked!
Skull Island: Reign of Kong – Last on our list, this ride was fun, just not our favorite.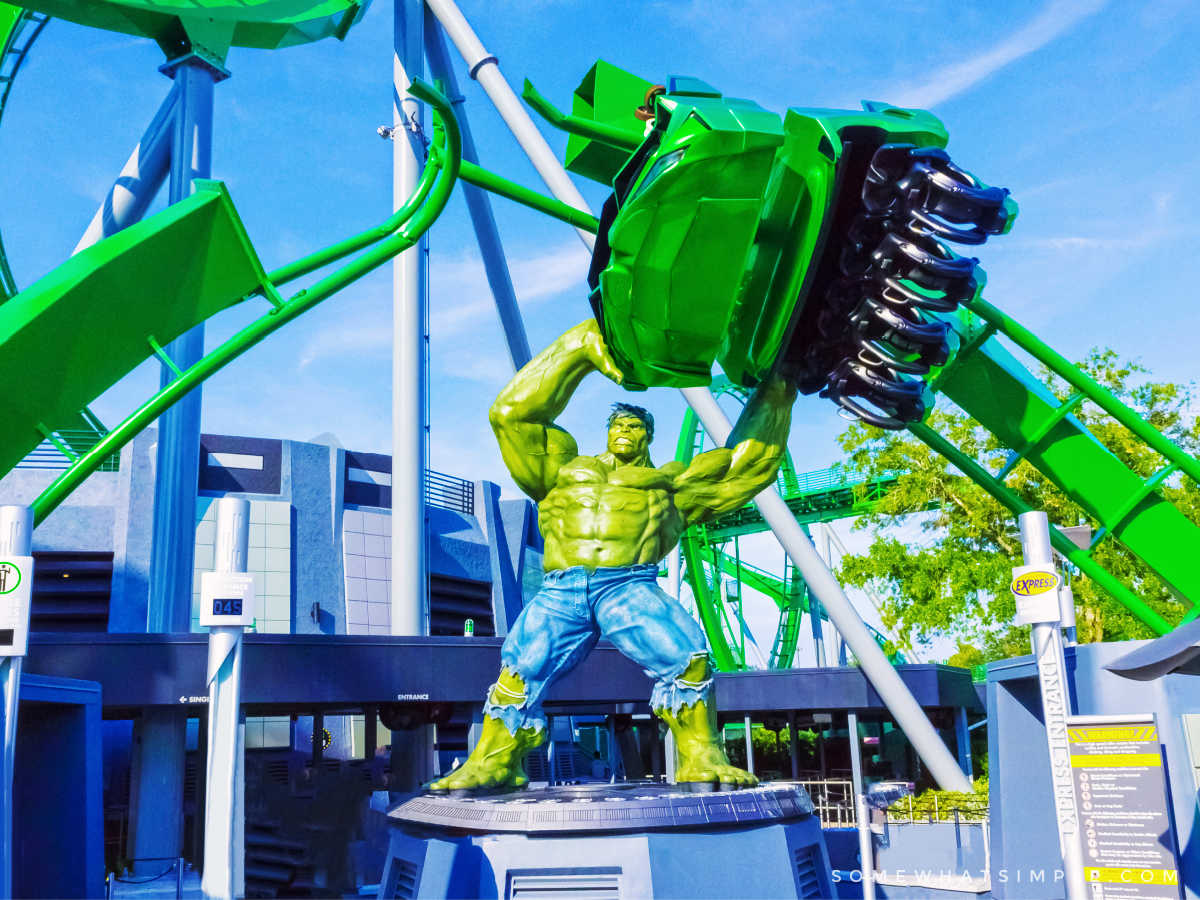 Best Rides at Universal Orlando, Ranked
Here's how our list looks when we combine the rides at both parks:
Harry Potter and the Forbidden Journey
The Incredible Hulk Coaster
Harry Potter and the Escape from Gringott's
Hollywood Rip Ride Rockit
The Bourne Stuntacular
The Amazing Adventures of Spider-Man
Hogwarts Express King's Cross Station
Men In Black Alien Attack
Dudley Do-Right's Ripsaw Falls
Jurassic Park River Adventure
The Simpsons Ride
Transformers: The Ride 3D
E.T. Adventure
Skull Island: Reign of Kong
Despicable Me Minion Mayhem
Woody Woodpecker's Nuthouse Coaster
Fast + Furious Supercharged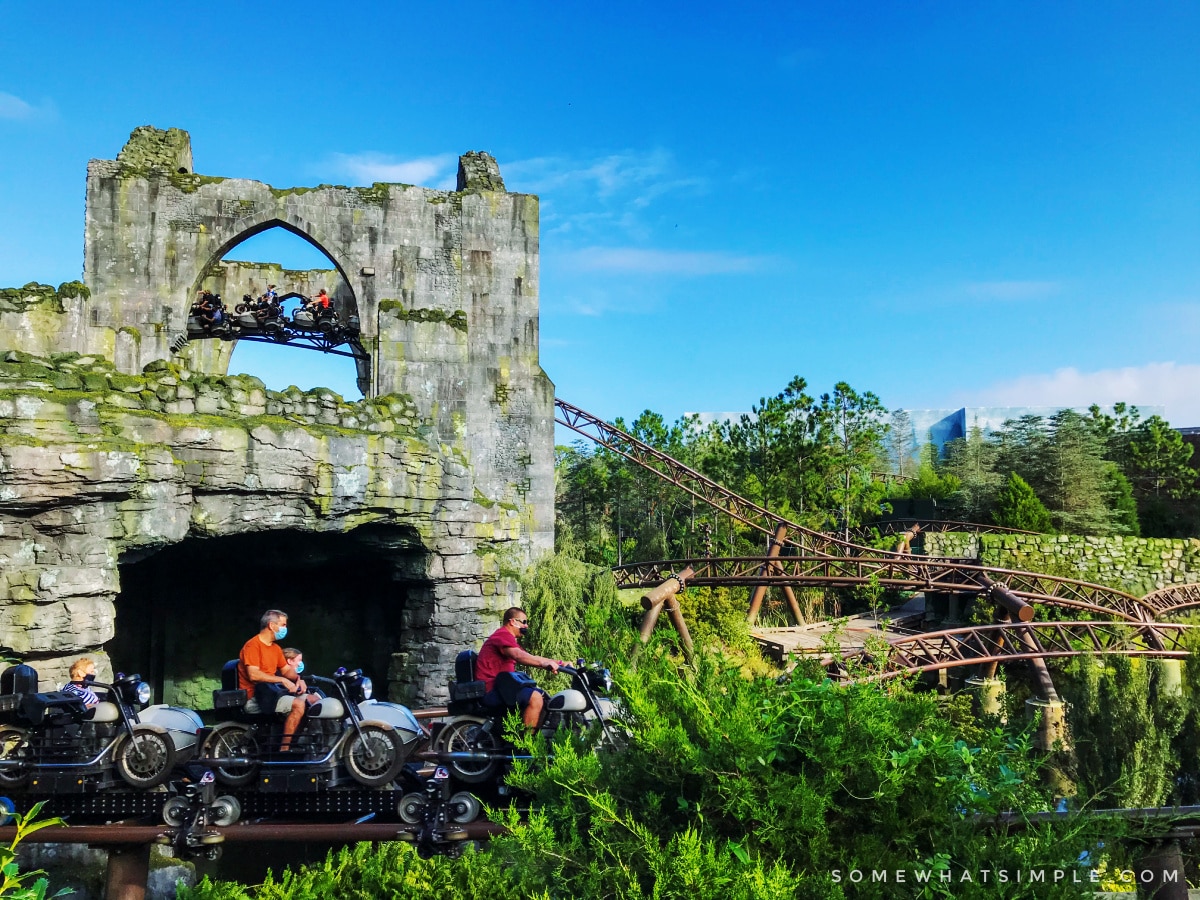 Helpful Family Vacation Travel Tips:
Have you been to Universal Orlando Resort? Which rides were your favorite?