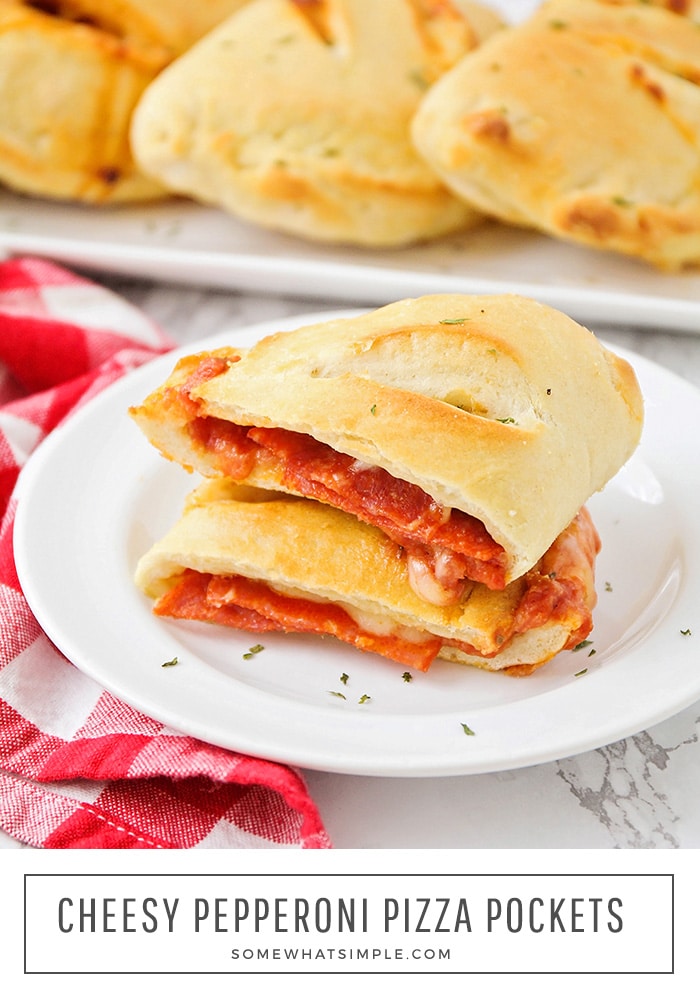 These cheesy pepperoni pizza pockets are a fun, and much less messy, way to enjoy pizza at home! Baked in a homemade dough and filled with your favorite toppings, these pockets are perfect to eat at home or take with you on the go.
These pizza pockets pair well with a fresh salad on the side. Some of my favorite salads to serve with these are these Caprese Pasta Salad, Asian Chicken Salad and Cobb Salad recipes.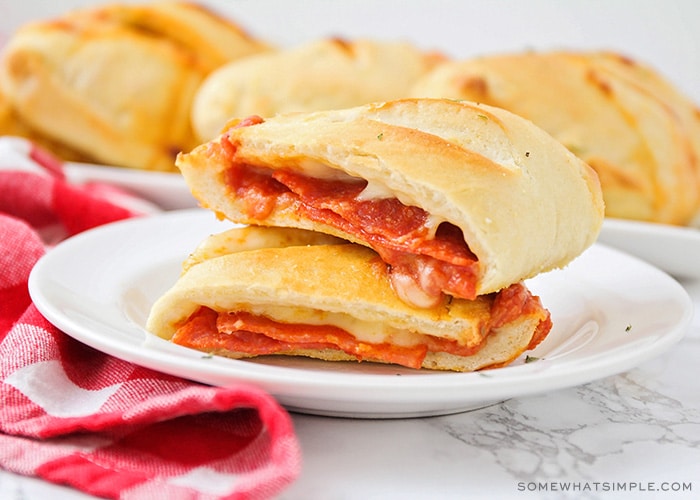 Homemade Pizza Pockets
If my husband and kids had their way, we would have pizza at least three nights a week. They love it because it's tasty and I love it because it's simple to make and easy to switch up!
In the last few years, I've started making most of our pizza from scratch. The options are endless and each version is so versatile! These cheesy pepperoni pizza pockets are not only tasty, they are absolutely perfect for slipping into school lunches, or eating on the go in between soccer games and dance classes!
If you haven't worked with yeast before, do not be intimidated! This recipe is perfect for beginners and it turns out great every time. I love the delicious, chewy crust and the gooey, cheesy middle. You could use any number of toppings in these and they would be delicious, but sometimes I love just the simple combination of pepperoni and cheese. These pizza pockets will definitely become a new family favorite. Yum!
How To Make Pizza Pockets
Make The Pizza Dough – Pour the warm water to a large mixing bowl. Add the sugar and yeast to the warm water and allow it to dissolve. Let is sit for about 10 minutes until it starts bubbling and foaming. Add the salt and two cups of water and the mix until it is well blended. Mixing in 1/4 cup at a time, mix in the remaining flour until the dough is soft.
Knead It To Rise – Knead the pizza dough until it has become smooth and pliable. Then cover it and let it rest for about an hour to allow it to rise. After it has risen, gently punch the dough down and divide it into six equal balls.
Prep The Pizza Pockets – Roll each ball into a circle and the spread about two tablespoons of pizza sauce over half of each circle. You'll want to leave about a 3/4 inch boarder around the end of each circle. Top with mozzarella cheese and slices of pepperoni or your other favorite pizza toppings.
Prep For Baking – Carefully fold the dough over the topping and then pinch the edges to seal everything in. Poke a couple of holes in each pizza pocket to allow steam to escape. Brush each one with olive oil and then sprinkle with parmesan cheese.
Cook – Bake in the preheated oven for about 12-15 minutes or until the pockets are a beautiful golden-brown color.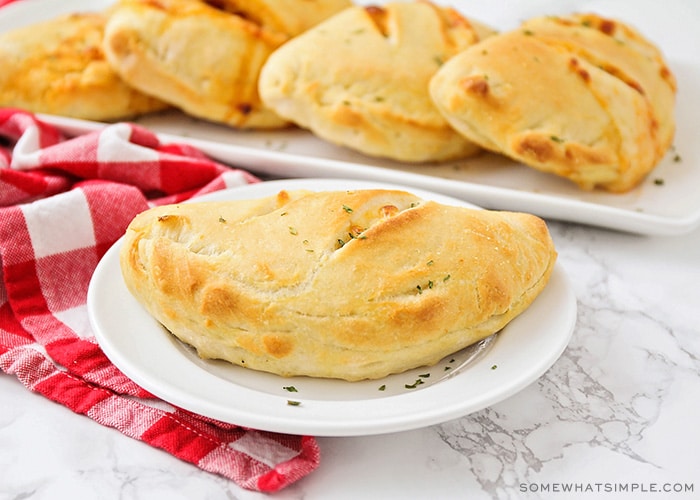 Recipe Variations
The great thing about these pizza pockets is that you can quickly customize them to fit everyone's taste. Sometimes I'll just set up a row of toppings and let each of my kids come in and make their own. Here are some of our family's favorite toppings:
Canadian bacon and pineapple
Bacon and onions
Bell peppers and other seasonal vegetables
Chicken with Frank's buffalo sauce
Pepperoni and black olives
A meat lovers blend of sausage, salami and other meats
Make Ahead & Storage
Make Ahead – This is an easy recipe to make ahead of time and stick in the freezer and save for those busy days when you're kids all over town and need to feed them quickly. Sometimes, I'll just make and extra batch and freeze them to use on nights I don't feel like cooking.
Freezing – To freeze these for later, I simply wrap each pizza pocket in plastic wrap and then cover them with aluminum foil. And if there's specific toppings in each one, I'll also write my child's name on it so they know which one to grab…and so my older ones don't eat their younger sibling's pocket "by accident".
Other Pizza Inspired Recipes
Pizza Pockets Recipe
Let us know if you make these pizza pockets by leaving a comment below, or by tagging us on social media!
Cheesy Pepperoni Pizza Pockets
These cheesy pepperoni pizza pockets are a fun (and much less messy) way to enjoy pizza at home!
Ingredients
1

cup

very warm water

1

tablespoon

yeast

1

tablespoon

sugar

2 1/4 - 2 3/4

cups

flour

1

teaspoon

salt

2

cups

shredded cheese

24

slices

pepperoni

3/4

cup

pizza sauce

olive oil

,

for brushing

parmesan cheese

,

for sprinkling on top
Instructions
In a large bowl or the bowl of a stand mixer, dissolve the yeast and sugar in the warm water. Let sit until bubbly and foamy, about ten minutes.

Add the salt and two cups of flour. Mix until well blended. Add additional flour, 1/4 cup at a time, until the dough is soft and not overly sticky.

Knead 3-5 minutes, until smooth and pliable. Cover and allow to rest for one hour.

When the dough has risen, preheat the oven to 450. Gently punch the dough down, then divide into six equal sized balls.

Roll each ball out into a circle.

Spread two tablespoons of pizza sauce on half of the circle, leaving a border of about 3/4 inch around the edge.

Top with 1/3 cup shredded cheese and four slices of pepperoni.

Carefully fold the top of the dough circle over the toppings and pinch to seal.

Poke the top of the pizza pocket with a fork to let steam escape.

Brush each pocket with olive oil and sprinkle with parmesan cheese.

Bake 12-15 minutes, or until golden brown.

Allow to cool slightly before serving.
Nutrition
Other Notes
ENJOY!