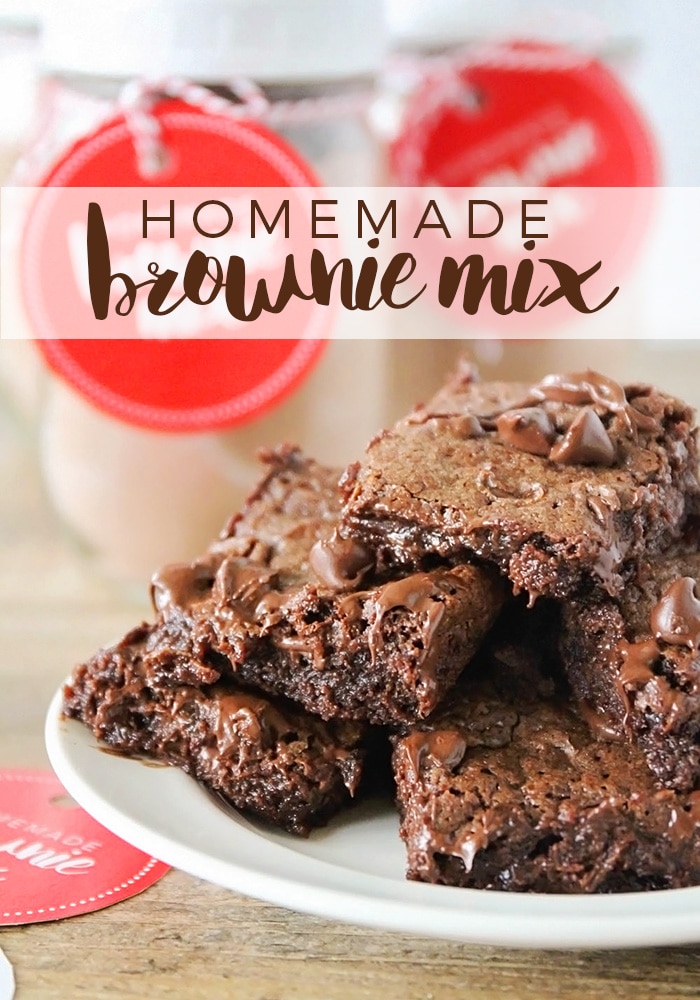 This rich and fudgy homemade brownie mix is so easy to make, and perfect for holiday gifts!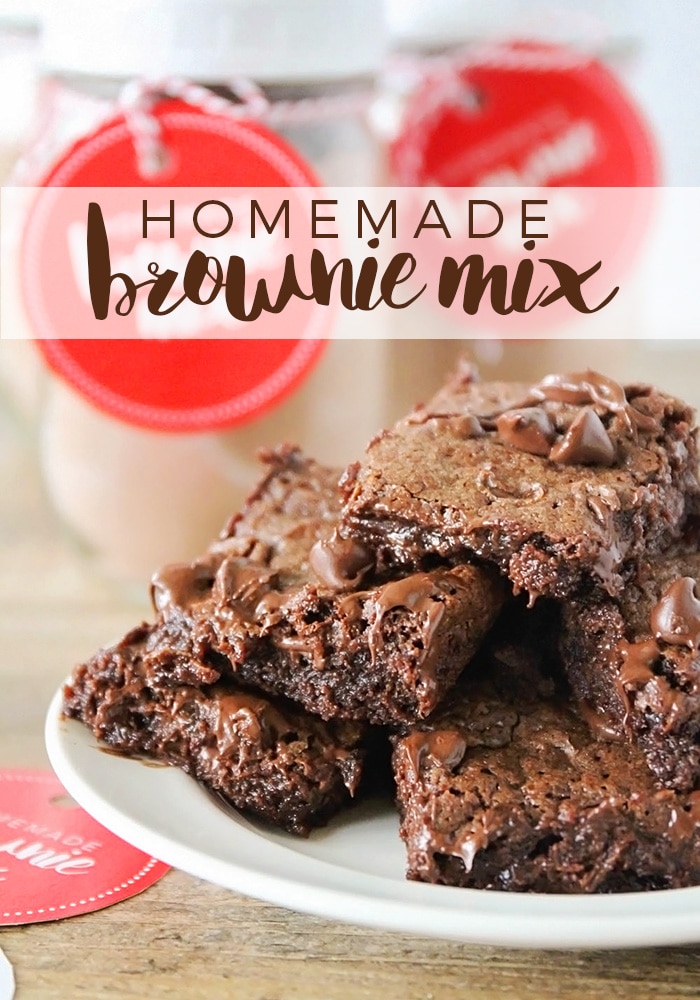 Every year, one of my favorite parts of the holiday season is creating handmade gifts for friends and family! Several years ago, when money was very tight for my little family, I started making a lot of our gifts out of necessity. When I didn't have money to give, I gave time, in the form of hand-knit baby sweaters, freshly baked bread, and homemade caramels. These days money is a little less tight (knock on wood!), but I've continued the tradition, because it brings me so much joy. I love the opportunity to spend a little extra time thinking about the people I love, while making a little something special for them.
This homemade brownie mix is simple and easy to make, and makes an adorable gift. I wanted to add a little bit of holiday flair to the packaging, so I whipped up some super cute labels to go on the jars. I'm sharing the link to print them below so you can make them for yourself! They have all the directions for making the brownie mix on the back, so your gift recipients will know exactly what to do with their mix. I love that they're so bright and fun! I tied them to the front of my pint mason jars with some baker's twine, and voila! Easy peasy, and so cute.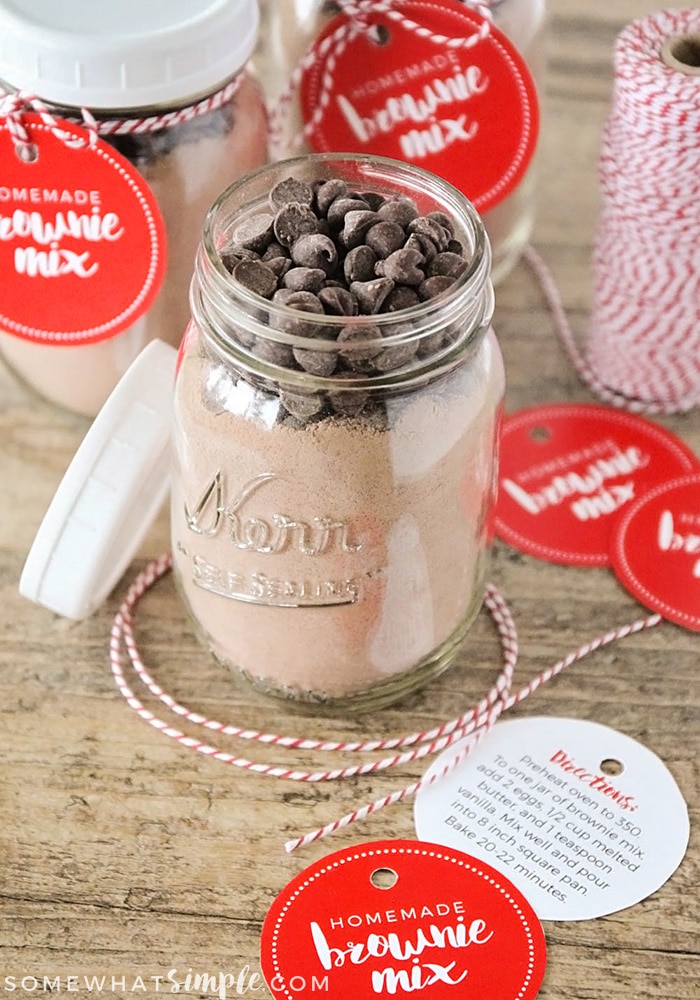 Not only is the packaged brownie mix fun (and adorable), but the brownies themselves taste fantastic! They are so deliciously gooey, fudgy, and rich. I love that they're quick and easy to mix up, too. I'm planning to make several jars of brownie mix for friends and family this year, but I will definitely have to stock my own cupboards with some as well!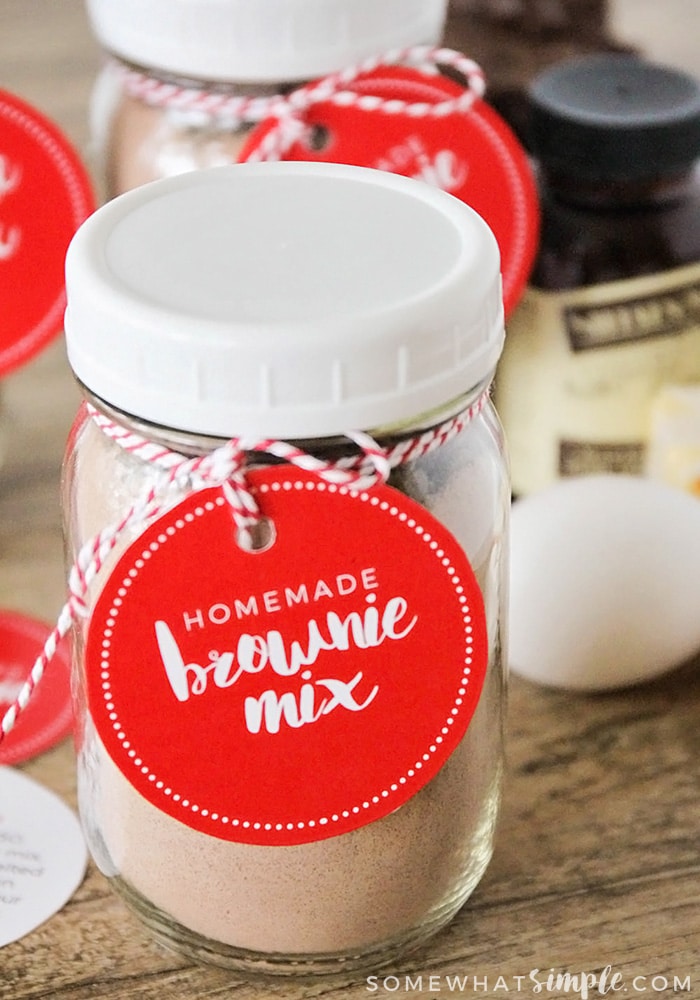 Homemade Brownie Mix
INGREDIENTS:
for each pint jar of mix you will need-
1 cup sugar
1/2 cup flour
1/3 cup cocoa powder
1/4 teaspoon salt
1/2 teaspoon baking powder
1/2 cup chocolate chips
to bake the brownies, you will need-
1/2 cup butter, melted
2 eggs
1 teaspoon vanilla
DIRECTIONS:
Whisk together the sugar, flour, cocoa powder, salt, and baking powder. Pour the mixture into a pint mason jar (or other 2 cup container). Add the chocolate chips and close the container. Use within 6 months for best results.
When ready to bake, preheat the oven to 350, and line an 8 or 9 inch pan with parchment or foil.
Add the brownie mix to a medium bowl. Add the butter, eggs, and vanilla, and mix until smooth. Pour the brownie mix into the prepared pan.
Bake 20-22 minutes, or until the brownies have puffed up and the top looks dry. Remove from oven and let cool before serving.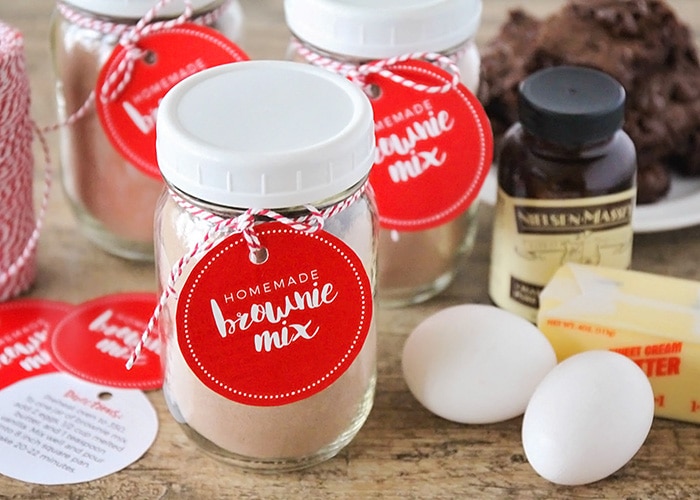 And here are a few more brownie recipes you might enjoy: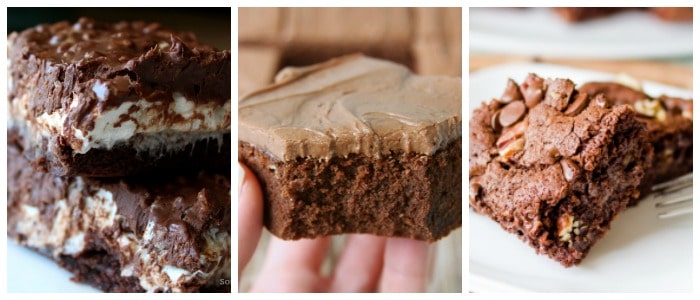 Rice Krispie Brownies || Gluten-Free Double Chocolate Nutella Brownies || Chocolate Caramel Brownies