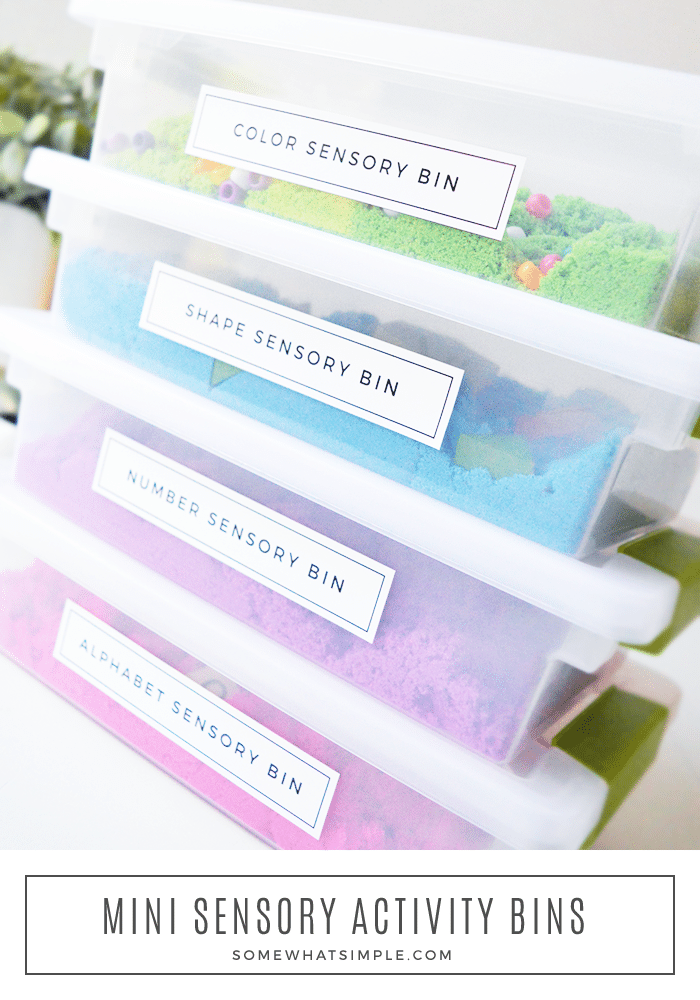 We're showing you how to create the perfect sensory bin – simple, small, easy to store, for hours of fun and learning!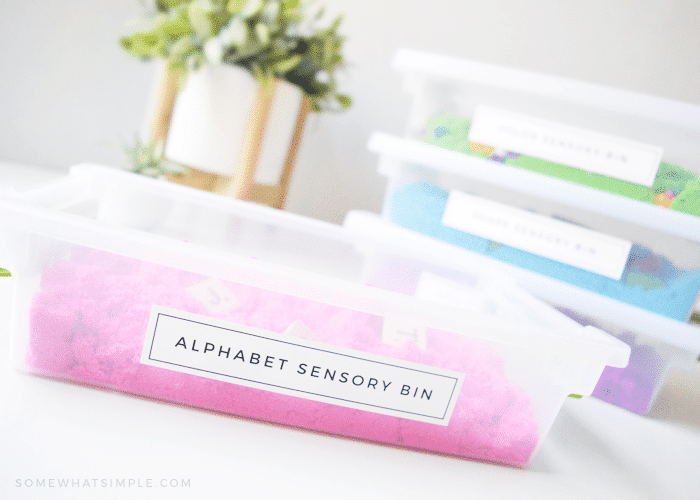 The Perfect Sensory Bin
Sometimes the best things do come in small packages. I love sensory bins. (At least I love the idea behind them.) However, the ones I've always seen are large and in charge. I wasn't in love with that idea. I don't have a ton of storage space, so if I wanted my kids to have a fun sensory bin to play with, I had to think outside the box. Literally.
And then with all the back-to-school shopping that was going on, it HIT ME. Why aren't we making sensory bins in pencil boxes?! They'd be easier to store, easier for my kids to pull out and play with, easier to clean up… I had found my golden ticket idea, folks.
But the creative juices didn't stop there. This idea was magical, so I needed the contents to be magical as well. Which is why I went with Kinetic Sand. Guys. This stuff is 98% sand, and 2% MAGIC. I kid you not. I love this stuff. And as a mom of an autistic child, it was so neat to watch him interact with it. This stuff is the real deal, my friends. It was the perfect base for my sensory bins!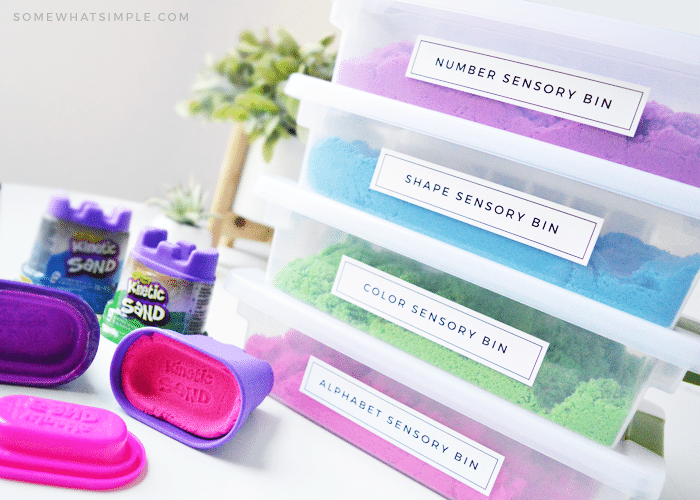 Mini Sensory Bins With Kinetic Sand
Supplies:
Pencil boxes, or similar sized bins (HERE is a link to the ones I used.)
Sensory Bin Printable Activity Pack (download below)
Items for activities (listed below)
Paper cutter and/or scissors
Glue or tape
Laminator (optional)
Directions:
Print, laminate (if desired), and cut out the Sensory Bin Printable Activity Pack. Make sure you print off 4 of the activity card envelopes (no need to laminate these).
Attach the labels to your boxes with glue or tape.
Following the image below, fold the tabs on the envelopes, glue or tape them down, and the attach each envelope to the lids of your boxes. Insert activity cards into the envelope.
Fill each box with Kinetic Sand and the following activity items:
– Alphabet Matching: letter magnets, letter board letters, scrabble letters, or write letters on smaller objects.
– Number Matching: letter board numbers, number magnets, or numbers written on smaller objects (i.e. wood circles)
– Color Matching: pony beads, pom poms, wooden beads, felt pieces, or foam pieces.
– Shape Matching: wooden blocks, felt shapes, or foam shapes.
And lastly, watch the kids experience how FUN learning can be!
More Fun Things To Make With Your Kids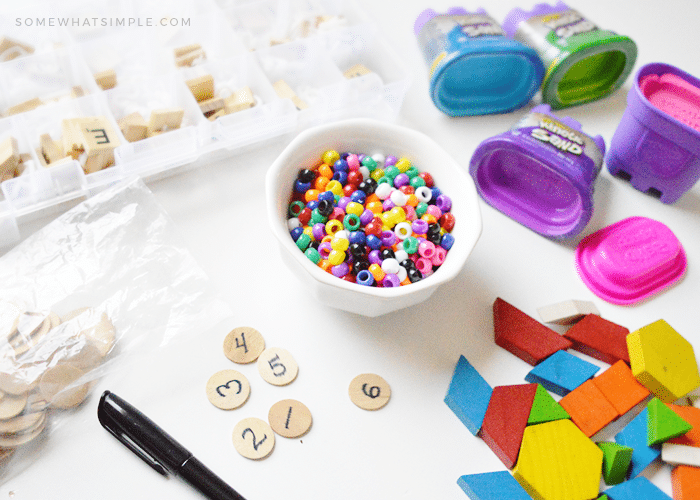 The envelopes are so easy to put together, and I love how they keep everything organized!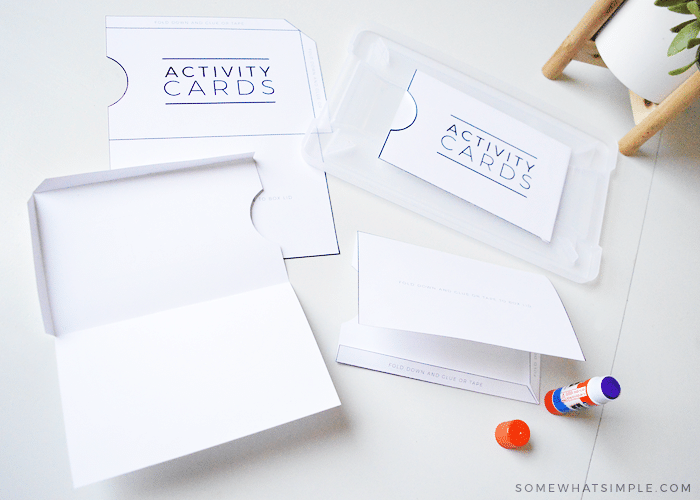 It seems like everyone has a letter board these days, so why not use the letters in a sensory bin as well!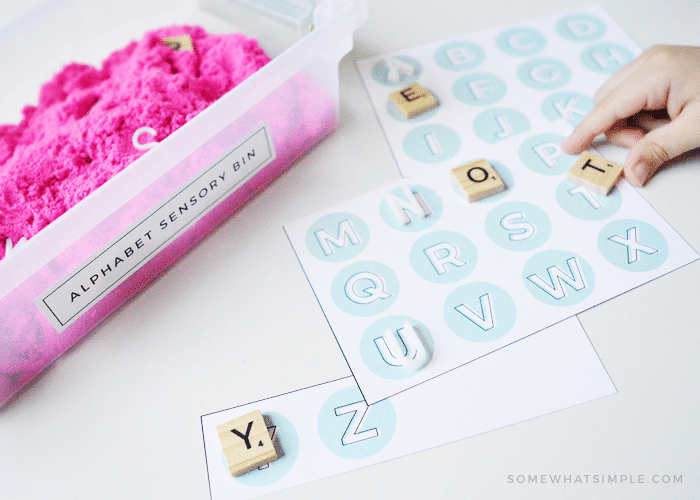 Anything that is small and has at least one flat surface would make a great sensory bin item: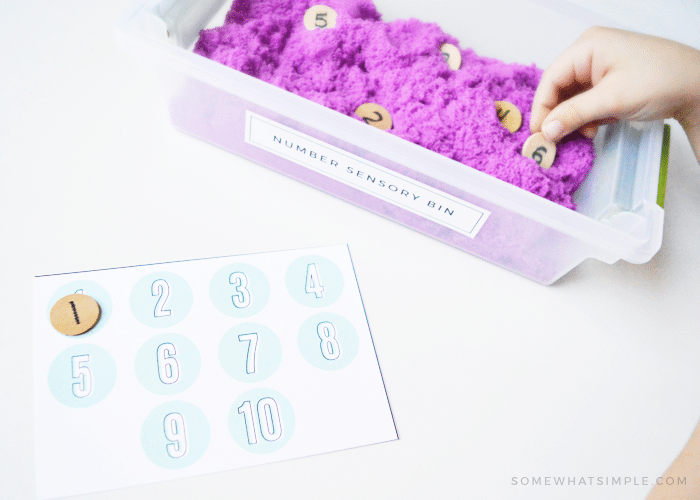 These pony beads where perfect for our color matching activity cards!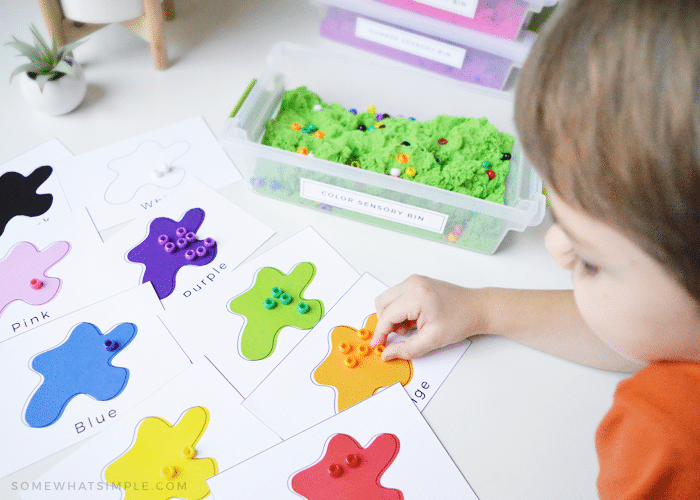 I love how the bright and colorful sand made these shapes even more fun!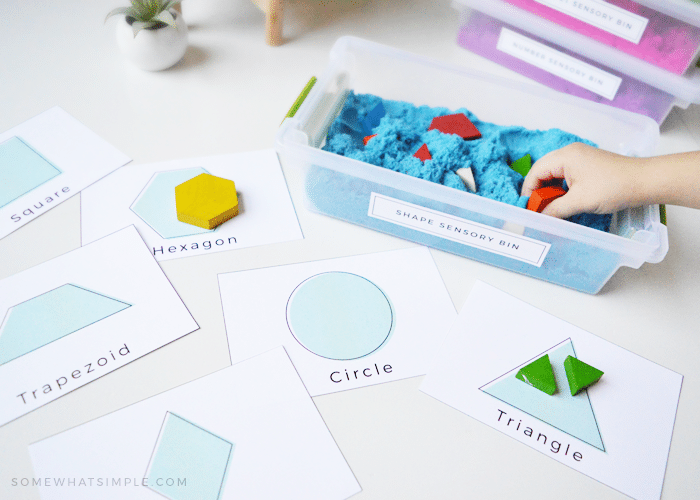 Even More Sensory Bin Ideas!
But the fun doesn't have to stop there! I found a slightly larger bin (but still small enough to fit on my shelf) that was perfect for just a plain ol' beach bin! Kinetic Sand has a kit with these fun and fabulous mini toys, which fit perfectly into my "mini" theme! The kids LOVED building sand castles. And I LOVED that we didn't have to go out in Arizona's thousand degree heat. 😉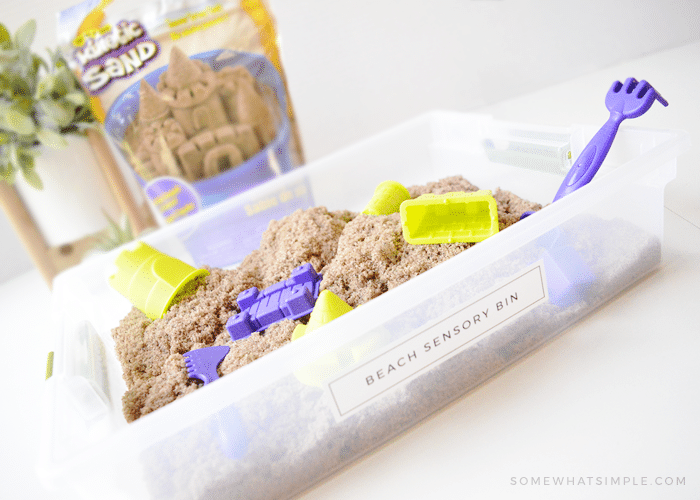 Another feature that I adore? The clean up. Or should I say, the lack of clean up! Kinetic Sand feels like sand, but it holds it shape- I can't even describe it. It's a parent's dream! My kids had all the fun of the beach, without the pounds of sand that they bring home. It doesn't stick to hands, it just stays in the box. I adore this. 😉
Are you ready to create your own mini sensory bins?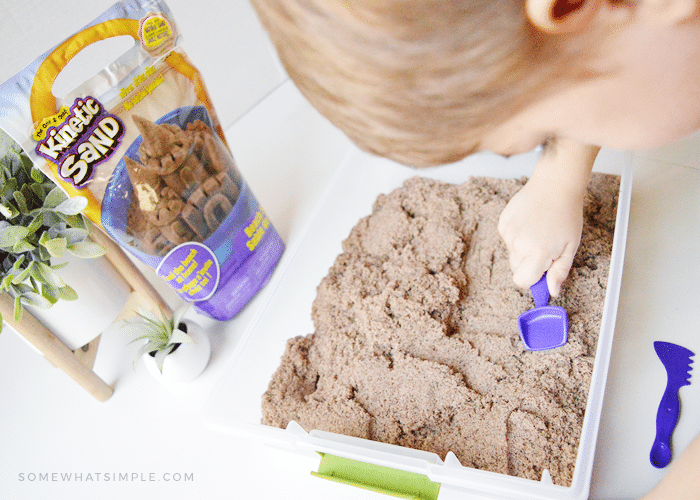 Kinetic Sand
But seriously guys. I'm dead serious when I say that Kinetic sand is a great product for families. I even found myself just playing around with the sand- I was mesmerized with how it was soft and squishy, how it almost felt alive, and how it didn't stick! It kinda blew my mind. They say it's the squeezable sand that you can't put down, and I'm here to say abso-freaking-lutely. I couldn't agree more! It oozes through the fingers, moves, and melts, and flows, but when pressed together, it sticks to itself and keeps it's shape. There really is only one Kinetic Sand and it's fantastic. I am completely sold!
Also, if you're wondering, it's 100% natural sand and is free of gluten, casein, and wheat. So it's safe for all kids, no matter if they have allergies or not!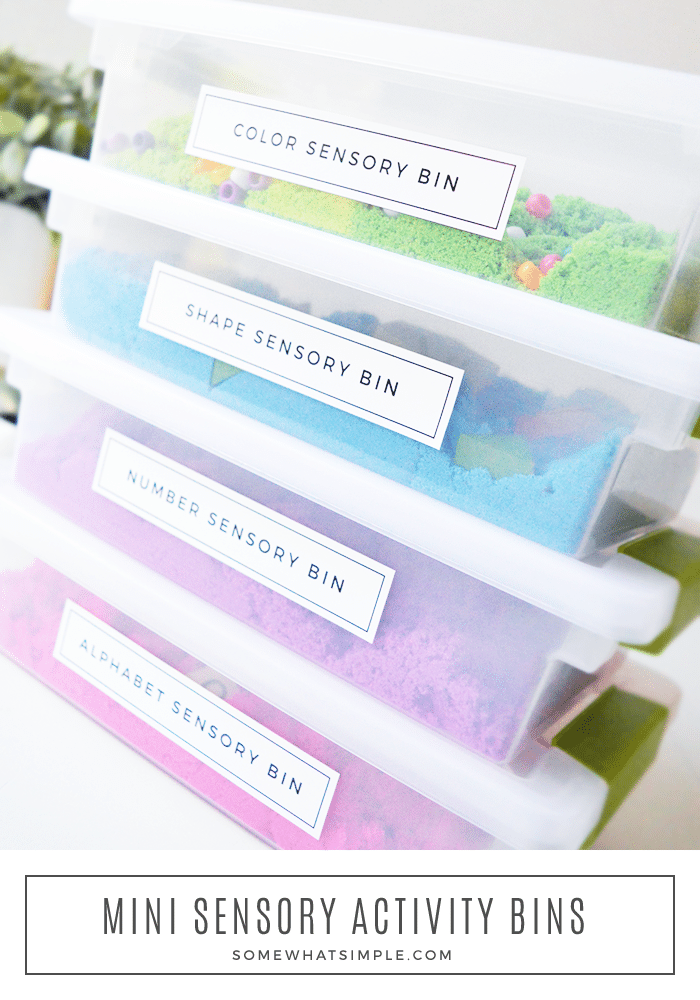 So there you have it – sensory bin ideas that are perfect for families, teachers, grandparents, etc. They're small, but pack a ton of fun! And with the help of Kinetic sand, clean up is insanely easy! This is a project that you can pull out anytime – after school, after homework, before dinner, on road trips, in the classroom, whether you have a few minutes or a few hours! Grab some pencil boxes and get creating!
This post was written on behalf of Kinetic Sand and Spin Master. As always, text, opinions and images are 100% my own. We genuinely love sharing products that we think you'll love!