Sourdough Pretzels are chewy, soft and totally delicious! They have the perfect buttery pretzel flavor, and they couldn't be any easier to make!
In my book, bread equals heaven. For even more bread recipes, take a look at our favorite Homemade Bread Recipes.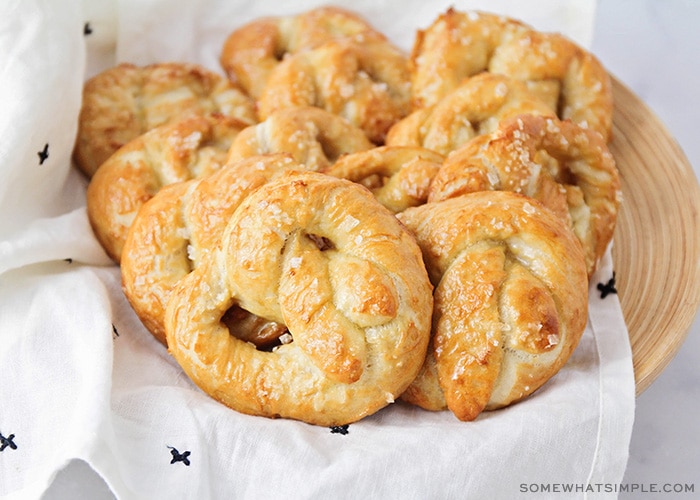 Easy Pretzels
I've been baking bread for about twelve years now, but I've always been intimidated by sourdough. I decided during recently, while being at home all day, that now was the best time to master sourdough.
Believe it or not, I've actually been pretty successful! These sourdough pretzels are one of my favorite new recipes. They're chewy, soft, and salty – pretzel perfection! If you've ever wanted to give it a shot, this is the recipe you want to start trying with.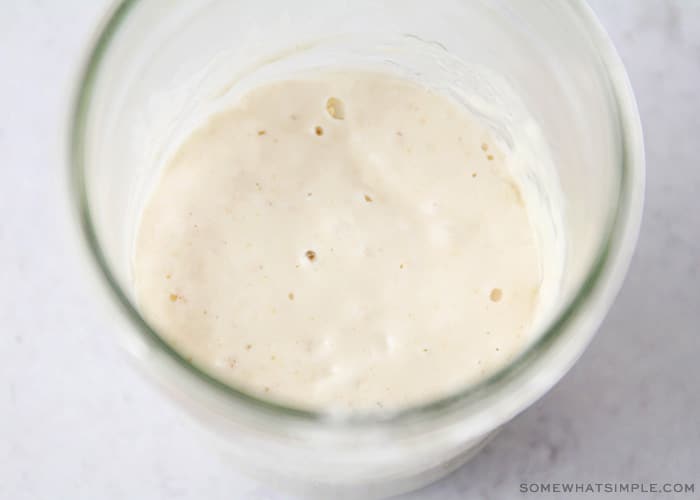 What is Sourdough Starter?
In order to start baking sourdough bread, you'll need to first make, borrow, or buy a sourdough starter. The sourdough starter I made has just two ingredients – flour and water.
(If you'd like to learn more about sourdough, King Arthur Flour has a really great guide you can check out here.)
The gist of it is that the flour and water pull yeast and friendly bacteria from the air and from the flour and use it to ferment the flour. The bubbles in the starter make your bread rise, similar to the way commercial yeast works (although a little slower).
The starter needs to be fed regularly with flour and water, but it can last for years or even decades.
If you'd like to make your own starter, I found this guide from Little Spoon Farm really helpful. Making your own starter takes about 5-7 days, so it will take a little patience if you go that route.
If you want to buy a starter, King Arthur Flour sells one ready-made.
If you have friends who make sourdough bread, ask if you can have some of their starter! It's easy to share, and there's always plenty of discard.
Once you've got your starter figured out, there are all sorts of things you can bake with it! These sourdough pretzels are a great beginner recipe.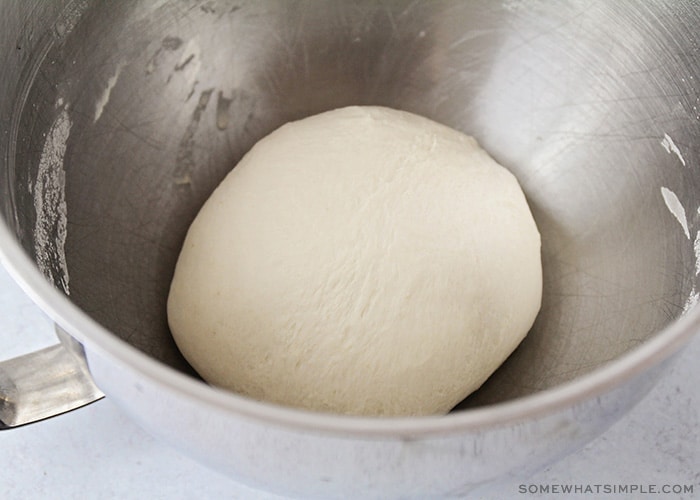 How to Make Sourdough Pretzels
Planning – As with all things sourdough, they take some extra time, so you'll want to plan ahead. It takes about 24 hours total to make them, but don't worry! There's very little hands-on time involved. Most of it is just waiting for the yeast to develop.
Starter – 12 hours before you plan to mix the dough, you will feed your starter to make it active. All you have to do is add a little flour and water to the starter, and then let it sit for 12 hours. Easy peasy. You'll know it's ready to bake with when it looks fluffy and you have bubbles throughout like the picture above.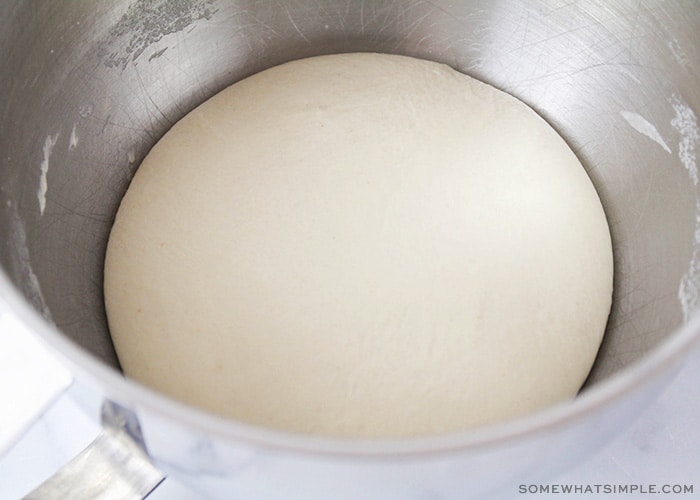 Mix – Next, you will mix the sourdough pretzel dough. It is a very simple dough, with just five ingredients. Mix the dough and knead it until smooth, then let it rest for another 12 hours.
Rise – The dough should rise by about 50% after 12 hours. You'll want to keep the dough in a somewhat warm place (like on top of the fridge or in the oven with just the light on) if your house is cold like mine is.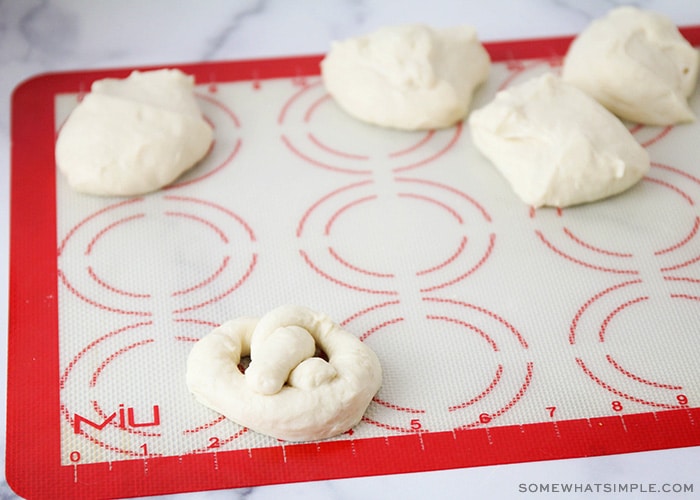 Divide – After the dough has risen, you'll divide it into twelve balls and shape each one into a pretzel shape.
Rest – Place the pretzel shapes on a parchment or silicone-lined baking sheet and let them rest for about 30 minutes. They won't rise much but they should puff up a little bit.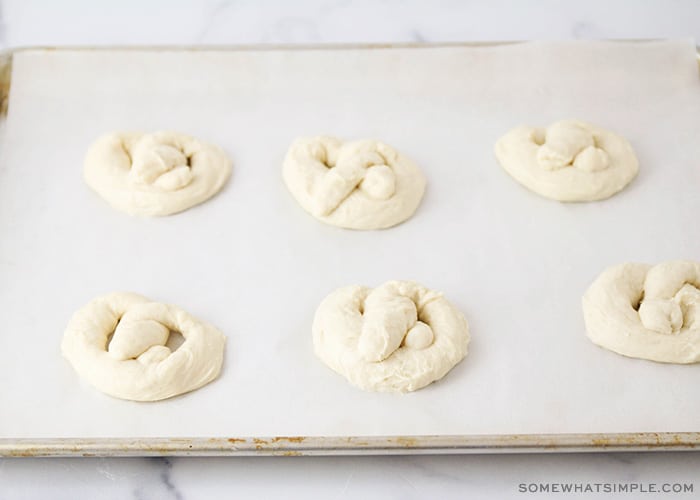 Boil – At the end of the resting time, bring a pot of water with some brown sugar and baking soda in it to a boil. Don't skip the step where you boil the sourdough pretzels! That's what gives them their characteristic chewiness and crisp crust.
Flip – You'll boil each of the pretzels for about 30 seconds, flip, then boil another 30 seconds. Place them back on the parchment-lined baking sheet after they are boiled, then brush them with egg wash and sprinkle with salt.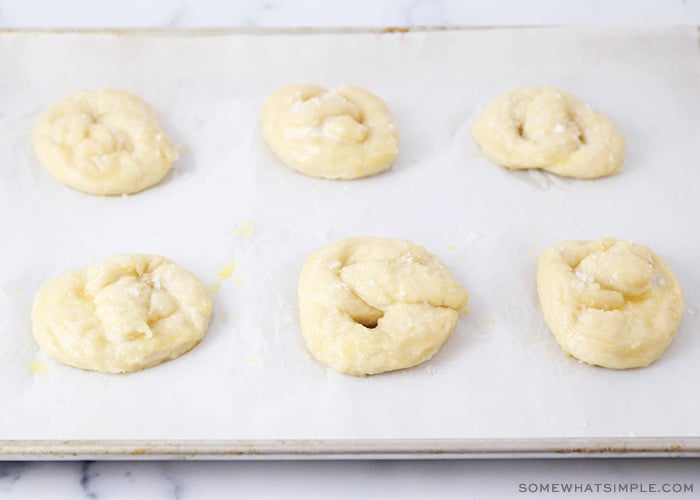 Bake – From there, just bake the sourdough pretzels in the oven for 12-14 minutes, until golden brown. The outsides will be crisp and chewy, while the insides will be soft and fluffy. These pretzels really are perfection!
These sourdough pretzels are a delicious recipe that's perfect for beginners! They taste every bit as delicious as mall pretzels, but they're even better because they're homemade. They do require a little patience, but they are definitely worth the wait!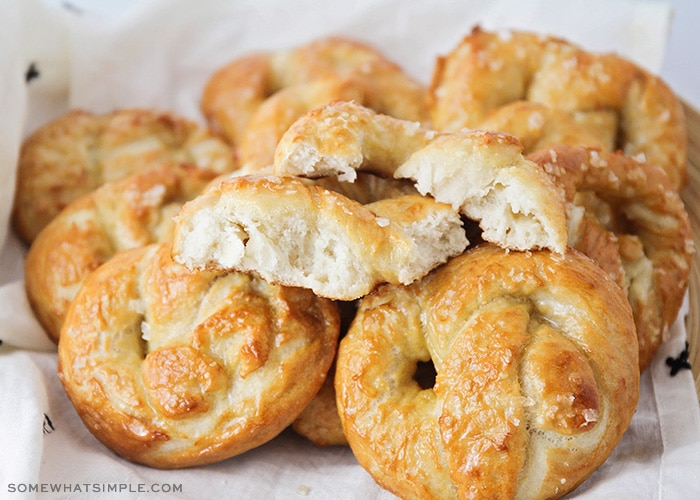 More Recipes With Pretzels
Sourdough Pretzels Recipe
These sourdough pretzels soft, delicious and super easy to make!
Ingredients
for the active starter:
1

tablespoon

sourdough starter

1/3

cup

+ 1 tablespoon all purpose flour

3 1/2

tablespoons

water
for the dough:
1/2

cup

active starter (above)

1

cup

water

2

tablespoons

honey

2

teaspoons

salt

4

cups

bread flour
for the water bath:
6

cups

water

2

tablespoons

baking soda

1

tablespoon

brown sugar
for the topping:
1

egg

1

tablespoon

water

1-2

teaspoons

coarse salt

2

tablespoons

butter

,

melted
Instructions
12 hours before making the dough, mix together the sourdough starter, flour, and water until well blended. Cover loosely and let sit for 12 hours.

When ready to make the dough, mix together the starter and water in a large bowl or the bowl or a stand mixer. Add the honey, salt, and bread flour, and mix to combine. Knead the dough for 5-6 minutes by hand or using the stand mixer, until the dough is smooth.

Place the dough in a greased bowl, cover, and let rise for 12 hours.

When ready to bake the pretzels, divide the dough into twelve equal pieces. Roll each piece into a long rope, and shape into a pretzel shape. Place on two greased or parchment lined baking sheets, cover with a towel, and let rest 30 minutes.

While the pretzels are resting, preheat the oven to 425. In a large pot, bring the water, baking soda, and brown sugar to a simmer. Add the pretzels to the pot, 3-4 at a time, cooking for 30 seconds per side, then return the pretzels to the baking sheets. Repeat with the remaining pretzels.

In a small bowl, mix together the egg and water. Brush the egg wash over the pretzels, then sprinkle with the coarse salt.

Bake 12-14 minutes, until golden brown. Remove from the oven and brush with melted butter.
Nutrition
Serving:
1
g
·
Calories:
210
kcal
·
Carbohydrates:
39
g
·
Protein:
6
g
·
Fat:
3
g
·
Saturated Fat:
1
g
·
Trans Fat:
1
g
·
Cholesterol:
19
mg
·
Sodium:
1159
mg
·
Potassium:
54
mg
·
Fiber:
1
g
·
Sugar:
4
g
·
Vitamin A:
79
IU
·
Vitamin C:
1
mg
·
Calcium:
15
mg
·
Iron:
1
mg
Other Notes