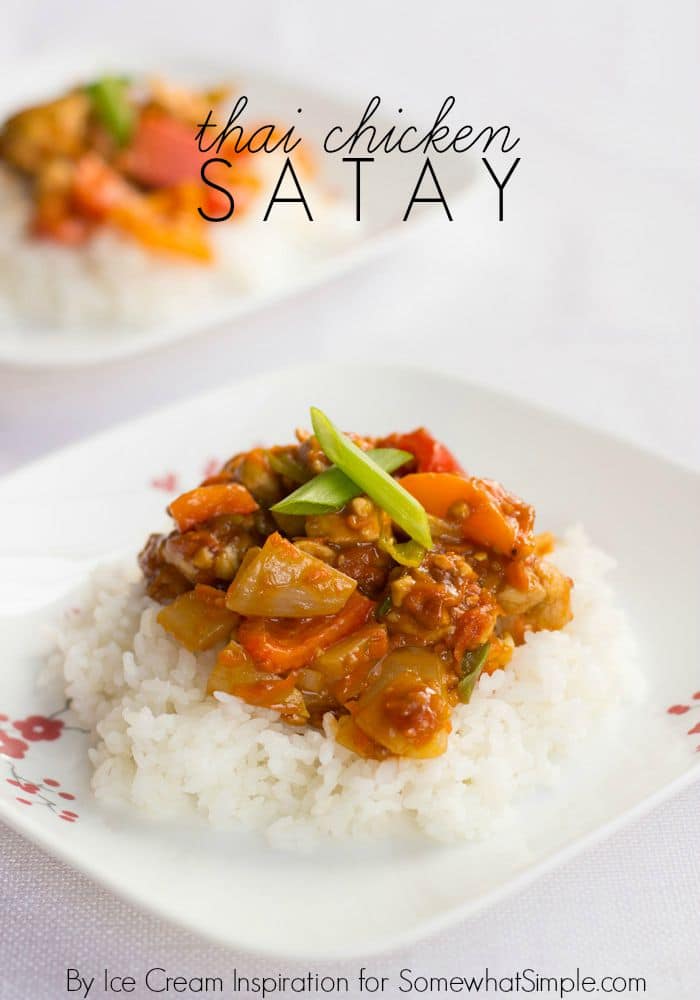 Do you love Thai food? Many Thai dishes are actually very simple to make at home and they don't need a lot of unusual ingredients. Today I'm sharing with you my all-time-favorite Thai dish- Thai Chicken Satay. It's easy to make and super delicious!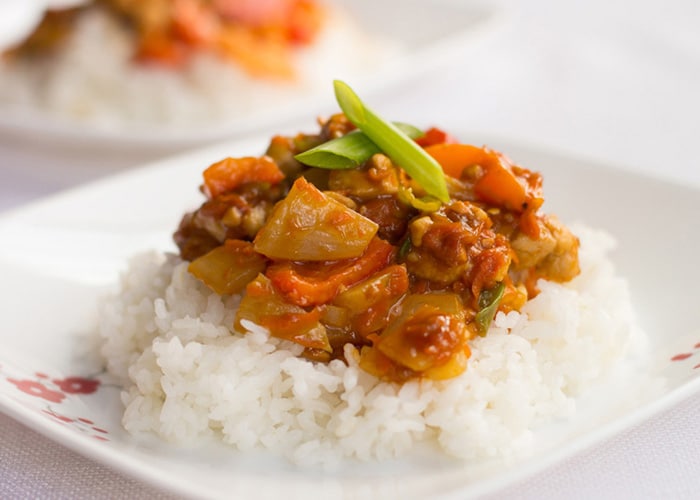 I find that it is easiest to chop all my vegetables before starting to cook anything. That way, they are ready to go in the pan all at once, and everything cooks evenly. This recipe also calls for peanut butter, and it is your choice whether or not to use chunky or smooth. I love the chunky peanut butter, because it gives the dish an interesting crunchy texture. You can also make this dish spicy if you like by adding red pepper flakes to the sauce.
 Thai Chicken Satay
Ingredients:
For the stir fry:
2 cups chicken cut into bite-sized pieces
3 tsp. minced garlic
1/2 yellow onion, cut into chunks
1 red bell pepper, cut into chunks (can also use green, orange, or yellow peppers)
6 green onions, cut at an angle in 2-inch pieces
1 cup shredded carrots
For the sauce:
1/2 cup peanut butter (chunky or smooth)
1/3 cup soy sauce
1/3 cup honey
1 tsp. ginger powder
1 tsp. minced garlic
1/4-1/2 tsp. red pepper flakes (optional)
Directions:
For the stir fry:
Heat skillet with a little oil over medium-high heat. Add chicken and garlic and cook until the chicken is no longer pink. Remove from pan.
Add a little more oil to the pan if necessary. Add all the vegetables to the pan and stir-fry until tender-crisp.
Add the chicken back to the pan and mix well with the vegetables.
For the sauce:
In a separate pan over medium heat, combine all the sauce ingredients and stir until incorporated and heated through.
Pour over stir-fried chicken and vegetables and mix well.  Spoon it all atop a lovely bed of Jasmine or Japanese rice and serve immediately.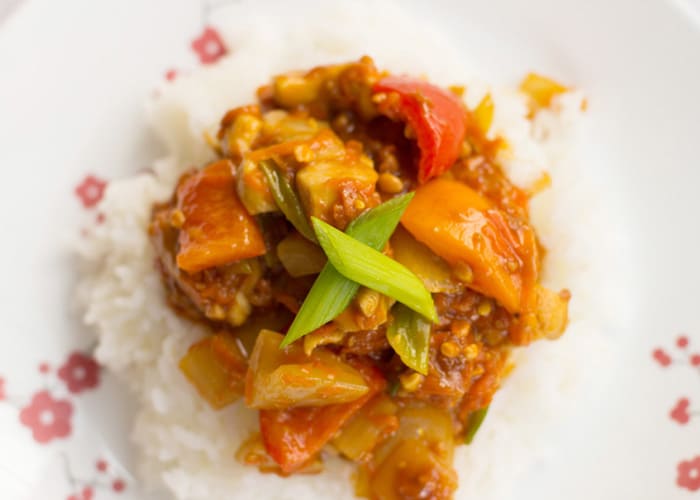 And if you want to go all out, add this Easy Thai Ginger Coconut Soup to your lineup. It's one of my favorite soups of all time, and is so easy and delicious.
Get ready. You have just discovered your new favorite meal.