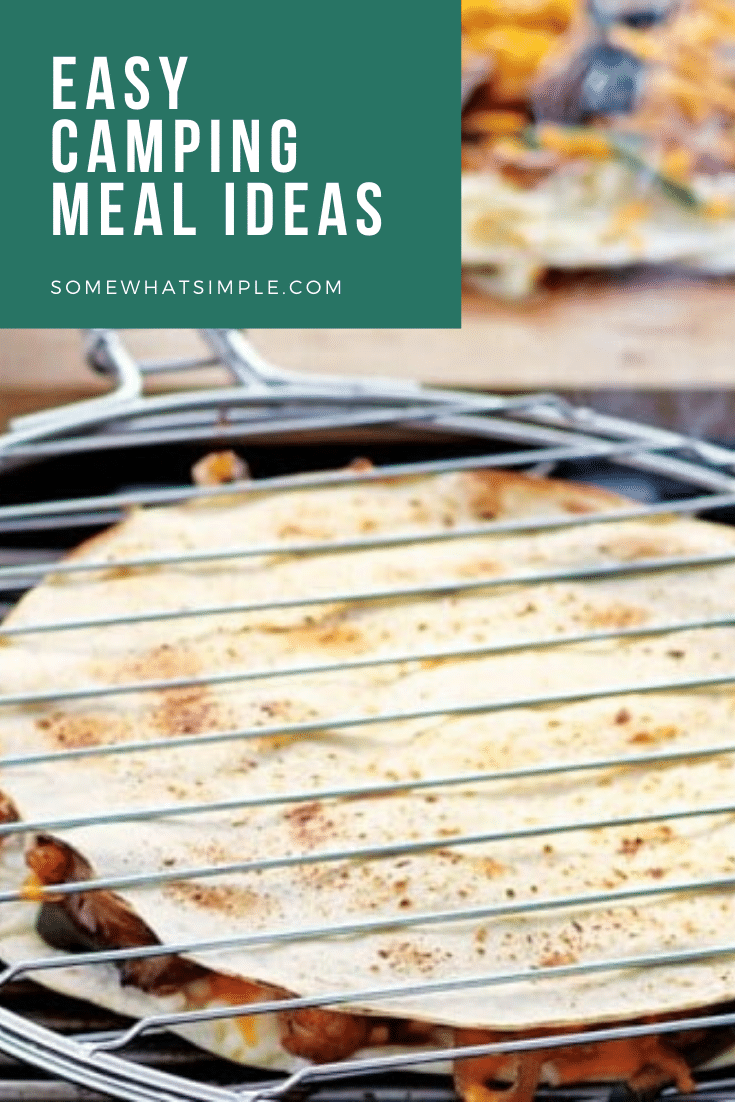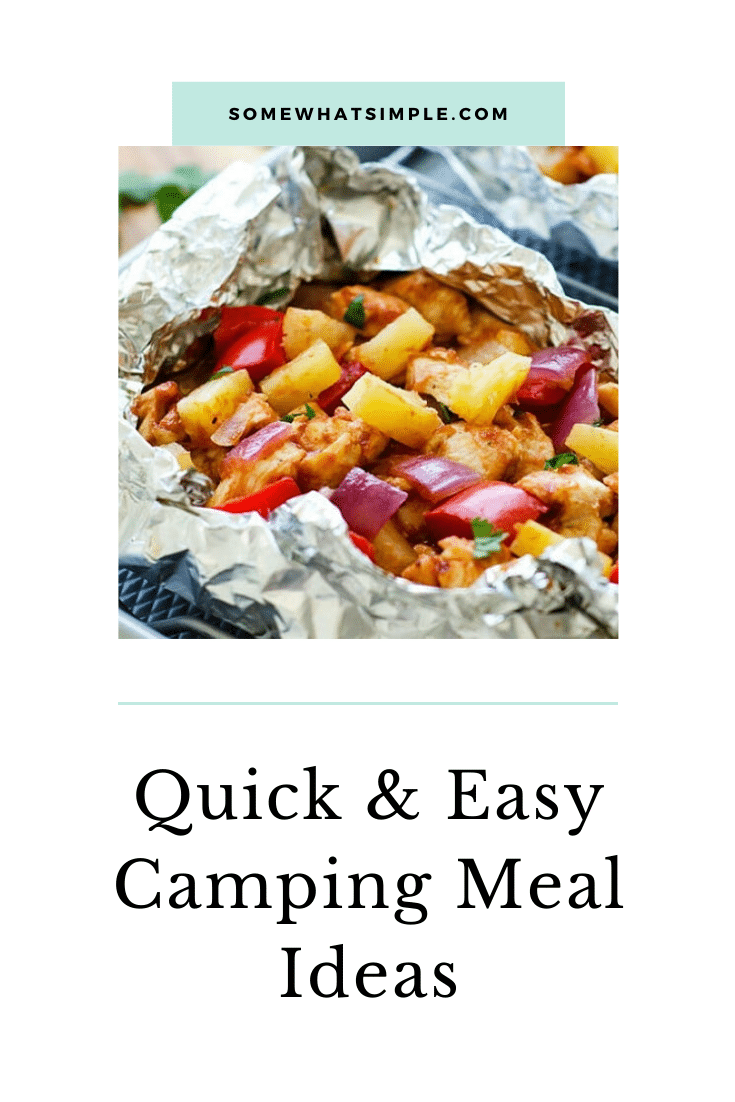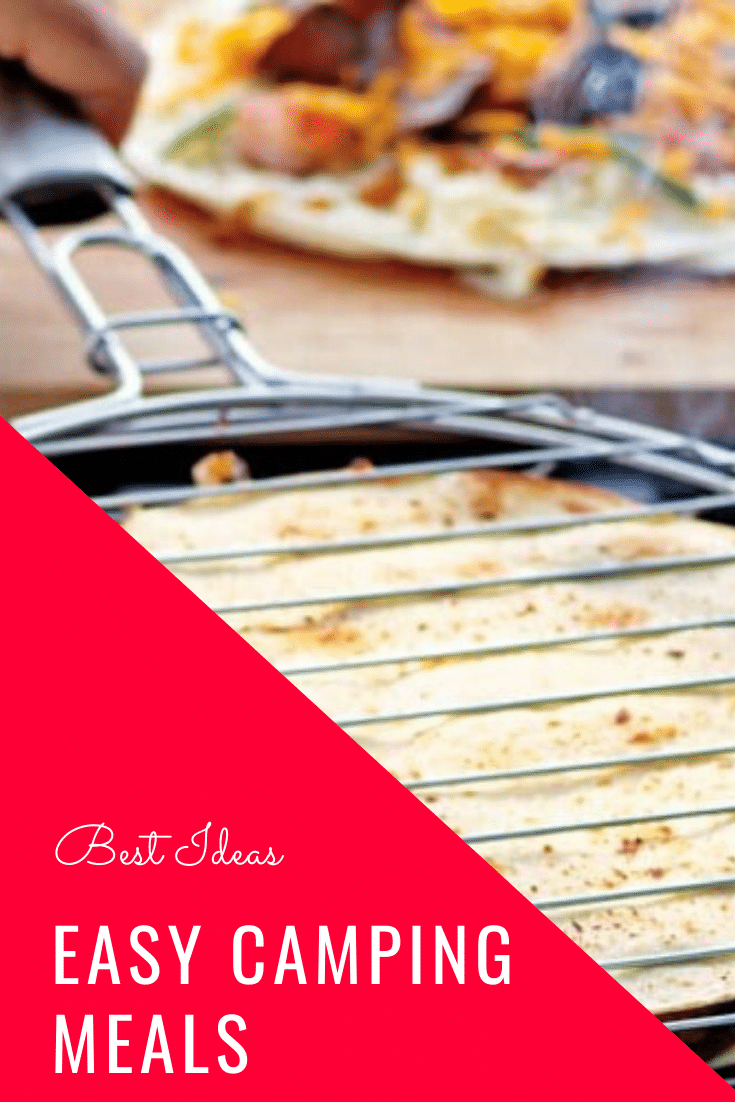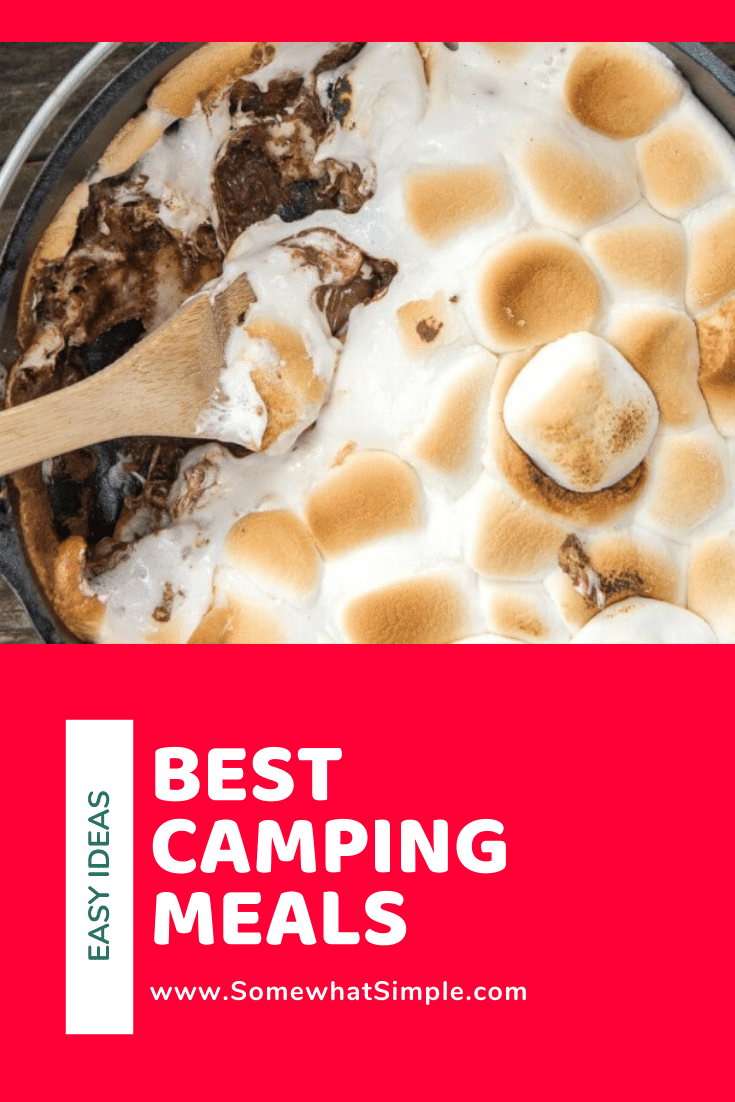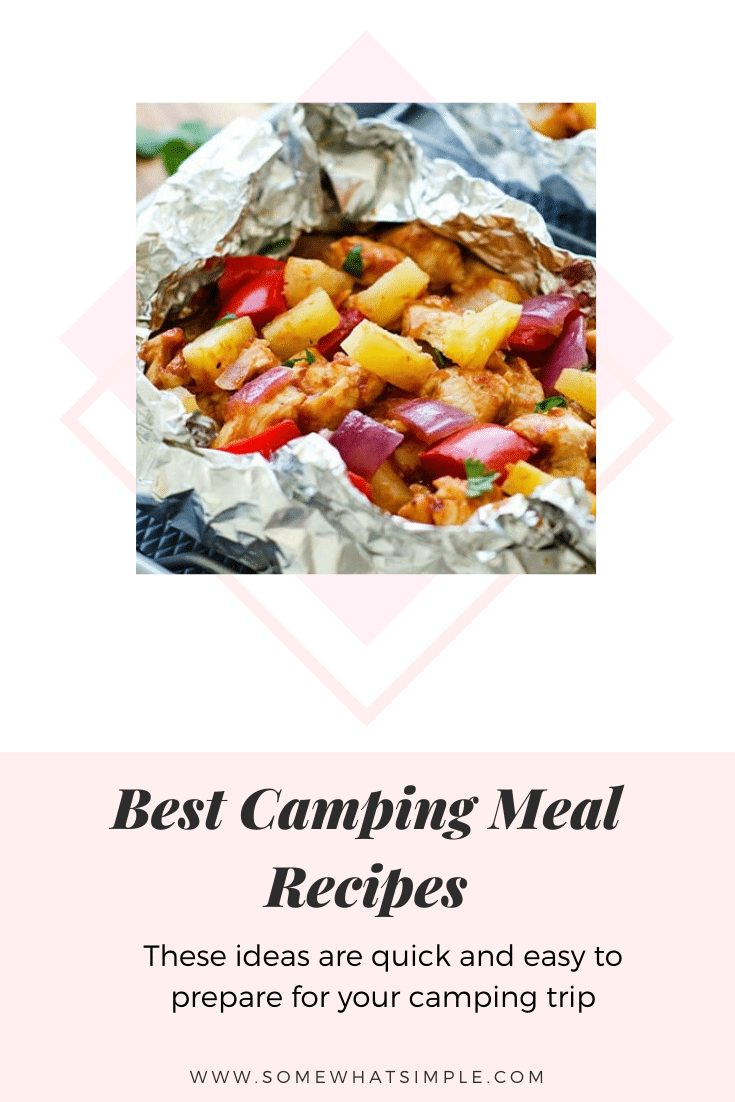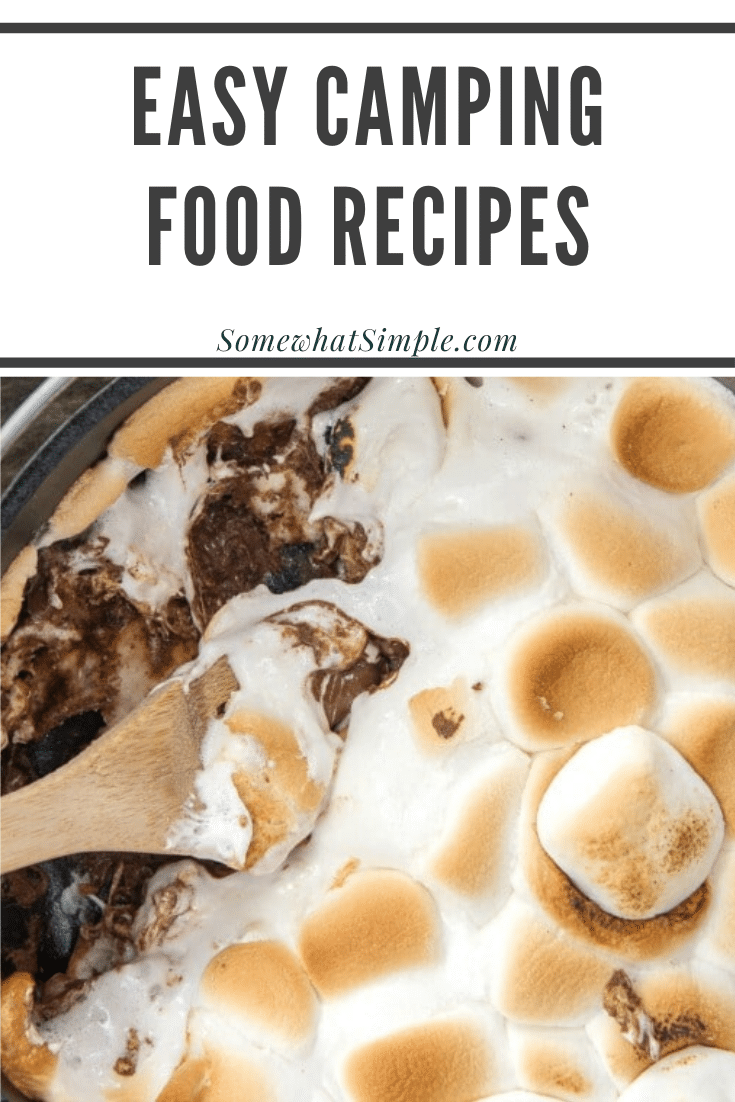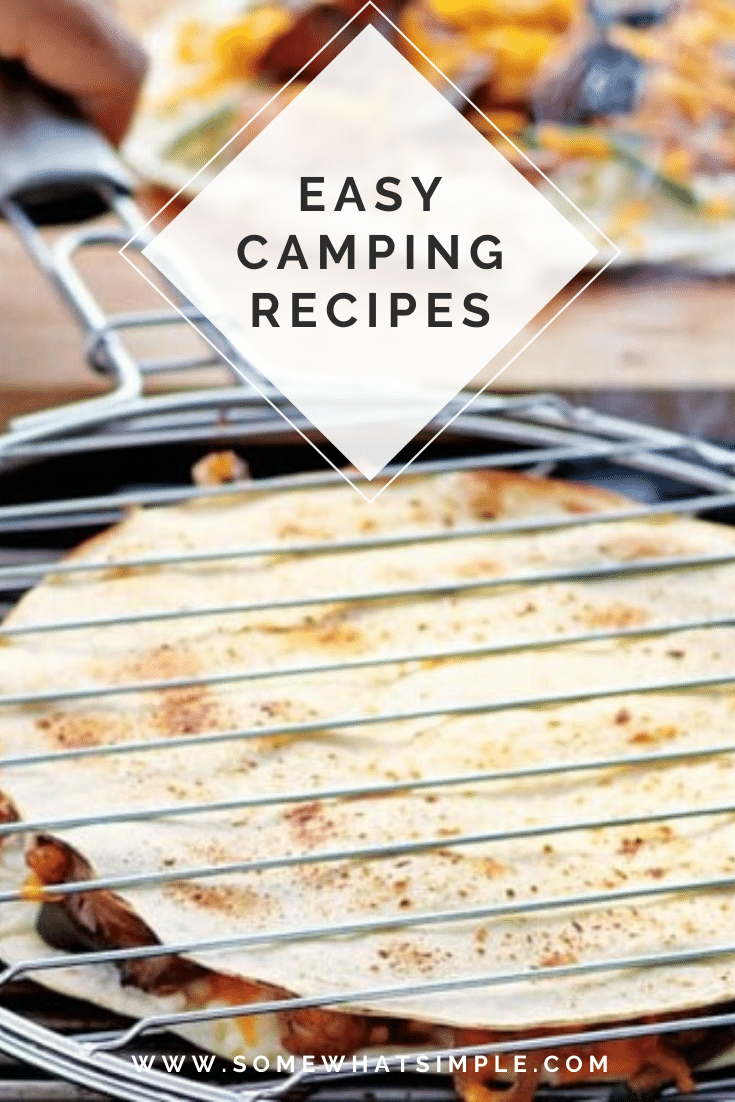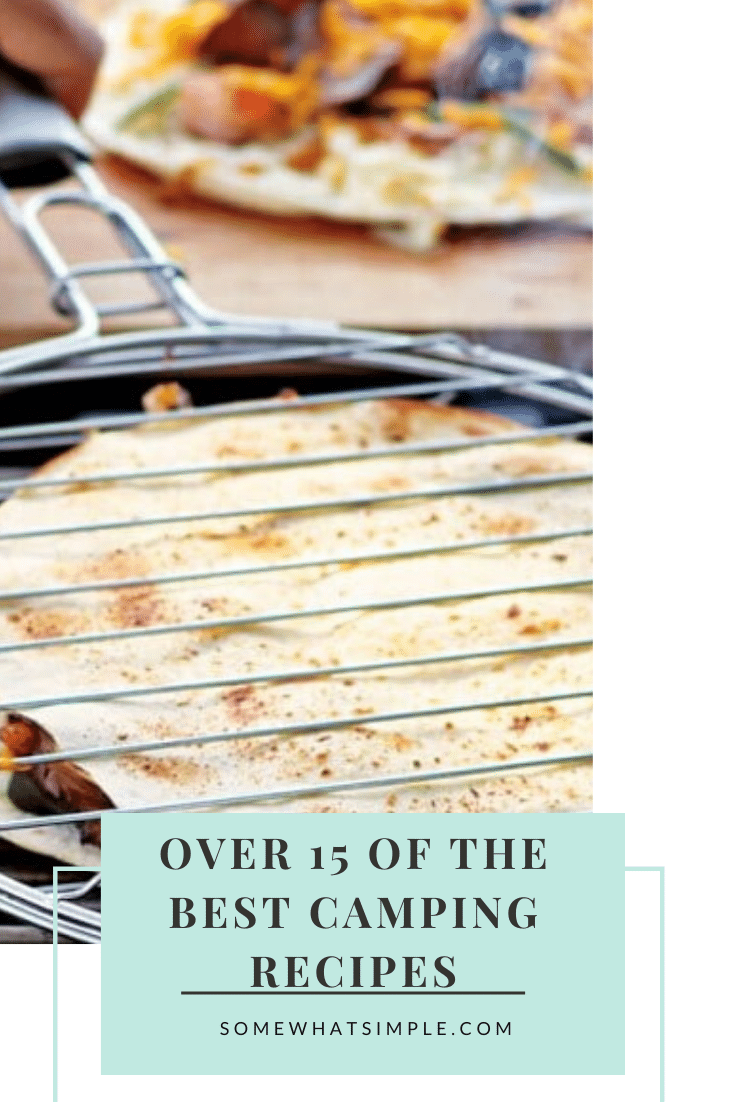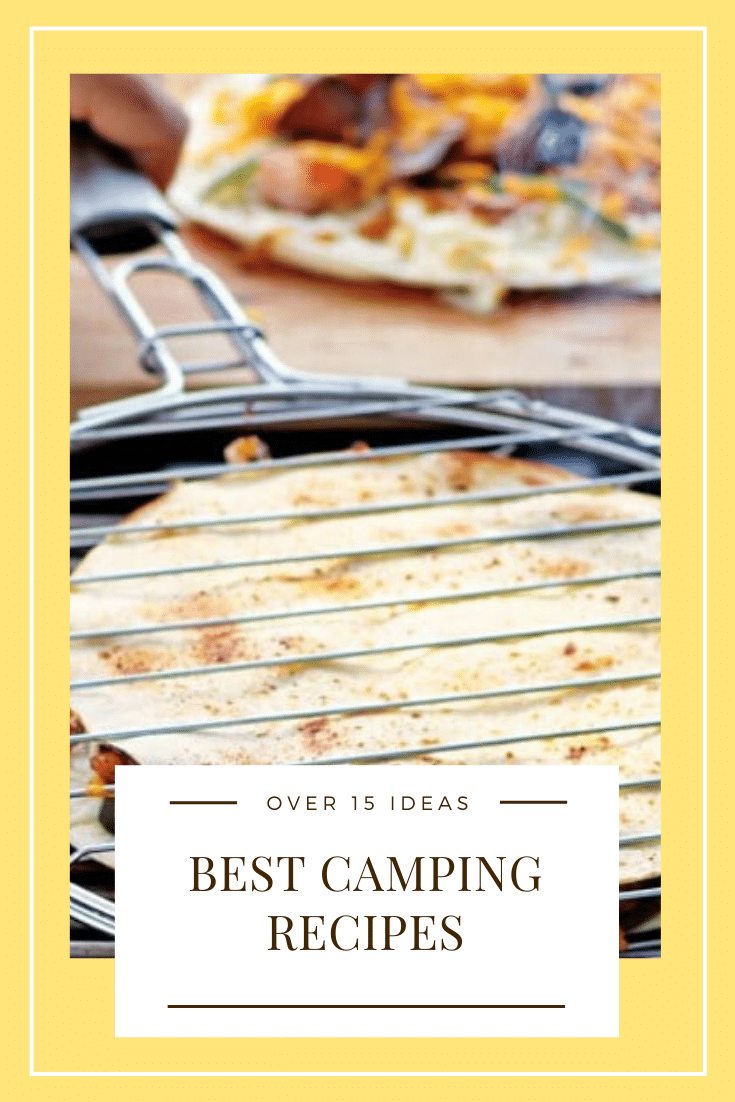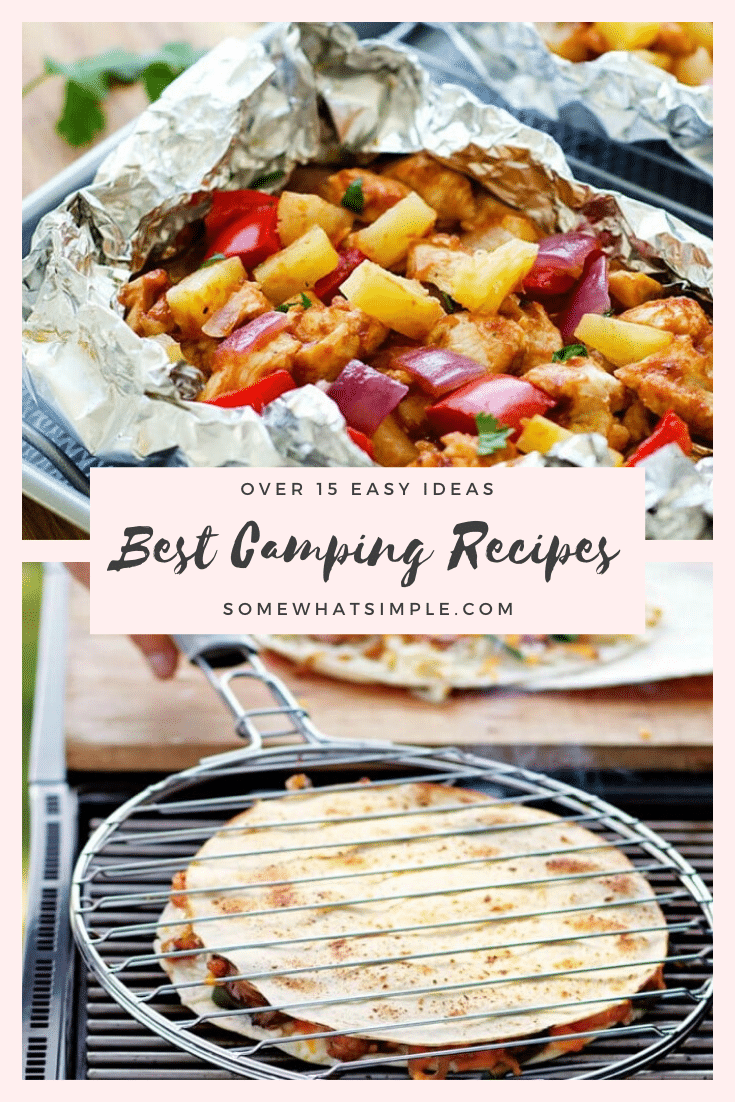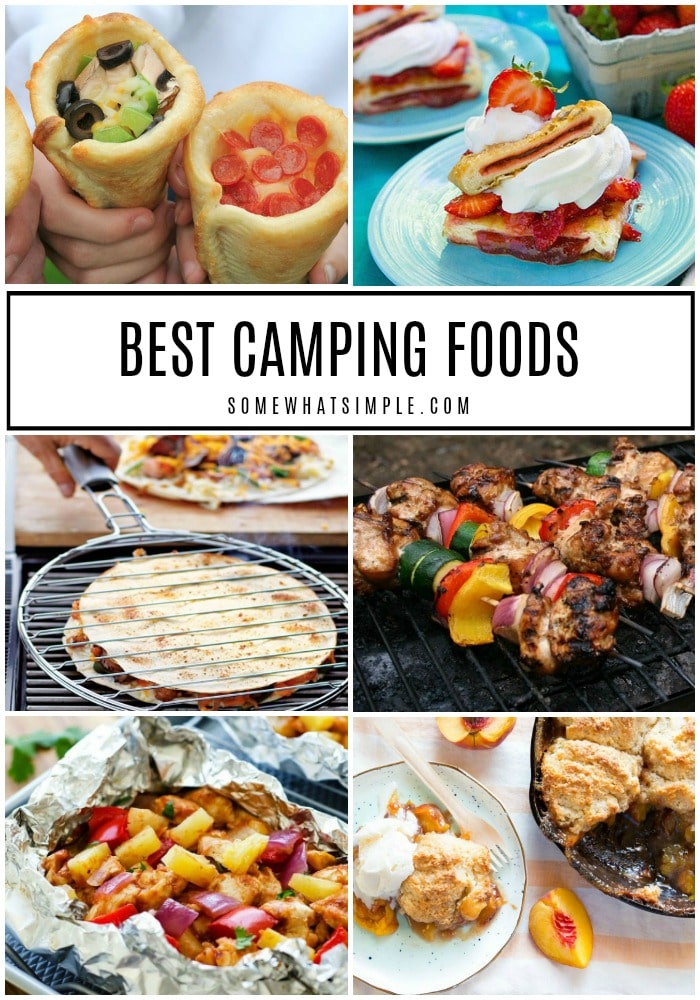 Take your camping game to the next level with our EASY camping food ideas! From breakfast to dinner, we have you covered. Your next camping trip is going to be filled with AMAZING food!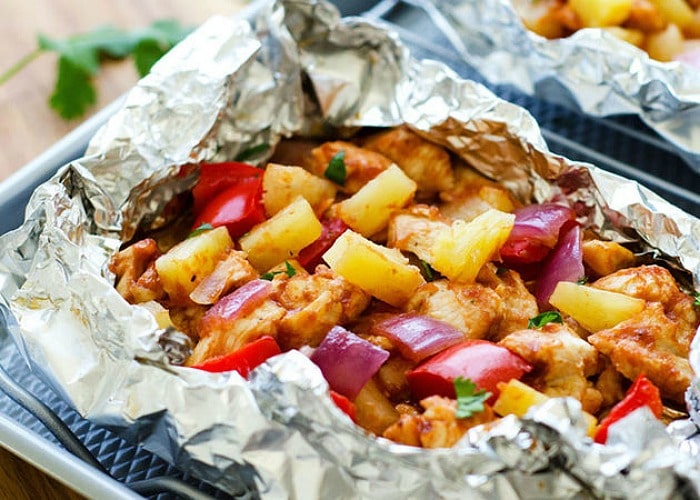 Easy Camping Food
My favorite part about camping has got to be the food. There is just something so delicious about food cooked on an open fire in the great outdoors. Today I want to share with you several of our favorite camping food ideas that we enjoy when we go enjoy the great outdoors. Some of these are the best camping food recipes we've ever tried!
If you don't have any camping adventures planned anytime soon, bookmark this page and come back to it next year.
If you're like my husband and prefer to camp at the Holiday Inn, maybe these camping food ideas will change your mind!
And if nothing else, it could spark your creativity to plan an outdoor BBQ, picnic or Bon Fire with some friends!
Make-Ahead Camping Food Preparation
Food prep for camping is a must-do. I plan each and every meal in detail before we leave, and then I create a grocery list based on my meal plan. It is very basic, but it helps the trip go smoothly. Here is the list I use –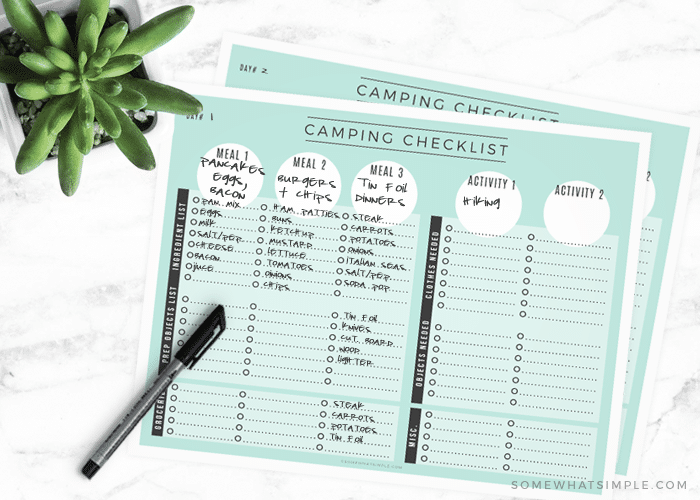 Click HERE to grab your free Camping Packing Checklist
Camping Food Tips
One of my favorite things to bring for our camping meal times are these food tents. They help keep those pesky flies and bugs off of the food.
The other "must-have is our cutlery caddy to keep everything handy at the table.
Don't waste money buying small sizes of condiments from the grocery store. Take ingredients from the big sizes already in your fridge and store them in small containers. These containers stack nicely in the cooler so they are a space saver. Just make sure you label them!
Small Tupperware containers and ziplock bags will be your best friend! I use them to prep all of the food I take camping!

Veggies for dipping and fruit for snacking all get washed and cut up at home. I place them in ziplock bags or Tupperware containers so that once we are at the camp ground, they are easily accessible and ready to eat!
Store veggies and other ingredients for your camping recipes in ziplock bags and label them with what meal they are for. That way they don't get used at the wrong time, and they are ready to go so you can grab them when you need them!
Even hamburgers should be prepped before you go. I make sure that I make the burgers before we leave home and have them in a Tupperware so that my husband just has to put them on the grill and we're good to go!
More Easy Camping Ideas
Simple Camping Meal Ideas
While some people go all out with their camping food, I like to keep things quick and easy so there's more time to enjoy being with my family. We always bring some of the classic camping dinner foods, like hamburgers and hot dogs (because, what is a camping trip without hot dogs?) but we always mix things up because there are so many delicious recipes to try. Here is a list of our very favorite camping meal ideas that are easy to make:
Best Camping Breakfast Ideas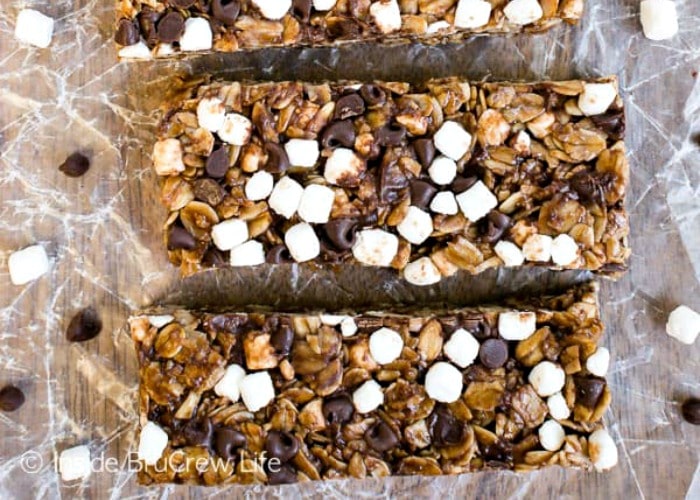 Nutella S'mores Granola Bars
No Bake S'mores for breakfast while camping will have everyone smiling as they start the day.
Campfire French Toast
Campfire French Toast is an easy, low maintenance camping breakfast idea that will bring smiles to your little campers. From This Little Piglet.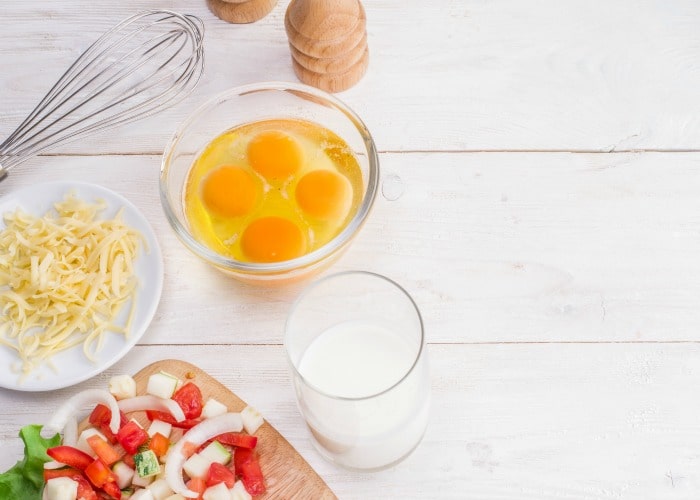 Omelets In Bag
If you've never made omelets in a bag, you're in for a special (easy!) treat! They are so easy to make! From Somewhat Simple.
Lumberjack Breakfast
Start your day in the great outdoors on the right foot with this classic Lumberjack Breakfast. From Echoes of Laughter.
Quick Camping Lunch Ideas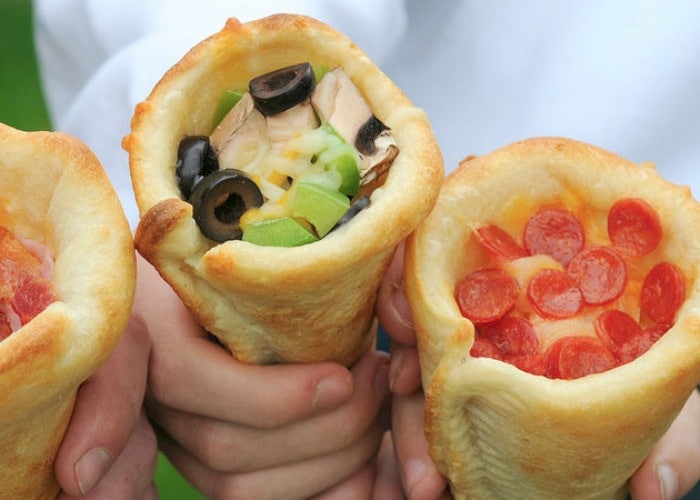 Pizza Cones
Pizza Cones are a way to make one of your favorite meals even more fun and portable, which are perfect for when you're camping. From Tablespoon.
Picnic Sandwich
Not only is this a fabulous sandwich, but it is the ultimate in 'make ahead' food. It tastes better the day after it's made and the flavors have had time to mingle. This sandwich requires a filling, some meat & cheeses and a round loaf of bread is a simple camping lunch idea. To see how to make it, click HERE. From Echoes of Laughter.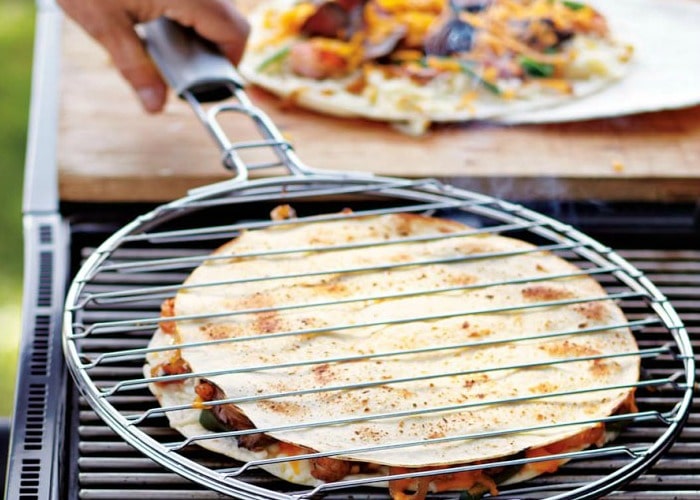 Grilled Quesadillas
The heat of the outdoor grill cooks up these delicious grilled quesadillas with smoky flavors, soft melted cheese and a crisp golden exterior. This tasty camping food idea is from Williams Sonoma.
Campfire Nachos
Make these nachos with a cast-iron Dutch oven and load them up with onions, avocado, black beans, lime, and cilantro. From Fresh off the Grid.
Easy Camping Dinner Ideas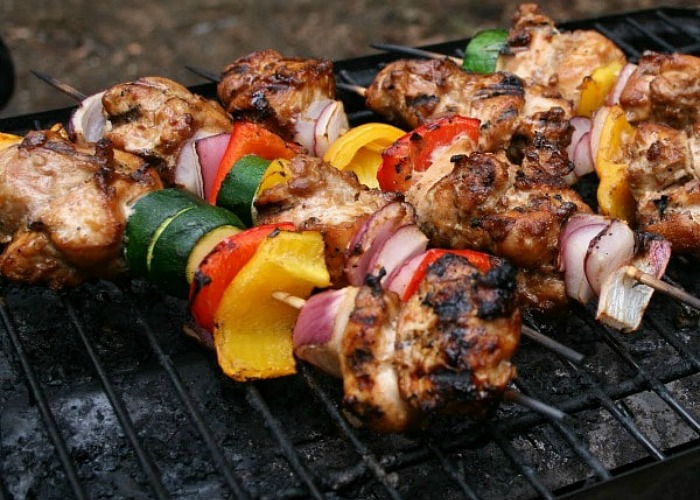 Grilled Chicken Kabobs
Simply gather your ingredients and do the preparations listed HERE and your meal is ready to go into the cooler for your camping trip. From Echoes of Laughter.
Amazing Grilled Steak
This recipe requires you to mix up a quick & easy marinade, then toss the Marinade and steak in a ziploc bag until you're ready to use on your camping trip. Recipe and prep instructions HERE. From Echoes of Laughter.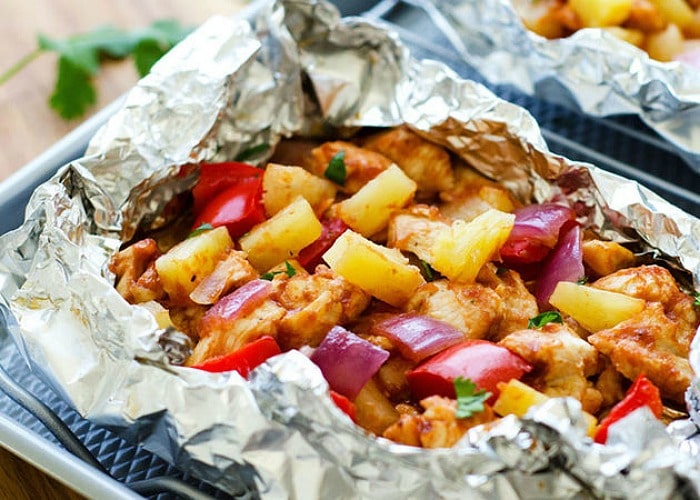 BBQ Chicken Foil Packs
Foil dinners are one of my favorite camping foods of all time. This flavorful barbecue chicken and veggie dinner is made by cooking the whole thing in a foil pack! From Pillsbury.
Grilled Pineapple Chicken Foil Packets
Smothered in a sweet teriyaki sauce, this chicken foil packet recipe is a delicious upgrade of your regular chicken and vegetables combo. From Creme de la Crumb.
Camping Dessert Recipes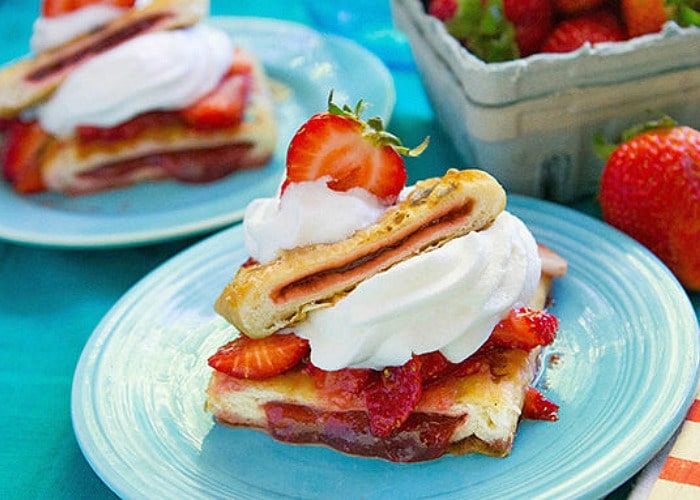 Grilled Toaster Strudel Strawberry Shortcake
Grill up some toaster strudels for the best strawberry shortcake shortcut ever! From Tablespoon
Strawberry and Cream Cheese Camping Dessert
This is SUPER easy to make and you only need 4 ingredients and a fire iron. It's a pocket of warm, yummy & creamy goodness! Get the recipe and step by step instructions HERE. You don't have to limit yourself to strawberry jam – pick your favorite jam or marmalade, or here are some other suggestions:
peanut butter and banana slices
nutella & banana slices
You can also make meals with your fire irons. Try pizza sauce, mozzarella and pepperoni between the two pieces of bread! YUM! The possibilities are many!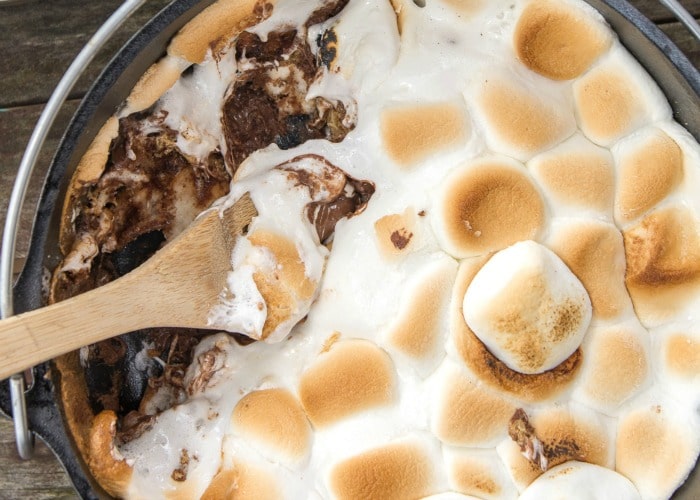 Dutch Oven S'Mores Angel Food Cake
Quick and delicious S'mores Cake dessert, made in 10 minutes! From The Polka Dot Chair.
Tortilla Dessert Roll Ups In Foil Packets
Tortilla Desserts are not only easy, but they can be customized to include any ingredients that make your taste buds smile! From Echoes of Laughter
Campfire Peach Cobbler
Sweet summer fruit meets buttery biscuit deliciousness in this epic peach cobbler. From Brit + Co.
Pineapple Upside Down Cake
Super Easy Upside Down Pineapple Cake is a MUST-TRY food on your next camp out! From Echoes of Laughter.14. Crescent Wrapped Hot Dogs
Hot dogs wrapped up in Crescent rolls, cooked over a campfire? Yes please! From Tablespoon.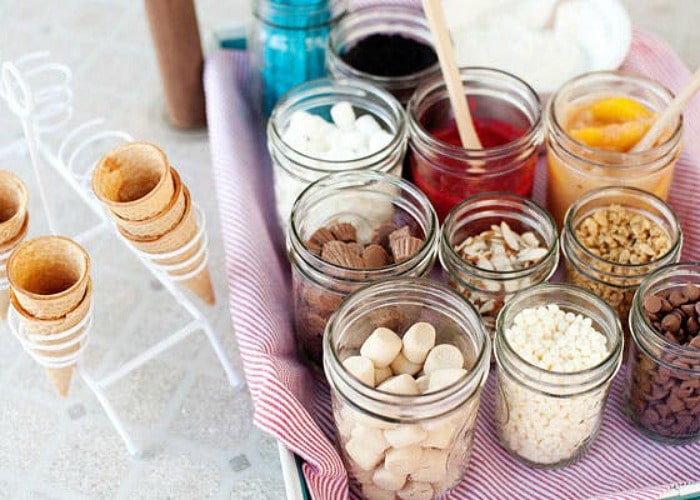 Campfire Cones
Why this delicious dessert wasn't thought of 100 years ago is beyond me! Campfire Cones are my favorite camping treat! Take an ice cream cone and fill it with candies, chocolate, marshmallows, fruit etc. Roll the cone in foil, then place on the grill. In just a few minutes you have melted chocolaty goodness that is sure to please everyone! From The Kitchen.
S'mores Dip
Make this gooey s'mores dip in a cast iron skillet and be sure to have plenty of graham crackers for dipping! From Hungry Brownie
Delicious Camping Food
Food eaten in the fresh air is so very good. Let us know what meals you have on your camping food list in the comment section below. I hope on your next camping trip you feel inspired to try something new and delicious!
•••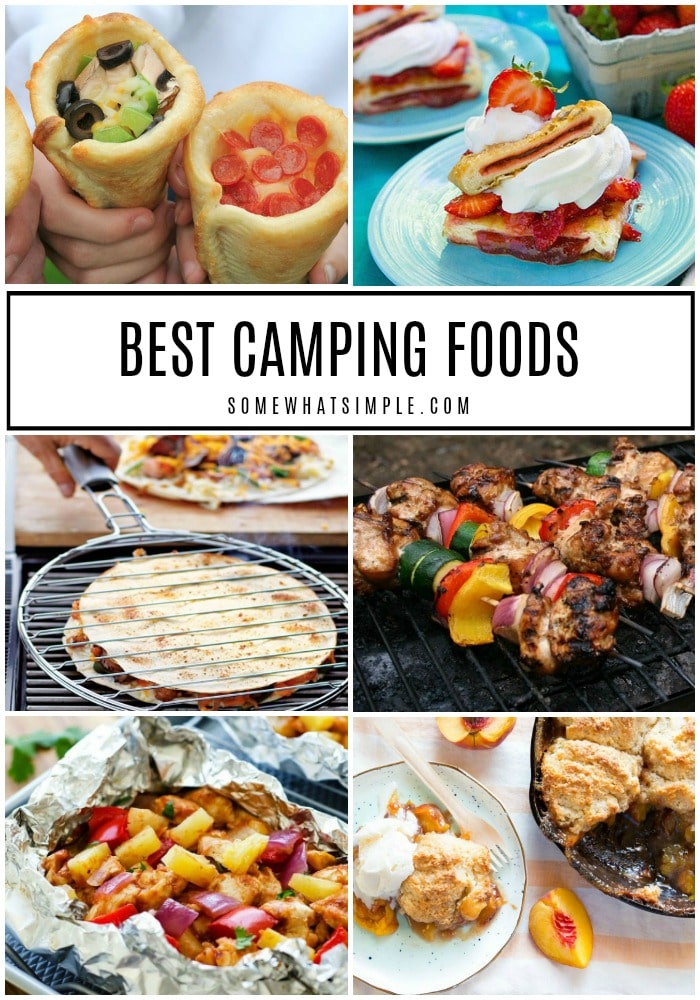 About the Author: This post was originally written as a guest by Angie from Echoes of Laughter. It was updated in 2018 with even more of our favorite camping recipes. We hope you love it!
SaveSave
SaveSave
SaveSave
SaveSaveSaveSave
SaveSave
SaveSave
SaveSave
SaveSaveSaveSave
SaveSave
SaveSave
SaveSave
SaveSave