Buttery shortbread topped with cherry jam, fresh cherries and a crumbly topping. These Cherry Streusel Bars are mind-blowingly delicious and easy to make!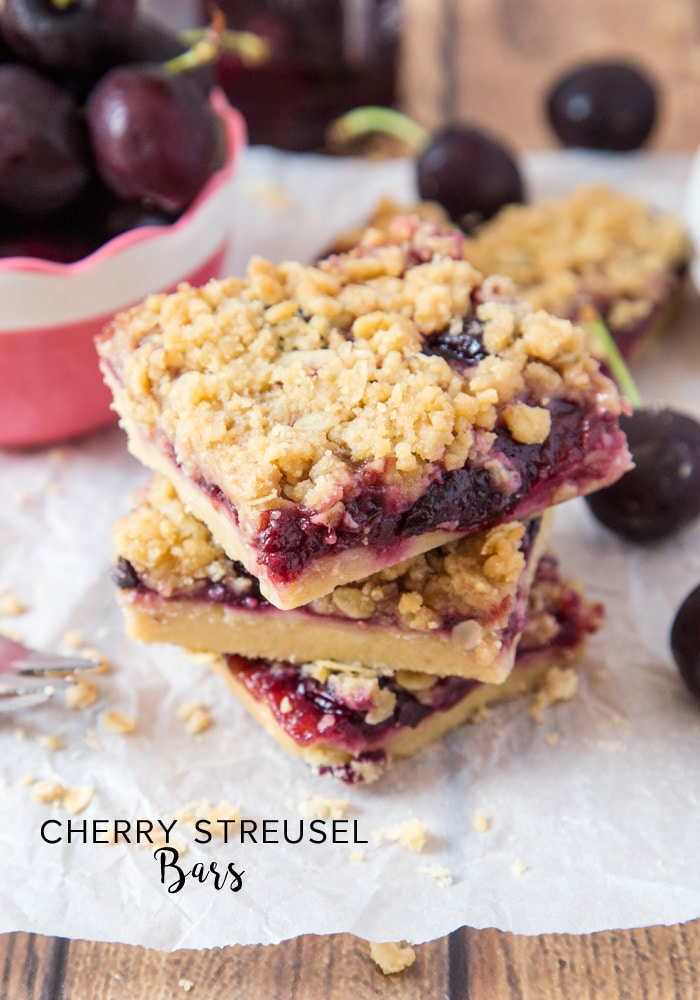 I simply adore cherries. They are soft, juicy and sweet. These Cherry Streusel Bars are sublime! I made my favorite buttery shortbread base, then topped it with some cherry jam and plenty of fresh cherries. Just before popping it in the oven, I crumbled a flaky oat topping. The result were these glorious bars – YUM!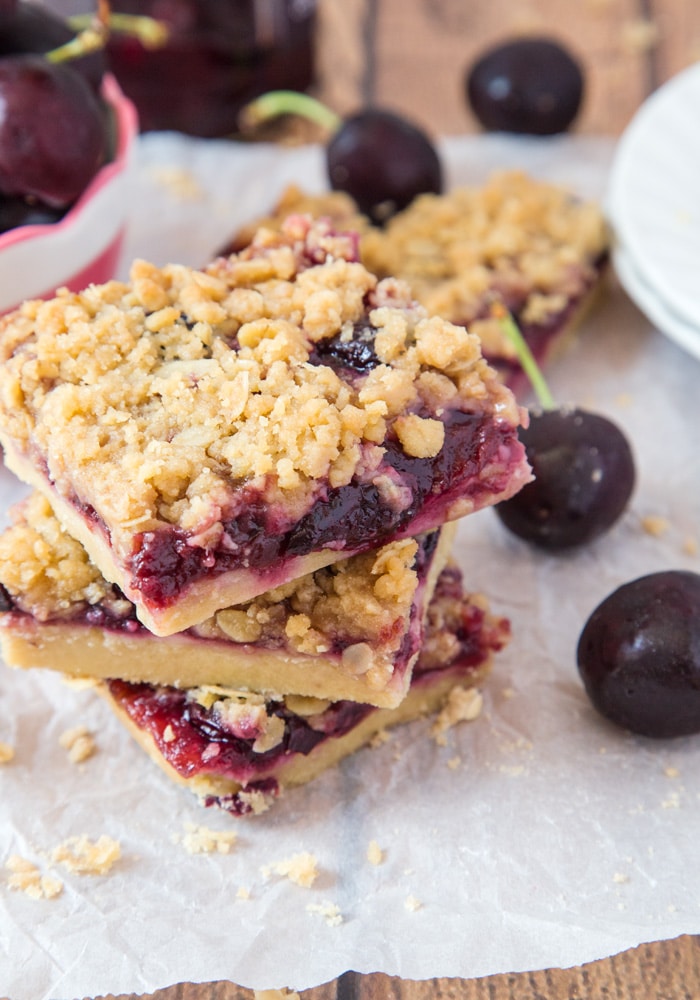 Another great thing about these bars is that they don't have to be perfect; in fact they look best when the topping doesn't quite cover all the filling and they look a little "rustic". These really are fail proof and utterly divine! The cherry layer oozes out and is the perfect contrast to the crunchy base and top.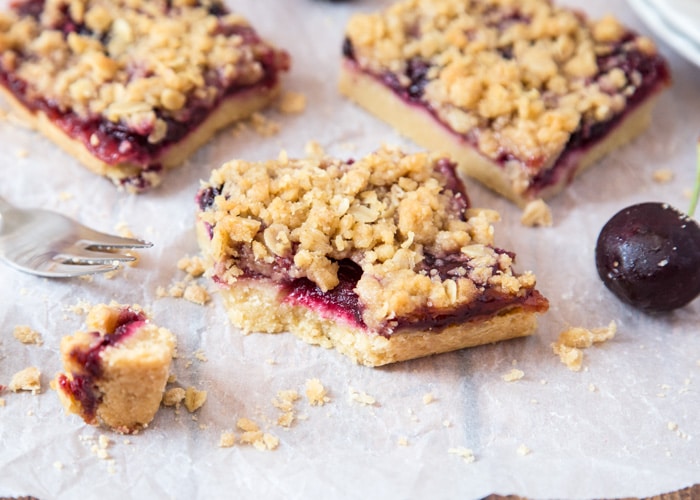 CHERRY STREUSEL BARS
Makes an 8×8 inch pan || Serves 9-12
INGREDIENTS:
for the base:
1 and ½ sticks (170g) unsalted butter, left out of the fridge for 20 minutes
1 and ¾ cups (245g) all purpose flour
2tbsp cornstarch
3tbsp light brown sugar
Pinch of salt
for the filling:
8oz/225g cherry jam/conserve
1 cup (160g) fresh cherries, pitted and halved (use a cherry pitter – it is life changing!)
for the topping:
2/3 cup (52g) rolled oats
½ cup (100g) light brown sugar
¾ cup (105g) all purpose flour
¾ stick (85g) unsalted butter, cubed
METHOD:
Preheat the oven to 350F/180C and grease and line an 8×8 inch square pan. (I use Wilton Bake Easy and grease proof paper.)
Make the base first: Place butter, flour, cornstarch, sugar and salt into a large bowl and beat for about 3 minutes, or until a soft dough forms. To start, the mixture will be crumbly. Keep beating and it will come together into a ball.
Spread the dough into your prepared pan and press firmly into an even layer.
Bake for 10-12 minutes until slightly risen and puffy. Edges will be slightly coloured.
Make the topping: Place oats, brown sugar, flour & butter into a bowl and rub between your fingers until you have a coarse bread crumb texture. Some smaller and bigger lumps are fine.
For the filling: Place jam in a small heat proof bowl and microwave for 20 seconds. (This just makes it a bit easier to spread). Spoon the jam over the shortbread base. Don't press too hard at this stage as the shortbread is a little soft!
Place fresh cherry halves over the jam. They won't completely cover the jam, this is fine.
Sprinkle the topping over the jam and cherries. You may not need all of it, it depends whether you want to completely cover the jam or not.
Bake for 20-25 minutes, until the top is golden and the jam is bubbling around the edges. Top should be firm to the touch.
Leave bars to cool in the pan completely, before transferring to a cutting board and slicing into 9-12 bars.
* Cherry Streusel Bars will keep in an airtight container, at room temperature for 3 days, or in the fridge for 5 days.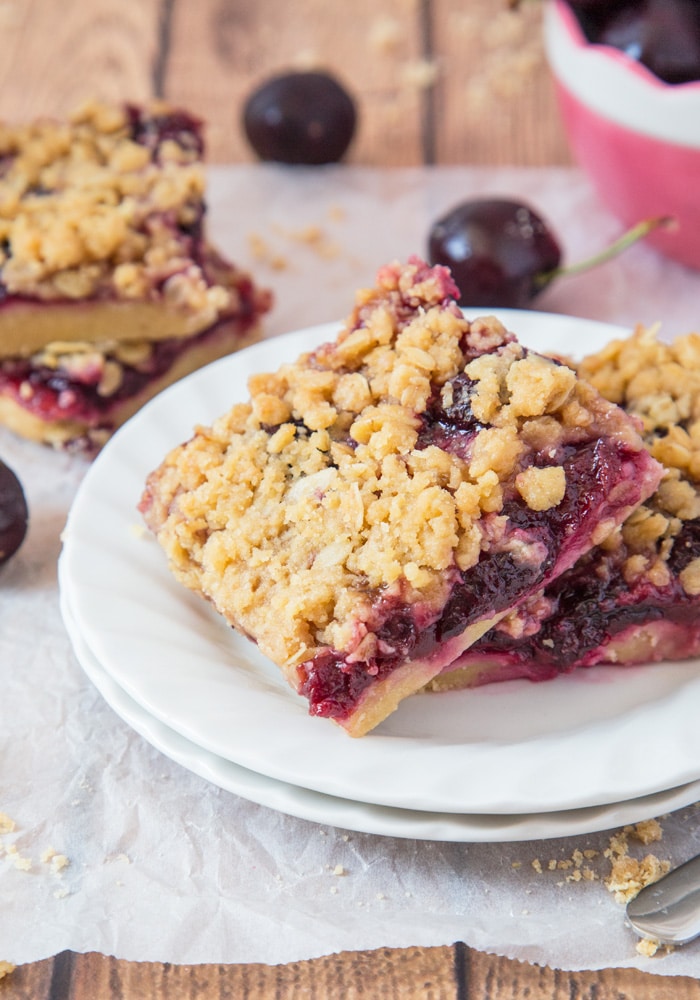 I really hope you'll make these and fall in love with them like we did!