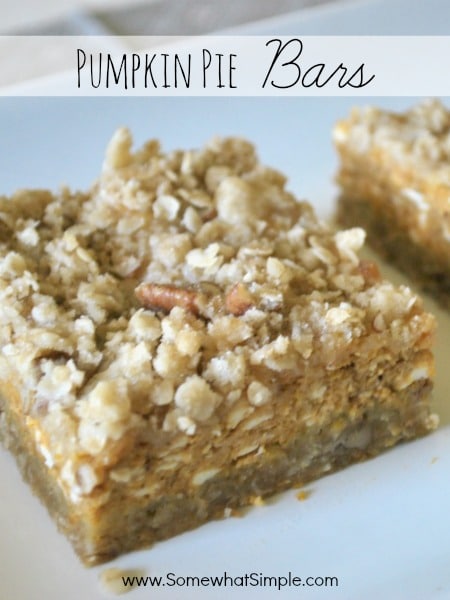 This is a great and easy pumpkin recipe. It is Perfect for fall AND it is a great substitute for pumpkin pie at Thanksgiving…if you are like me and can do without pumpkin pie…I know shocking! These Pumpkin Pie Bars taste great, they are great to share with others, and they also store great too!
Ingredients:
1 1/3 cups flour
1/2 cup packed brown sugar
3/4 cups sugar, divided
1 1/2 sticks cold unsalted butter
1 cup old fashioned oats
1/2 cup chopped pecans
1 8 0z pkg of cream cheese, softened
3 eggs
1 15 oz can pumpkin (not pumpkin pie flavored)
1 Tablespoon pumpkin pie spice
Directions
Preheat oven to 350. Line a 13×9 pan with foil or parchment paper and grease slightly. Mix flour, brown sugar and 1/4 cup regular sugar in a bowl. Cut in butter with pastry blender or two knives until mixture resembles coarse crumbs. Stir in oats and pecans. Reserve 1 cup of this mixture. Press the remaining into the bottom of the pan. Bake for 15 minutes.
Beat the cream cheese, remaining sugar, eggs, pumpkin and pumpkin pie spice in the bowl of a mixer on medium speed until well blended. Pour over the done crust and sprinkle with the reserved crumb mixture.
Bake for 25 minutes. Cool slightly. Lift the bars from the pan using the foil/parchment paper. Cool completely. Cut into bars. EAT. ENJOY. SHARE. Save the leftovers in a tightly covered container in the fridge.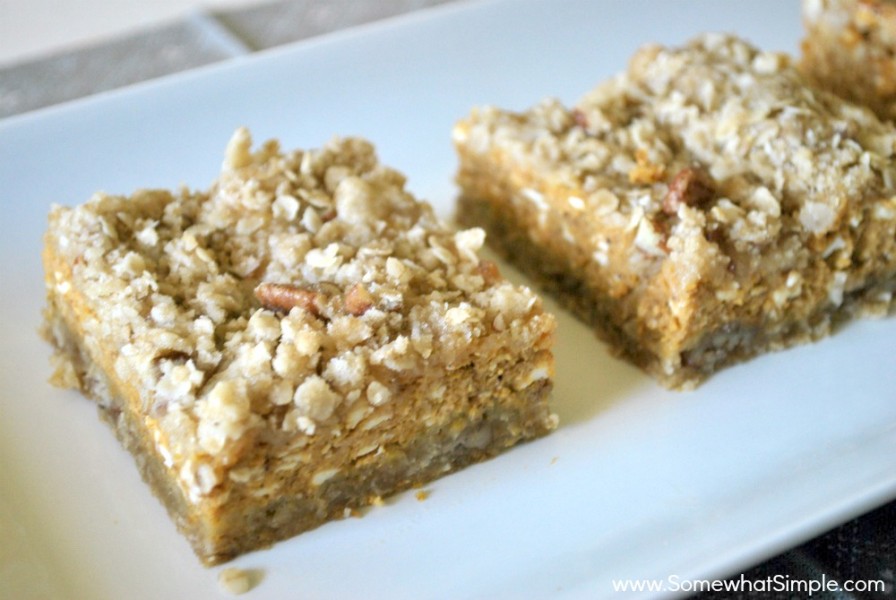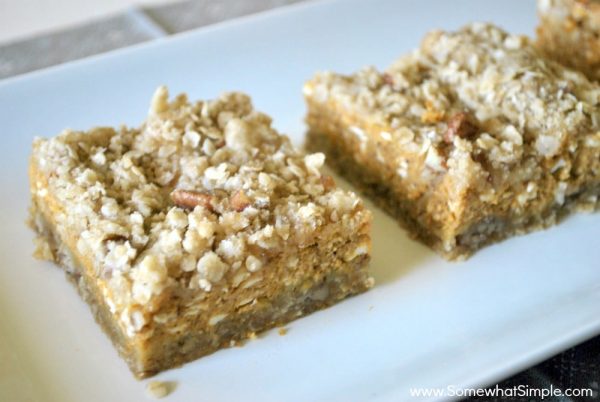 Tis the season for pumpkins! Not all have to be carved and set on your front porch though. Some can go towards your fall cooking endeavors. In fact, that is the kind of pumpkin use I prefer…no, really you should see my clumsy inability to wield a carving knife on a poor unsuspecting pumpkin. Yes, I am much better at baking them. I get to keep all my fingers that way.
HAPPY FALL BAKING!
About the Author: Larissa is a mom of 4 boys who likes to cook and create. The former Food Contributor on Somewhat Simple (2011), she now shares her creative adventures full-time on her own blog Just Another Day in Paradise.
This post originally published on Somewhat Simple in October 2011