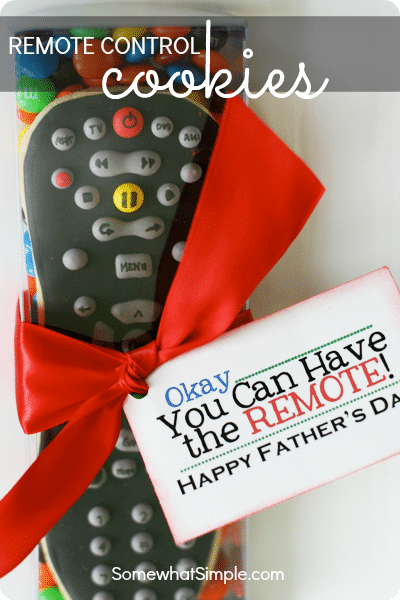 A simple Father's Day Gift that will surely make him smile, these remote control cookies are both unique and delicious!
If you're looking for more Fathers Day Gift Ideas, check out our list of 50 Fathers Day Ideas!
Father's Day is coming up- time to start thinking about what to get dad!
You really can't go wrong with cookies, right? But I felt like I wanted to try something a little more "out of the box." So I racked my brain for some other man-cookie ideas. It's not easy. But I decided on making remote control cookies… and then I put it in a box.
Ideally this would accompany the gift of your husband's dream TV. But if you're me, you wouldn't dream of picking out a TV on your own. But I think this would be great wrapped up with a DVD, or simply a promise that you give your man some alone time with sports center. How do you make a remote cookie, you ask? You don't have that cookie cutter? No worries, here is a step-by-step process:
Read up on the basics of sugar cookies and royal icing with recipes and instructions HERE.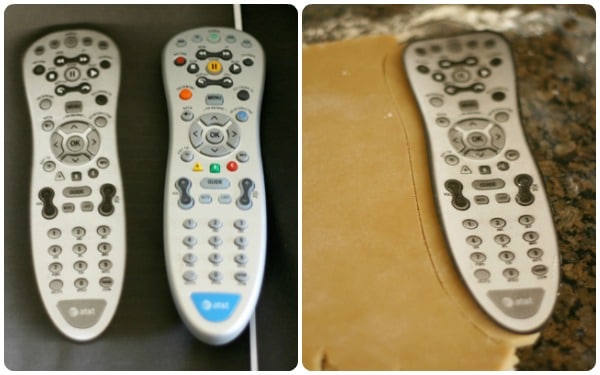 I just put my actual remote in my copier/printer.
Then I cut it out, put it on my cookie dough and cut it out with a small knife.
You can use this method to make just about any shape of cookie you can imagine.
1. Outline 2. Fill 3. Let dry 4. Make your buttons by looking over at your remote.
Mine ended up a little off center, but that's okay!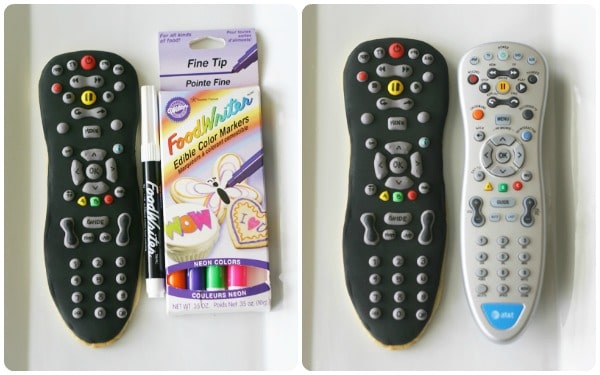 To decorate the buttons, I used these edible markers with a fine tip. These things are just beyond fun.
They write on (dried) royal icing, really well! You may just want to color all over your cookies!
I added some candy on the bottom because the box I found was a little deeper than I wanted.
My Dad came over and saw this and said it was "unreal." He was impressed with my craziness!
I thought it was so real, I might just make one for April Fool's Day and replace it with the real one. Or, if you've lost the remote and you're hubs is real mad, just hand him this and I'm sure he'll simmer down just fine!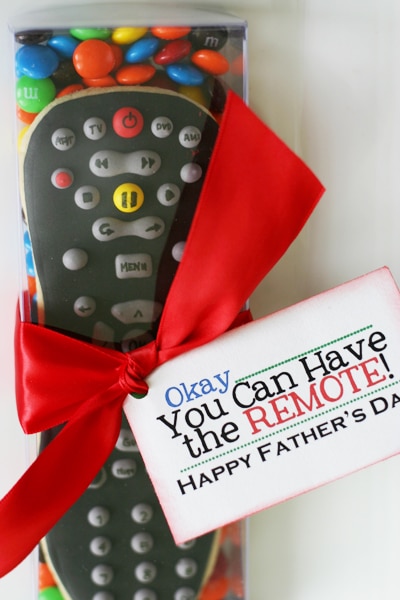 I hope you are inspired to make some custom cookies of your own.
Don't be afraid to use copy machines, knives and markers. We do what it takes here in the cookie world!
Oh the possibilities! Silly possibilities.
About the Author: Ashleigh is the creative mom of three and blogger from Bee in Our Bonnet . Ashleigh spent a few years blogging on Somewhat Simple as our Baking Contributor.
This post originally published on Somewhat Simple in May 2011