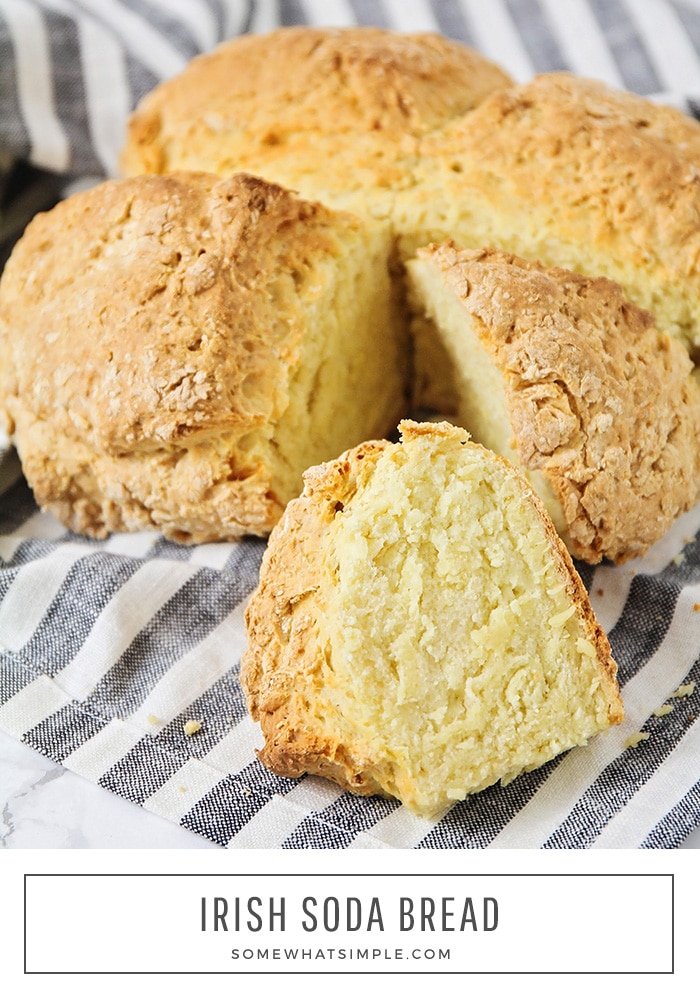 This simple and delicious Irish soda bread has just four ingredients and is so quick and easy to make. You don't need any yeast for this recipe, so there's no waiting around!
Looking for more easy bread recipes? Here are a few of our favorites – Cheddar and Chive Biscuits, Homemade Whole Wheat Bread, and Quick Artisan Bread.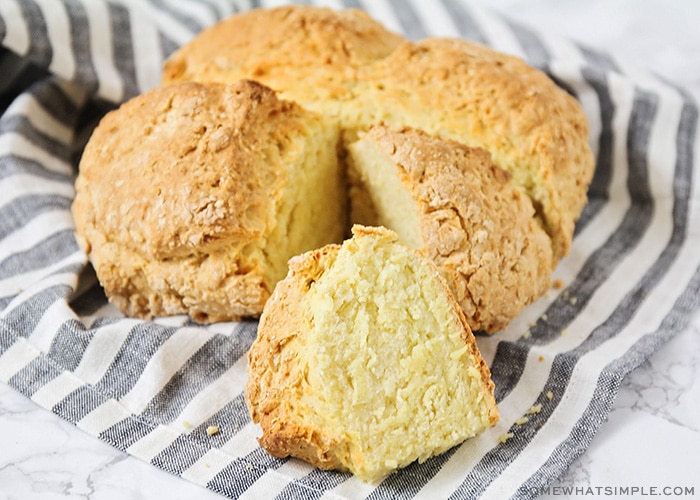 A Traditional Irish Soda Bread Recipe
One of our favorite meals to make for St. Patrick's Day is a classic Irish Beef Stew served with some warm Irish soda bread on the side. It's the first dinner we had at a pub when Rob and I went to Ireland in 2018, and we've been making our own version each year ever since!
This traditional soda bread recipe is simple to make and goes wonderfully with any soup or stew. Since it doesn't use any egg or yeast, the dough comes together in just a few minutes, and then it bakes up into a loaf of crusty quick bread with delicious flavor!
Why Is It Called Soda Bread – It gets its name because it's the baking soda that gets the bread to rise instead of traditional yeast. When the baking soda combines with the lactic acid in the buttermilk it produces carbon dioxide which becomes the leavening agent in this recipe.
Enough about boring chemistry, let me show you how to make this easy recipe.
How to Make Irish Soda Bread
Dry Ingredients First – I love that this Irish soda bread has just four simple ingredients: all purpose flour, salt, baking soda, and buttermilk. Just mix the dry ingredients together in a large bowl, then add the buttermilk to the flour mixture and stir to form a thick dough.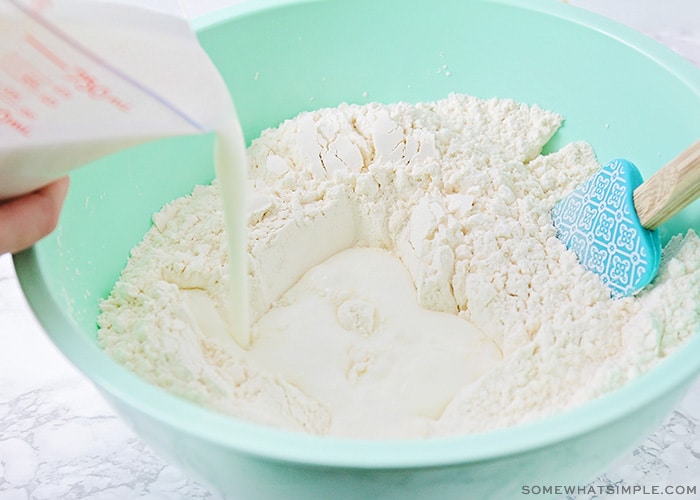 It Kneads It – I find it easiest to finish kneading the dough with my hands to help it all come together into a ball. You don't want to over-mix the dough, but you will want to incorporate all of the flour.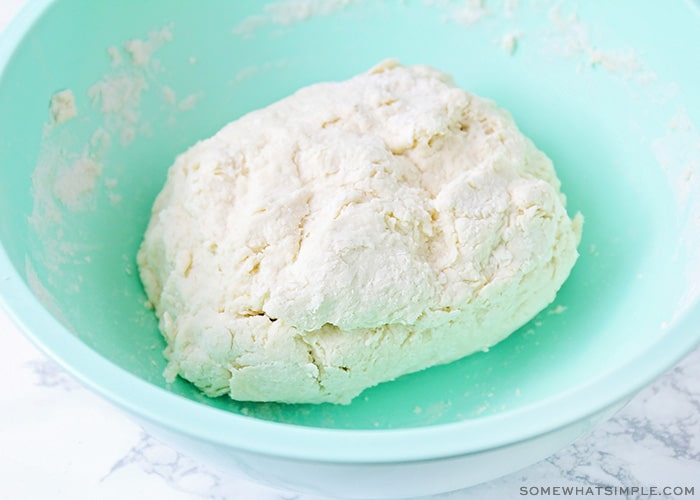 Form It – Turn dough onto a baking sheet lined with parchment paper, and pat it into a circle, then make two cuts on the top of the dough with a sharp knife to form an x. The cuts will help steam escape while the bread is baking.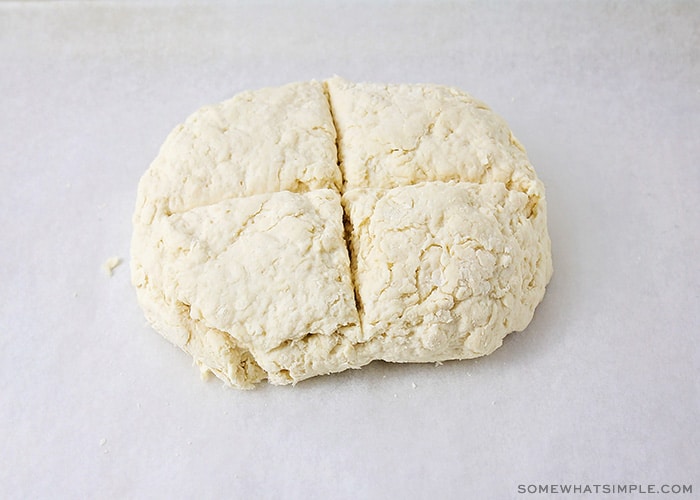 Bake It – Bake in a preheated oven for about 25 minutes at 450 degrees F. Remove the loaf from the oven when it's golden brown and crusty, and sounds hollow when tapped on the bottom.
Texture Tip – If you'd like the crust a little softer, you can cover it with a tea towel while it cools to soften it up. I love it nice and crusty, though!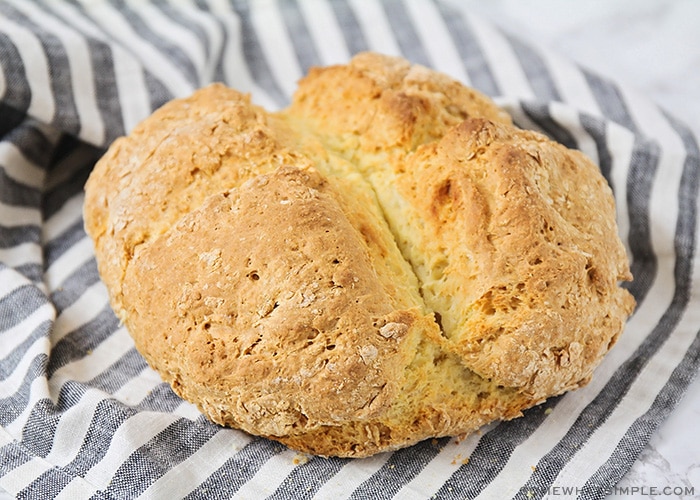 Serve It – This Irish soda bread is delicious dipped in soup or stew, or by itself with a little butter and jam on top. It's one of my favorite quick loaves of bread to make, and I love that it's easy enough to make for a weeknight meal. It is so yummy!
Variations – You can add currants, raisins, sunflower seeds, or caraway seeds to the dough to swap up the flavor and texture.
Storage – Wrap the loaf in aluminum foil or place in an airtight container. Keep it at room temperature for up to 5 days.
Other St. Patrick's Day Recipes
Irish Soda Bread
This simple and delicious Irish soda bread has just four ingredients and is so quick and easy to make, with no yeast necessary!
Ingredients
4

cups

all-purpose flour

1

teaspoon

salt

1

teaspoon

baking soda

1 1/2

cups

buttermilk
Instructions
Preheat the oven to 450.

In a large bowl, whisk together the flour, salt, and baking soda. Make a well in the center of the dry ingredients and pour in the buttermilk. Mix gently until the dough just starts to come together. Dump the dough out onto a lightly floured surface, and gently knead to form a ball.

Place the ball of dough on a greased or parchment-lined baking sheet and pat into a circle that is two inches thick. Cut an X in the top of the loaf.

Bake 15 minutes at 450, then reduce the heat to 400 and bake for an additional 20-30 minutes, until the loaf is deep golden brown and sounds hollow when tapped. Remove from oven and let cool on a cooling rack before serving.
Nutrition
Serving:
1
slice
·
Calories:
255
kcal
·
Carbohydrates:
50
g
·
Protein:
8
g
·
Fat:
2
g
·
Saturated Fat:
1
g
·
Cholesterol:
5
mg
·
Sodium:
476
mg
·
Potassium:
128
mg
·
Fiber:
2
g
·
Sugar:
2
g
·
Vitamin A:
74
IU
·
Calcium:
61
mg
·
Iron:
3
mg
Other Notes