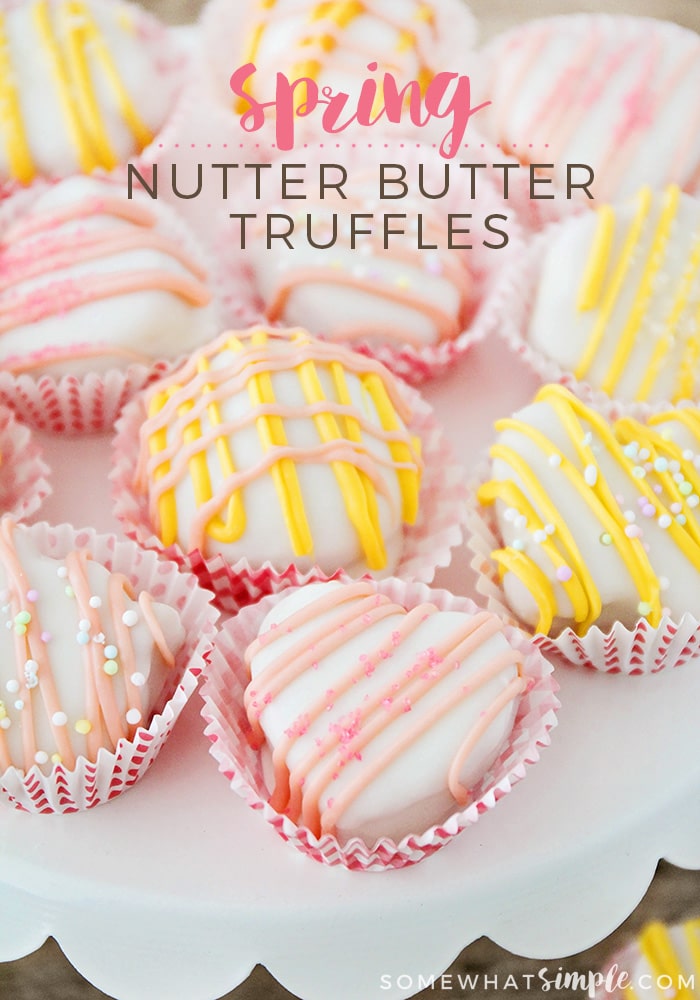 These Spring Nutter Butter Truffles are a fun, EASY recipe that uses just a few ingredients!!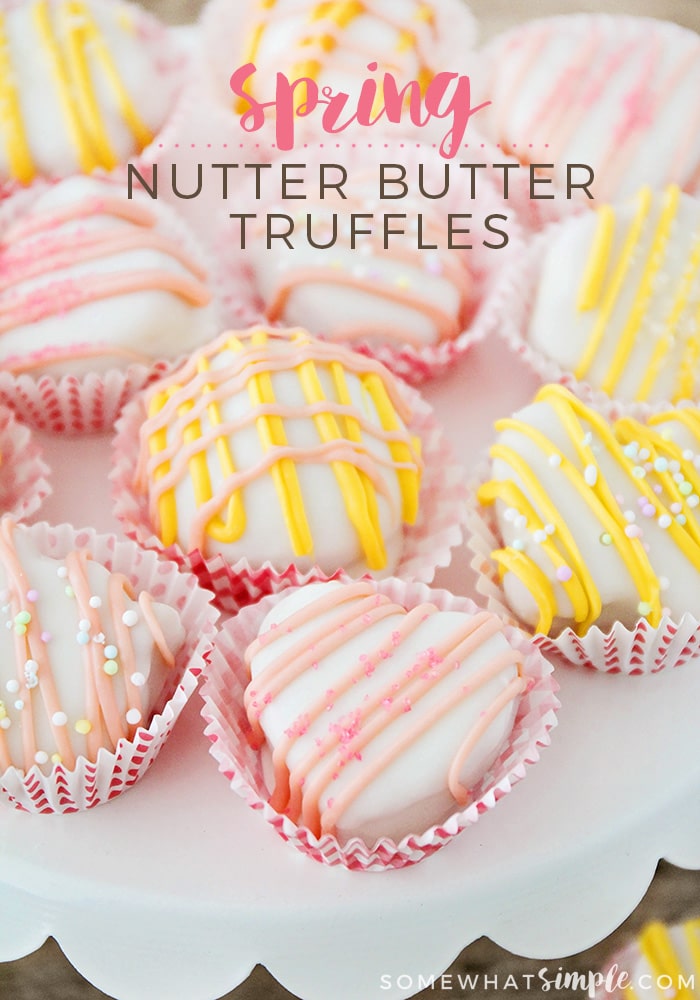 We make truffles all the time, and these Nutter Butter ones are some of our very favorites! They are simple to make and taste delicious! They are also easy to dress up for any holiday or season, and I love a good recipe I can make year round, don't you?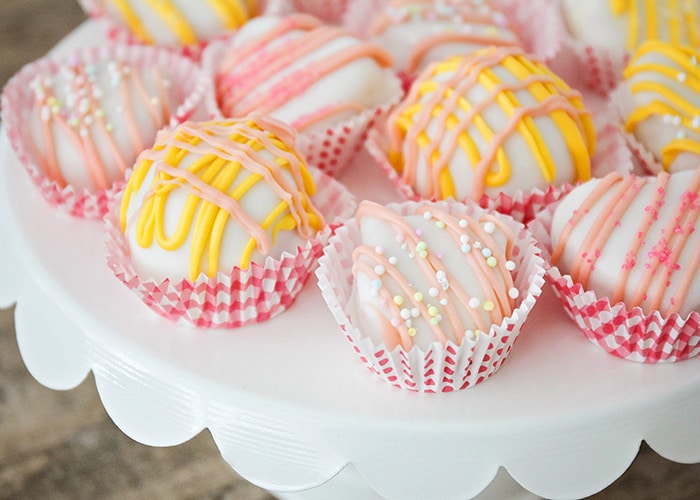 Spring Nutter Butter Truffles
INGREDIENTS –
1 package of Nutter Butter cookies
1 – 8 oz package of cream cheese
2/3 cup white chocolate chips
3 squares vanilla almond bark
sprinkles or colored almond bark for decoration
DIRECTIONS –
Add the Nutter Butter cookies to the bowl of your stand mixer. (I'll be honest, I usually eat a couple first!)
Using the paddle attachment, crush the cookies on speed 2 for a couple of minutes.
Add the cream cheese and mix until thoroughly combined.
Use a medium cookie scoop and scoop balls onto a parchment-lined baking sheet.
Roll the truffle balls between your hands to make them smooth and round. OR, if you want to make fun Spring shapes, roll some dough between your hands to smooth it, then take a fondant cut-out and press it down over the top of the truffle ball. Press the cut-out between both hands so the truffle dough is flush with the top and bottom. Remove excess to use in another truffle. Gently press truffle out of the cut-out.
Once all truffles are shaped, put them in the refrigerator for 15-30 minutes to harden.
Melt the white chocolate chips and vanilla almond bark according to package directions.
Dip your truffles into the chocolate chips and coat completely. If the chocolate cools too much during dipping, warm it again in the microwave for 15 seconds.
. For flat truffles like the flower shapes, use a fork to dip them. The excess chocolate drips through the tines when gently tapped against the side of the bowl. Use a toothpick to gently push the truffle onto the parchment paper.
. For the rounded balls I like to use a spoon (they always roll off my fork!) and then use a long toothpick to wipe away the excess chocolate.
Drizzle with colored bark or decorate with sprinkles while the chocolate is still wet, then place the decorated truffles in a mini cupcake liner to cool before serving.
Now you have a beautiful spring treat!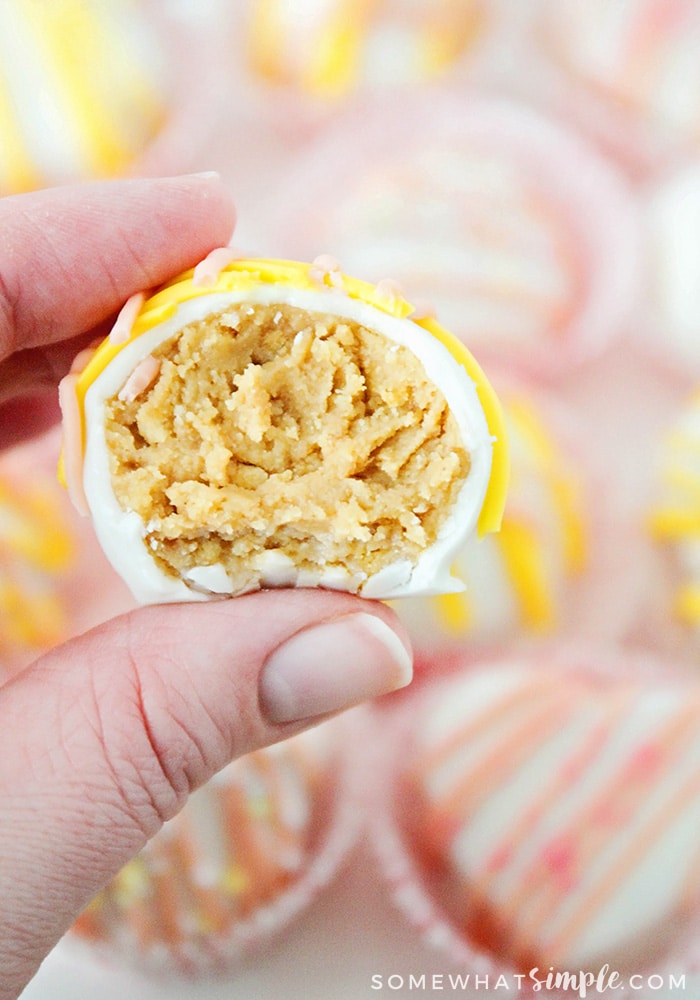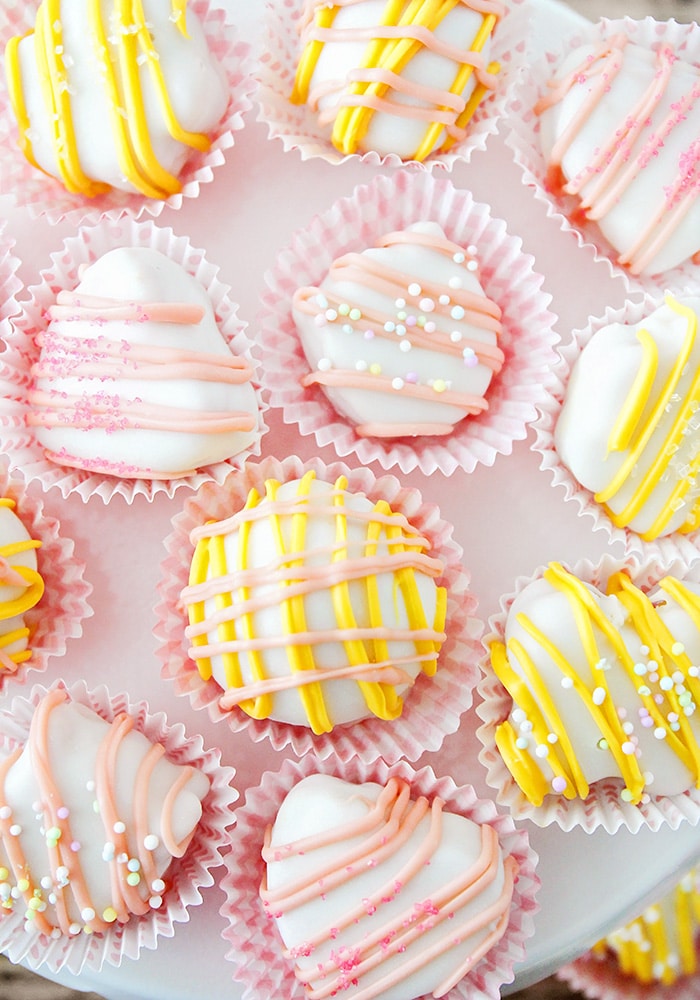 This post originally published on Somewhat Simple in April 2014.
Looking for more sweet treats? Try one of these delicious recipes below: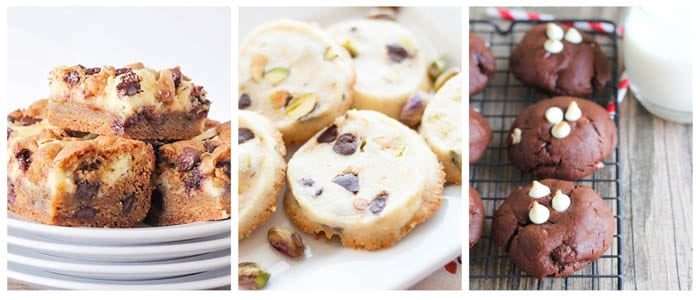 Cheesecake Cookie Bars || Lemon Pistachio Shortbread Cookies || Black and White Brownie Cookies