Sriracha Roasted Chickpeas are simple to make, but hard to stop eating!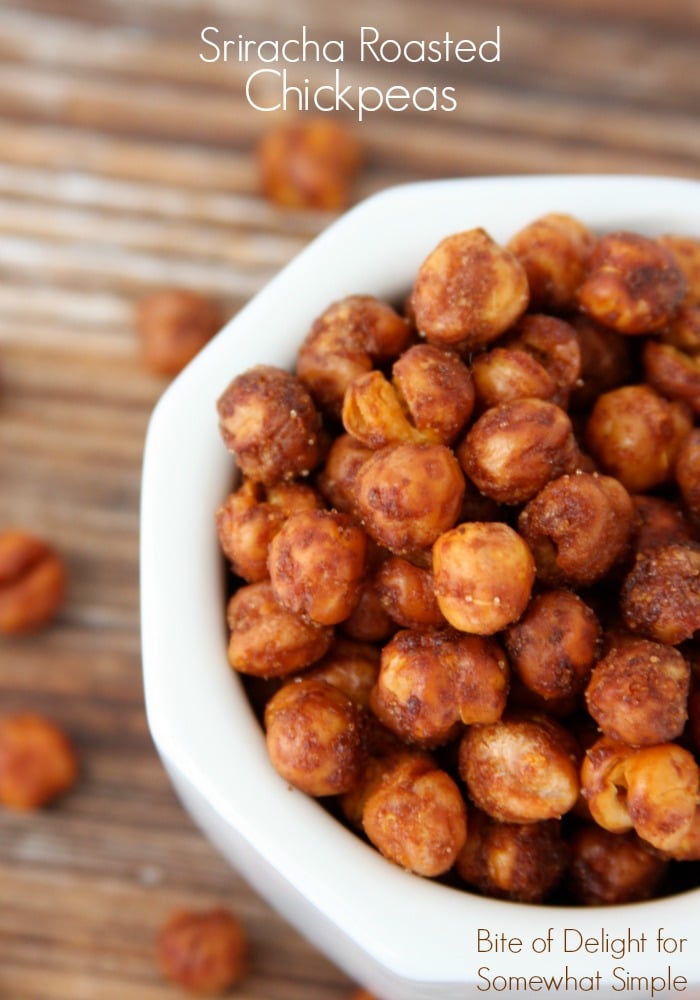 January is a great time for new beginnings and positive changes…and these  Sriracha Roasted Chickpeas are the perfect snack to stick with your New Year's resolution to eat better.  They are crunchy, delicious, and guilt-free…the perfect alternative to chips! And with only a few ingredients, they are inexpensive, but still wholesome.  One of my favorites!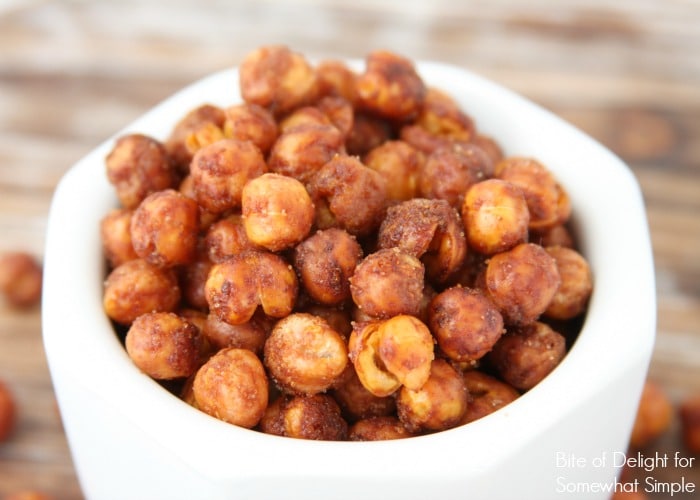 I'd tried roasting chickpeas before, but I couldn't get them crunchy enough.  They started out great, but got chewy as they cooled.  After playing around with it, I've decided that this is the easiest way for me to roast them to crunchy perfection.  This method works great for me (although there are a lot of variations that work well in different kitchens).  Dry roasting is the trick…if you toss them with oil first, it seems to seal the moisture in, and they just won't stay crunchy.  Dry roasting them pulls the moisture out and keeps them nice and crunchy, and then tossing them in flavored oil coats them in spicy deliciousness.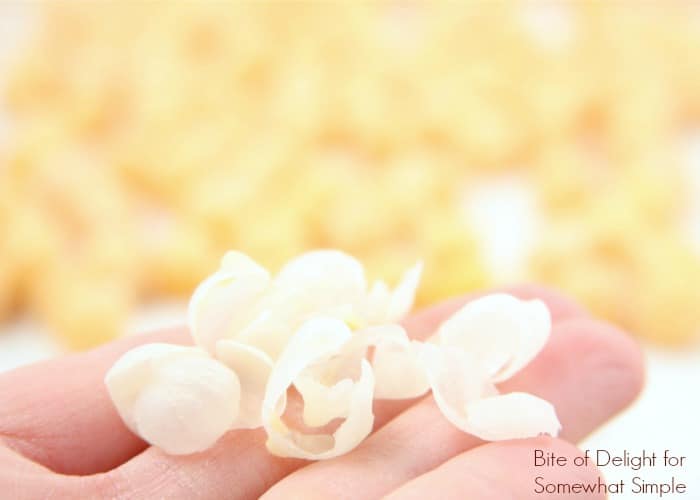 As you gently rub the chickpeas dry after rinsing, a lot of the skins will slip right off.  Just pick them out and be on your way.  Don't go through and peel the skins off of every chickpea.  You won't be able to tell the difference once they're roasted.
Sriracha Roasted Chickpeas
Ingredients:
1 (15 oz) can chickpeas (garbanzo beans)
1 Tbsp avocado oil
1 1/2 tsp sriracha hot sauce
3/4 tsp salt
1/8 tsp garlic powder
Directions:
Preheat oven to 350 degrees.
Drain and rinse chickpeas.  Pour onto a dishtowel or paper towel and gently pat dry.  Remove any loose skins (but don't worry about removing the skins that don't slip off during drying).  Get them as dry as possible.  They will roast faster and better if they are dry.
Place chickpeas on a baking sheet in a single layer (I like to line my baking sheet with parchment paper or a silicone mat).
Place in oven for 40-50 minutes, stirring or shaking the pan every 10 minutes.  Dry roast until the chickpeas are dried out.
While chickpeas are in the oven, combine oil, sriracha, salt and garlic powder in a small bowl.
Once chickpeas are dried, toss with sriracha mixture.  I prefer to toss them in a mixing bowl, but you can do it on the pan if you really want to avoid one more dish to wash.
Return chickpeas back to baking sheet and roast for 10-20 more minutes, shaking/checking every 5 minutes.
Optional: once the chickpeas are finished roasting, turn off the oven, crack the door, and let the chickpeas cool down inside the oven.  This will continue to dry the chickpeas if any moisture remains.
Remove when cool and enjoy!
Notes:
These actually taste a lot like corn nuts.  Really.
You can easily double this recipe with virtually no additional work.
There are unlimited flavor combinations.  Try your favorite spices or other hot sauces!  I can't wait to try a cinnamon-sugar version.
Remember that these are beans…so don't eat a whole batch in one sitting!  If you value company, anyway.
Watch your times, and even adjust your oven temp as needed.  Ovens vary a lot (mine tends to cook a little cool), so once you figure out the perfect time and temp, stick with those numbers.
Chickpeas and Garbanzo beans are the same thing.  I prefer using an organic variety.  Stock up when beans go on sale!
I feel like salt is a really personal spice.  I don't like a lot of salt, and 3/4 of a tsp is verging on too much for me in this recipe (although I tried it with 1/2 tsp and it wasn't quite enough).  I made my brother-in-law try them and he thought they could have used a little more salt.  I would recommend starting out at 3/4 tsp and then adjusting the next batch from there.
I'm a believer that the right kind of fat is good for you (it's brain food!), so I don't worry about the tablespoon of oil in this recipe.  I use avocado oil because it's a healthy fat, and it has the highest smoke point of the cooking oils (which is a good thing!).  This recipe isn't a high heat recipe, so olive oil would work well too (but check your olive oils…they will have different smoke points depending on the quality).  Melted coconut oil is also a good choice.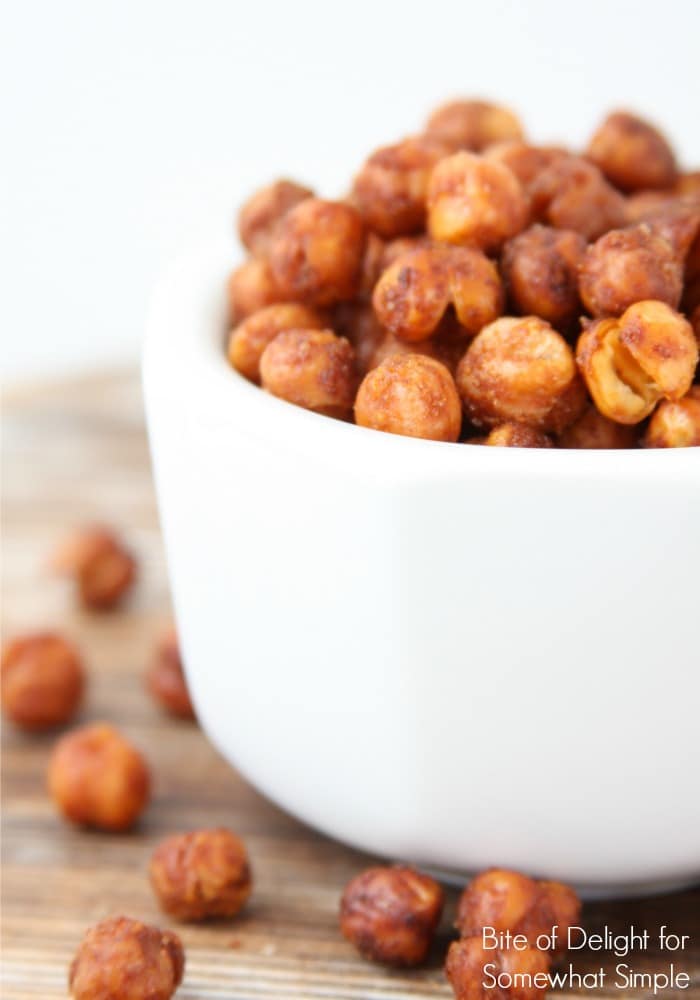 What do you think? Are you going to try Sriracha Roasted Chickpeas?
(You totally should!)