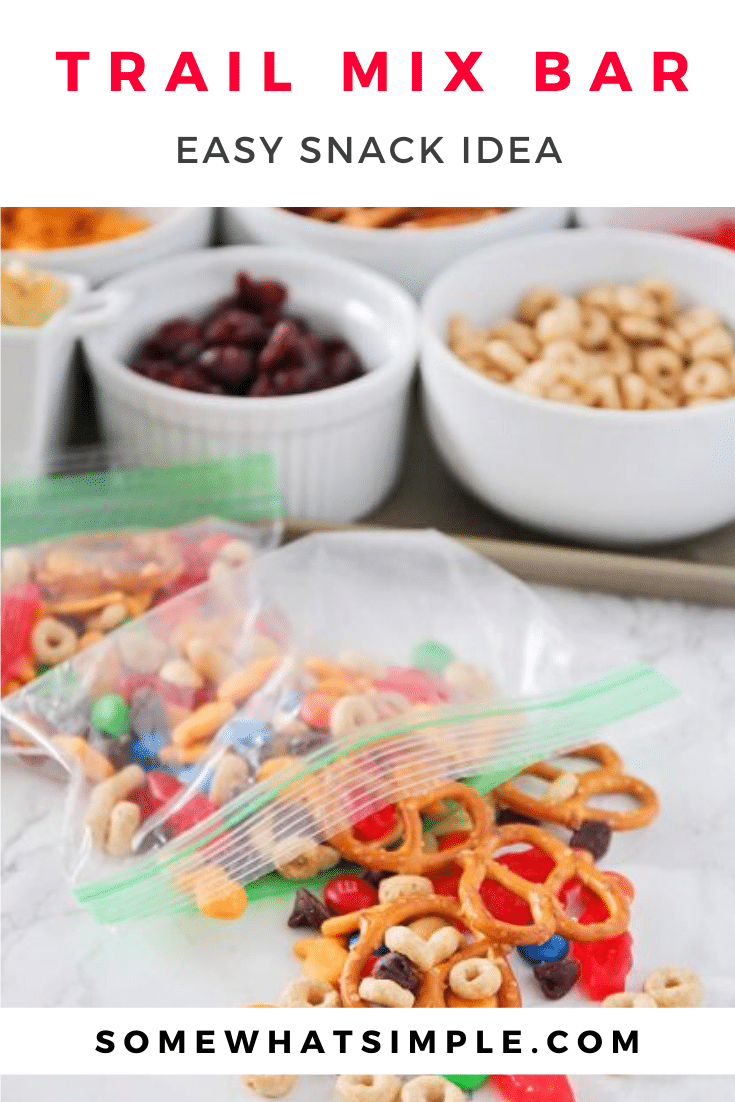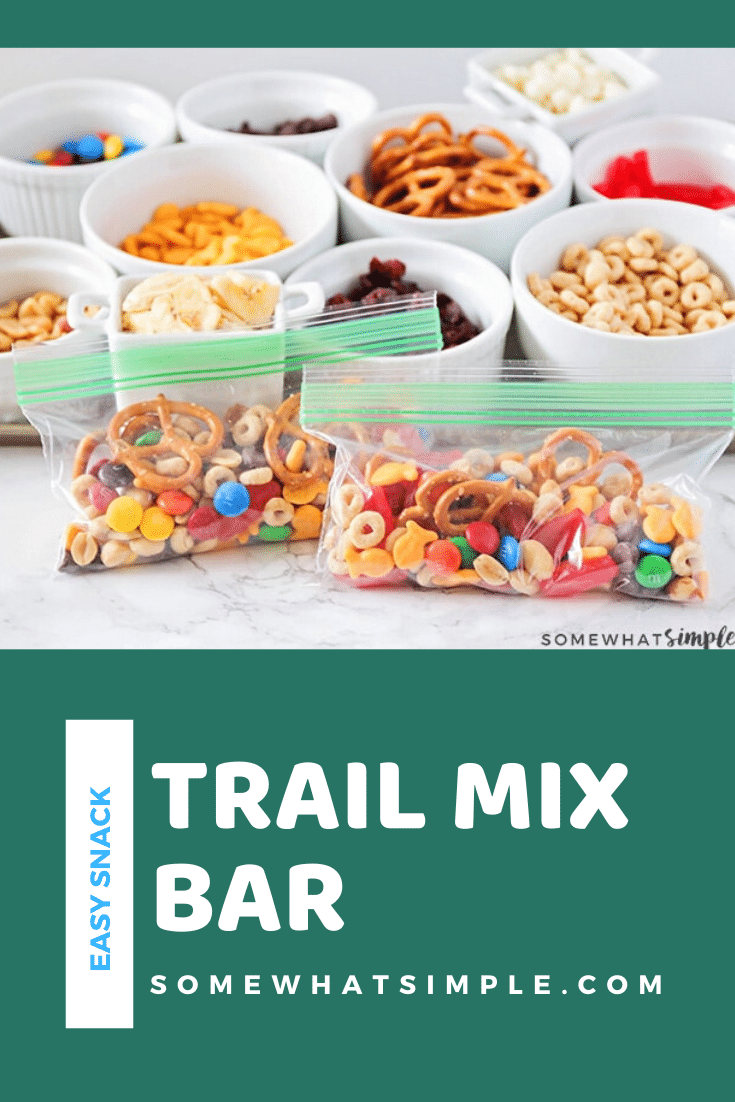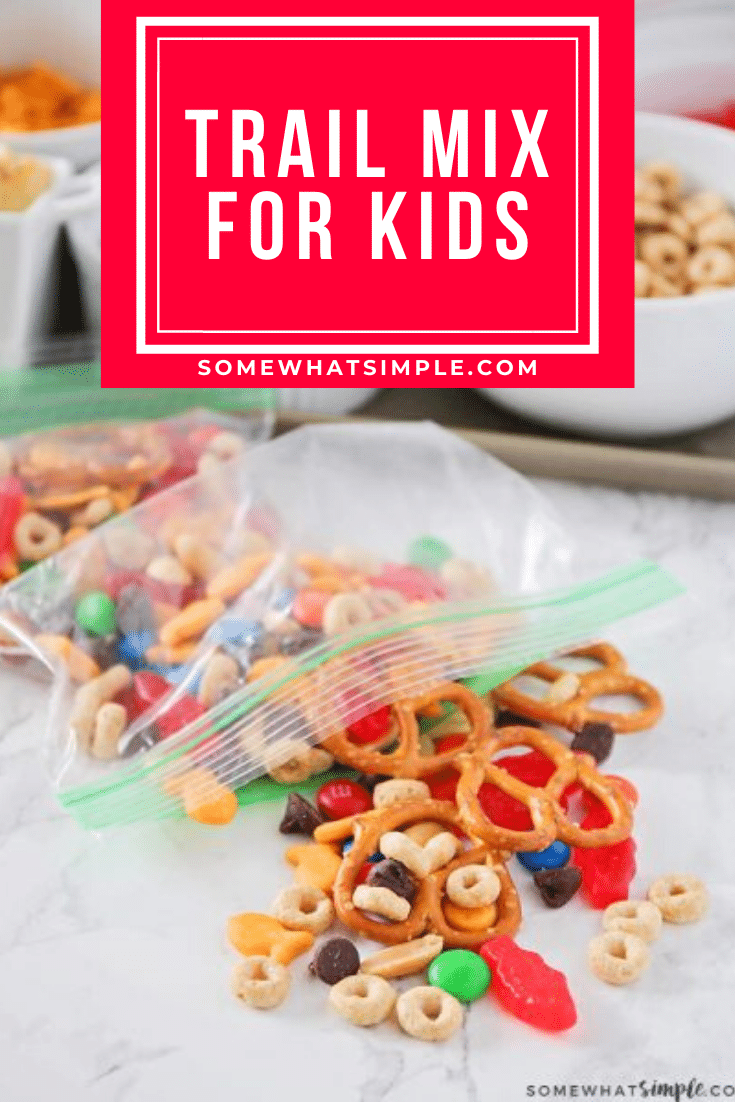 This make your own trail mix bar is such a fun way to get the kids involved. Lay out a variety of trail mix ingredients, and let them assemble their own trail mix snack!
This fun idea is a perfect snack for after school or while you're camping. A couple of our other popular snack ideas for kids are these After School Snacks and Apple and Cheese Crackers.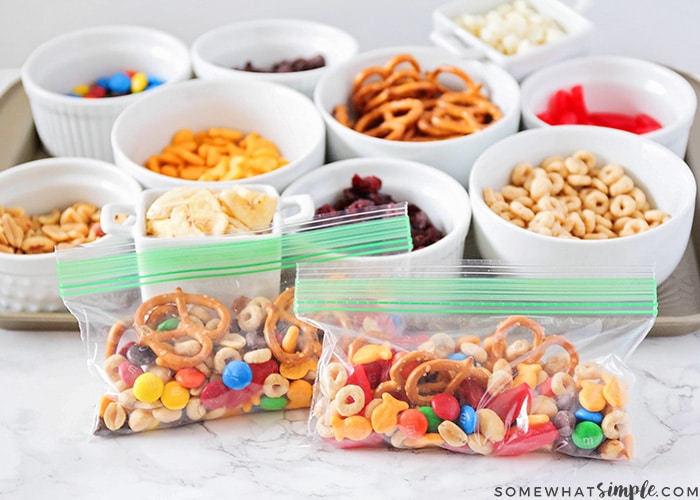 Homemade Trail Mix For Kids
Somehow it always seems like the first thing my kids do when they get home from school is to beg for a snack. Their school serves lunch early (around 11:00) so by the time they get home from school, they are absolutely starving. I try to give them something filling and healthy-ish to eat, to tide them over until dinner time, but sometimes it's hard to think of ideas.
We started doing a make your own trail mix bar occasionally for them a few years ago, and it is one of their favorite snack ideas. I love that my somewhat picky (and very opinionated kids) can make their own snacks, with just the ingredients that they like, and everyone is happy! They can put whatever they want in their bags, so if they don't like it, it's their fault.:) The best part about this idea is that it's super easy to put together.
Make Your Own Trail Mix
Skip the store-bought trail mix and make your own at home! Making trail mix at home is awesome for several reasons:
You can make it exactly the way you want, using only the ingredients you you like. This is a great way to guide your kids' choices.
It's generally less expensive, because you can pull together whatever you have on hand.
It's a great way to involve even the littlest kids in making their own snacks. This a great way to teach them about making good choices when it comes to what they eat.
Trail Mix Bar
My kids absolutely love it when I set up a DIY trail mix bar for them! I gather a variety of our favorite trail mix ingredients and lay them out on the table, and then the kids can choose what they like. They have so much fun adding their favorites to a bowl and mixing it all together into a tasty snack mix. The combination below is one of our favorites for movie night. However, when we're making trail mix for lunch boxes, I usually just stick with the healthier ingredients.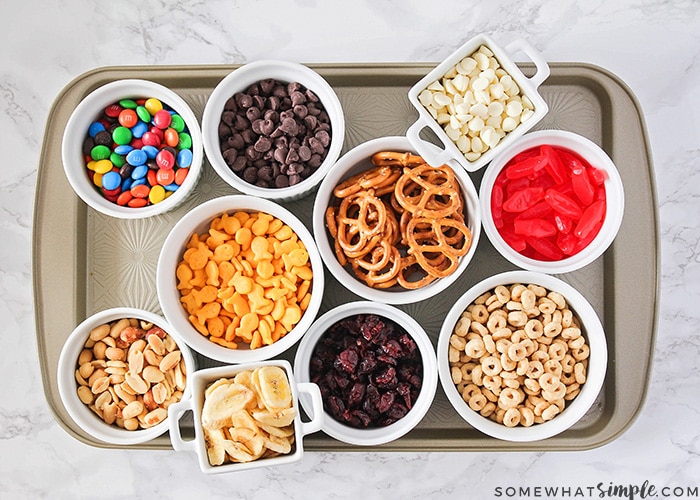 Trail Mix Ingredients
One of the best things about making a trail mix bar is that it's so versatile! You can add exactly what you like, and make it as healthy or as decadent as you want. Here are some of my kids's favorite additions to our trail mix recipe.
M&M's candies
Chocolate chips (semi-sweet, milk chocolate, white chocolate, peanut butter, etc.)
Pretzels
Goldfish crackers
Dried fruit (raisins, dried cranberries, banana chips, dried apricots, dried mango, etc.)
Nuts
Cereal (Cheerios, Chex, etc.)
Mini Swedish fish
Healthy Trail Mix
If you're trying to make your trail mix a little healthier, you could easily leave out the candies and chocolate chips, and add more healthy ingredients. Here are a few of our favorite healthier options that we love to include.
Beef Jerky (my husband is a jerky snob and loves this brand)
Pumpkin seeds
Sunflower seeds
Chia Seeds
Flax Seeds
Coconut chips
Dried bananas
Walnuts
Raw almonds
It's so fun to add what you like and make it your own! You can easily make it as healthy (or not healthy if I'm making it for me) as you'd like!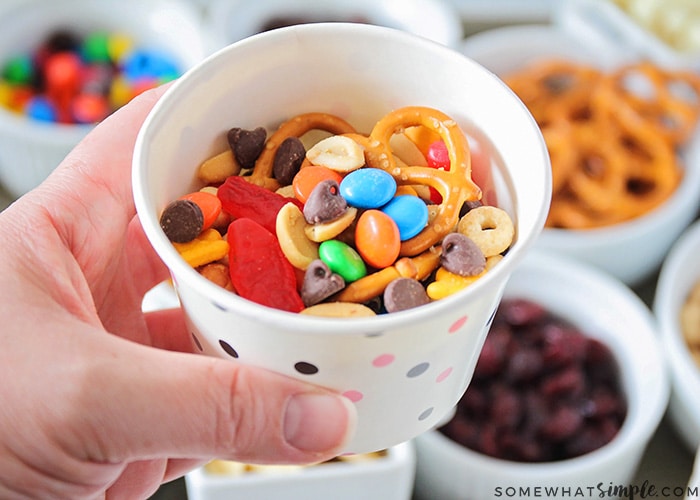 More Easy Snack Ideas For Kids
Leave us a comment below and tell us which ingredients your kids love the most! Did we leave one of your favorites out? Let us know! Don't forget to subscribe to our newsletter and and follow us on Instagram and Facebook so you can try all of our latest recipes.
Trail Mix Recipe
This make your own trail mix bar is perfect for lunch boxes, after school snacks, or to take on adventures. Since each kid can assemble their own, there's no need to whine about ingredients they don't like. That's always a win in my book!
Ingredients
M&M's candies

Chocolate chips

,

semi-sweet, milk chocolate, white chocolate, peanut butter, etc.

Pretzels

Goldfish crackers

Dried fruit

,

raisins, dried cranberries, banana chips, dried apricots, dried mango, etc.

Nuts

Cereal

,

Cheerios, Chex, etc.

Mini Swedish fish
Instructions
Add the ingredients of your choice to small bowls or cups.

Fill plastic baggies with spoonfuls of desired ingredients.

Enjoy!
Notes
You can add as many ingredients as you choose. Adjust calories accordingly. 
Nutrition
Other Notes