This savory zucchini sweet corn chowder is perfect for using those fresh summer vegetables. A simple and delicious dinner everyone will love!
I know that there are people out there who think soup is just a cold weather thing, but I'm here to tell you that soup season is year round! It is for me, anyway. 🙂 I love love love soup, and I could happily eat soup every single day. This cheesy and savory zucchini sweet corn chowder is the perfect soup for summer. It's loaded with delicious summer vegetables, and super easy to make!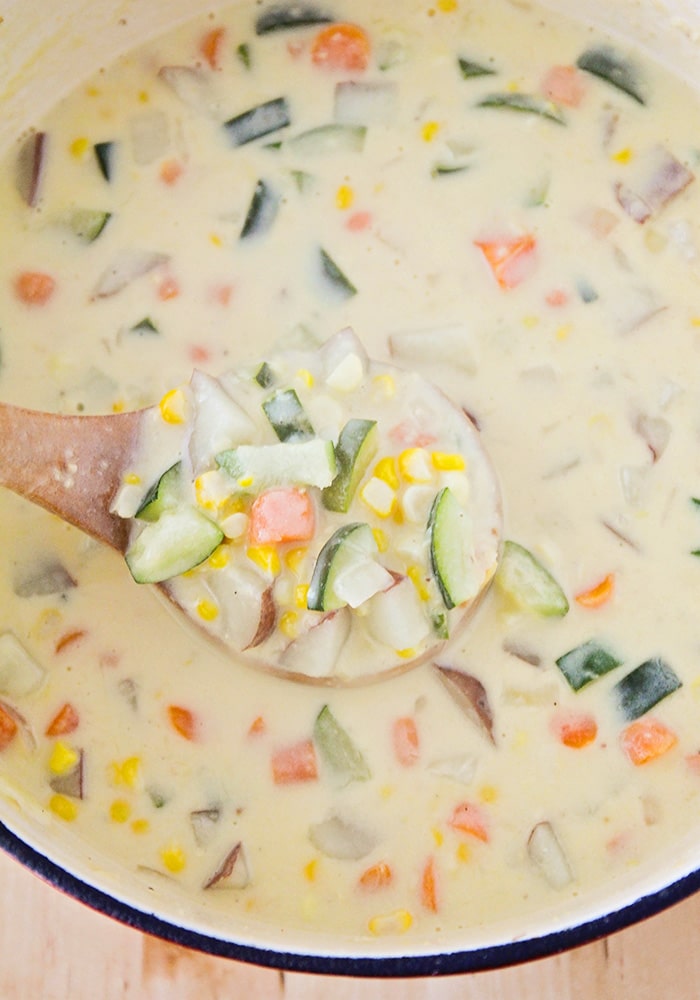 We love to visit the farmers market near us every Saturday, and my favorite thing to buy is the juicy sweet corn. I always buy way too many, and then I have to get creative as to how to use them up before they go bad. The sweet kernels of corn are perfect in this soup, and give it such a great flavor! The zucchini adds a nice subtle flavor and texture, and complements the other vegetables in the soup nicely. My kids totally loved this soup, and it made for a delicious and hearty meatless meal. It would be pretty easy to customize with whatever fresh vegetables you have on hand. I'm thinking fresh spinach, parsnips, or sweet potatoes would all be great in this soup!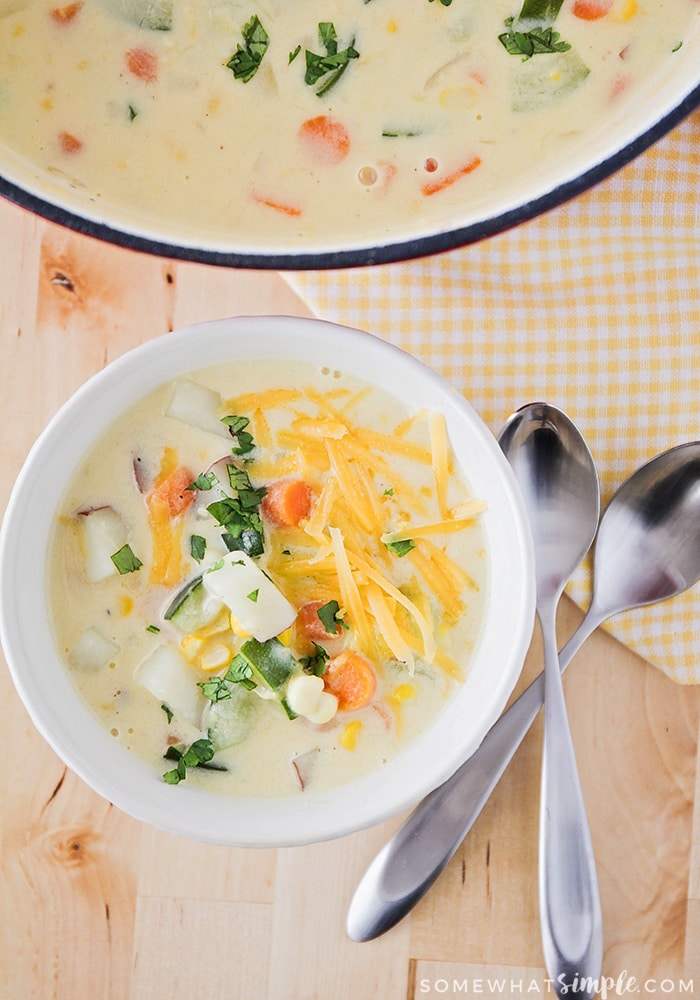 Zucchini Sweet Corn Chowder Recipe
INGREDIENTS –
4 tablespoons butter
2 teaspoons minced garlic
1 medium onion, chopped
1/4 cup flour
3 cups chicken stock
2 cups milk
4 medium red potatoes, cut into cubes
1 cup carrots, chopped
4 ears sweet corn, husked and cut from the cob
2 medium zucchini, chopped
1 cup shredded cheddar cheese
1 teaspoon salt
1/2 teaspoon pepper
DIRECTIONS –
Melt the butter in a large pot over medium heat. Add the onion and garlic, and cook until softened and fragrant. Add the flour and stir to form a paste. Cook 2-3 minutes, or until golden.
Slowly add the chicken stock and milk, whisking constantly to prevent lumps. Add the red potatoes and carrots, and bring to a simmer. Simmer 15 minutes, or until the potatoes have softened and are nearly cooked.
Add the sweet corn and zucchini, and continue to simmer for 5-10 minutes, stirring occasionally. When the soup has thickened and the vegetables are tender, remove from heat and stir in the cheese, salt, and pepper. Taste and adjust seasonings as needed.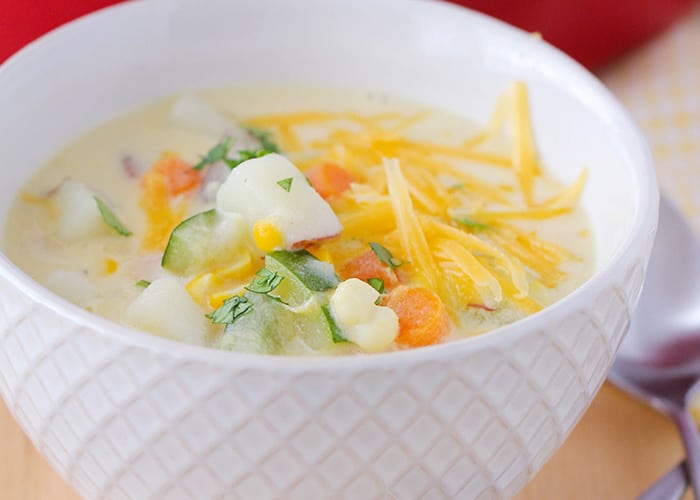 For more savory zucchini recipes, check out some of our favorites below: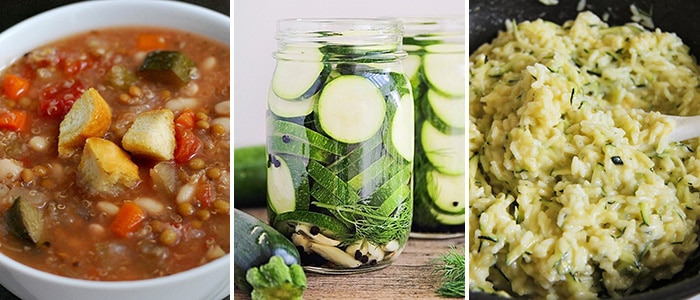 Slow Cooker Vegetable Soup | Pepper and Garlic Zucchini Pickles | Cheesy Zucchini Rice