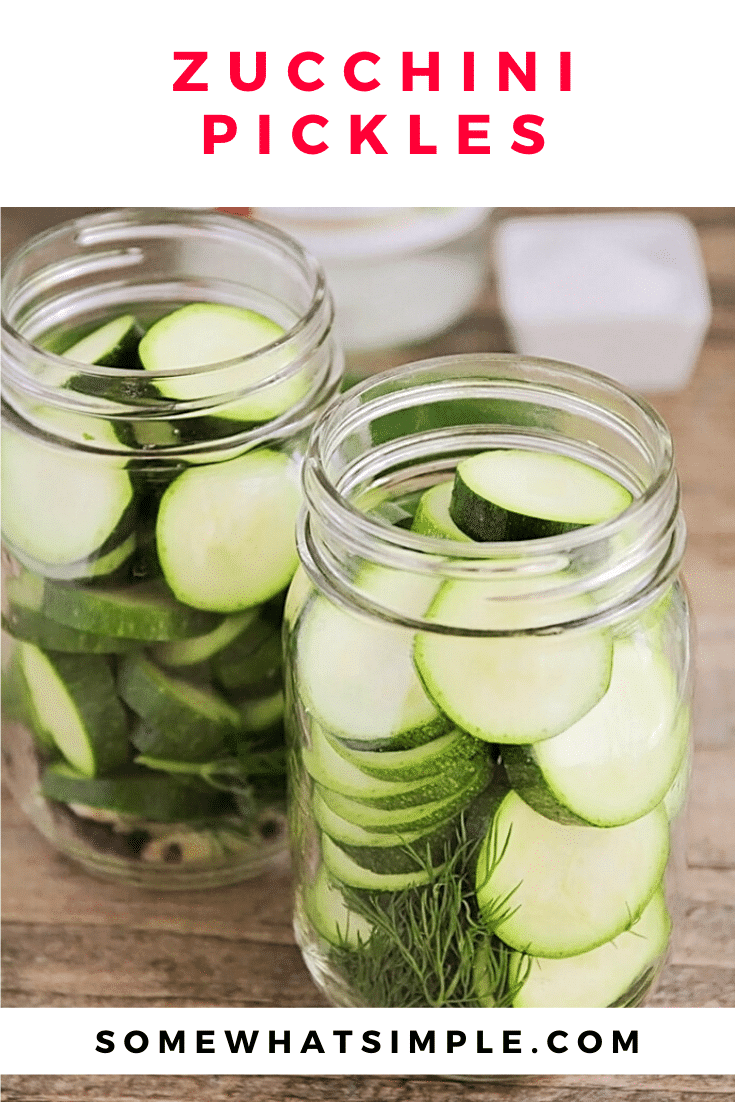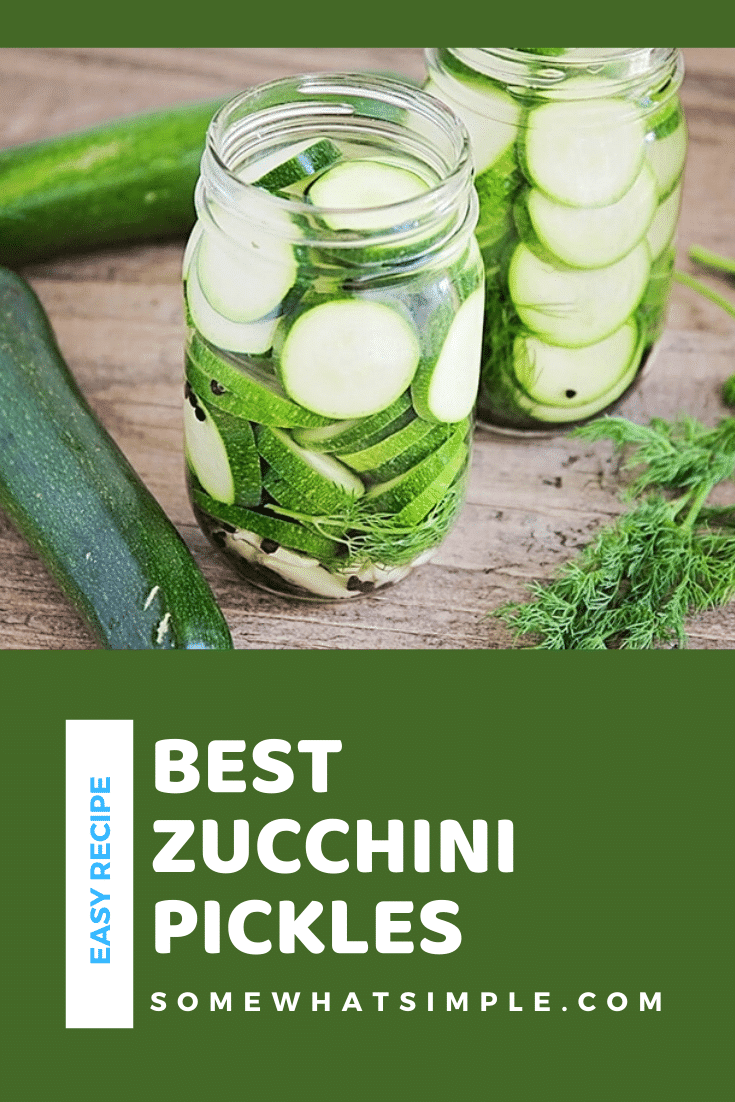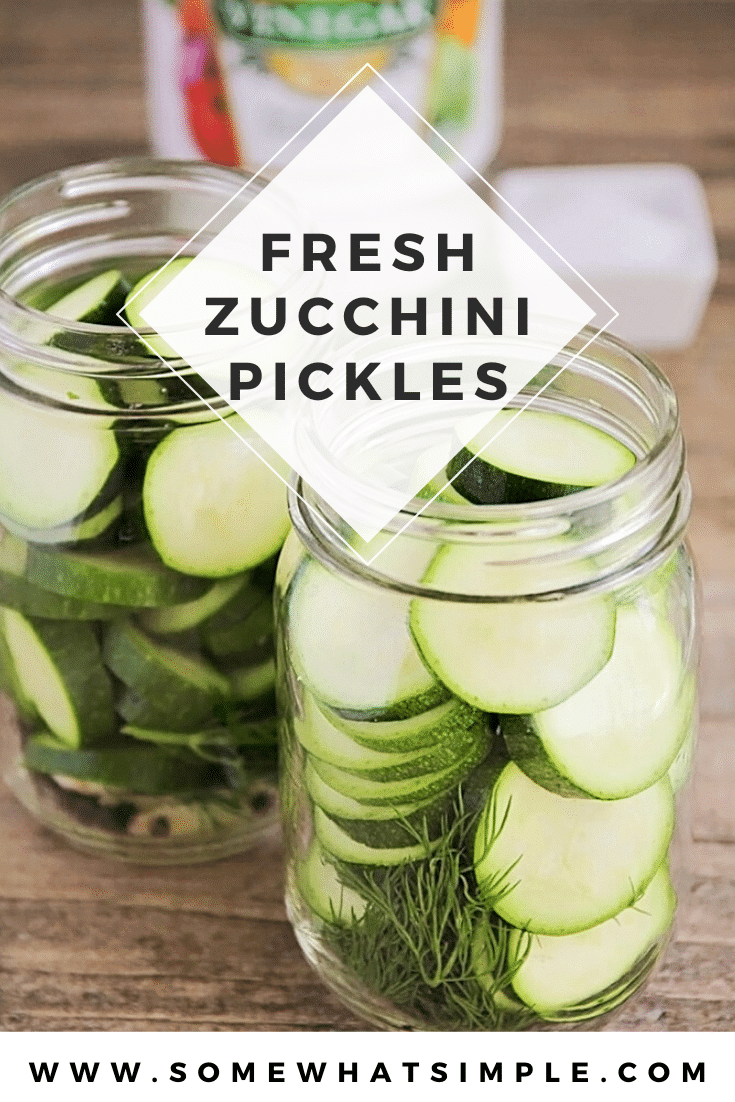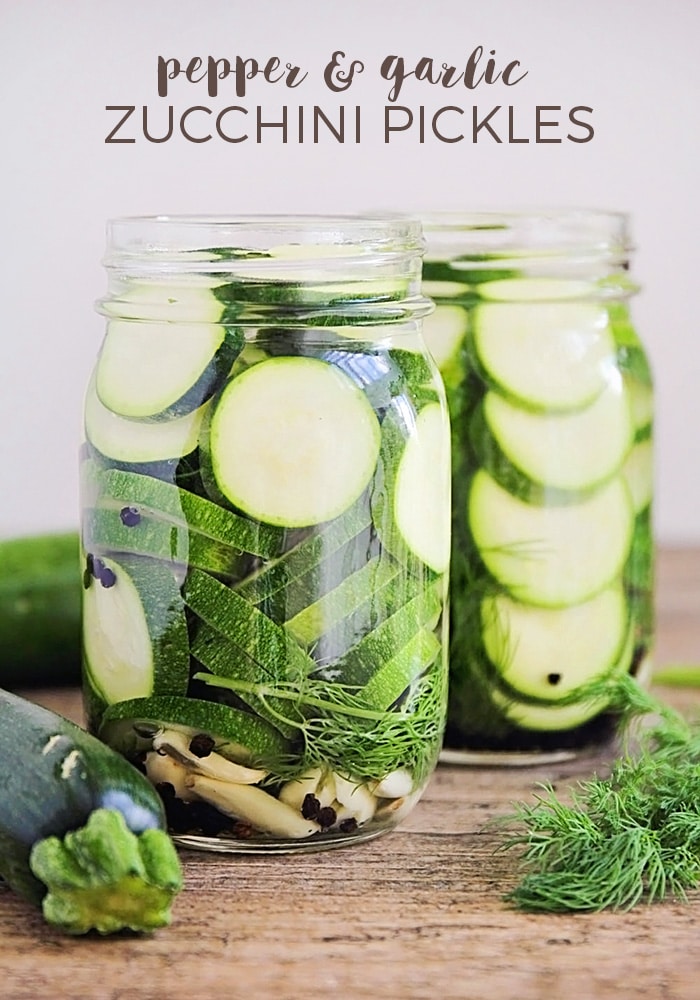 These pepper and garlic zucchini pickles are so easy to make and so flavorful. They are a healthy and delicious way to use up all of your summer zucchini bounty!
Throw these delicious pickles on a juicy Hamburger Slider or your favorite Sandwich. There are a million tasty ways to enjoy them!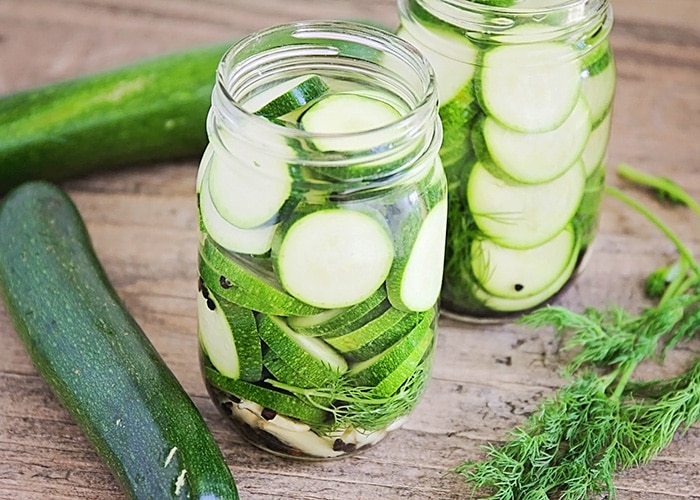 Homemade Zucchini Dill Pickles
I know a lot of people bemoan the abundance of zucchini during the summer, but I personally love it! Zucchini is such a delicious and versatile vegetable.
To me, pickles are an essential summer food. When I think of summer picnic recipes, somehow pickles are always part of the equation, whether in the form of relish, on a sandwich, or just as a zesty side dish. I've always wanted to try making pickles, and when I found zucchini on sale at the grocery store, the idea for these pepper and garlic zucchini pickles was born.
It was my first try making pickles, and I totally blew it out of the park! They're tangy, salty, crunchy and garlicky. They're just all around delicious. I think they are definitely the best pickles I've ever had, and I can't believe I made them myself!
How To Make Garlic Zucchini Pickles
Fresh Ingredients – I started with some basic fresh ingredients; zucchini, fresh dill, garlic, peppercorns, salt, water, and distilled white Vinegar. I love that Heinz vinegar is all natural and made from sun-ripened corn. It's a great choice for pickling!
Prep – Start by thoroughly washing two pint-sized jars.
Seasoning – Next, I peeled and lightly mashing the garlic. Then I added my peppercorns, garlic cloves and two sprigs of fresh dill seasonings to the bottom of each of my pint jars. The garlic, dill, and peppercorns add a ton of delicious flavor to the pickles!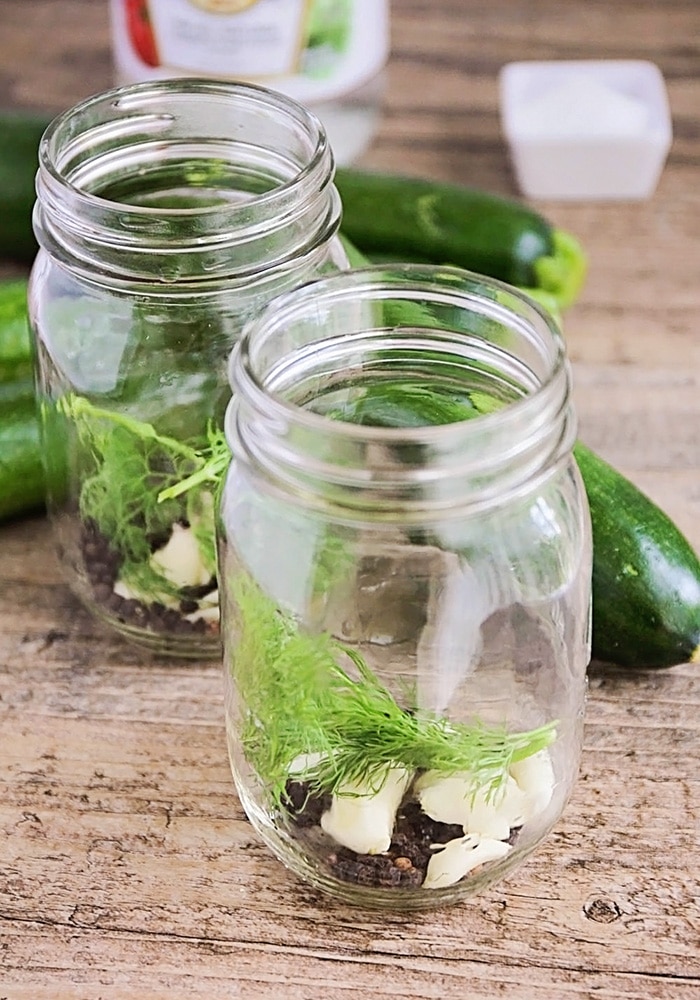 Zucchini – Then I washed and sliced my zucchini, and packed them into the jars. I just filled the jars up as much as I could. I found it helpful to gently shake the jars a few times to help things settle and make more room.
Brine – Once the jars are filled it's time to make the brine solution. In a small bowl, you'll just mix together the salt, vinegar, and water until everything fully dissolves. Then you'll pour the brine over the zucchini until you fill the jars.
Set – Add the lids and let the zucchini pickles refrigerate 24 hours, and you're all set!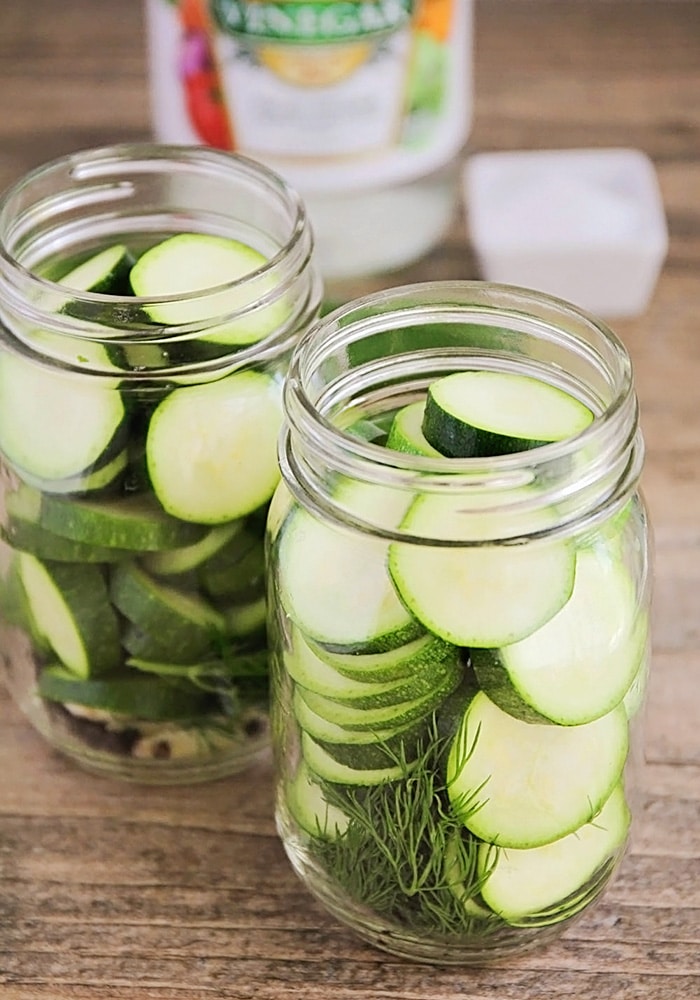 Serving & Storing
These pickles seriously could not be easier, and they are so delicious you'll want to make them again and again!
Serving Suggestions – These pepper and garlic zucchini pickles would go wonderfully on Roast Beef Sandwiches, Oven Baked Turkey Sandwiches and these Pastrami Sandwiches.
Storing – These zucchini pickles will keep in the fridge for about 2-3 weeks (if you can make them last that long!).
More Easy Zucchini Recipes
Zucchini Pickles Recipe
These pepper and garlic zucchini pickles are so easy to make and so flavorful. Such a delicious way to use up all of your summer zucchini bounty!
Instructions
Thoroughly wash two pint jars. In the bottom of each jar, layer 1 tablespoon black peppercorns, 3-4 garlic cloves, and two sprigs fresh dill.

Add the sliced zucchini and fill nearly to the top.

In a small bowl or measuring cup, mix the water, vinegar, and sea salt, until the salt is dissolved. Pour the brine mixture over the zucchini, filling the jar.

Refrigerate at least 24 hours before serving. Pickles will keep in the refrigerator for 2-3 weeks.
Nutrition
Serving:
1
pint
·
Calories:
102
kcal
·
Carbohydrates:
19
g
·
Protein:
5
g
·
Fat:
1
g
·
Saturated Fat:
1
g
·
Sodium:
7021
mg
·
Potassium:
942
mg
·
Fiber:
6
g
·
Sugar:
8
g
·
Vitamin A:
674
IU
·
Vitamin C:
56
mg
·
Calcium:
120
mg
·
Iron:
2
mg
Other Notes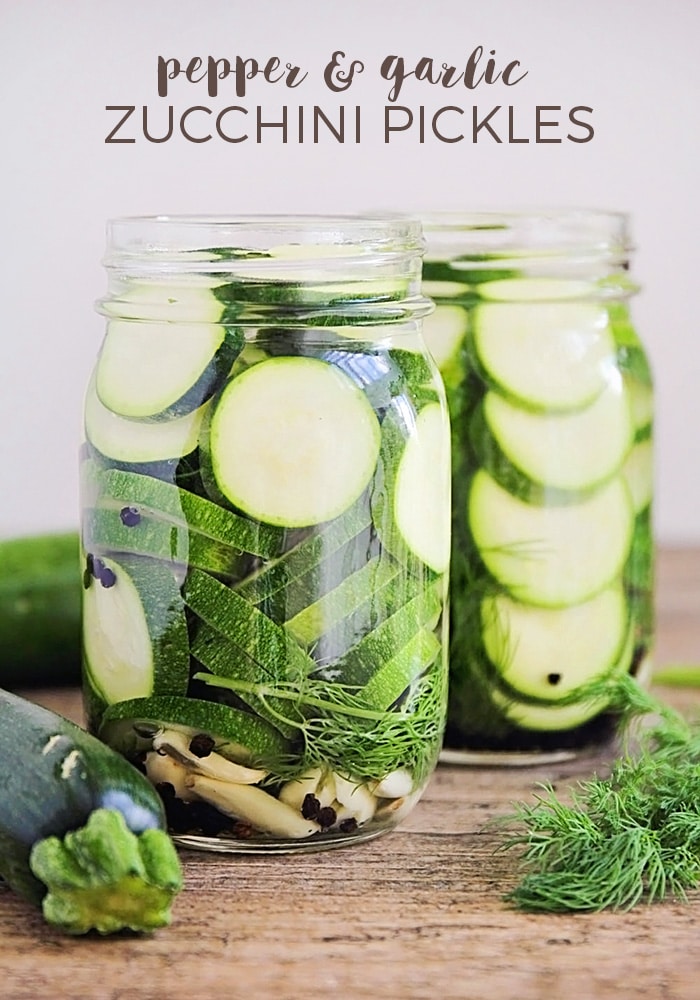 This post is sponsored by Heinz. As always, all opinions and text are my own.