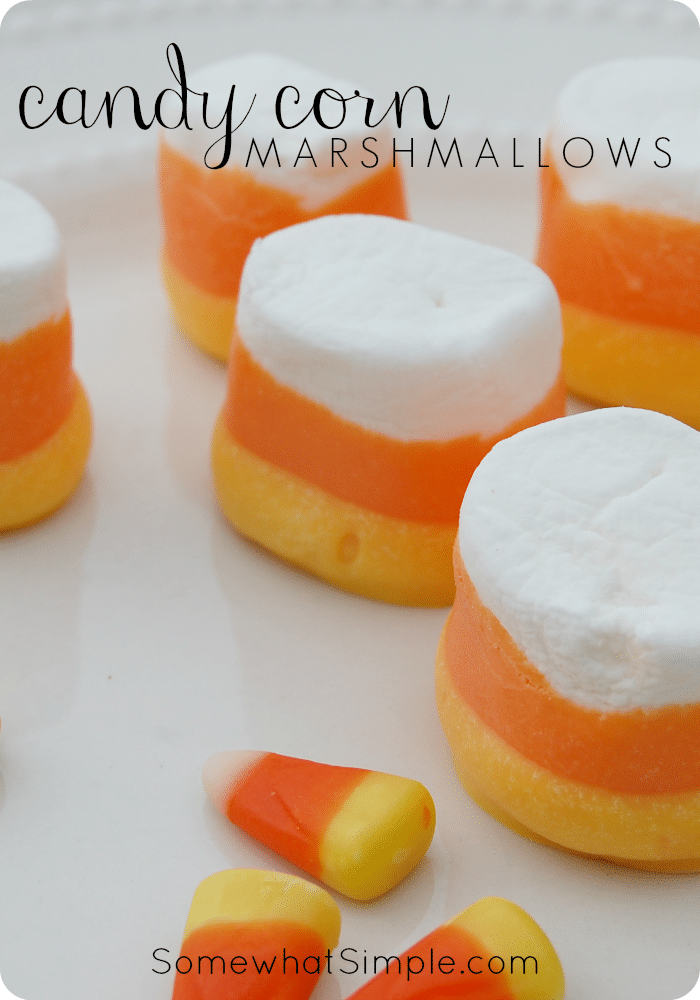 I made these candy corn marshmallows to pay tribute to my love of this delicious fall candy. When I was younger, my mom had a stuffed witch decoration hanging on our front door during the Halloween season. My grandmother made it, and we lovingly named her Broomhilda. Our sweet Broomhilda had a little basket attached to her that my Mom kept stocked with candy corn. On my way out the door and on my way back in, I would always sneak a few… I guess that's where my love for candy corn stemmed! Now that I am a mom, I don't have a Broomhilda of my own, but I make a point to keep our glass pumpkin full of candy corn to satisfy my kids' sweet spot, and I'll be honest, mine as well! My kids had tons of fun helping me make these marshmallow bites, and when they were finished, they couldn't keep their little hands off of them!
Ingredients:
Orange chocolate melting wafers
Yellow chocolate melting wafers
Jumbo Marshmallows
Directions:
Melt the orange and yellow chocolate in two separate small bowls by putting them in the microwave for 30 second increments.
Dip your marshmallow about 2/3 to the top into the orange chocolate. Swirl around for a smooth finish. Place on wax paper until the chocolate hardens.
Dip the orange covered marshmallow into the yellow chocolate and cover about half of the hard orange chocolate.
…and that's it!
Helpful Hint: Use toothpicks in the top of the marshmallows for easy dipping.