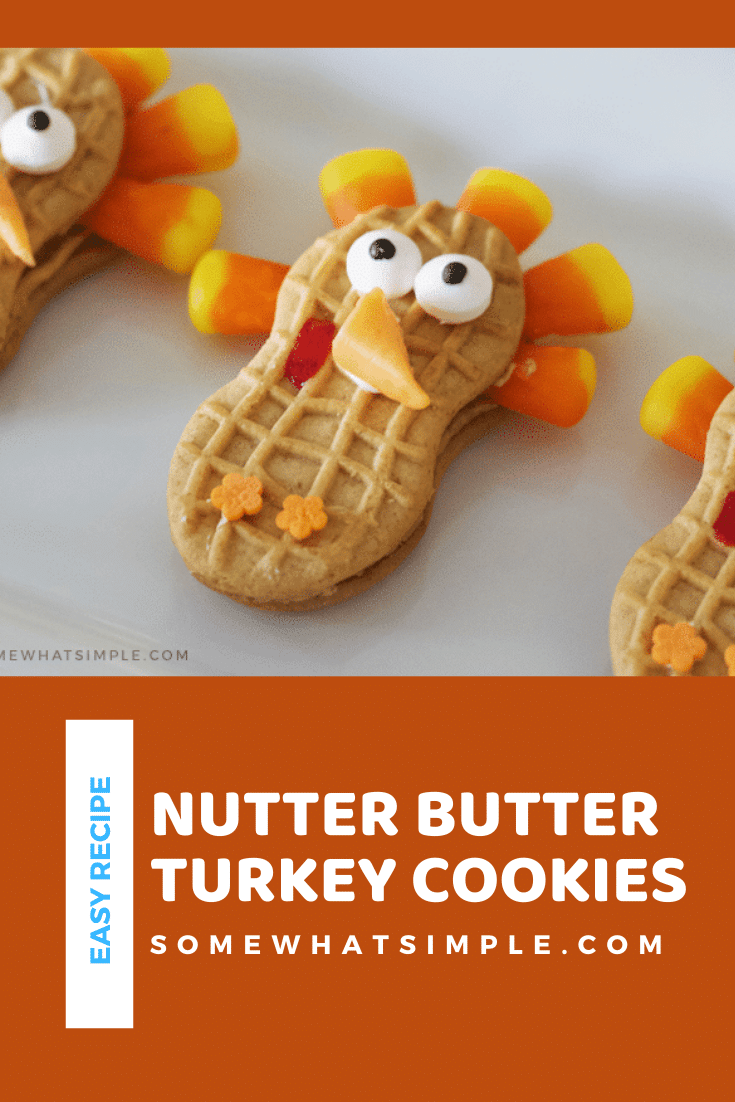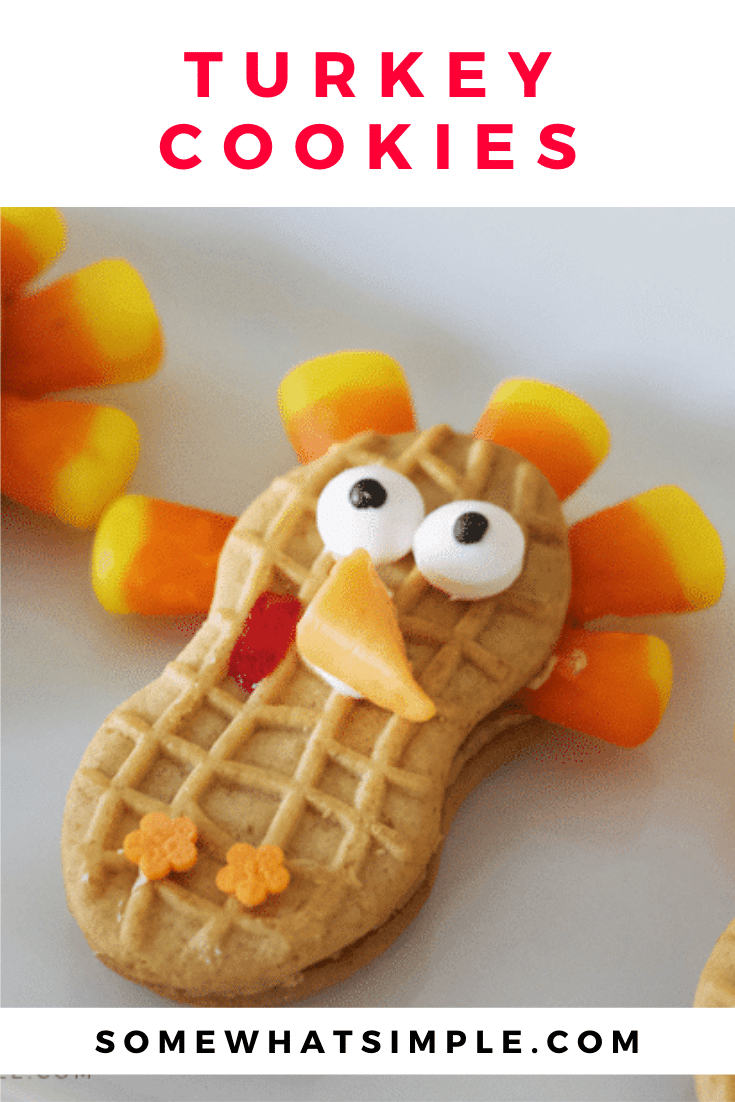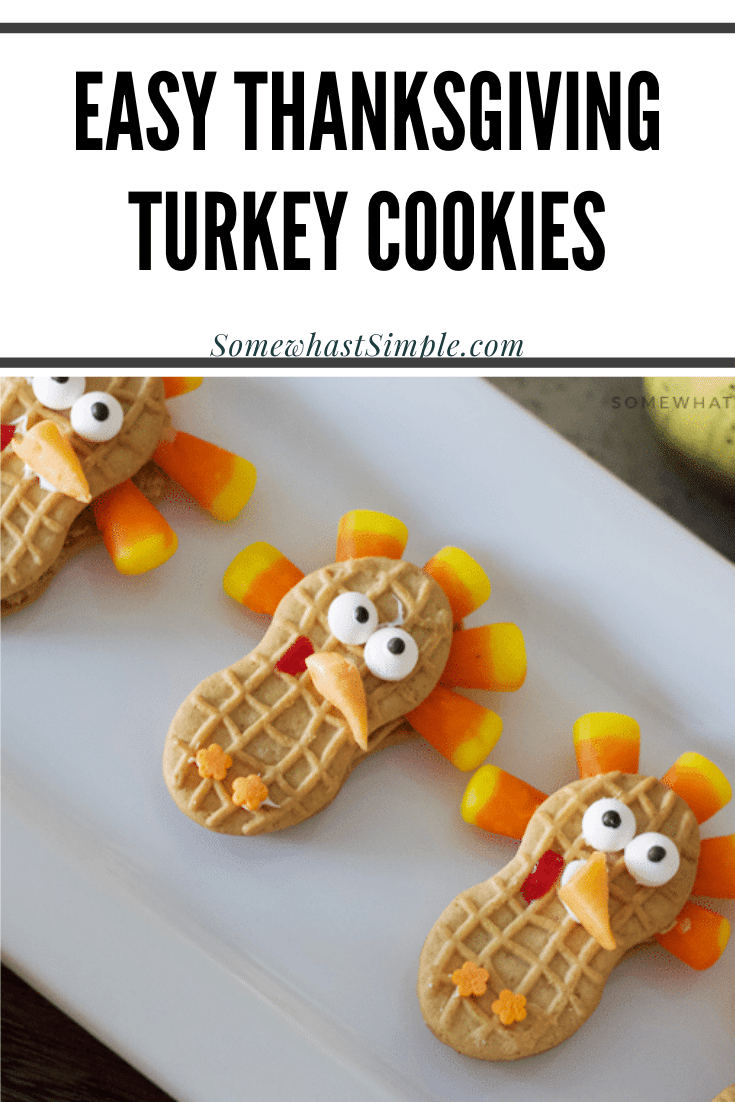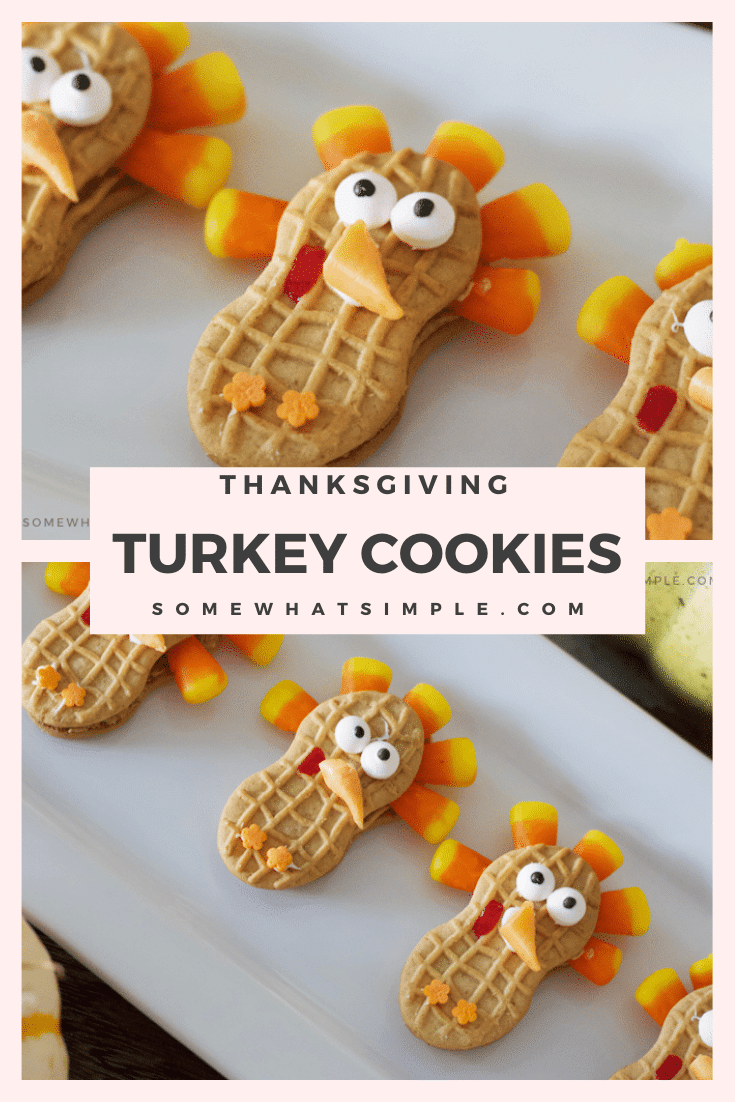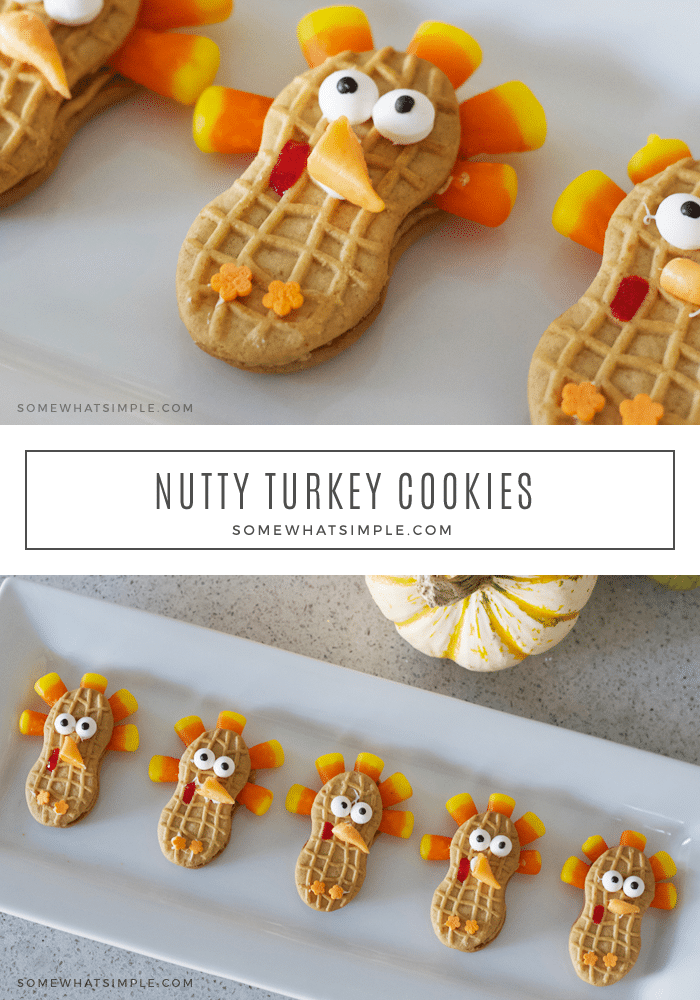 These cute Nutter Butter turkey cookies are the perfect Thanksgiving treats that your kids can help you make! They're easy to make and taste delicious!
While the adults indulge on their favorite Thanksgiving desserts, like Cherry Hand Pies, Pumpkin Pie Turnovers, and Mini Lemon Meringue Pies, grab the kids and let them decorate a simple Thanksgiving treat that's made just for them!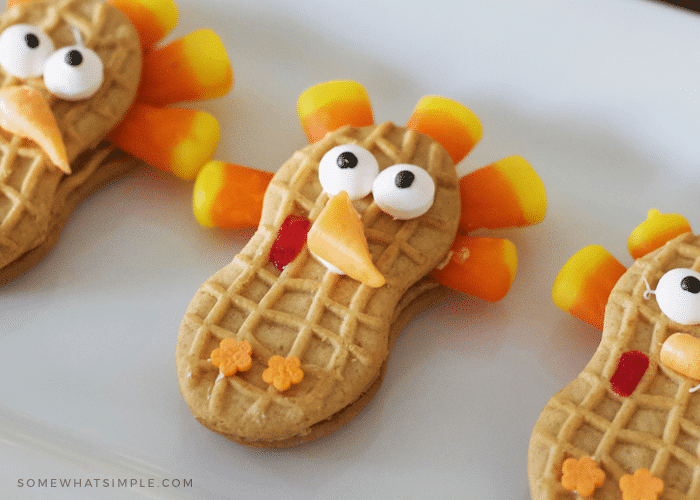 Easy Thanksgiving Cookies
It has been a tradition for as long as I can remember to make turkey cookies with my mom and all the little kids at our Thanksgiving festivities. We make a different one each year and it always amazed me the ideas she came up with – every year, a new turkey creation. I remember loving this activity when I was little, now I love watching my kid's eyes light up when they see the candy, cookies and frosting laid out on the table.
While the turkey ingredients and designs change from year to year, our love of this tradition never has! This Nutter Butter turkey cookie is was of my favorites. They're super easy to make so my kids love helping me assemble them and they absolutely love eating them when we're all done. These cookies are simple and cute so what's not to love?
What You'll Need
Nutter Butter cookies
Candy corn
Chocolate or vanilla frosting
Orange Starburst candies
Red frosting
Orange flower or leaf sprinkles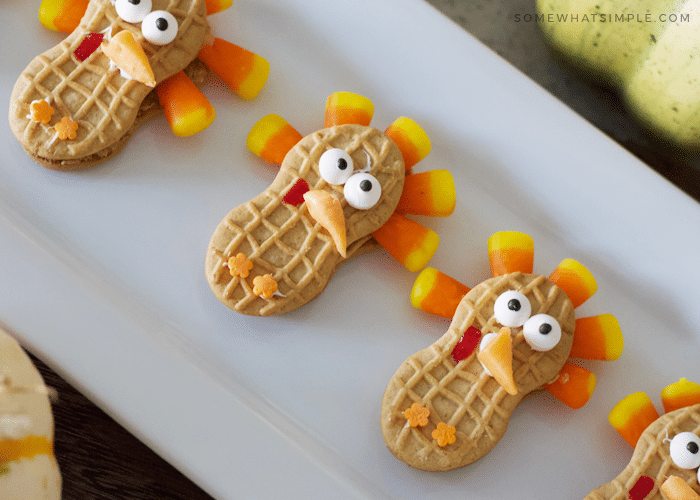 How To Make Nutter Butter Turkey Cookies
These cute Nutter Butter Turkey Cookies are the perfect Thanksgiving treats that your kids can help you make! Here is how to do it.
Separate – Grab some Nutter Butter Cookies and take them apart, trying to get as much of the peanut butter filling on one side as possible.
Feathers – Stick 5 candy corn candies into the peanut butter to make your turkey feathers. Replace the other cookie so it sits on top of the candy corn. TIP – If you notice the cookie not sticking together very easily, add some frosting to the cookie and gently press it down.
Face – Now it is time to decorate the face! Cut a triangle from one corner of the orange Starburst. Add some frosting to the back side and secure it to the face of the cookie where the beak should be. Add a small line of red frosting right next to the beak for the turkey's wattle. Secure 2 candy eyes with frosting, and place 2 orange flower sprinkles at the bottom of the cookie to be the turkey's feet.
Variation – If you want to add a little homemade flare to this recipe, you can make your own candy eyes. Here's how to do it.
More Thanksgiving Cookies
Leave us a comment below and let us know how much you liked these delicious Nutter Butter turkey cookies. Don't forget to snap a picture of your family making these and post it on social media. We always love seeing you try one of our recipes!
Nutter Butter Turkey Cookies Recipe
These cute Nutter Butter Turkey Cookies are the perfect Thanksgiving treats that your can help you make!
Ingredients
Nutter Butter Cookies

candy corn

chocolate or vanilla Frosting

candy eyes

orange Starburst candies

red frosting

orange ]flower or leaf sprinkles
Instructions
Begin by carefully peeling the top part of the cookie away from the bottom, trying to keep peanut butter filling on bottom cookie.

Spread chocolate or vanilla frosting over the peanut butter filling and carefully place candy corn into frosting around the top half of the cookie.

Gently press the top cookie back on, over the candy corn.

Cut a beak shape from the Starburst candies and secure to cookie using a dab of frosting.

Secure candy eyes and Leaf sprinkle feet in the same manor.

Press heart sprinkle onto Starburst candy beak to create the turkey's waddle.

Admire your cute turkey, and then devour him!
Nutrition
Serving:
1
Cookie
·
Calories:
100
kcal
Other Notes