Turkey Sugar Cookies are a simple treat your little Thanksgiving guests are sure to enjoy!
Thanksgiving is right around the corner, and in addition to planning all the Thanksgiving trimmings like 3 Cheese Mashed Potatoes, Homemade Dinner Rolls and Easy Ham Appetizers, we're in full TREAT MODE over here!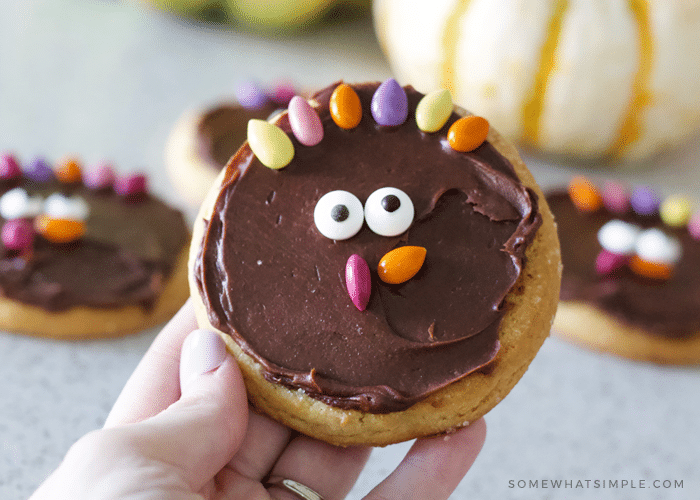 Easy Turkey Sugar Cookies
Each year on Thanksgiving morning, my sister in law gathers all the kids in the kitchen to make an edible turkey creation that they get to eat after our big meal. I'm seriously so impressed with the creative ideas she comes up with every year! These Turkey Sugar Cookies were the cookie she came up with last year, and judging by how much my own kids LOVED them, I'd say it's a safe bet that your Thanksgiving guests will love them too! These cookies  are easy, festive, and totally delicious!
A lot of decorated sugar cookie recipes require some made decorating skills, but not these darling turkeys! They don't take long at all to make, and your guests will surely be impressed. With the time you saved baking in the kitchen, you'll have more time to spend with your family doing activities and playing games like Turkey Pictionary or Roll a Turkey.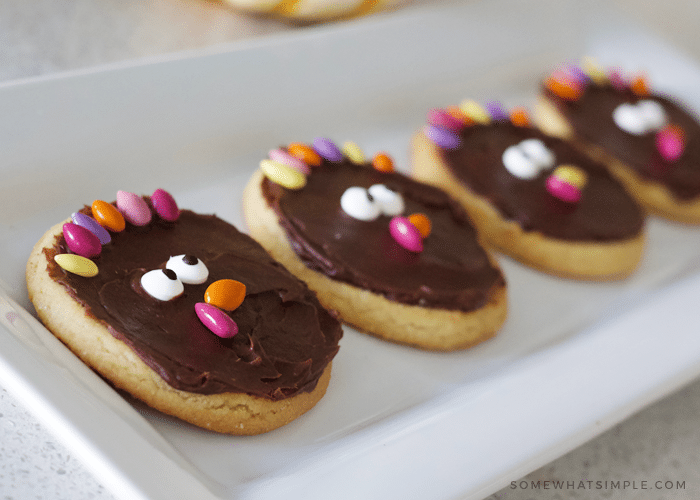 Tips for Making Turkey Sugar Cookies
You can start with a store-bought sugar cookie from the bakery, or bake your own! We have 2 sugar cookie recipes we LOVE-
Next, grab some frosting and give your cookies a nice layer! For the ones pictured here, we used store-bought chocolate, but our favorite Cream Cheese Frosting colored orange is also deliciously cute!
Lastly, you'll need some cookie embellishments to make the face and features. You can make your own candy eyes or buy them at the grocery store (they are with the sprinkles and baking goods), and you'll also need some chocolate-covered sunflower seeds. I always get mine at Trader Joes, but they never have any other colors than the ones you see here. Amazon has a bunch of colors, but you might pay a little more.
…That's it!
Other Turkey Cookies You Might Enjoy
Let's get baking, shall we?
How to Make Turkey Sugar Cookies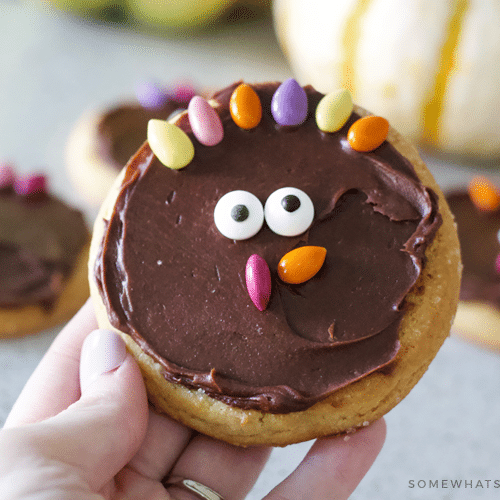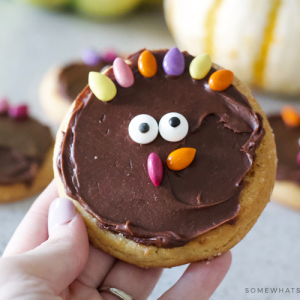 Turkey Sugar Cookies
Turkey Sugar Cookies are a simple treat your little Thanksgiving guests are sure to enjoy!
Ingredients
round sugar cookies

store-bought or homemade (cooled completely)

chocolate frosting

candy eyes

chocolate-covered sunflower seeds
Instructions
Grab your favorite store-bought (or homemade) sugar cookie

Spread a nice layer of chocolate frosting on your cookies

Decorate your cookie with chocolate covered sunflower seeds
Recipe Video
Nutrition Facts
Turkey Sugar Cookies
Amount Per Serving
Calories 150
* Percent Daily Values are based on a 2000 calorie diet.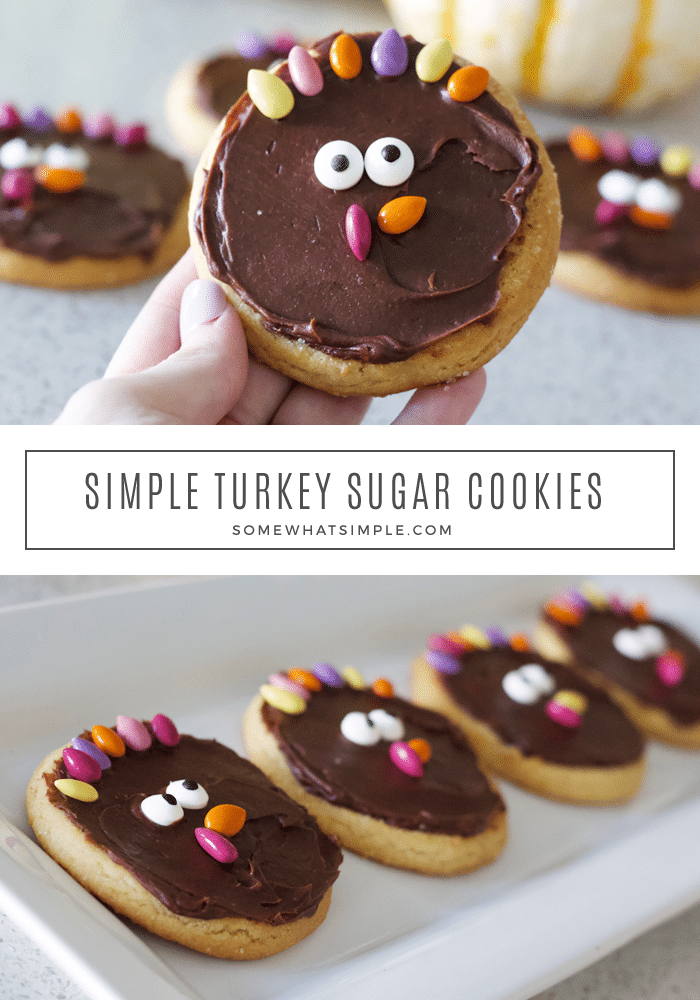 Happy Thanksgiving.  Enjoy!