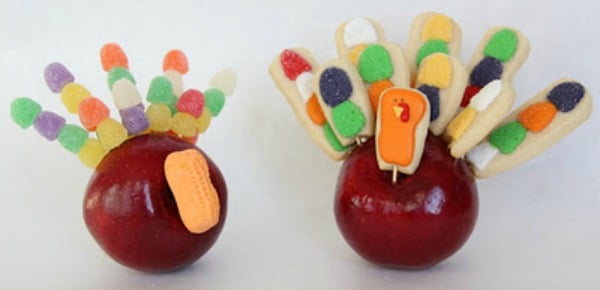 Holidays make me nostalgic. I can't help it. I just love to jog down memory lane and remember all of the classic crafts and traditions that I used to do as a kid. Yes, just thinking of these gumdrop turkeys gives me a twinkle in my eye. You remember them, don't you? As I attempted to recreate the cookie version of this craft, I realized my kids had never seen/made them. It was tragic to discover that I hadn't passed on this treasure. So we made the old school version and then I sought out to make a cookie version of the gumdrop turkey.
I cut the feathers out with a knife in this shape.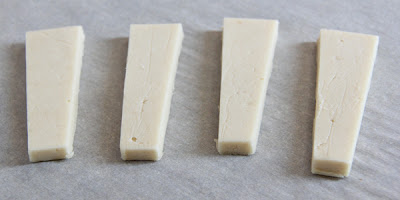 Then I rounded the tops off and pushed a toothpick right through the middle of them.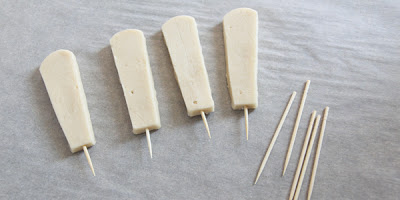 They baked right up and my feathers were ready for some faux gumdrops.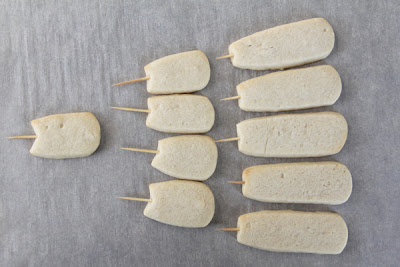 Then I was ready to frost with classic gumdrop colors.
My recipes for the cookies and royal icing are here
. I also talk about consistency of royal icing in this post. For this cookie. I used all 10-15 second icing. You don't have to be too careful about it being smooth or even about popping tiny bubbles, because they are about to be covered up! I didn't even wait for them to dry in between colors.
I used a clear sanding sugar and generously poured it on my wet frosting. After it dried for several hours, I shook off the excess sugar.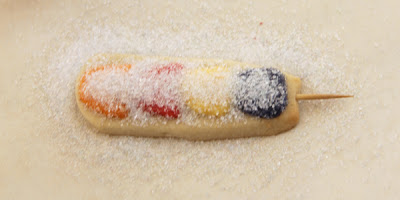 To make them really neat and clean, I used a clean paint brush to wipe away any lingering pieces.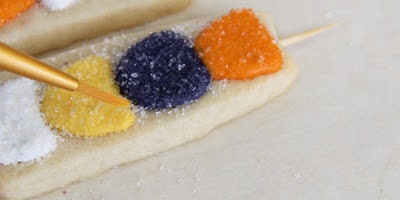 Now they are good to go in your apple!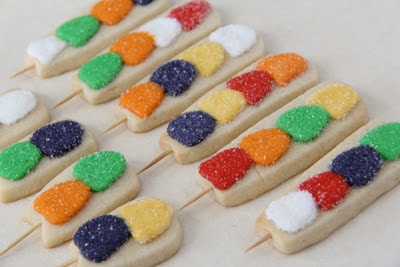 I also made the turkey head with royal icing and edible ink pen for the eyes.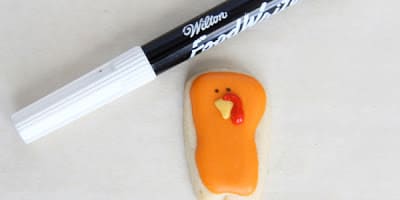 I pre-made the holes in the apple so I wasn't putting too much pressure on the cookie as I pushed it on.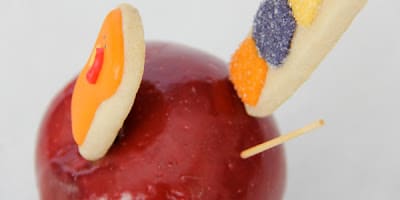 For stability, I added a couple of toothpicks for my apple to lean on.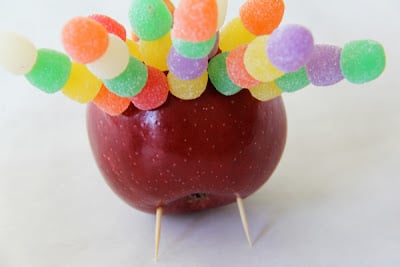 And as simply as that, I had a sentimental holiday favorite made into a cookie craft.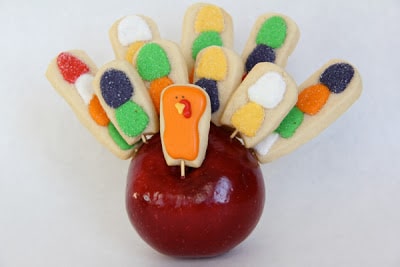 My kids loved making both of them, although they preferred eating the cookies over the "spice drops."
Anyhow, their lives are now complete and fulfilled as they have been introduced to the gumdrop turkey!
Thanks again for having me Stephanie!
I'm sure thankful for the times I get to hang out with you here on somewhat simple.
And I hope to see all of you soon for more cookies and crafting on bee in our bonnet!
(Originally published on Somewhat Simple in 2011)