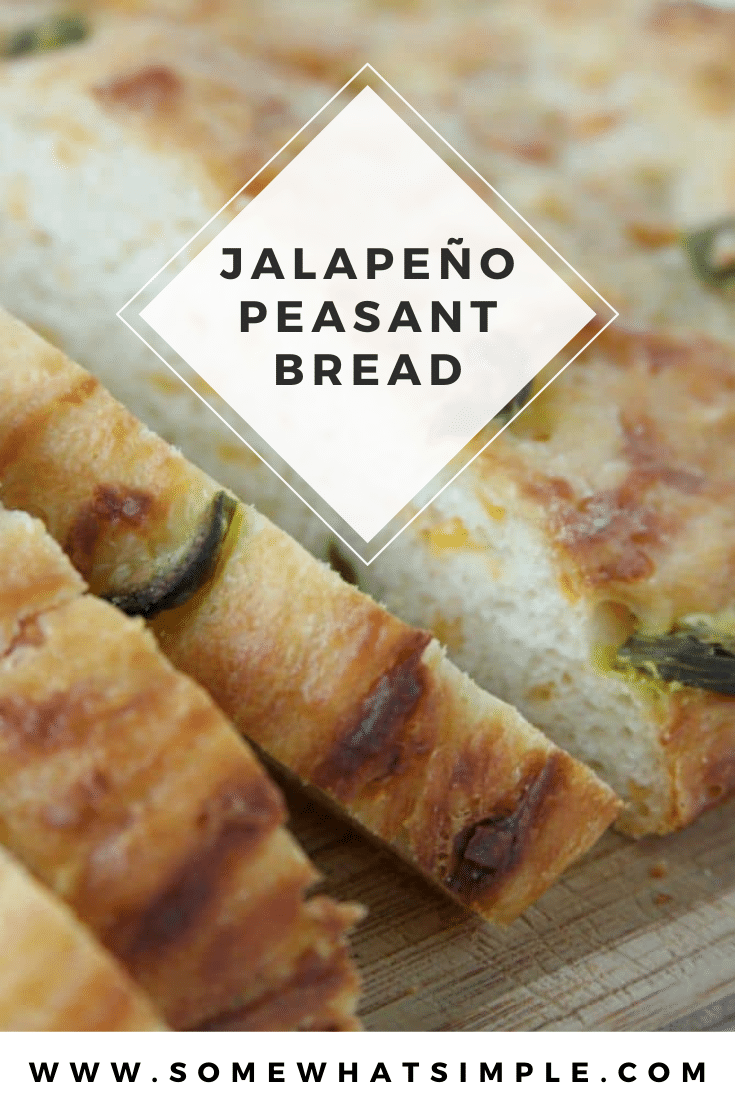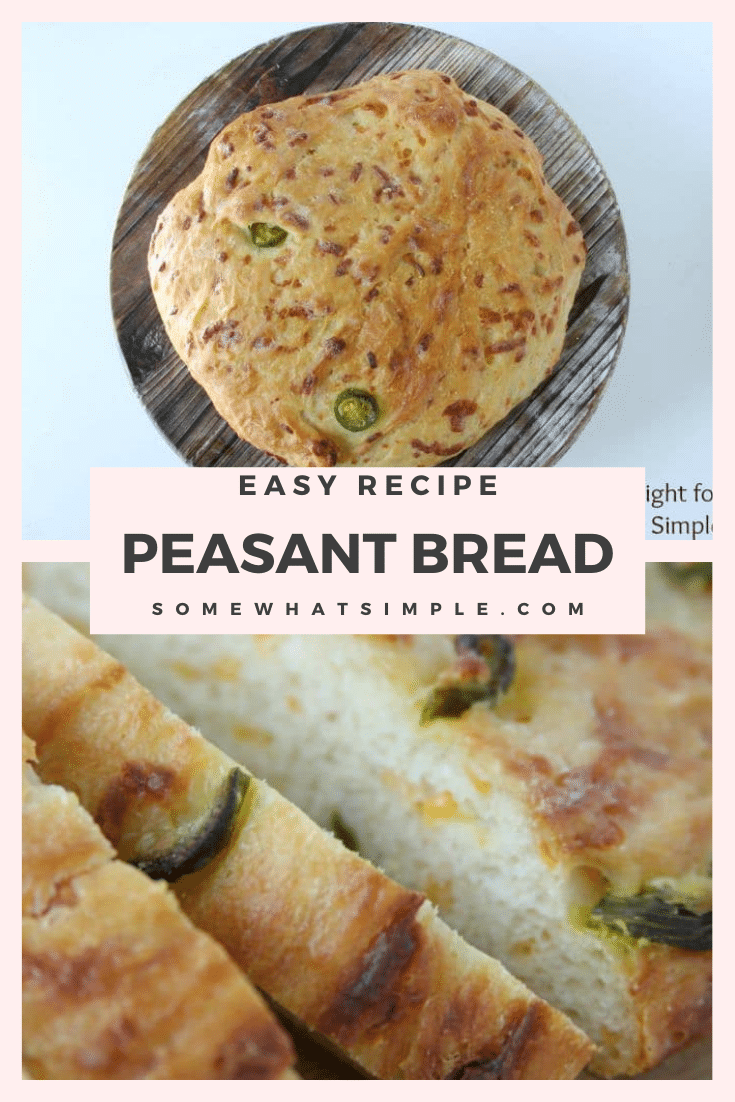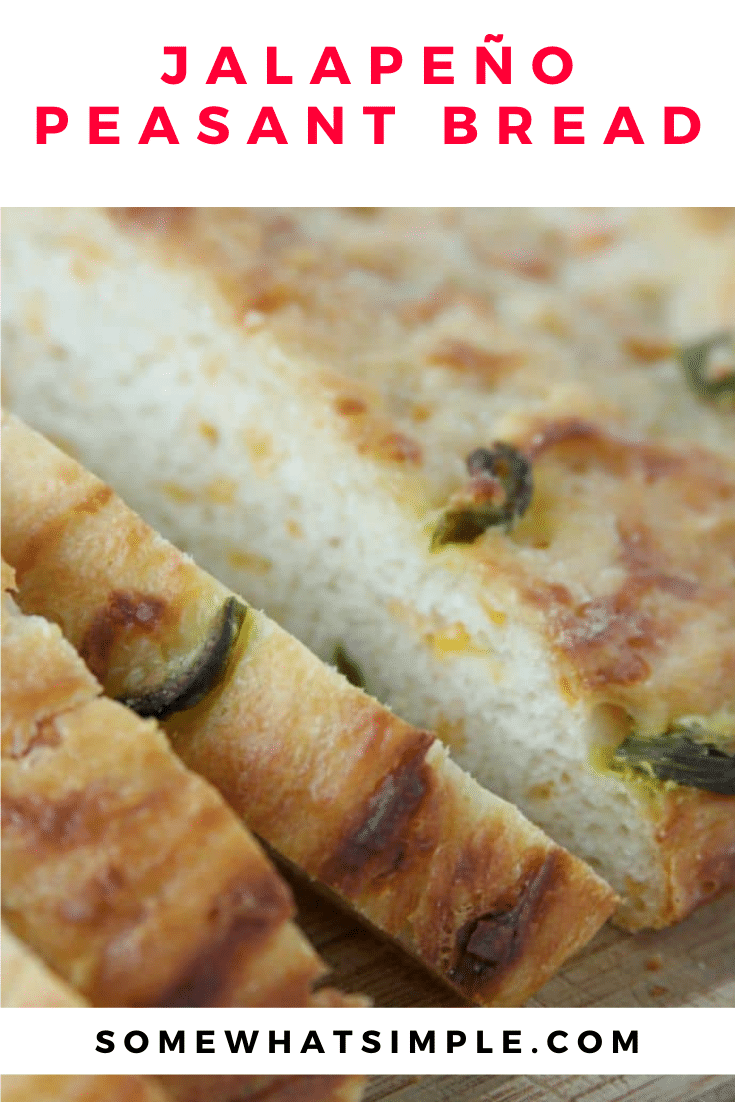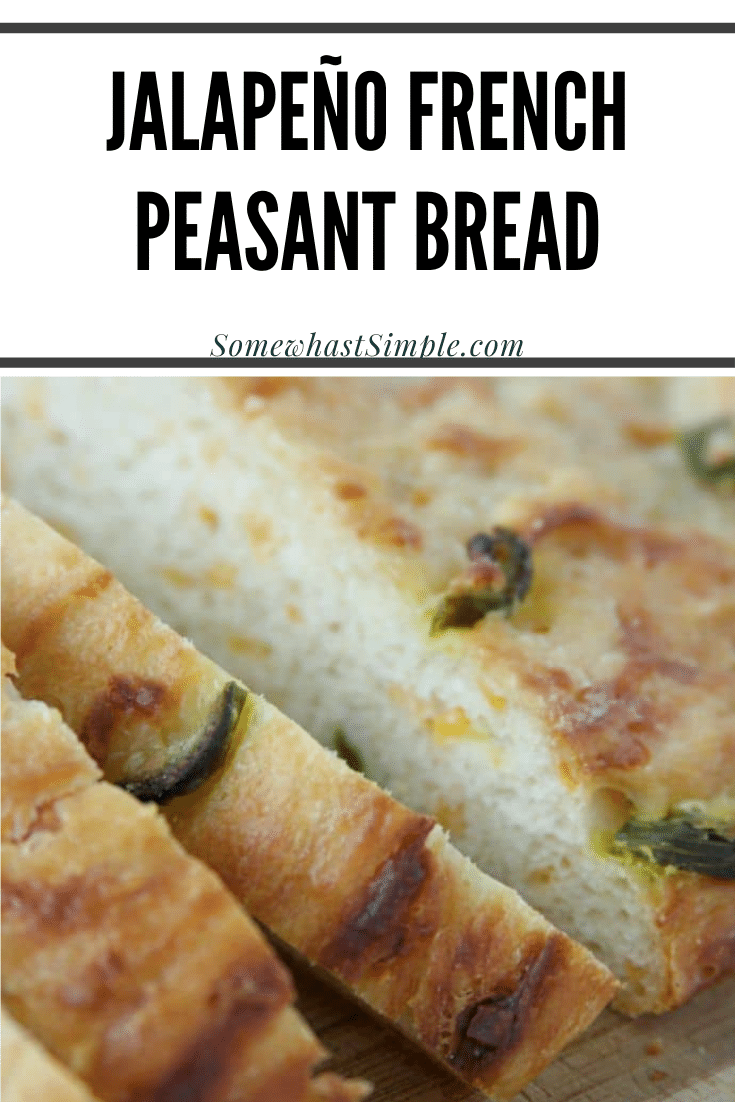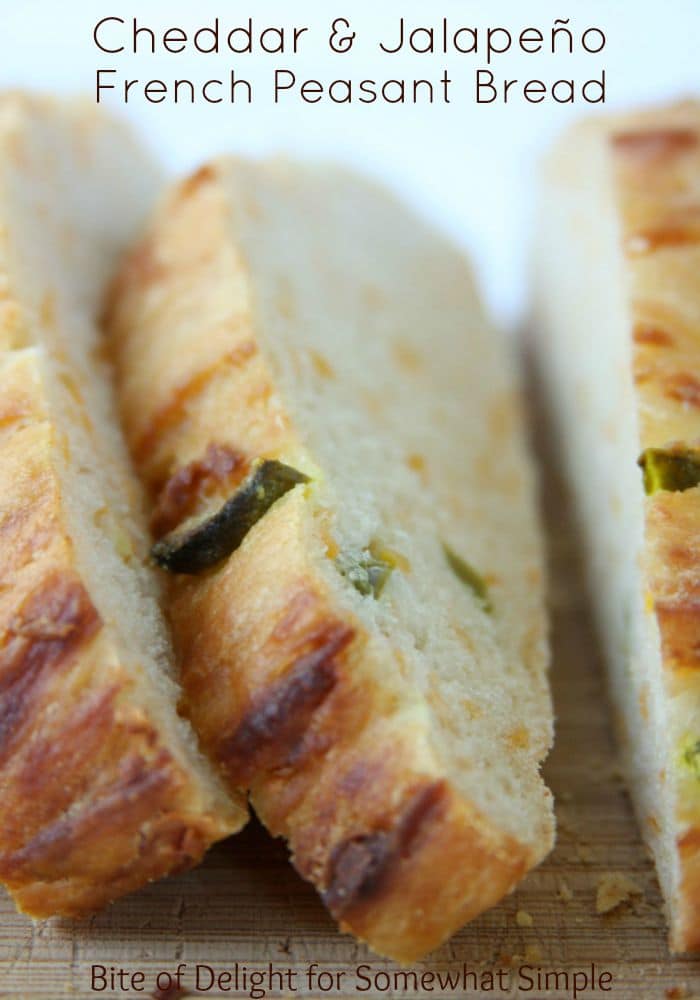 This French peasant bread recipe is loaded with the delicious flavor combination of jalapeños and cheddar cheese. Plus, this recipe doesn't require any kneading so it's super easy to make.
There's nothing like homemade bread. After making this recipe you should also try these Artisan Bread, Lion House Rolls and Cheesy Breadstick recipes.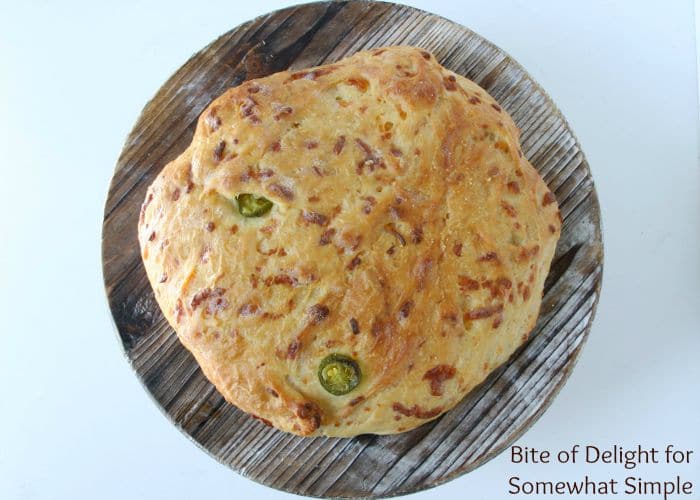 Easy Peasant Bread
One of our favorite homemade carbs is French peasant bread. I love this recipe because it's no-knead, super simple, and uses only a handful of ingredients. Plus, my kids absolutely LOVE this bread.
So when I was making a couple of batches last week, I thought I'd change it up a little and throw in some cheese and jalapeños…and we loved it! But really, when you combine bread and cheese, it's pretty hard to go wrong, and this recipe is proof!
You don't need a mixer, just a bowl and spoon to mix everything together! No kneading, no stress. You can even make the dough ahead of time and put it in the fridge until you're ready for it.
It couldn't be easier! You don't even have to make it perfectly round either. Its rustic look is part of the charm of this wonderful little bread.
Ingredients You'll Need
Dry yeast
Warm water
Sugar
Salt
All-purpose flour
Cheddar cheese
Pickled jalapeños
Jalapeño juice (from the jar)
Butter
Cornmeal (for sprinkling on the pan)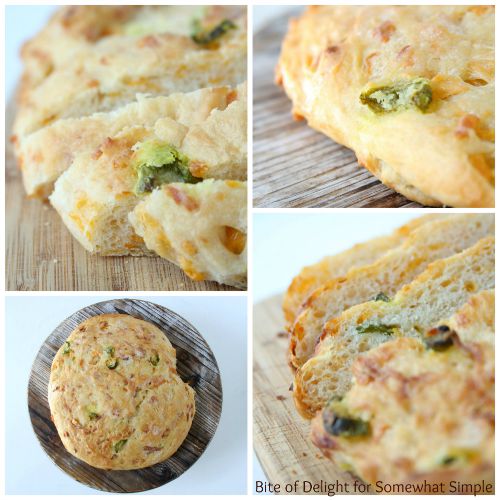 How To Make Jalapeño Peasant Bread
Prep Yeast – Start by adding the yeast, water and sugar in to a bowl and then give it a good stir until everything has dissolved.
Remaining Ingredients – Add the remaining ingredients for the bread (salt, flour, cheese, jalapeño slices and juice) to the bowl. Stir the mixture thoroughly until is has combined. Just don't knead the dough.
Rise Up – Cover the bread dough and let it rise until it has doubled. This will take about an hour.
Baking Prep – Line your baking sheet with either parchment paper or a silicone baking mat. Then sprinkle the pan with cornmeal. You'll also want to preheat your oven to 425 degrees.
Split – Divide the french peasant bread dough in half and form them into two rounds.
Rise Again – Place on rounds of dough on the prepared pan and let rise until it has doubled again. This should take about another hour.
You're Golden – To give your french peasant bread a golden-brown look, brush the top of each round with half of the melted butter.
Cook – Bake the jalapeño bread at 425 degrees for 10 minutes.
Lower Heat – Then REDUCE the temperature to 375 degrees and continue to bake the peasant bread for an additional 15 minutes.
Finishing Touch – Remove the bread loaf from oven and brush it with the remaining butter.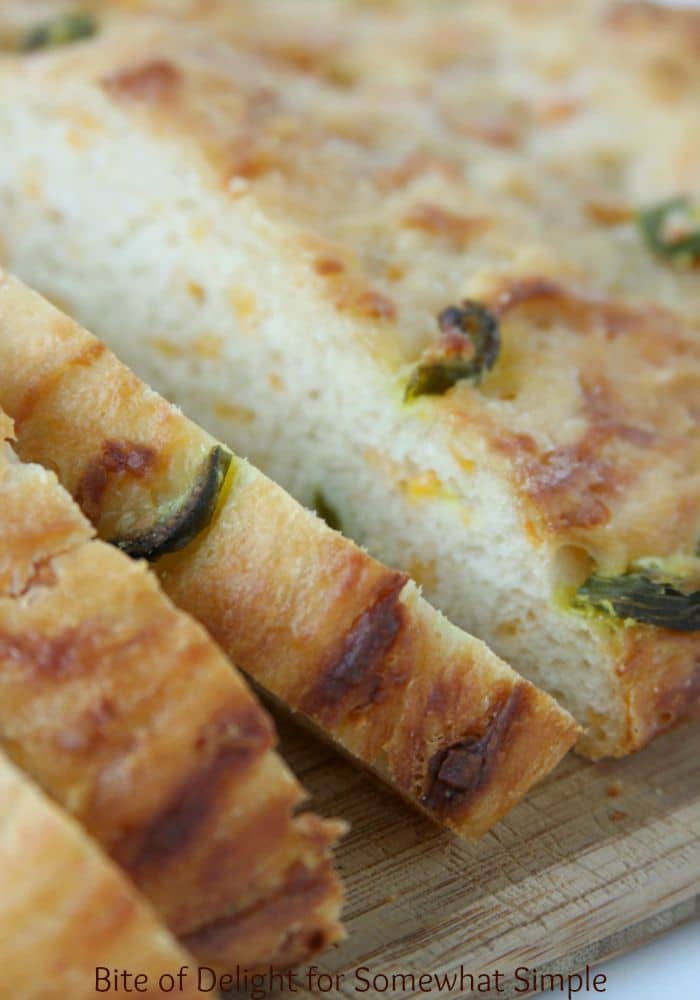 Recipe Notes
Be Sure To Reduce Heat – I have tried baking french peasant bread at 400 degrees for the full 25 minutes, instead of changing the temperature part way through. It didn't get as nicely browned, so even though it will work to use a constant temperature, I still recommend the method described above. It only takes a few second to reduce the temperature and the results are better.
Make It Spicier – This peasant bread has a mild jalapeño flavor and isn't very spicy. If you would like to make it spicier, add more jalapeños or juice. (However, if you add extra juice, I would recommend reducing the water by the same amount)
Slice & Dice – I like to cut the jalapeño slices in half because I prefer smaller bites of jalapeños. If you like whole slices, then leave them whole! The bread will not be affected either way.
More Easy Bread Recipes
Cheddar & Jalapeno French Bread Recipe
One of the easiest and best bread recipes you'll ever make.
Ingredients
2 1/4

tsp

dry yeast

,

(or 1 package)

2

cups

warm water

1

Tbsp

sugar

2

tsp

salt

4 1/2

cups

all-purpose flour

2

cups

shredded cheddar cheese

1/4

cup

pickled jalapeno slices

,

cut in half

2

Tbsp

jalapeno juice

,

from the jar

3

Tbsp

melted butter

cornmeal

,

for sprinkling on the pan
Instructions
Add the yeast, water and sugar to a mixing bowl, stir until dissolved.

Add the salt, flour, cheese, jalapeno slices and juice.

Stir until thoroughly combined, but do not knead.

Cover and let rise until doubled, about an hour.

Line a cookie sheet with parchment paper (or a silicone baking mat) and sprinkle with cornmeal.

Divide dough in half and form into two rounds. Place on prepared pan and let rise until doubled, 45 minutes-1 hour.

Preheat oven to 425 degrees.

Brush the tops of the rounds with half of the melted butter.

Bake at 425 for 10 minutes, then REDUCE the temperature to 375 and bake an additional 15 minutes.

Remove from oven and brush with remaining butter.

Serve warm.
Nutrition
Serving:
1
serving
·
Calories:
213
kcal
·
Carbohydrates:
29
g
·
Protein:
8
g
·
Fat:
7
g
·
Saturated Fat:
4
g
·
Cholesterol:
20
mg
·
Sodium:
436
mg
·
Potassium:
72
mg
·
Fiber:
1
g
·
Sugar:
1
g
·
Vitamin A:
243
IU
·
Vitamin C:
1
mg
·
Calcium:
109
mg
·
Iron:
2
mg
Other Notes