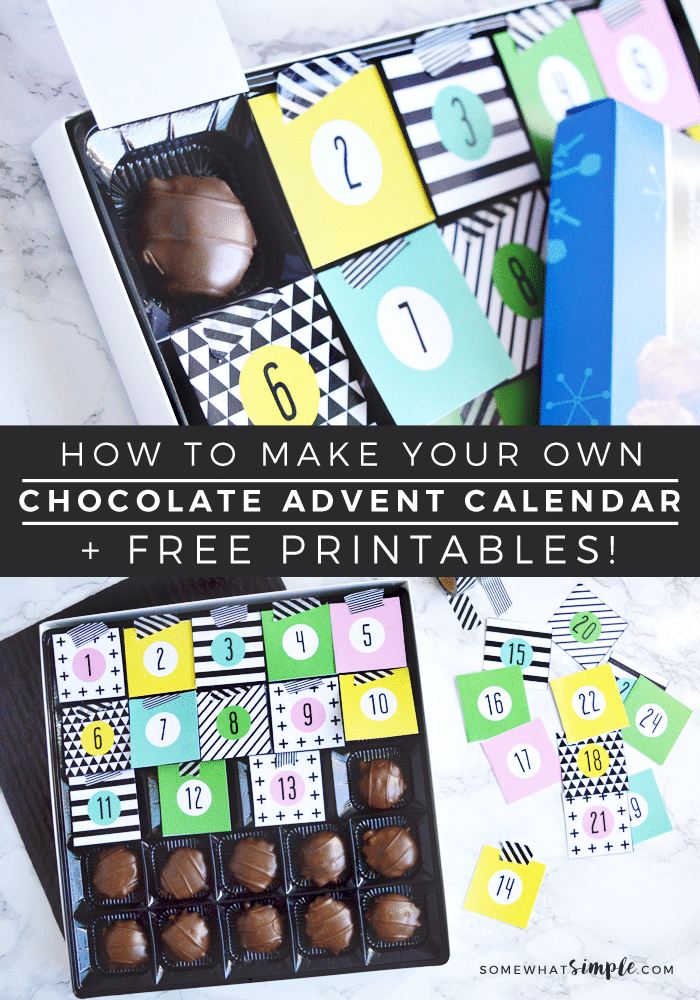 You won't believe how simple it is to turn an ordinary box of chocolates into a delicious countdown activity! Our Chocolate Christmas Advent Calendar is definitely a tradition you'll want to keep doing every year. 😉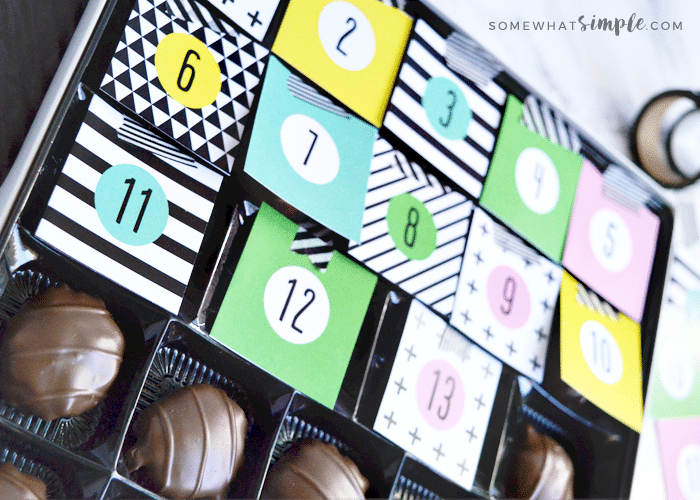 Make Your Own Chocolate Advent Calendar
Growing up it was a tradition for each of the kids in my family to get their own Chocolate Christmas Advent Calendar. My mom would buy those big advent calendars at the grocery store – do you know which ones I am talking about? The cardboard boxes that were the size of a large story book with little numbered flaps that you open each day and find your very own piece of chocolate. Those advent calendars were part of the magic of Christmas, but even as a kid, I wasn't a huge fan of chocolate that tastes sort of like wax- are you with me?
I decided this year I was going to make my own, and it was going to be way better.
MY advent calendar would have pieces of chocolate (of course) and the chocolate would have to taste amazing. I found a Hershey's Pot of Gold chocolate box at Walmart for $5 and knew it would be perfect – there are exactly 24 pieces, which means 1 candy each day starting on December 1st until Christmas Eve! It also means I have to limit myself to just one piece per day. Can I handle that? We shall see.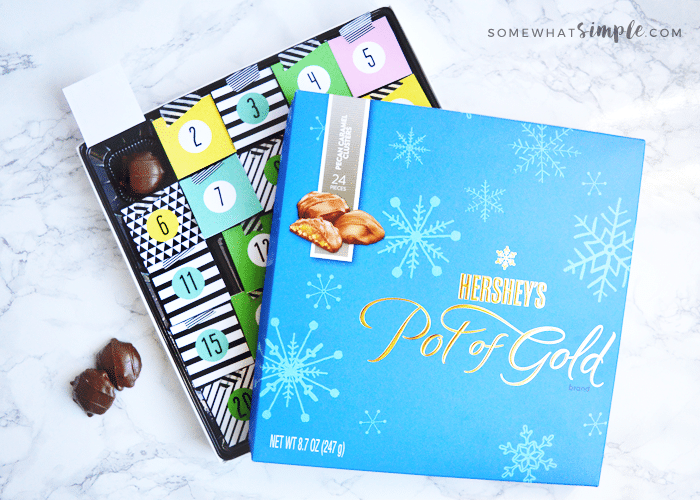 Chocolate Christmas Advent Calendar Supplies
Hershey's Pot of Gold chocolates, or any chocolates that have 24 similar-sized compartments (See's box of California Brittle is also an excellent choice)
Chocolate Christmas Advent Calendar Printables (link below)
paper cutter and/or scissors
washi tape

How To Make A Chocolate Advent Christmas Calendar
First, print off our darling advent printables, and cut them out.
You'll notice that there's a black stripe on one side. You can cut this off if you're taping your squares on, or simply fold the black stripe down, and place in between your chocolates. You may need to trim this down, depending on the type of chocolate box you have. (For this box, I simply cut off the black stripe, since taping them would be easier.)
Tape or place the squares onto your chocolate compartments, and you're done!

More Fun Advent Calendar Ideas
Other Great Christmas Ideas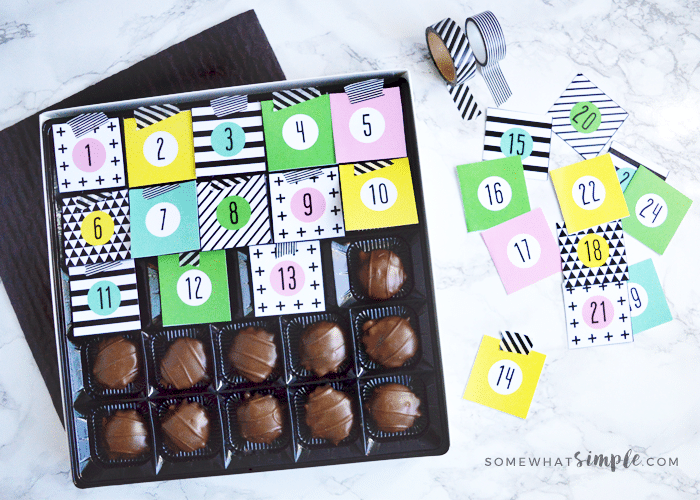 Free Christmas Advent Calendar
Use this advent not only to indulge in chocolate and countdown to Christmas, but use it for fun activities your family can do together each night. Print THIS FREE PRINTABLE with 24 activities and glue them to the inside of each of your flaps. Now you get some family fun and a yummy treat!
And you can download your free advent calendar printable tags HERE. Now you can enjoy your favorite chocolates instead of those waxy ones when you put together this adorable Christmas countdown calendar.
Simple and sweet- literally!
Happy counting down to Christmas!!