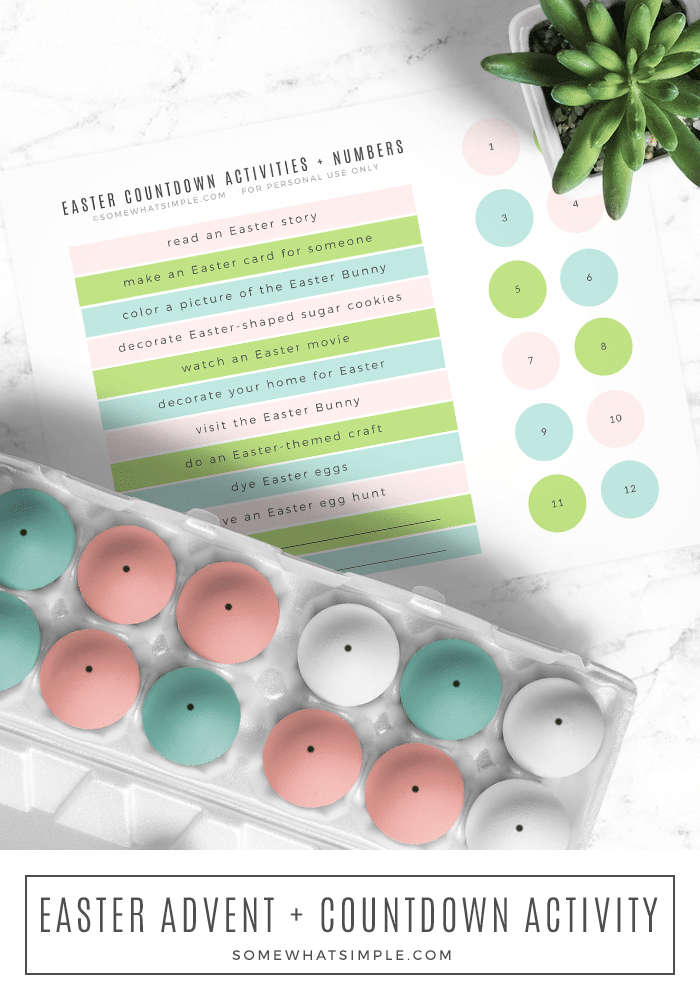 Let the countdown begin! The Easter Bunny will be here before you know it, time to celebrate! Let's make our own Easter Advent Calendar!
Here are a few more festive Easter ideas we think you'll love – Bunny Treat Toppers, Bunny Tails, and Love Letter Eggs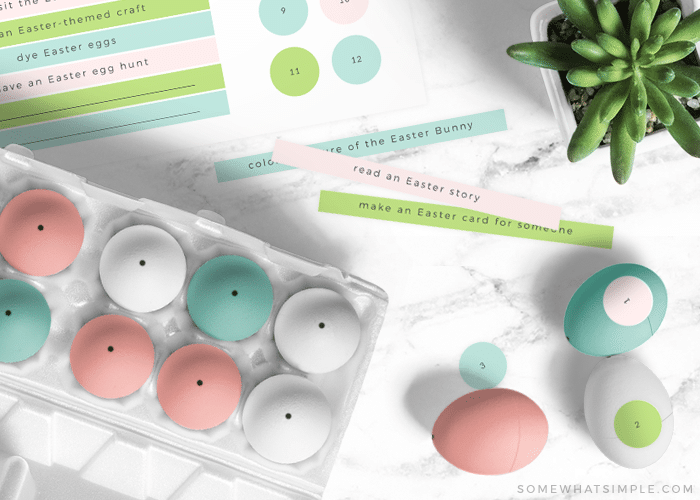 Countdown to Easter
My kids have had so much fun with our other holiday advent calendars (Valentines & Christmas), so I decided to make our own Easter Advent calendar! I'll include the activities we used, but if you have any of your own – leave us a comment, I'd love to hear your ideas!
Here is how to make this fun countdown –
MATERIALS –
Plastic Easter Eggs
Egg Carton
Number Stickers (or use a sharpie)
Printed activities (download below)
DIRECTIONS –
Cut your activities into strips and put one inside each egg.
Stick your number stickers to the top of each egg.
Place eggs in the carton.
…and that's it!
Easter Advent Activities
Here is a list of the activities I thought of + links to ideas to make this countdown even more fun –
Dye / decorate Easter eggs
10 Favorite Ways to Decorate Easter Eggs
Read an Easter story
Teach The Children the True Meaning of Easter
The Story of Easter
Happy Easter, Mouse!
Have an Easter egg hunt
Make an Easter card or treat for someone you love
Easter Gift Tag
Easter Treat Bag
Milk Carton Treat Boxes
Color a picture of the Easter Bunny
Easter Bunny Paper Dolls
Decorate Easter cookies / Make and Easter treat
Rice Krispies Easter Kebobs
Easter Chick Birdhouse
Bird's Nest Cookies
Easter Cookies
Easter Cupcakes
Visit the Easter Bunny
Watch an Easter movie
The Real Meaning of Easter
Do an Easter craft
10 Favorite Easter Bunny crafts
Easter Egg Necklace craft
Easter Placemats
Decorate your house for Easter
Easter Bunny Banner
Framed Easter Art
More Easter Printables
Easter Advent Activity Eggs Printable
Enter your name and email below for immediate access to the PDF. I left a couple of spaces blank so you can add your own activities if you'd like!
Have fun!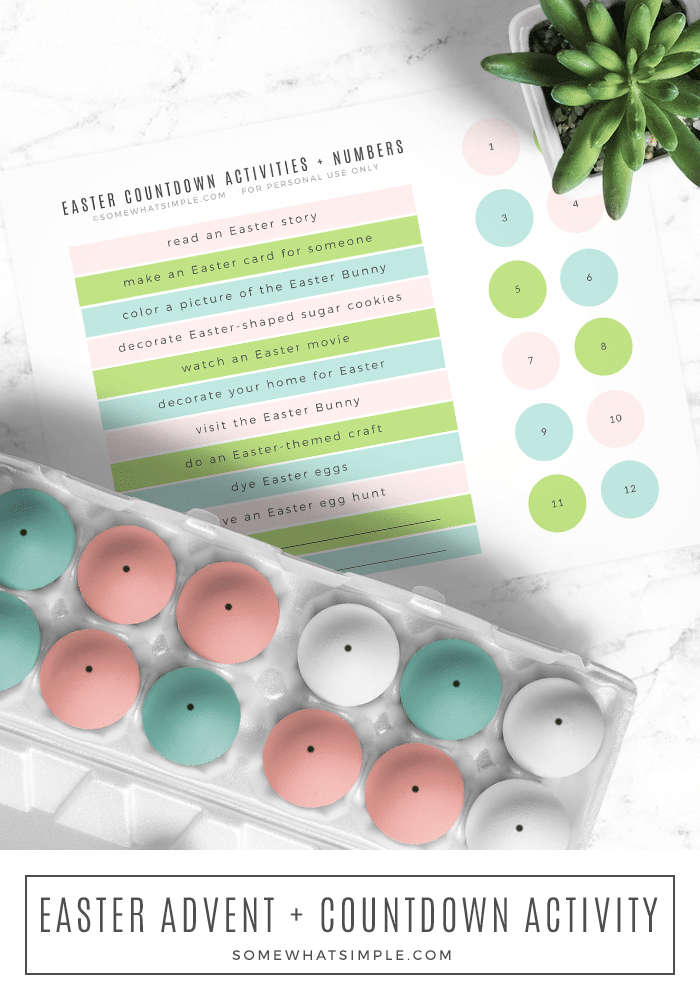 This idea was originally published in March of 2010