If I had to choose one flavor combo that I absolutely adore it'd be a tough choice, but at this time of year I'd definitely pick oranges and cranberries.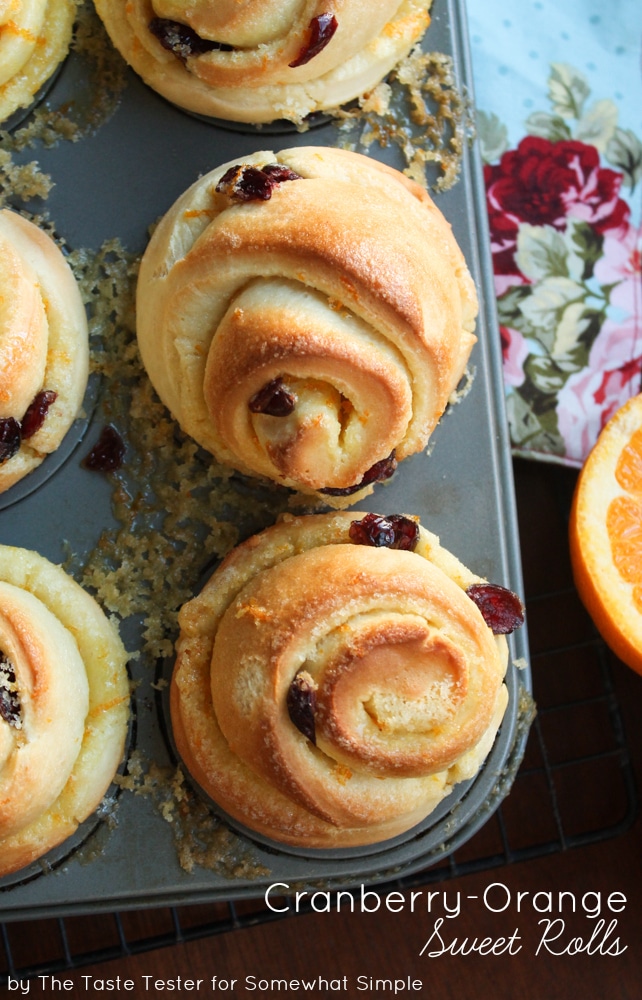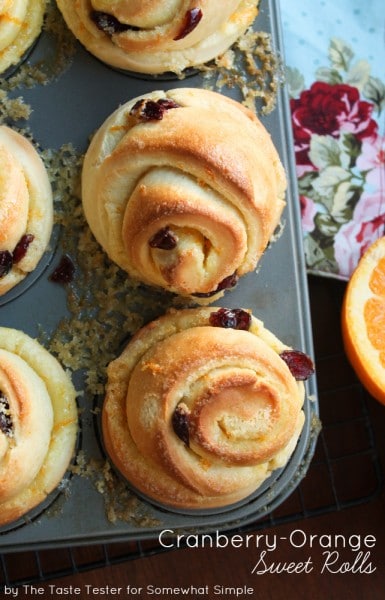 These cranberry orange sweet rolls combine the two so perfectly. Believe me, if you make these your tastebuds will do a little happy dance and the aroma that fills your home will be oh-so-divine!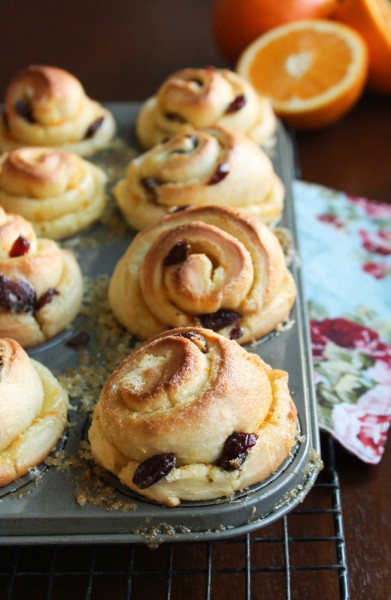 For the Dough:
1 cup whole milk
4 tablespoons salted butter, cut into cubes
3 ½ cups all-purpose flour, divided (give or take ¼ cup depending on climate)
1 tablespoon rapid rise yeast
¼ cup sugar
½ teaspoon salt
1 egg
For the Filling:
¼ cup softened butter
½ cup sugar
1 tablespoon orange zest
¼ teaspoon orange extract
¼ teaspoon vanilla extract
½ cup dried cranberries
For the Glaze:
2 tablespoons butter melted
1 ½ cups powdered sugar
½ teaspoon almond extract
¼ teaspoon vanilla extract
2-3 tablespoons half-and-half
Directions:
To make the dough, heat the milk and butter in a small saucepan over medium heat stirring occasionally until butter is completely melted and milk is scalded. Set aside and let cool.
In the bowl of a stand mixer fitted with a whisk attachment combine 2 cups of flour, the yeast, sugar, and salt. When the milk mixture is warm, not HOT, slowly add it to flour and yeast mixture with mixer running. Add in the egg. Replace the whisk attachment with the dough hook.
Add the remaining flour with mixer on medium speed until the dough forms a super soft ball of dough that cleans the insides of the bowl but is still slightly sticky to the touch.
Cover. Let mixer knead dough for 6 minutes on high speed. Turn dough onto a floured surface and let rest for 10 minutes.
To make the filling, mix all of the filling ingredients together, except for the cranberries, until they make a smooth paste.
To assemble and bake, Preheat the oven to 325˚F if using a muffin tin or 350˚F if using a glass 9×13 pan. Grease pan of choice with non-stick cooking spray.
Roll the prepared dough out into a 12"x15" rectangle on a floured surface. Spread the orange zest filling over the entire rectangle. Sprinkle evenly with dried cranberries. Roll up the rectangle from long side to long side and then cut into twelve equal pieces using a piece of thread, dental floss or a very sharp knife. Place one roll in each muffin tin or line them up in the 9×13 pan.
The muffin tin can immediately go into the preheated oven to bake. If using a 9×13 pan cover rolls and let rise for 20 minutes. Bake for 20-25 minutes or until dough is a light golden brown. Remove from oven and let cool slightly before frosting with glaze.
To make the glaze, mix all glaze ingredients together by hand until smooth adding more half-and-half if a thinner glaze is desired. Spread over sweet rolls while still warm.
Recipe Author: © Amanda Jenks of www.the-taste-tester.com, inspired by my favorite Cinnamon Roll Recipe from Our Best Bites.