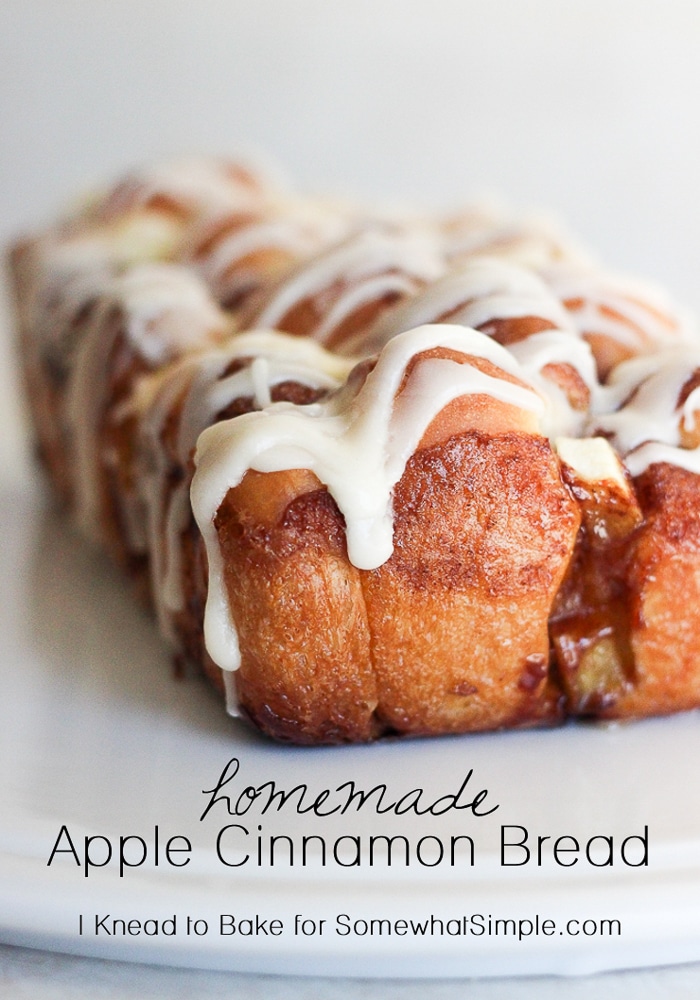 Every year at the end of the summer we go on a big annual camping trip with my in-laws to Lake George. The lake is surrounded by tons of darling little New England towns and one of our favorites is home to a delicious bakery that makes fresh apple pull-apart bread. This summer I found myself vowing to recreate it come autumn with some fresh fall apples.
This recipe results in a soft loaf of sticky cinnamon bread spotted with sweet apples. I recommend using Gala or Honeycrisp. If you love cinnamon rolls then I promise you will love this recipe.
First begin by making your bread dough. Avoid the temptation to add a lot of extra flour, this dough is a little on the sticky side – resulting in a soft, moist, loaf. The more flour you add the dryer and more dense your bread will become.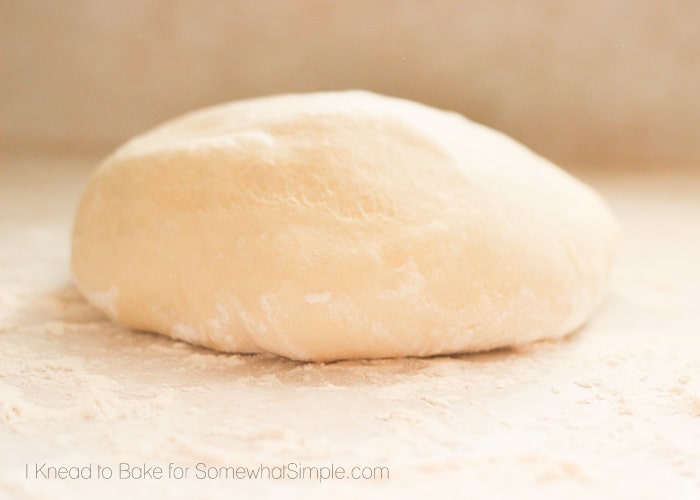 Next prepare you apples…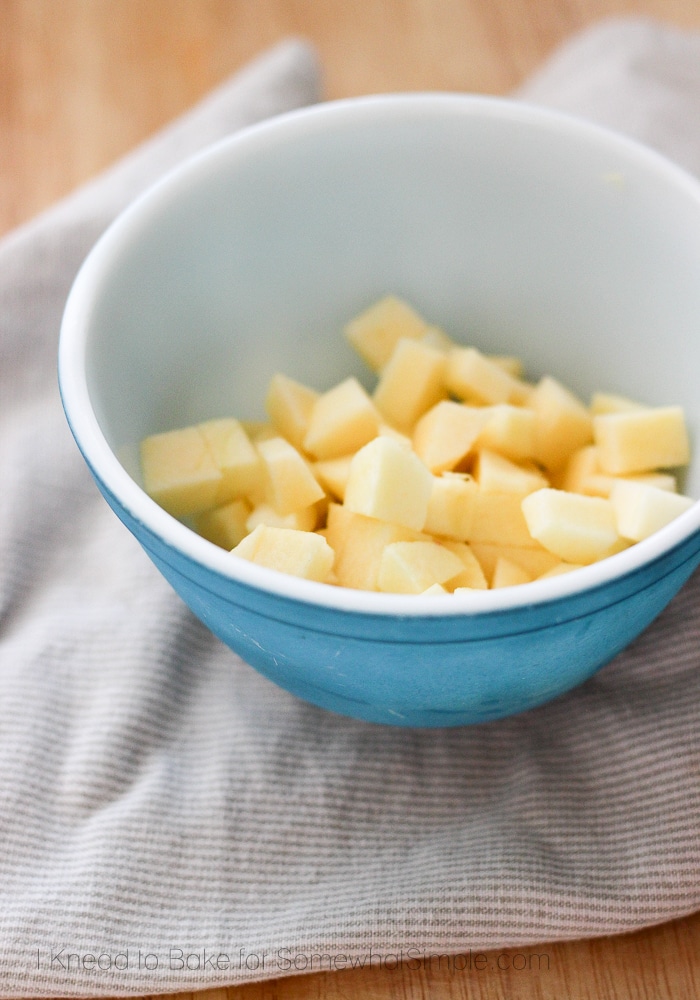 And that delicious buttery brown sugar filling.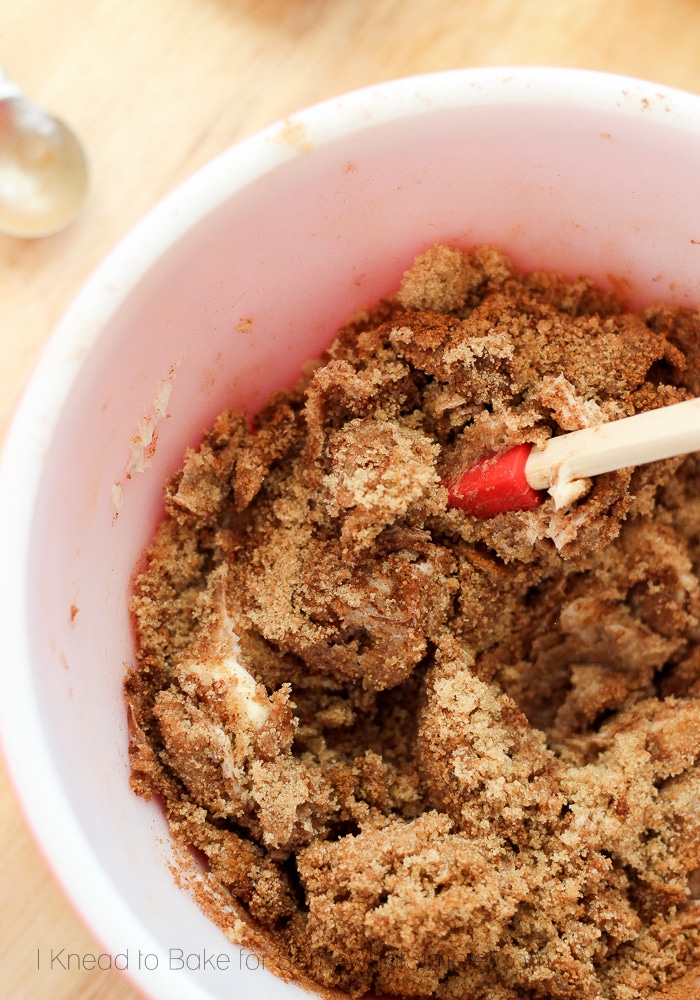 Layer the dough, apples and cinnamon-butter mixture to create a loaf and allow it to rise for about an hour.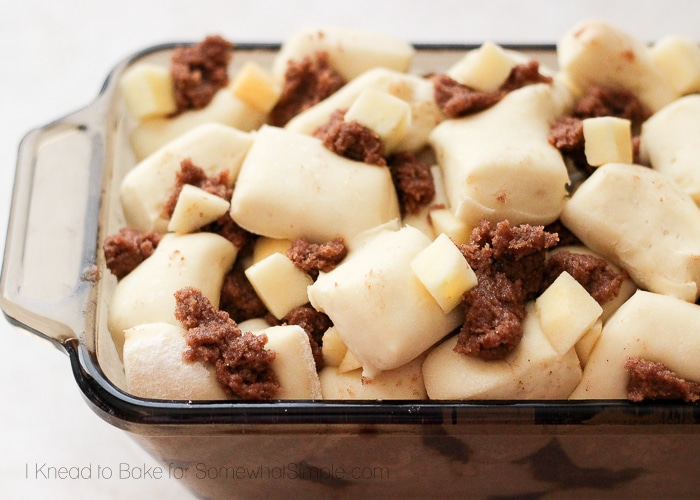 Then bake it until it golden brown and drizzle it in warm homemade icing.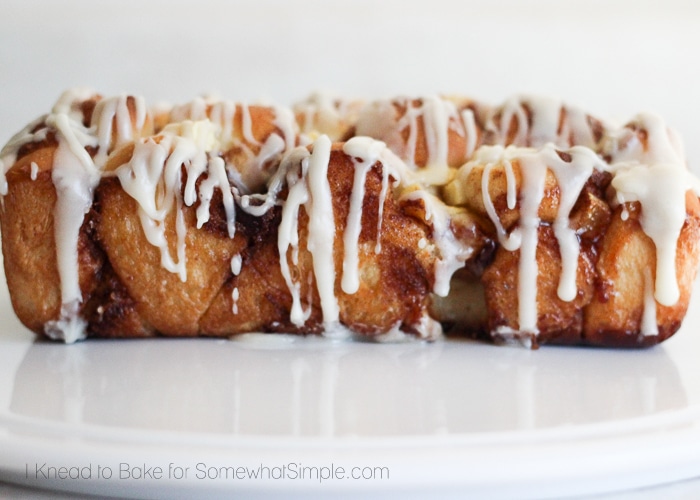 Share it if you're feeling generous…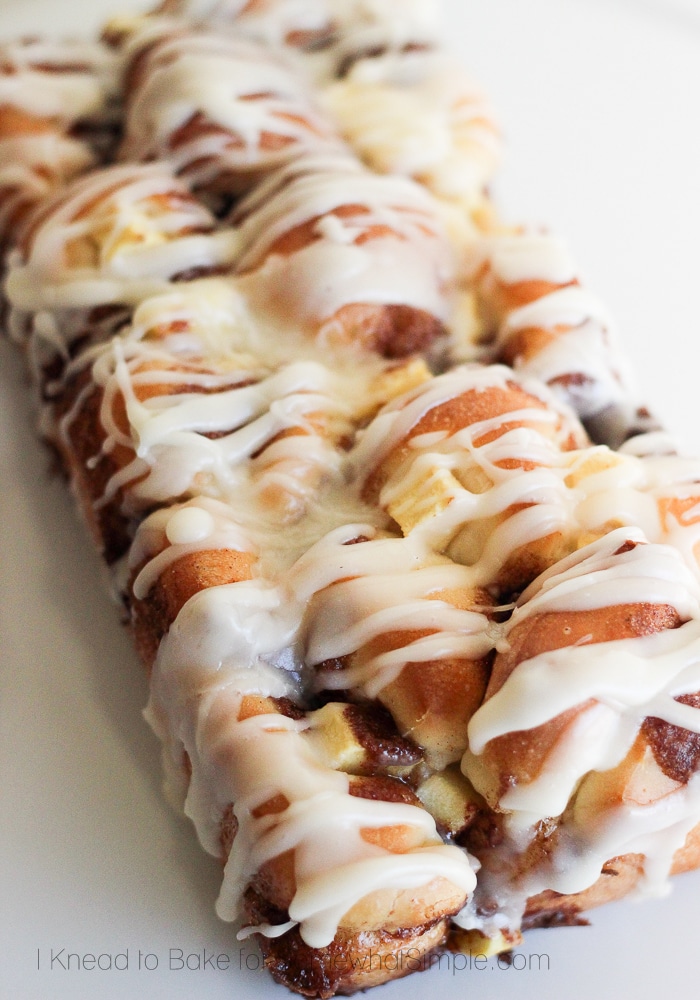 Or feel free to grab a fork and dig in solo. No judgement here friends.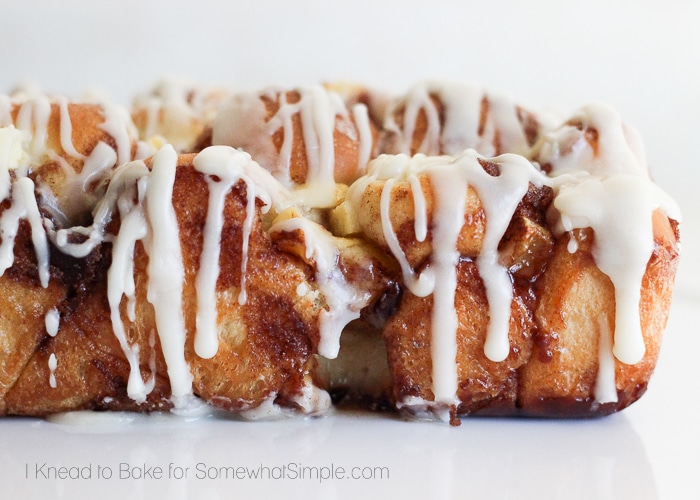 Apple Cinnamon Bread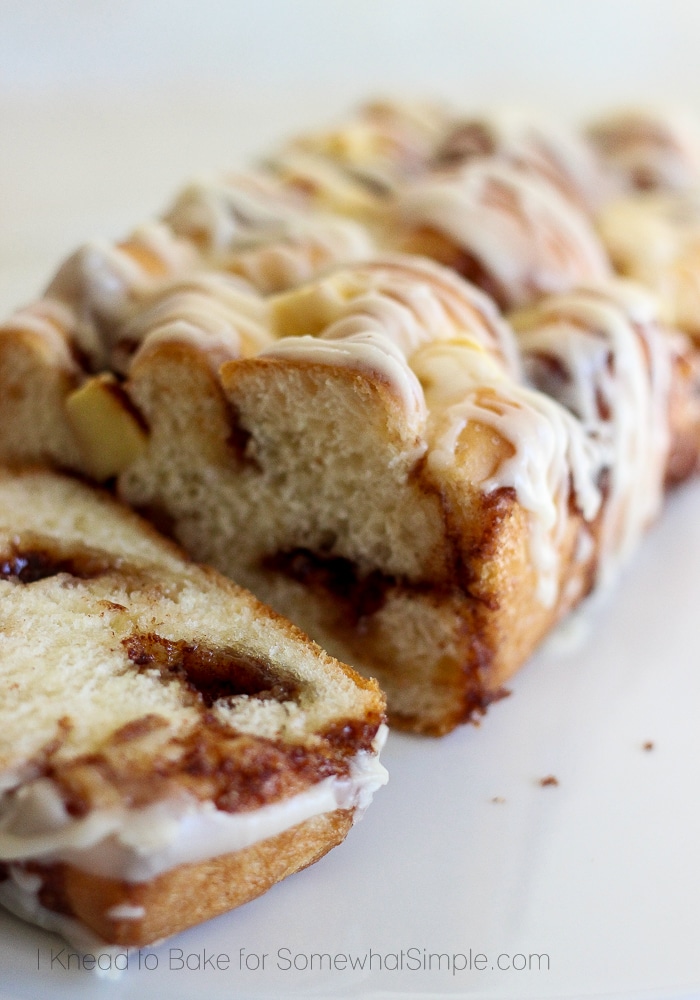 Ingredients
Dough
1/2 cup milk
2 Tbsp. butter
1 1/2 cups flour
1 tsp. yeast
2 Tbsp. white granulated sugar
1/4 tsp. salt
1 egg white
Mix-Ins
1/2 cup brown sugar
2 1/4 tsp. cinnamon
1/4 cup butter, softened
1/2 – 1 apple, peeled and chopped***
Icing
3/4 cup powdered sugar
1/4 tsp. vanilla extract
1 Tbsp. butter, melted
1 Tbsp. milk
Directions
To start the dough, begin by adding the milk and butter into a microwave safe bowl and heat on high for one minute, set aside.
In the bowl of a stand mixer whisk together the yeast, sugar, salt, and a 1/2 cup of flour.
Carefully pour the milk and butter mixture into the bowl of dry ingredients.
Next add the egg white. Mix to combine.
Add the remaining cup of flour and knead with a dough hook for five minute (or knead by hand.) The dough should be very soft and slightly sticky. If your dough is too sticky, add 1 Tablespoon of flour at a time until you achieve the desired result.
Set the kneaded dough aside to rest for 10 minutes
Prepare your mix-ins by first peeling and chopping your apple (pieces should be cubes about the size of a dime.) Be careful not to dice the apple too small, which will result in an overcooked texture after baking.
In a separate bowl combine the brown sugar, cinnamon, and softened butter. The mixture will the thick like the texture of wet sand.
Now that your mix-ins are prepared return to your dough and roll it out about 1/2 – 3/4 of an inch thick.
Using a pizza cutter, cut the dough into 1 inch cubes.
Begin to assemble your bread by first spraying your loaf pan with nonstick spray.
Carefully place chunks of dough into the bottom until it is nearly covered in a single layer.***
Next sprinkle pieces of the cinnamon sugar mixture over the dough.
Finally add a few pieces of apple.
Repeat this layering process three or four times until you have used all of your ingredients. Your loaf pan should be filled about 1/2 – 2/3's of the way up.
Allow your bread to rise for about one hour.
Preheat the oven to 350 degrees F.
Bake for 25-30 minutes.
Allow the bread to cool in the pan for 5-10 minutes.
In a small bowl combine the icing ingredients.
Finally, loosen the sides of the bread with a spatula and carefully remove from the pan.
Drizzle with icing and enjoy!
***Notes:
Feel free to add more or less apple to your liking.
If there are too many holes in the initial dough layer the sugar will seep to the bottom of the pan and burn while baking, so be sure to get the first layer of dough pretty even.
Adapted from: Easy Cinnamon Rolls
And if you love this gooey cinnamon apple treat you are sure to love these yummy cinnamon scented recipes too!

Healthy Pumpkin Streusel Muffins // Cinnamon Honey Butter Popcorn // Cinnamon Pecan Granola