Apple pie spice is a delicious spice blend that gives apple pie its signature flavor. Here's how to make your own homemade version using 5 simple ingredients from your pantry.
If you enjoy baking in the fall as much as we do, be sure to try a few more of our favorite apple recipes – Caramel Apple Oatmeal Cookies, Easy Apple Crisp and Apple Cinnamon German Pancakes.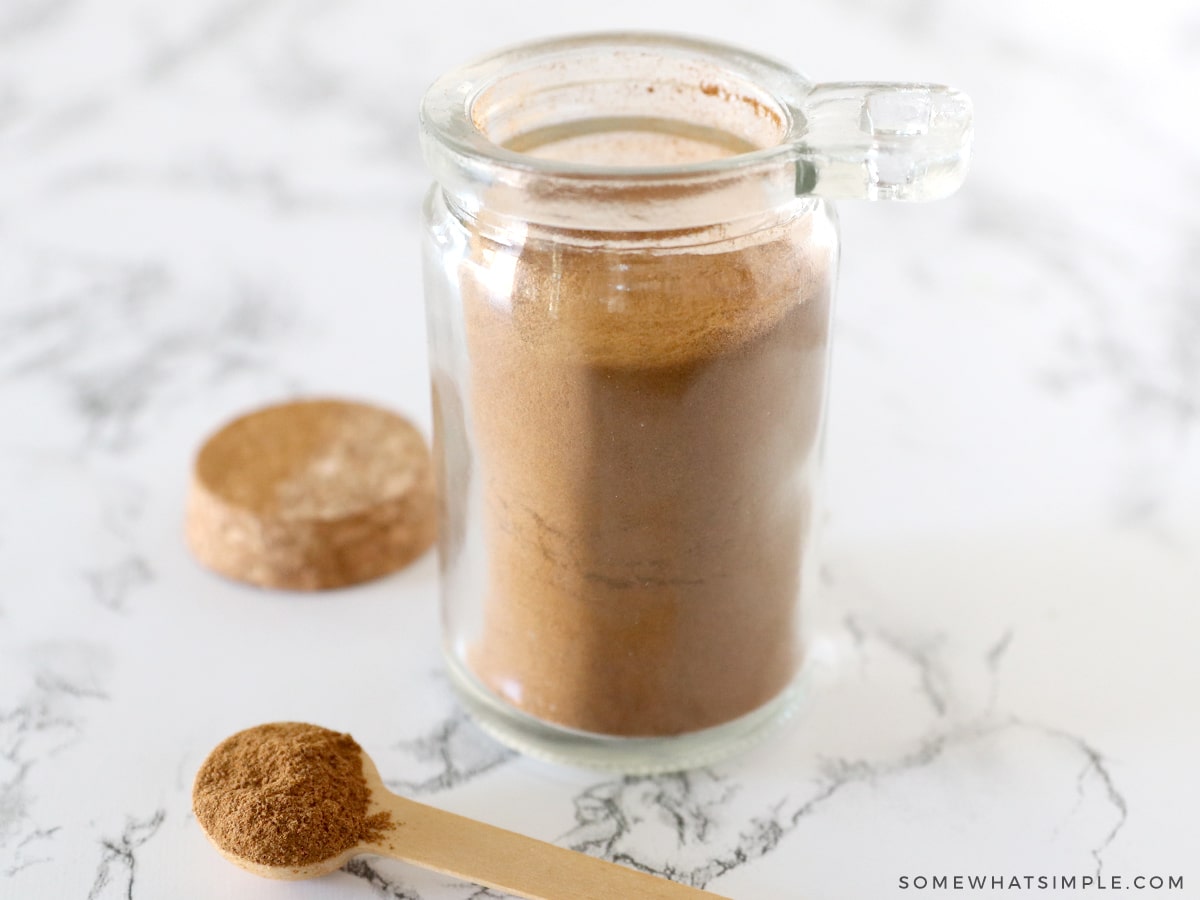 When the world is still obsessing over all things Pumpkin Pie Spice, I like to switch it up with a spice blend that's just a little bit different – apple pie spice! Not only does it taste amazing in your pies, but it's also super simple to make! You can keep all the ingredients on-hand in your pantry and whip it up in under 5 minutes.
Why Make Your Own Apple Pie Spice?
EASY TO FIND – Storebought Apple Pie Spice can sometimes be hard to find year-round at your local grocery store. (I couldn't even find it in September at Walmart!) But the ingredients to make your own homemade spice blend are readily available whenever you need them!
HIGH-QUALITY – Making your own spice blend also allows you to control the amount and the quality of the ingredients. You can use organic varieties, or you can use more or less of a certain ingredient to get the exact flavor you prefer.
AFFORDABLE – Making your own apple pie spice is often cheaper than buying the only brand your grocery store offers. And if you buy bulk spices it'll totally save you some money!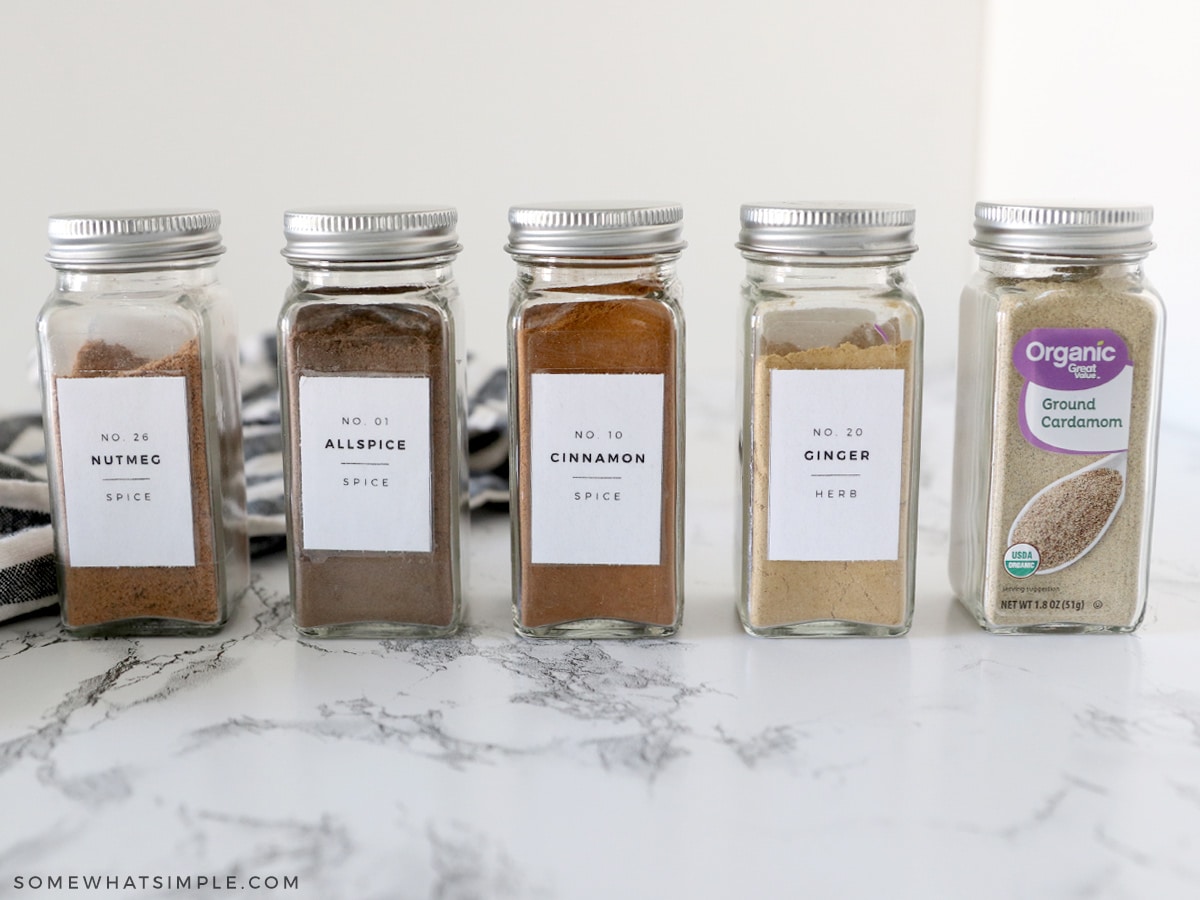 What is in Apple Pie Spice
Apple pie spice is a blend of 5 simple seasonings –
cinnamon
nutmeg
allspice
ground ginger
cardamom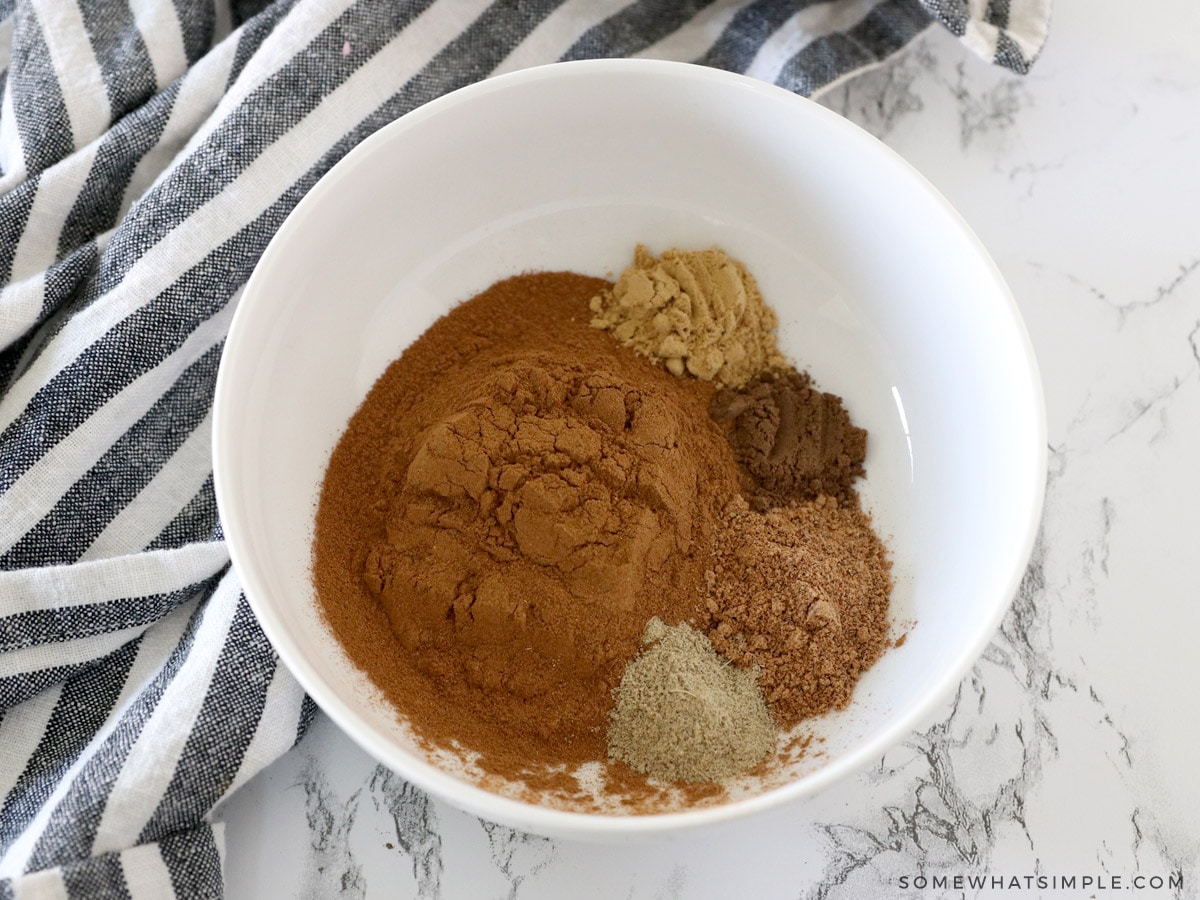 Apple Pie Spice Recipe
Homemade apple pie spice is made by placing all 5 ingredients in a small bowl and mixing with a fork until evenly distributed. Transfer the spice blend to an air-tight spice container until you're ready to use it.
…and that's it!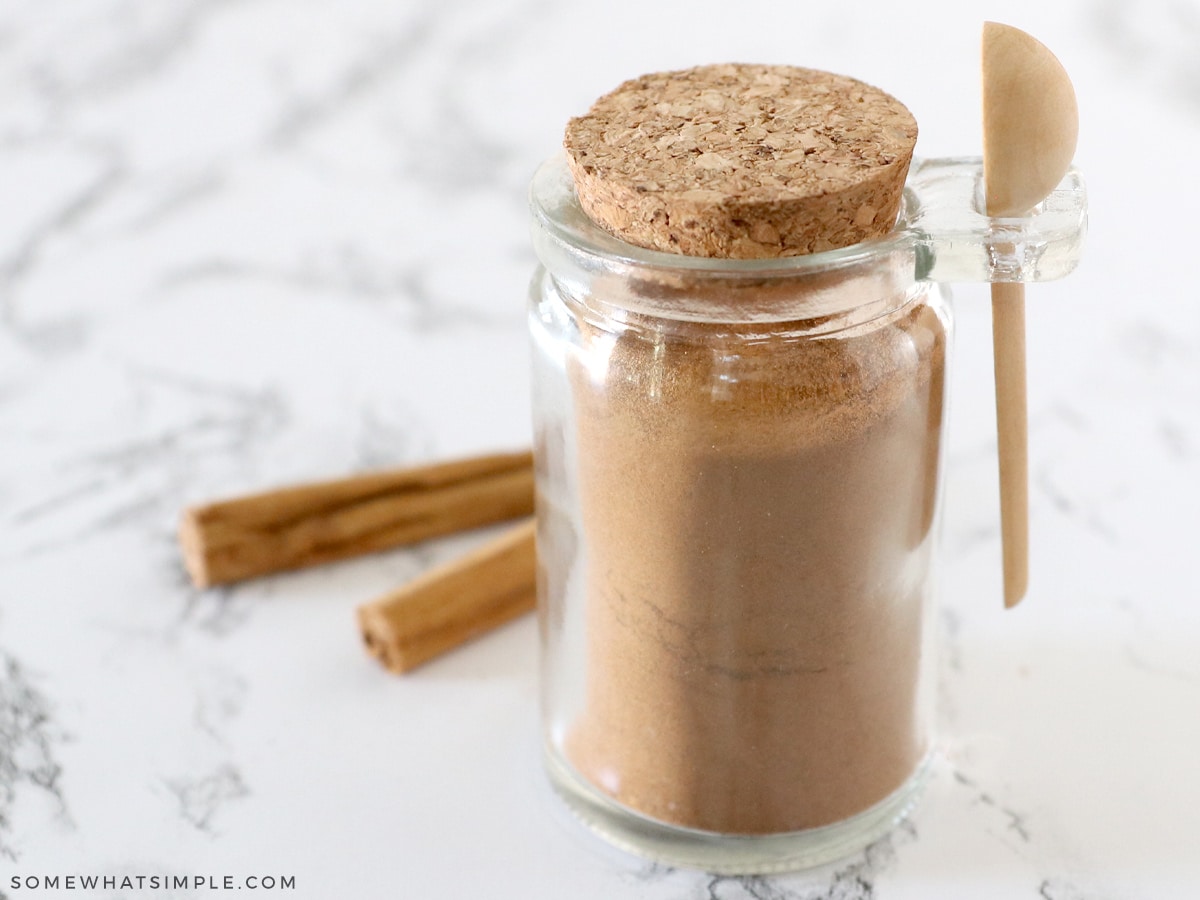 Tips For Making Your Own Spice Mix
Using ground nutmeg is totally fine for this recipe, but if you want to take yours to the next level, try grinding or grating your own. Using freshly ground nutmeg only takes a little extra effort and it tastes AMAZING!
I've found that Target, Walmart, and World Market (especially if you're going to grind your own nutmeg) have the best prices for common spices. Grocery stores are a decent option if they are on sale.
I found that cute glass airtight container at World Market for $2. It came with that cute wooden spoon, too!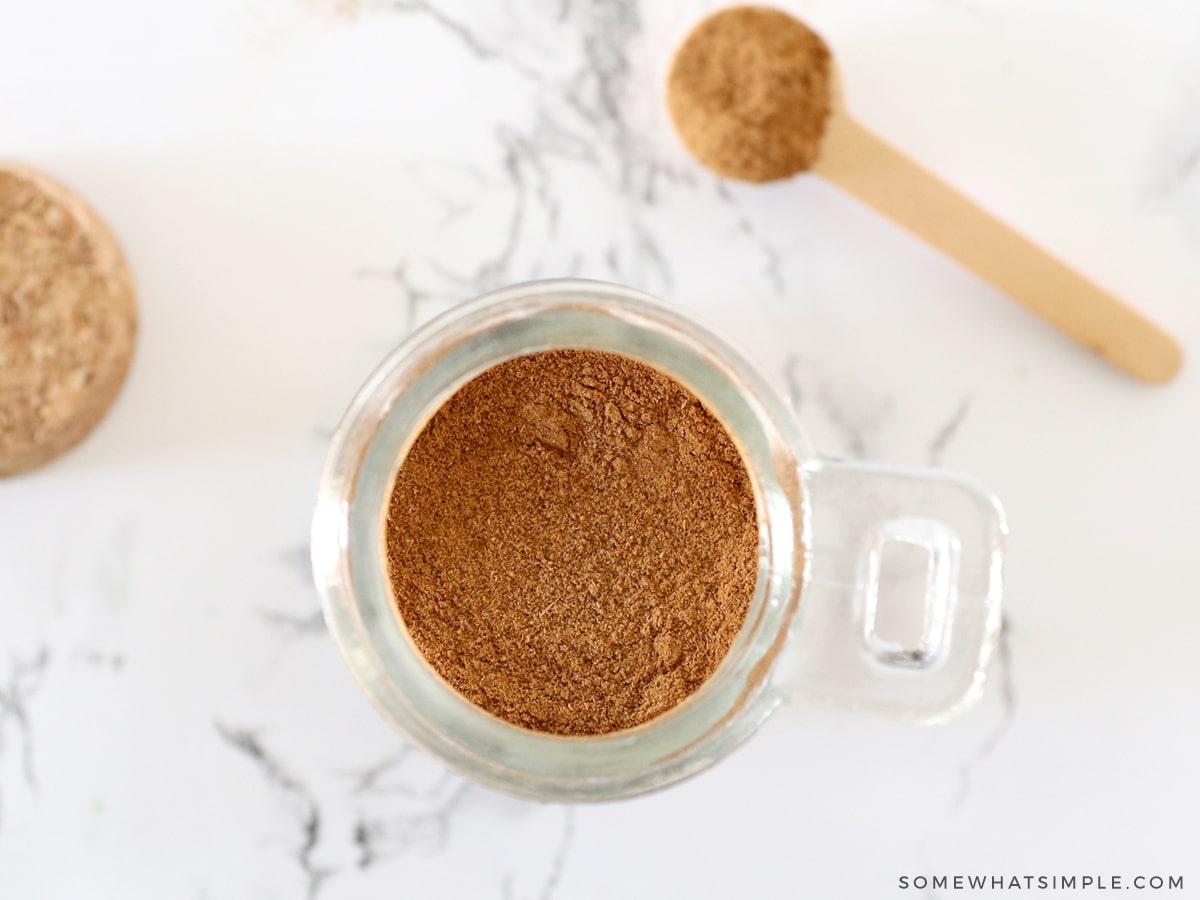 Other Ways to Use Your Homemade Apple Pie Spice –
There are plenty of easy apple recipes that use this spice blend (Apple Spice French Toast Bites and Caramel Apple Cheesecake Trifle are my favorites!) but here are 10 more simple ways to use this spice blend that you may not have already thought of –
Snickerdoodles – Instead of rolling the cookie dough in cinnamon & sugar, swap out the cinnamon for apple pie spice.
Oatmeal – Sprinkle it on your oatmeal in the morning. And, instead of using water in your oatmeal, use apple juice or apple cider. Yum!
Spiced Nuts – Make sweet spiced nuts and use apple pie spice instead of the spices the recipe calls for. This spice is also great tossed with some granola or mixed in homemade applesauce.
Pasta – One of my favorite quick & easy dinners for fall is Buttered Pasta with Apple Pie Spice sprinkled over the top. If you're feeling adventurous, add some sauteed Brussel sprouts to the pasta & brown the butter instead of just melting it.
Rice Krispie Treats – Add a little of this spice to your Rice Krispie Treats and you instantly have a fall dessert the kids will love.
Smoothies – I like to make a vanilla protein smoothie and add a little apple pie spice to it, instant fall in a cup. Plus it's healthy, too.
Whipped Cream + Buttercream – Add a sprinkle to your freshly whipped cream, and top off your favorite fall pie, or add it to your homemade buttercream frosting and make some cupcakes or cookies. Di-vine!
Sugar Scrub – Make your own sugar scrub, add 1 teaspoon for every cup of sugar in the recipe you use. Put it in a jar, wrap it with a bow, and you've got yourself a fabulous hostess gift.
Popcorn – Sprinkle a little on freshly popped and buttered popcorn, it makes a great snack.
French Toast – Swap out the cinnamon in the recipe for Apple Pie Spice. You'll thank me later. You can even add this blend of spices to your waffles or pancake batter.
HERE'S A PRINTABLE RECIPE CARD FOR YOUR CONVENIENCE –
Apple Pie Spice
Apple pie spice is a delicious spice blend that gives apple pie its signature flavor. Here's how to make your own homemade version using 5 simple ingredients from your pantry.
Instructions
Place all the ingredients in a small bowl. Mix with a fork until evenly distributed.

Transfer to an air-tight glass jar until ready to use.
Other Notes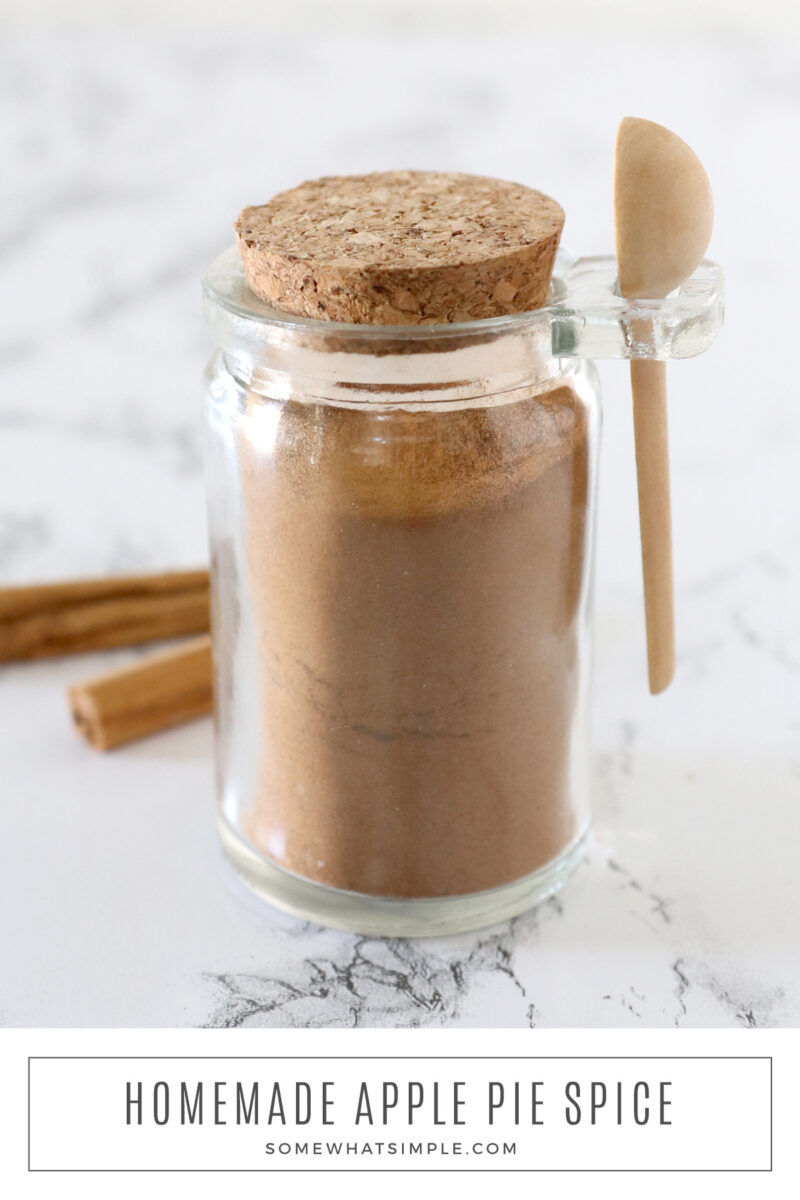 ABOUT THE AUTHOR: Jillian is the creative author of the site Food, Folks and Fun. She spent 2014-2015 contributing to Somewhat Simple as part of our creative team.