Hello Somewhat Simple readers! It's Jillian again from Food Folks and Fun and I am thrilled to be back sharing with you DIY Apple Pie Spice plus my favorite 10 ways to use it!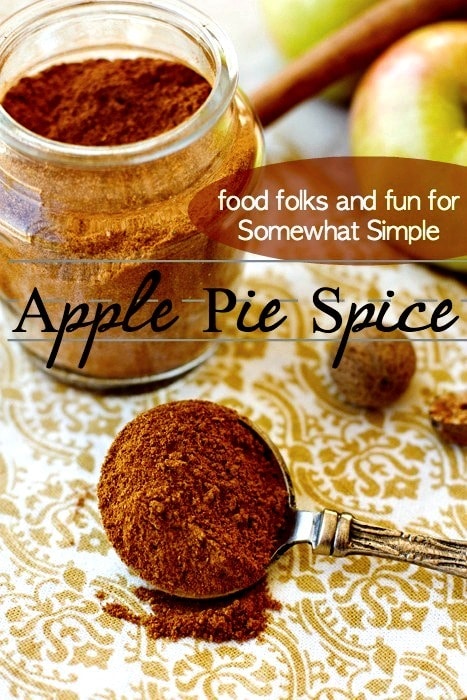 Are you tired of Pumpkin Pie Spice yet? I personally am not (LOVE anything pumpkin pie spice), but sometimes I want something a little different. When this happens, I usually turn to anything Apple Pie Spice!
My 10 Favorite Uses for Apple Pie Spice
Snickerdoodles. Instead of rolling the cookie dough in cinnamon & sugar, swap out the cinnamon for Apple Pie Spice.
Oatmeal. Sprinkle it on your oatmeal in the morning, and instead of using water in your oatmeal use apple juice or apple cider. Yum!
Spiced Nuts. Make sweet spiced nuts and use Apple Pie Spice instead of the spices the recipe calls for.
Pasta. One of my favorite quick & easy dinners for fall is Buttered Pasta with a little Apple Pie Spice sprinkled over the top. If you're feeling adventurous, add some roasted Brussels sprouts to the pasta & brown the butter instead of just melting it.
Rice Krispie Treats. Add a little to your Rice Krispie Treats and you instantly have a fall dessert the kids will love.
Smoothies. I like to make a vanilla protein smoothie and add a little Apple Pie Spice to it, instant fall in a cup. Plus it's healthy, too.
Whipped Cream. Add a sprinkle to your freshly whipped cream, and top off your favorite fall pie. Di-vine!
Sugar Scrub. Make your own sugar scrub, add 1 teaspoon for every cup of sugar in the recipe you use. Put it in a jar, wrap it with a bow, and you've got yourself a fabulous hostess gift.
Popcorn. Sprinkle a little on freshly popped and buttered popcorn, it makes a great snack.
French Toast. Swap out the cinnamon in the recipe for Apple Pie Spice. You'll thank me later.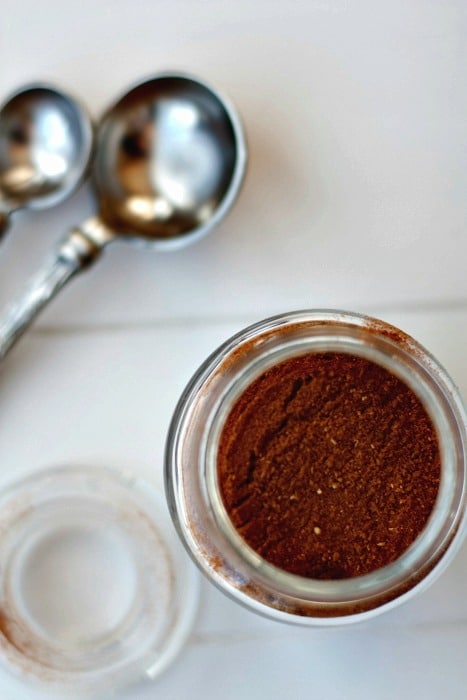 How about you, how do you like to use Apple Pie Spice?
Recipe Notes & Tips:
In the recipe below I listed freshly ground nutmeg. I highly recommend you grind/grate your own, I personally like the taste better, and it only takes a little extra effort.
I've found that Target, Walmart, and World Market (especially if you're going to grind your own nutmeg) have the best prices for spices. I would stay away from the grocery store, unless you have an awesome coupon deal.
I got the clear glass jar used in the pictures at World Market. It was only $0.99 and they have a few different styles to choose from at that price point.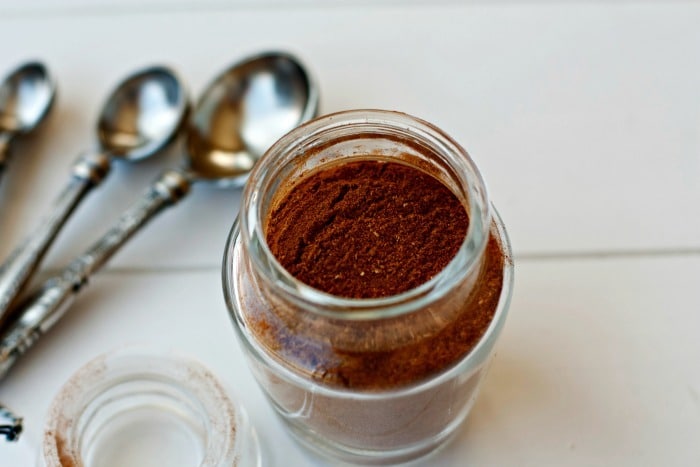 DIY Apple Pie Spice
Ingredients:
1/3 cup cinnamon
2 1/2 teaspoons freshly grated nutmeg
1/2 teaspoon ground allspice
1 teaspoon ground ginger
3/4 teaspoon ground cardamom
Directions:
In a small bowl combine all the ingredients, mix with a fork until evenly mixed. Transfer to an air-tight glass jar.
…and that's it!