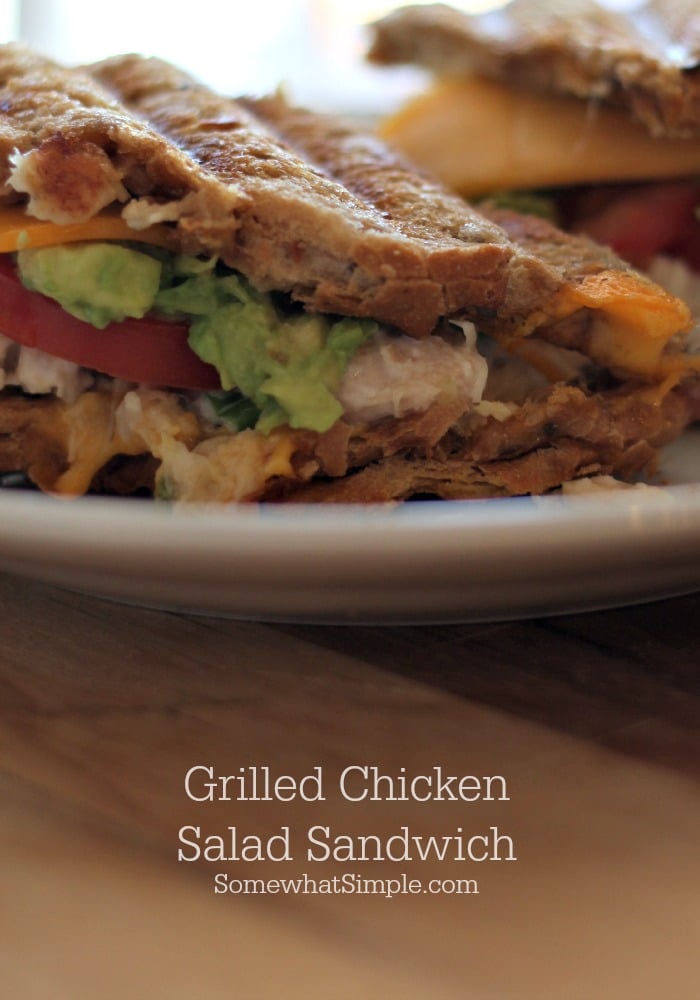 It already feels like summer is knocking at my front door. (Someone remind me why we moved to Arizona!?) This means it is time to look for recipes that don't use the oven so our house is as cool as possible. Do you have an indoor grill? My indoor grill was one of the best buys ever! We use it all the time to grill foods in our kitchen when it is too hot or too cold to use our BBQ. One of our favorite things to grill indoors are sandwiches, and this Grilled Chicken Salad Sandwich has become a family favorite!
Ingredients:
2 small boneless skinless chicken breasts, boiled and cut into chunks.
1/4 – 1/2 cup mayonnaise
2 green onions, sliced (or more if you want!)
3 Tbsp. Ranch Dressing
Cheddar Cheese Slices
Bread
Butter
Tomato slices
Mashed Avocado

Directions:
Mix chicken, mayo, onions and dressing.
Spread butter to one side of each piece of bread
Build a sandwich with the chicken mixture and a slice of cheese, making sure the buttered sides of the bread faces out.
Place it on the grill for several minutes or until bread is light brown.
Add tomatoes and avocado if you'd like and enjoy!
This post originally published on Somewhat Simple in July 2009