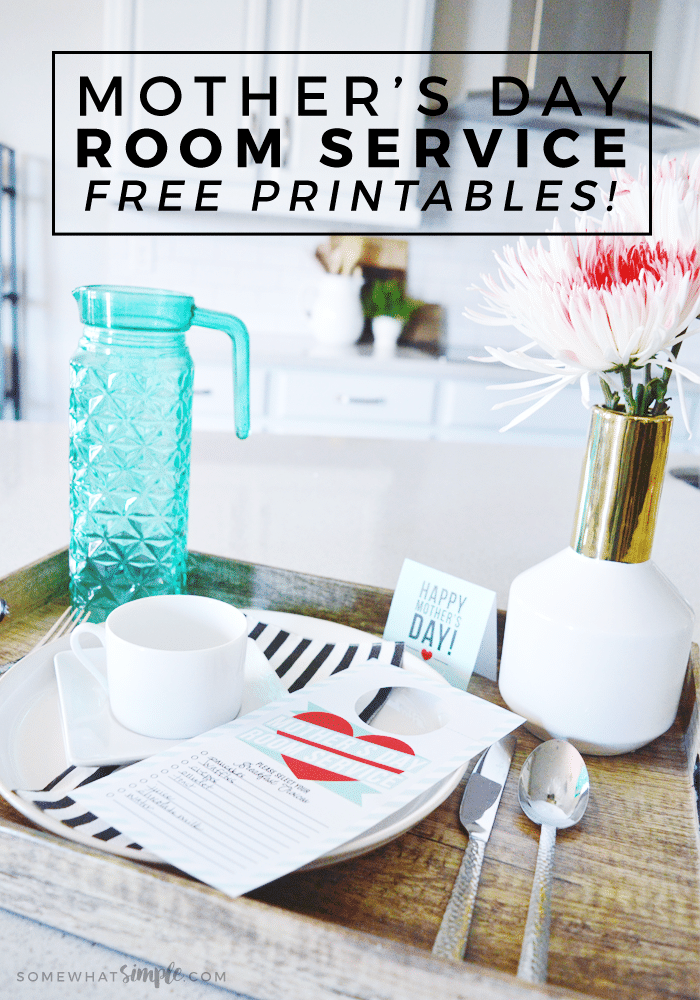 Start Mother's Day on the right foot with our free Breakfast in Bed printables!
We have a BUNCH of Mother's Day printables we think you'll love! Here are a few of our favorites – Personalized Gifts for Mom, Popsicle Stick Flower Pots, and Mod Podge Frame.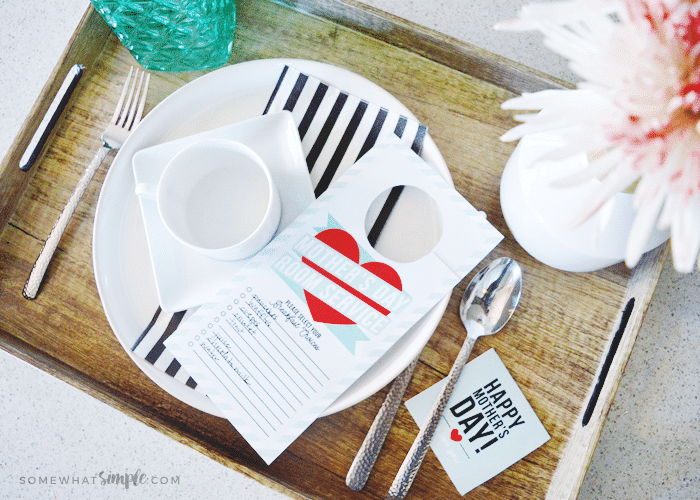 A Special Gift for Mom
Here at Somewhat Simple, we love creating simple ideas that help busy moms, but today we are sharing something a little different! The printable we are sharing today happens to be an awesome gift idea that will be perfect for Mother's Day. If you're a mom and you're reading this, do yourself a favor and send this to your husband, or leave it up on the computer for your kids to find. This idea is just for YOU!
…and you're going to love it. 😉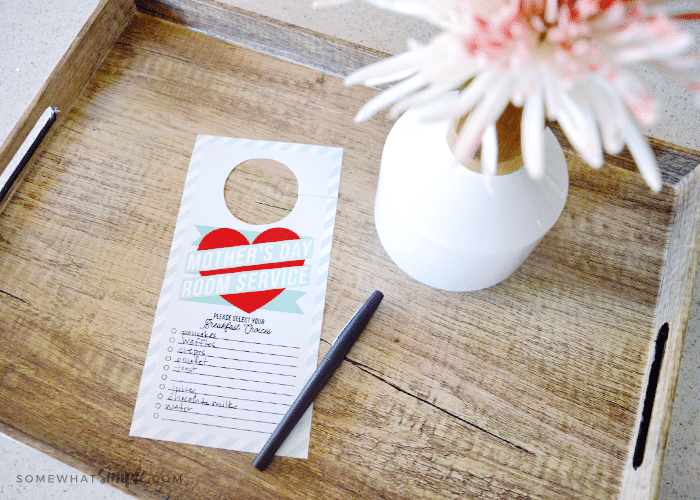 breakfast in bed printables
Mom definitely deserves a little extra something on Mother's Day, so we've created these darling Room Service Printables just to make her day even more special! All you need is a menu plan, some flowers (not necessary, but highly recommended), and a printer!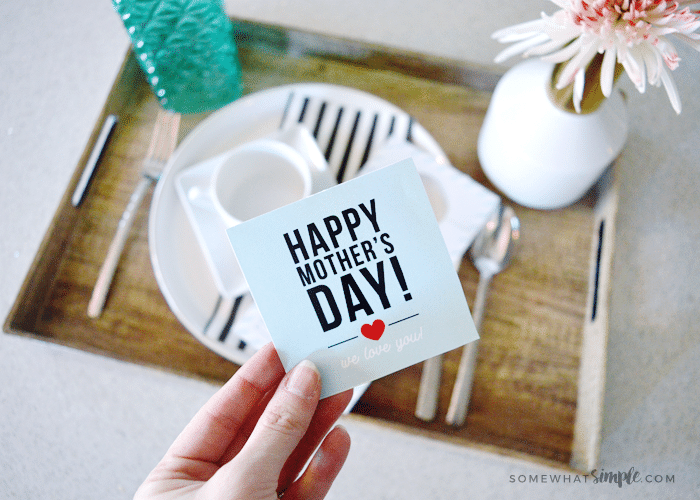 Mother's Day Breakfast in Bed
supplies:
Room service printables (download below)
scissors
pen
breakfast foods
tray with dishes
flowers
breakfast in bed directions:
First, print off our room service menu door hanger and Mother's Day card.
Fill out the door hanger with mom's favorite breakfast options.
Deliver the door hanger with a pen to mom, and have her check which ones she wants, then tell her to hang it on her door.
Once she's selected her food options, get ready to make breakfast!
Once everything is prepared and you've written a heartfelt note on the inside of the card, and deliver to mom on a tray, with flowers (this will definitely win you extra bonus points)!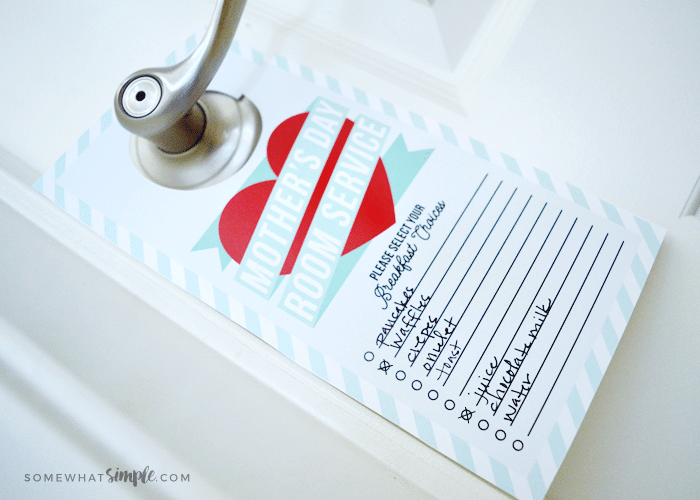 breakfast in bed ideas
Recipes we know mom will LOVE –
If you're not 100% confident in your cooking skills, maybe purchase her favorite fast food items the night before. Or check out the frozen food isle – we're sure mom won't mind if you've made something in the toaster or microwave. 😉 It's definitely the thought that counts!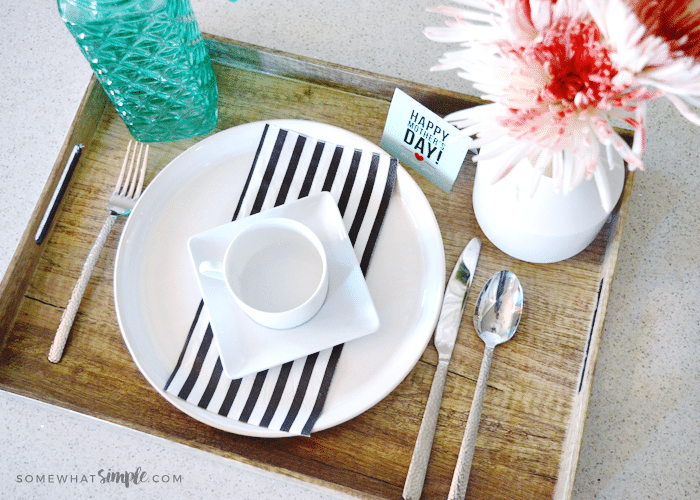 Ready to download your own Mother's Day Room Service Printables?
Enter your name and email address in the form below for immediate access.
We're sure mom is going to love this act of service for her this Mother's Day!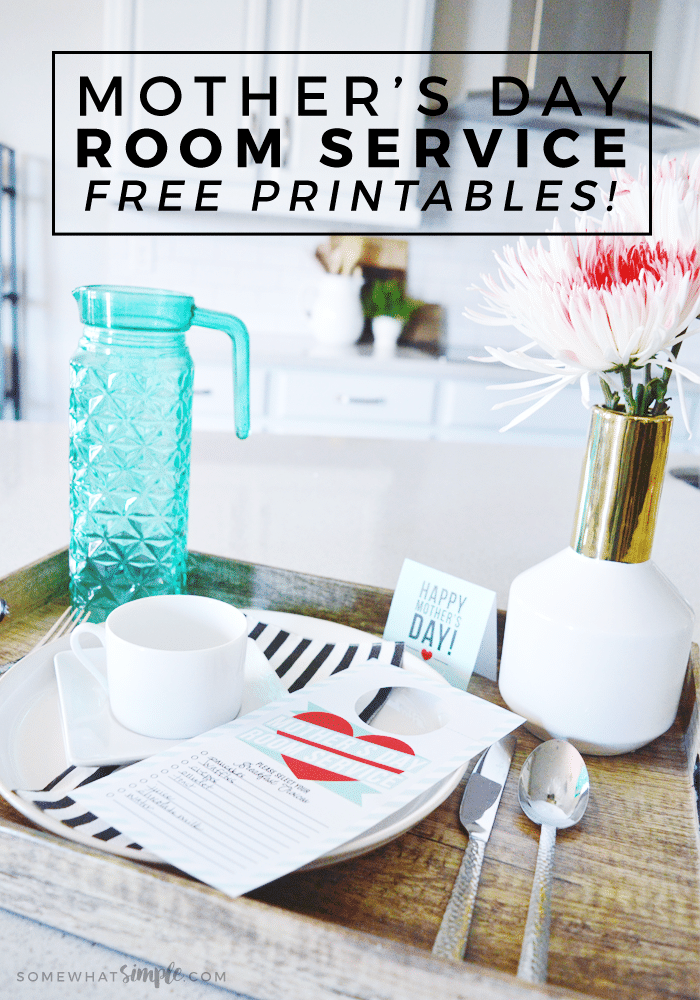 What are your favorite breakfast in bed ideas for Mother's Day? Leave us a comment in the section below.
Happy Mother's Day!