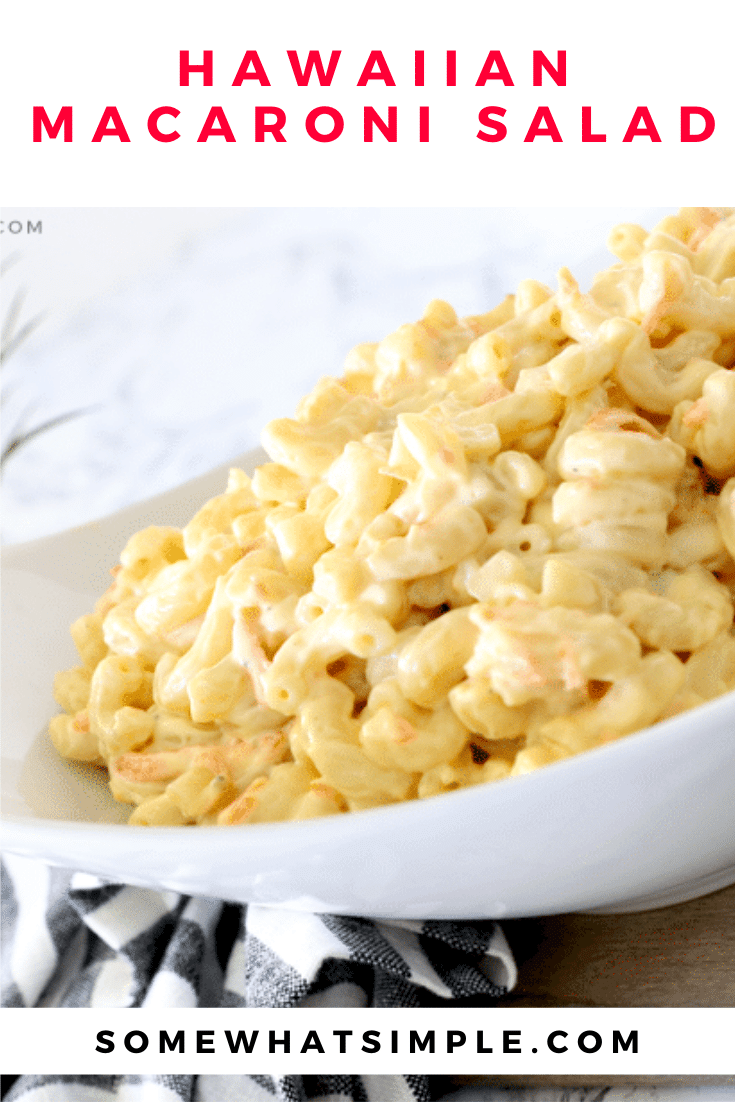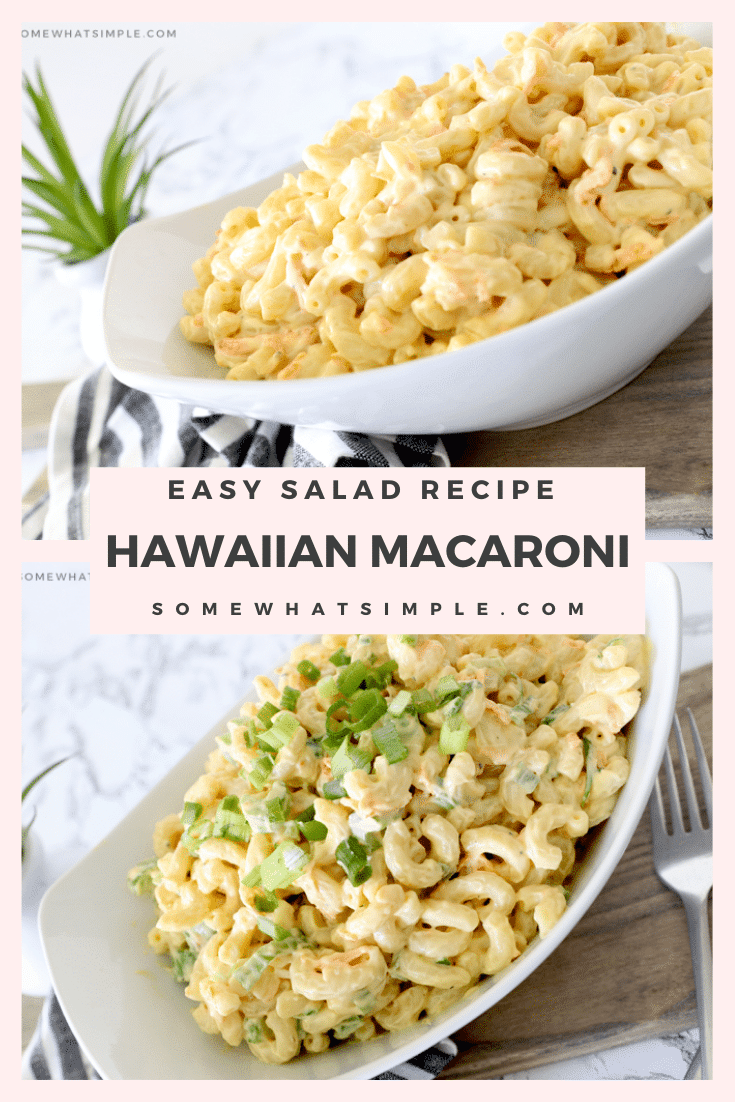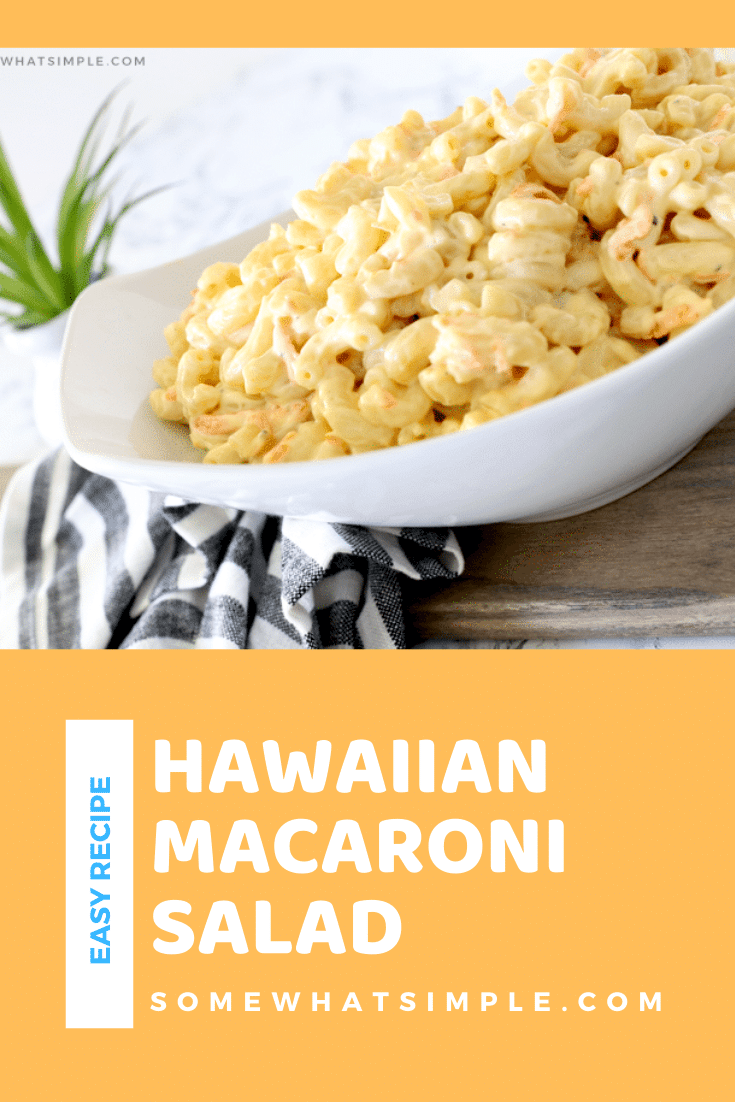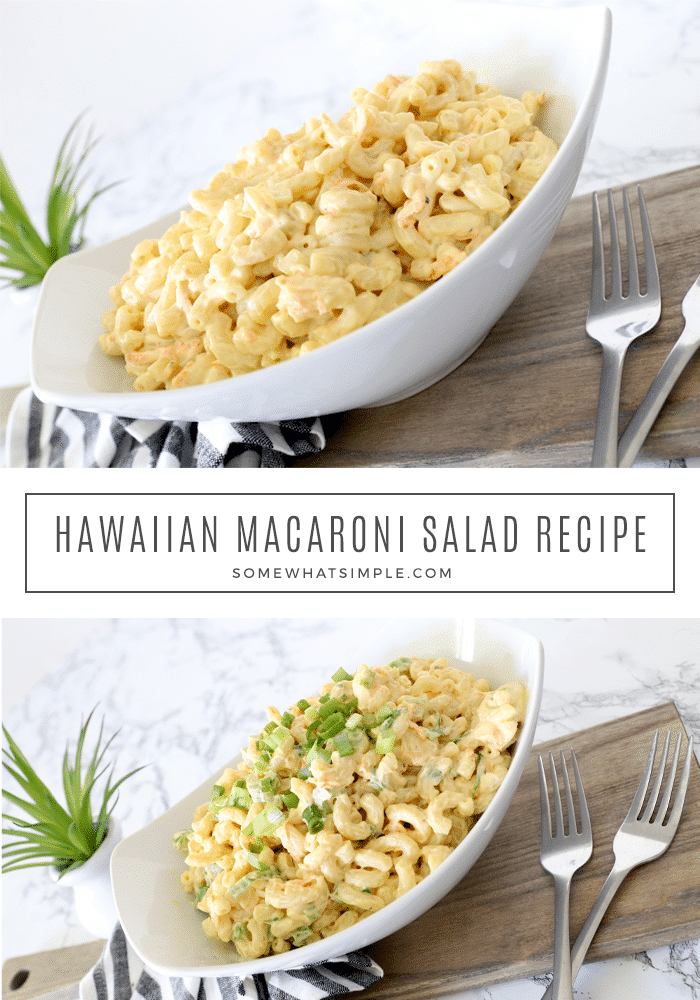 Hawaiian Macaroni Salad is creamy, cool, and simply delicious! It comes together in a snap and can feed a crowd at your next BBQ or Luau!
If pasta salads are your love language, you need to try a few more of our favorites! Chicken Caesar Pasta Salad, Broccoli Grape Pasta Salad, and Creamy Pasta Salad with Italian Dressing <<< my family's very favorite!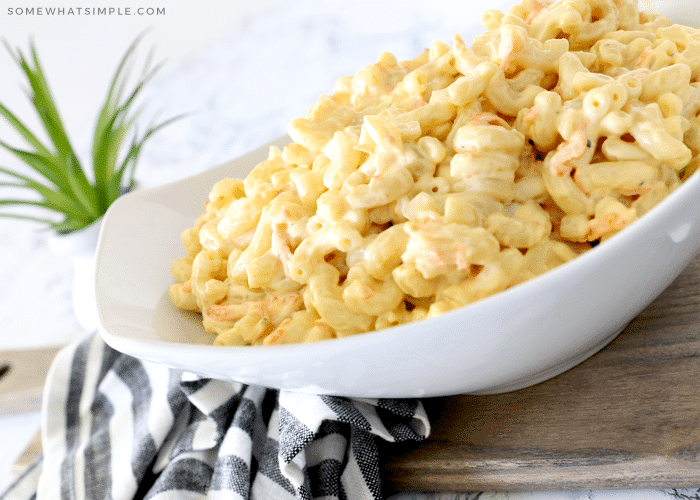 Authentic Macaroni Salad
Growing up in Southern California, we had some really good Polynesian friends who put together an authentic Luau for our church community practically every year. In addition to some amazing entertainment, they also fed us really well! I moved away when I was 18, but I have such fond memories of our friends and their amazing culture.
On a recent trip to Hawaii, our family stopped at a Hawaiian BBQ stand for dinner. In addition to some delicious Chicken Katzu and rice, they served my favorite part of the meal; Hawaiian macaroni salad. Floods of memories of our sweet Polynesian friends came back to mind, and I was instantly taken back to my childhood!
According to locals, authentic Hawaiian macaroni salad consists of cooked macaroni noodles, shredded carrots, onions, mayonnaise, apple cider vinegar, salt, and pepper. If you've never tried Hawaiian macaroni salad, it is time to change that! This simple, no-frills salad is creamy, flavorful, and so simple to make!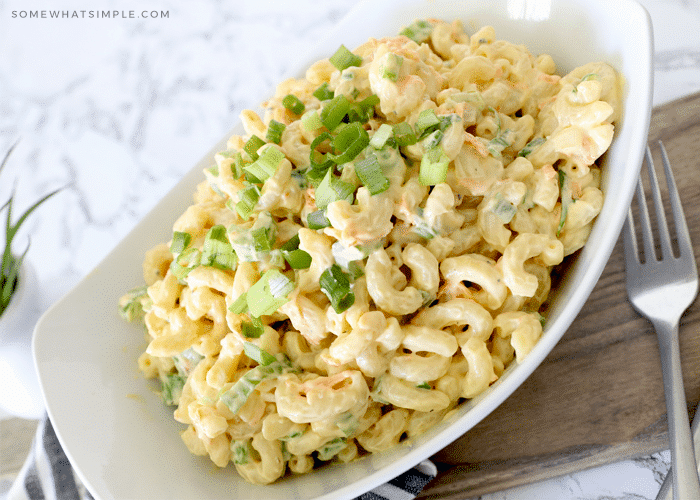 How To Make Hawaiian Macaroni Salad
Noodles – First you'll need to cook the elbow macaroni noodles. The trick is to cook them a few minutes longer than what the package says so they're a little overcooked. Drain and rinse the noodles once they're done cooking.
Veggies & Vinegar – Stir the vinegar and prepared carrots and onions to the macaroni while it's still hot. While the noodles are cooling it will have ample time to absorb the vinegar.
Dressing – Whisk the remaining ingredients together in a bowl until everything has blended together. Add the dressing to the macaroni noodles and then give it a good stir until it has all fully combined.
Chill – Cover the bowl of Hawaiian macaroni salad with plastic wrap and then let it cool in the fridge until you're ready to eat. Just be sure to give it a quick stir before serving.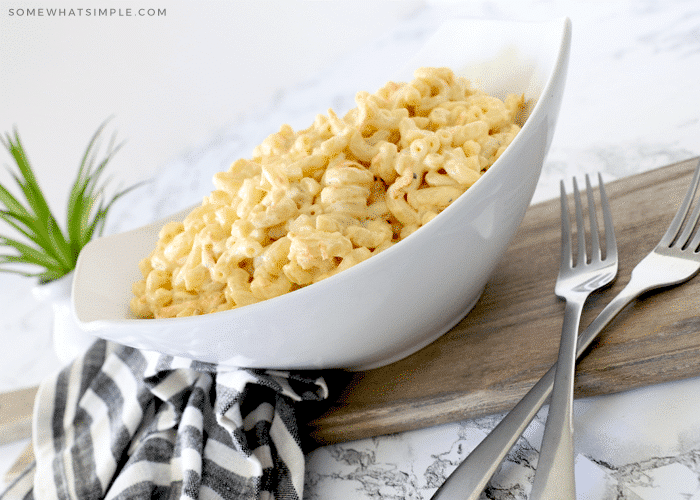 Recipe Tips & Variations
The Brand Matters – One other thing to note is that the brand of mayo you use definitely MATTERS!!! You can only use Best Foods mayonnaise – not Miracle Whip, and don't try any other brand. (This is not sponsored by Best Foods, although it should be!) 😉 I've made this exact recipe with Kraft mayonnaise and it wasn't just a little off, it is WAY OFF! It actually tasted nothing like the true, authentic recipe. I've heard Hellman's also tastes good in this salad, but I've never tried it, so I can't be 100% sure.
More Add-Ins – Some people like to add celery, green onions, and relish. I've had several other versions, and while they all taste great, the flavor seems to get altered so much that it no longer tastes like the authentic pasta salad I'm used to.
Storing – You can keep the Hawaiian macaroni salad fresh in the fridge for up to 4 days.
What To Serve With Hawaiian Mac Salad
This Hawaiian macaroni salad is the perfect side dish for a Summer BBQ. Here are some of our favorite recipes that pair well with it.
Hawaiian Macaroni Salad Recipe
Hawaiian Macaroni Salad is creamy, cool, and simply delicious! It comes together in a snap and can feed a crowd at your next BBQ or Luau!
Ingredients
1

lb

elbow macaroni

2

tbs

apple cider vinegar

1

carrot

,

shredded (about 1 cup)

1/4

cup

yellow onion

,

very finely chopped

2 - 2 1/2

cups

of mayonnaise

1/4

cup

milk

2

tsp

sugar

salt + pepper

,

to taste
Instructions
Add macaroni noodles to a pot of boiling water and cook for a few minutes longer than the package directions suggest. (You want your noodles to be a bit overcooked for it to be authentic.) Drain and transfer to a large serving bowl.

While the macaroni noodles are still hot, add the vinegar, carrot, and onion. Stir until combined, then allow it to cool and absorb the vinegar for about 10 minutes.

Meanwhile, in a small bowl, whisk together the mayo, milk, and sugar.

Add the mayo mixture to the macaroni noodles and mix until well combined.

Add more mayo, if needed, and salt and pepper to taste.

Cover and refrigerate until you're ready to eat, then gently stir the salad once more before serving.
Nutrition
Serving:
1
serving
·
Calories:
525
kcal
·
Carbohydrates:
57
g
·
Protein:
8
g
·
Fat:
29
g
·
Saturated Fat:
5
g
·
Cholesterol:
21
mg
·
Sodium:
951
mg
·
Potassium:
207
mg
·
Fiber:
2
g
·
Sugar:
8
g
·
Vitamin A:
1374
IU
·
Vitamin C:
1
mg
·
Calcium:
31
mg
·
Iron:
1
mg
Other Notes