A hot cocoa bar is just the thing you need to include at your next Girls Night IN!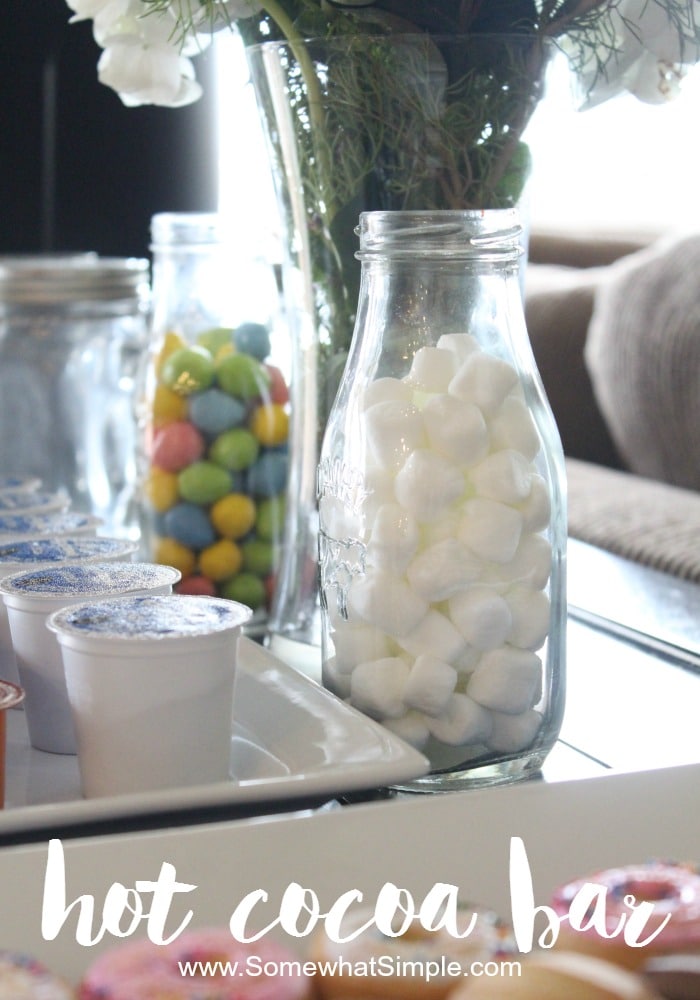 Hosting a girls night IN is a perfect way to unwind and reconnect with good friends. And I am convinced that the key to a successful girls night is to keep it casual, which is why this hot cocoa bar is such a great idea. You can make something so delicious look festive and fun without a ton of work! Moms- put the kids to bed, call your girlfriends to come over and get ready for a night of simple deliciousness!
What to Include in a Hot Cocoa Bar
SUPPLIES & INGREDIENTS: 
Keurig machine (more on this later – keep reading!)
Keurig K Cups Cocoa (we like the Swiss Miss brand cocoa)
add ins of your choice. Here are some examples:
– creamer
– marshmallows
– chocolate chips
– peppermint candies
– peanut butter candies
– cinnamon sticks or candies
– vanilla ice cream (for a hot cocoa milkshake)
– caramel sauce or candies
– orange zest
cups
stirrers or spoons
plates and containers for the food
table decorations – fresh flowers , hot cocoa banner etc.
Here are some pictures from our hot cocoa bar-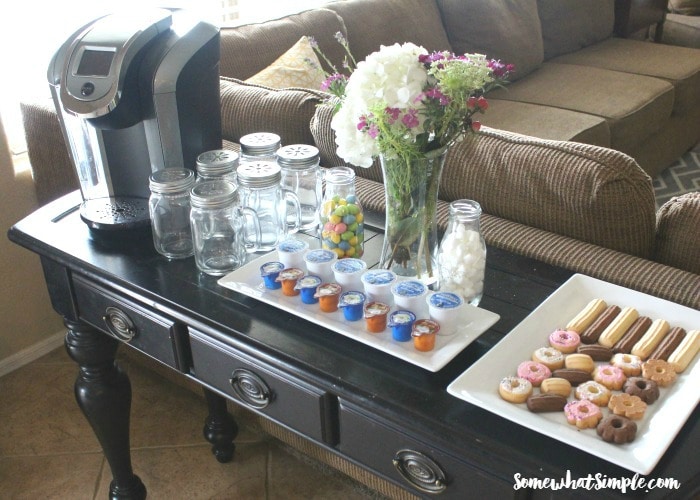 Our girls night was just me and 5 friends, so we kept it really simple!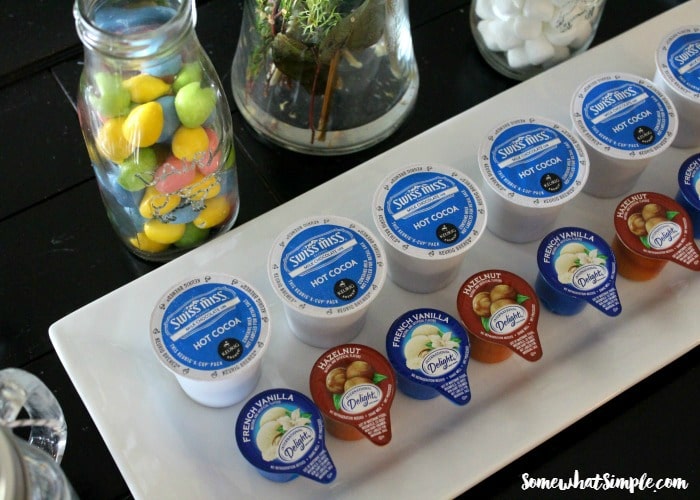 Presentation isn't everything, but it is a lot of fun! Set out your hot cocoa cups and creamer on a fun try for guests to see and easily grab.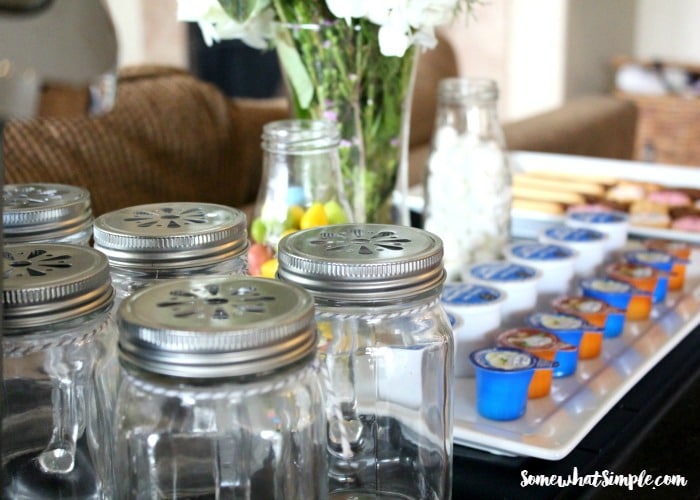 For our party, we just used glass Mason jars instead of mugs, but I think a personalized mug for each guest would be a super fun party favor!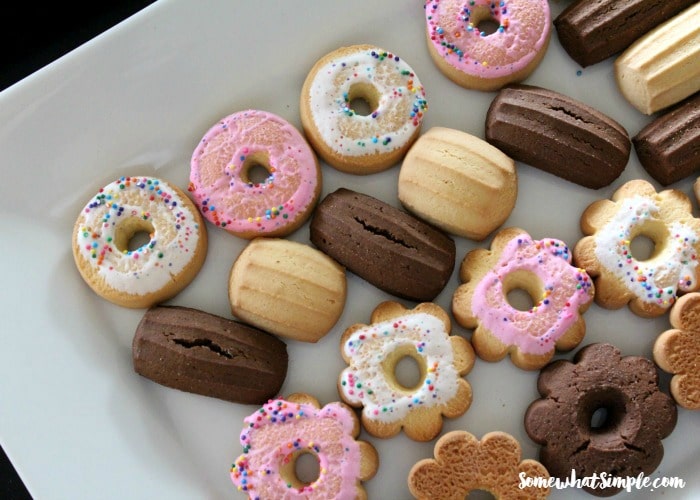 Treats are always a good thing for your girls night in! I kept our night simple with some easy cookies that weren't at all messy and they were perfect for dunking!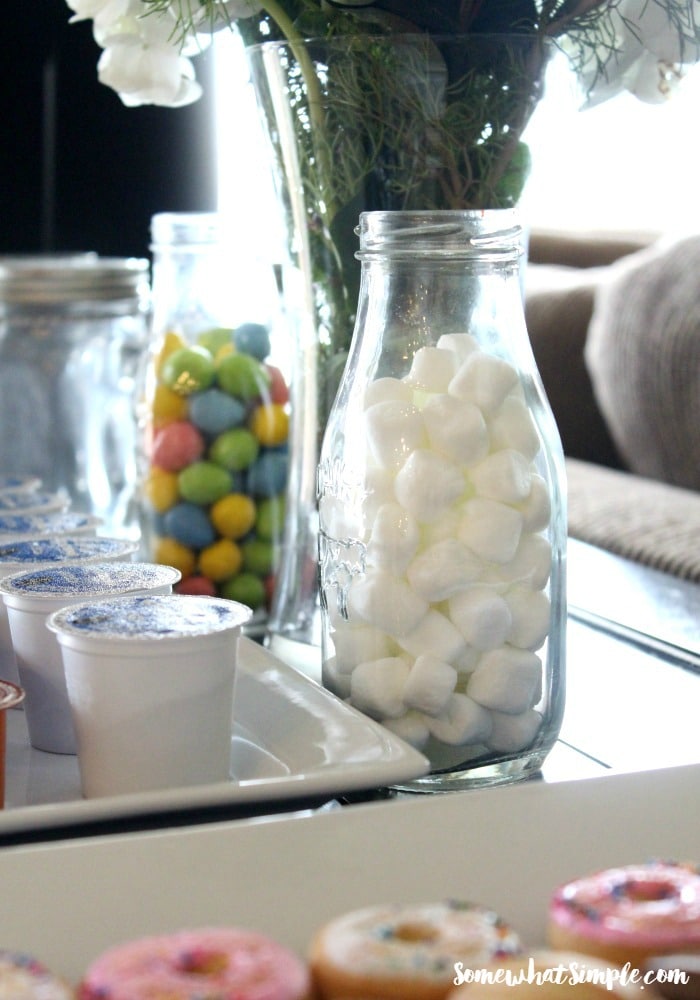 Marshmallows are a must, and those chocolate peanut butter eggs were a delicious bonus!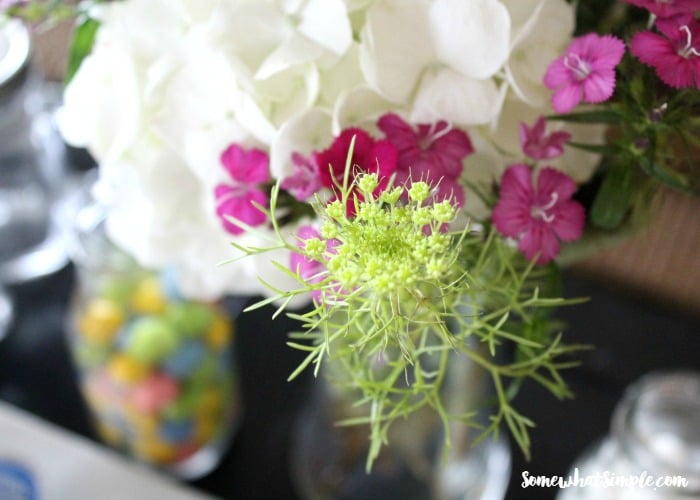 The decor on the table was a simple vase of fresh flowers. Nice and easy, but a fun, colorful addition!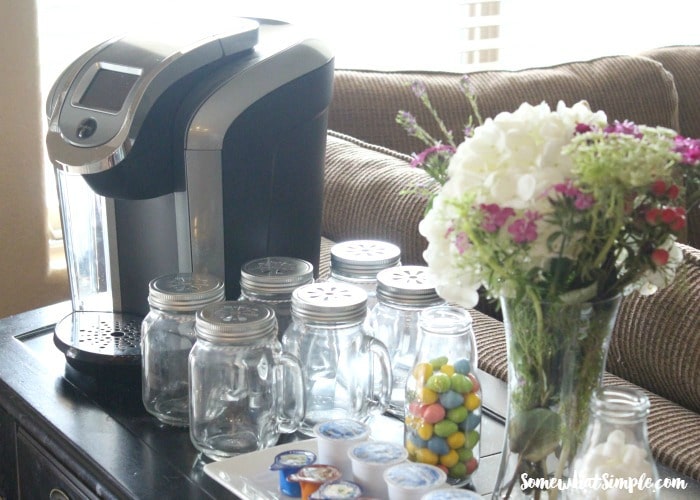 The best addition to our hot cocoa bar is the fabulous Keurig Coffee Maker!  It makes serving hot cocoa fast, convenient and mess free! Plus, you're guaranteed to get the perfect flavor, every time. No more watered-down cocoa. And no more messy hot cocoa packets!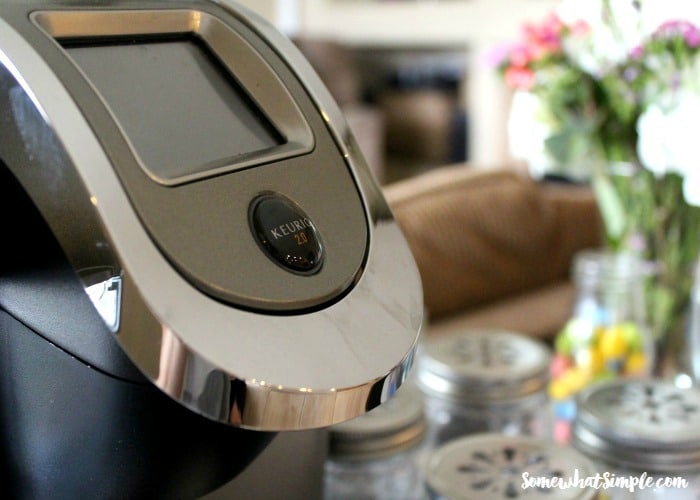 We don't even drink coffee in my home, but after several visits to my son's orthodontist who has one of these machines in his waiting room, my 9 year old daughter BEGGED to get one so she could have delicious hot cocoa at a moment's notice!
This Keurig machine is our new favorite small appliance. Simply pop in a hot cocoa K Cup, press brew, and in about 20 seconds your cocoa is ready!
Purchase the Keurig that's the right size for you and you're family locally or HERE on Keurig.com.
This post is sponsored by Keurig. All opinions are 100% my own.