A hot cocoa bar is just the thing you need to include at your next Girls Night IN!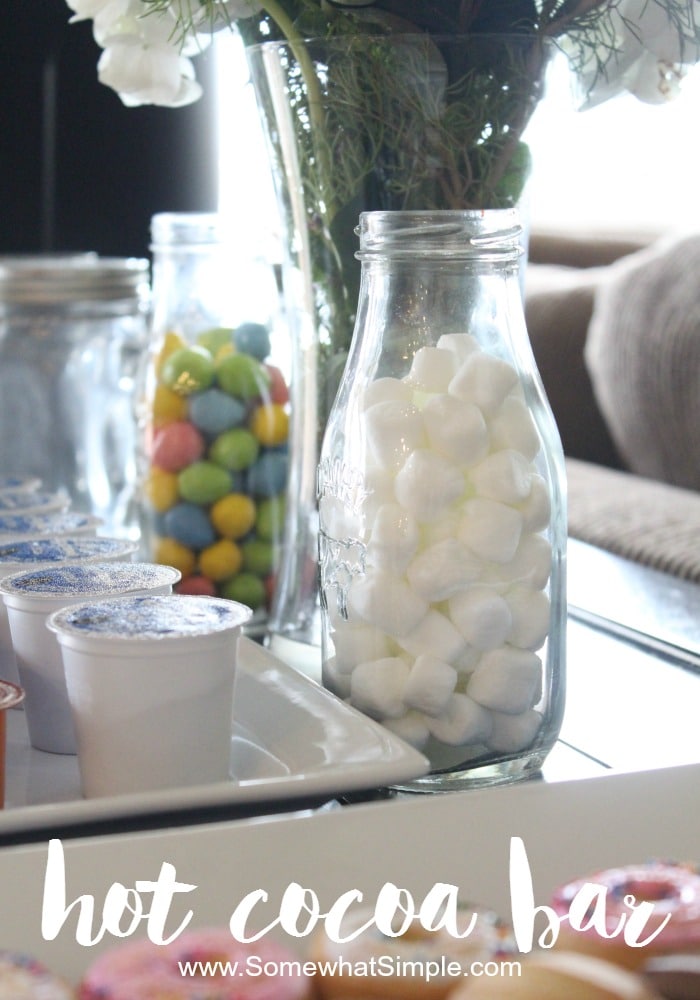 Hosting a girls night IN is a perfect way to unwind and reconnect with good friends. And I am convinced that the key to a successful girls night is to keep it casual, which is why this hot cocoa bar is such a great idea. You can make something so delicious look festive and fun without a ton of work! Moms- put the kids to bed, call your girlfriends to come over and get ready for a night of simple deliciousness!
What to Include in a Hot Cocoa Bar
SUPPLIES & INGREDIENTS: 
Hot Cocoa (I used my Keurig machine + Keurig K Cups Cocoa.
add ins of your choice. Here are some examples:
– creamer
– marshmallows
– chocolate chips
– peppermint candies
– peanut butter candies
– cinnamon sticks or candies
– vanilla ice cream (for a hot cocoa milkshake)
– caramel sauce or candies
– orange zest
cups
stirrers or spoons
plates and containers for the food
table decorations – fresh flowers , hot cocoa banner etc.
Here are some pictures from our hot cocoa bar-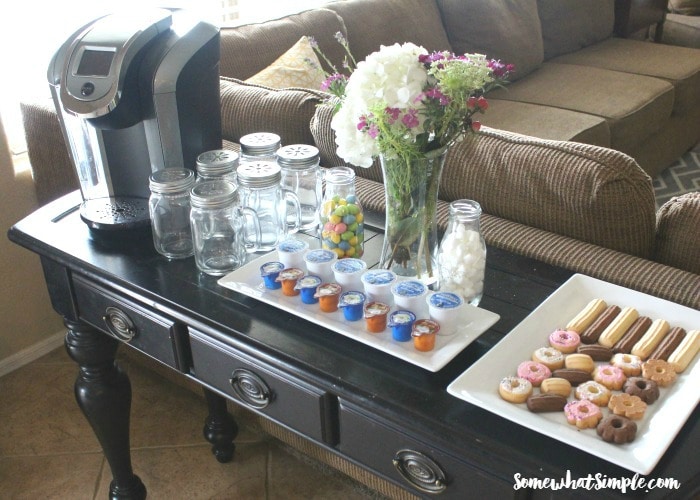 Our girls night was just me and 5 friends, so we kept it really simple!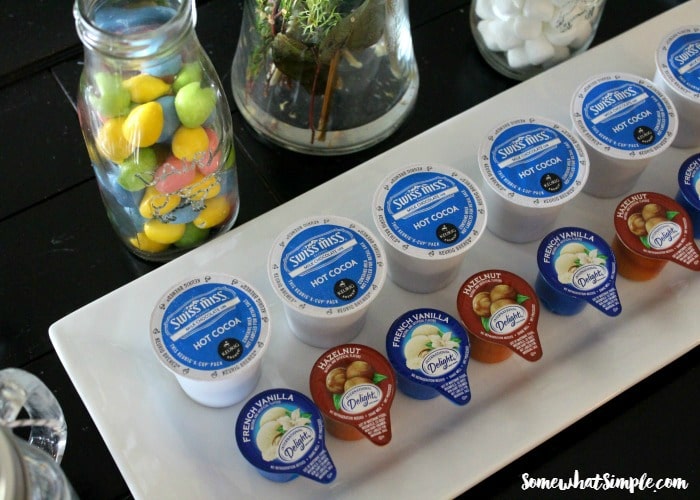 Presentation isn't everything, but it is a lot of fun! Set out your hot cocoa cups and creamer on a fun try for guests to see and easily grab.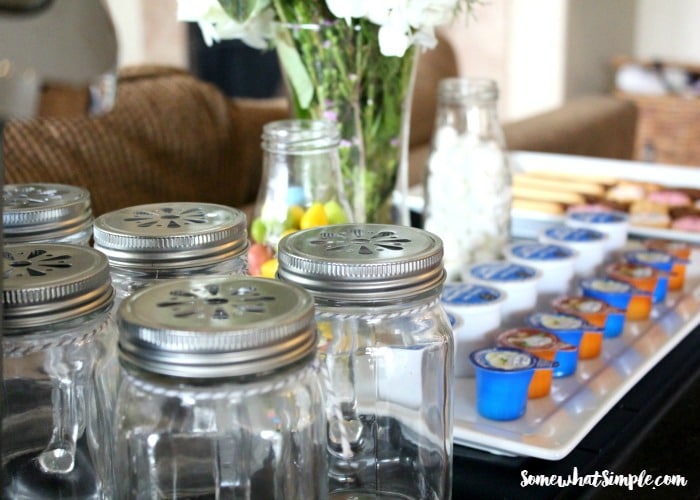 For our party, we just used glass Mason jars instead of mugs, but I think a personalized mug for each guest would be a super fun party favor!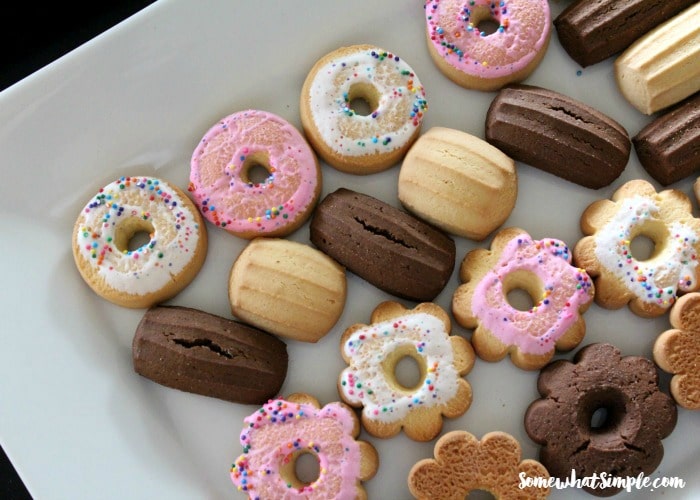 Treats are always a good thing for your girls night in! I kept our night simple with some easy cookies that weren't at all messy and they were perfect for dunking!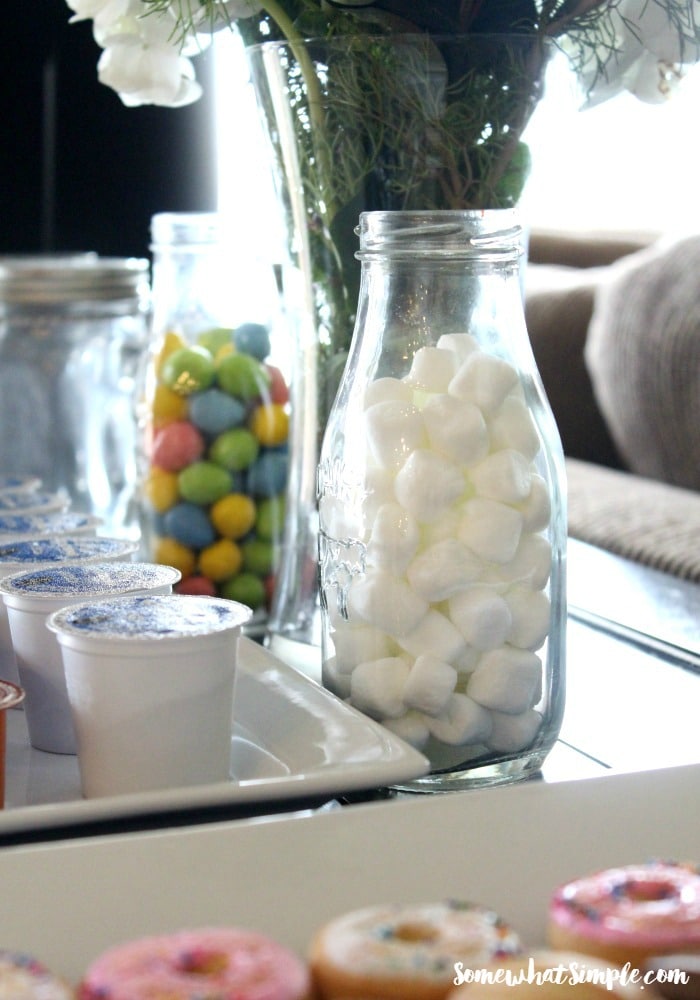 Marshmallows are a must, and those chocolate peanut butter eggs were a delicious bonus!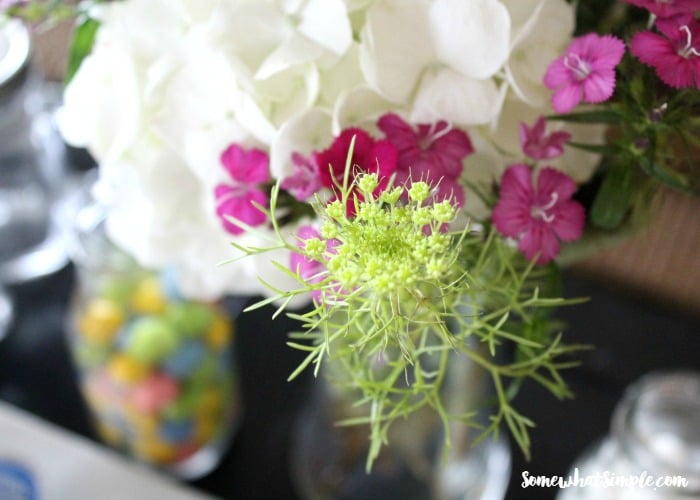 The decor on the table was a simple vase of fresh flowers. Nice and easy, but a fun, colorful addition!