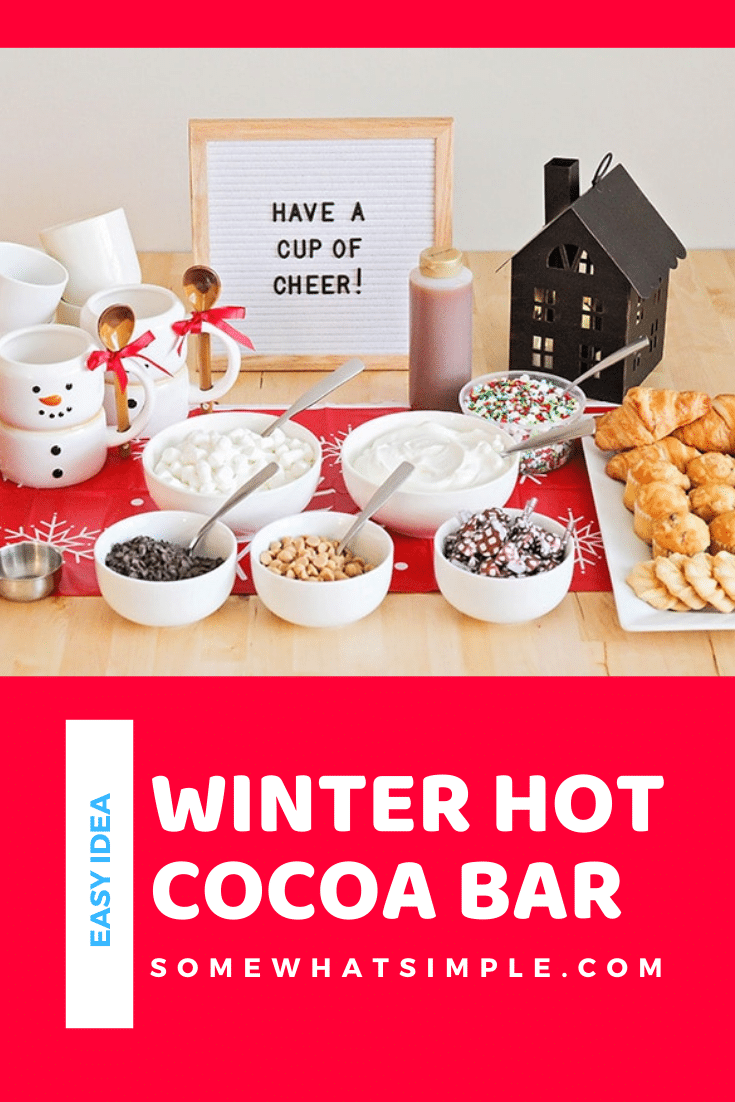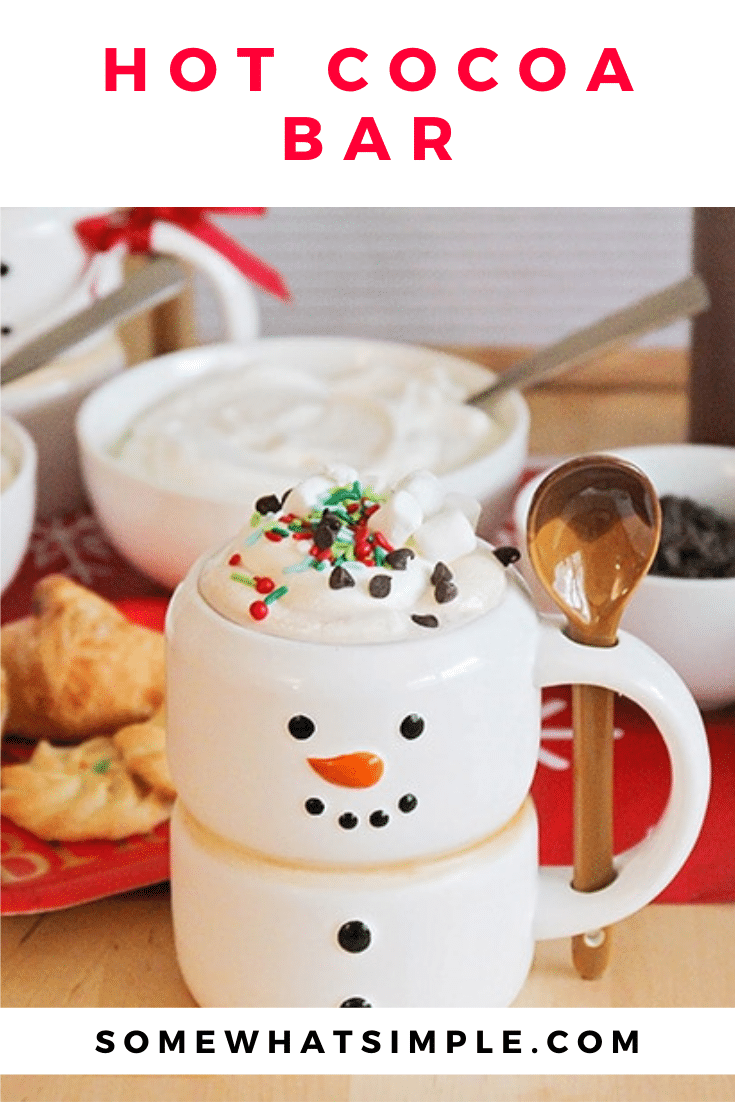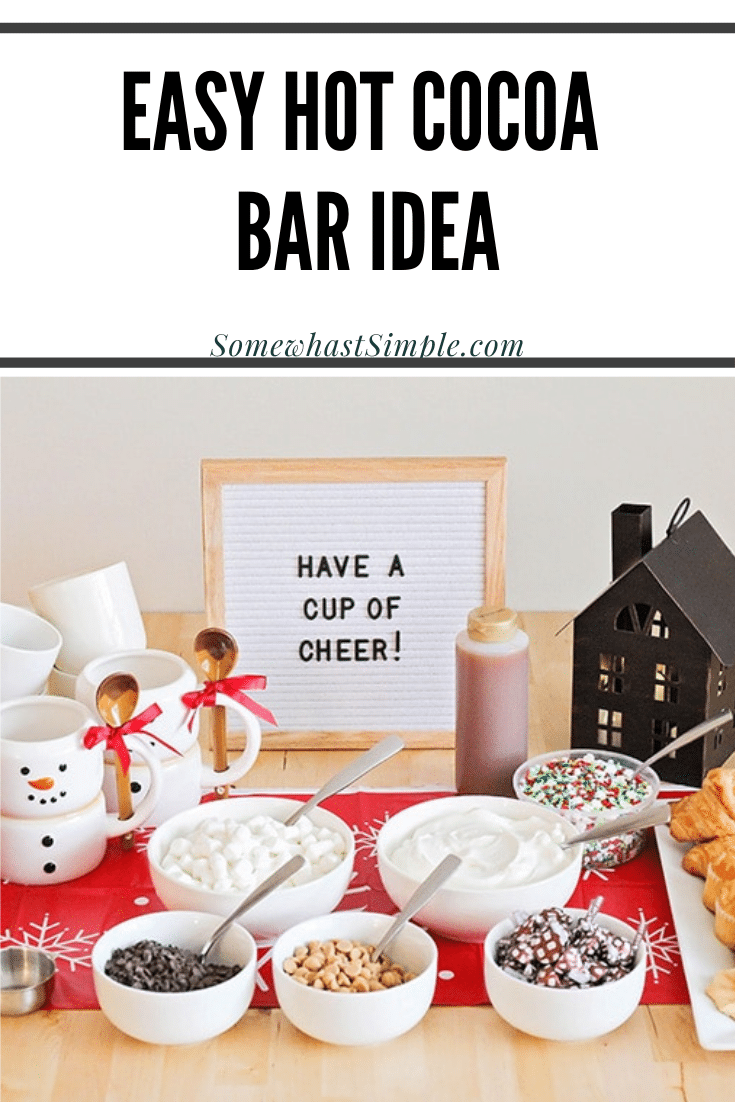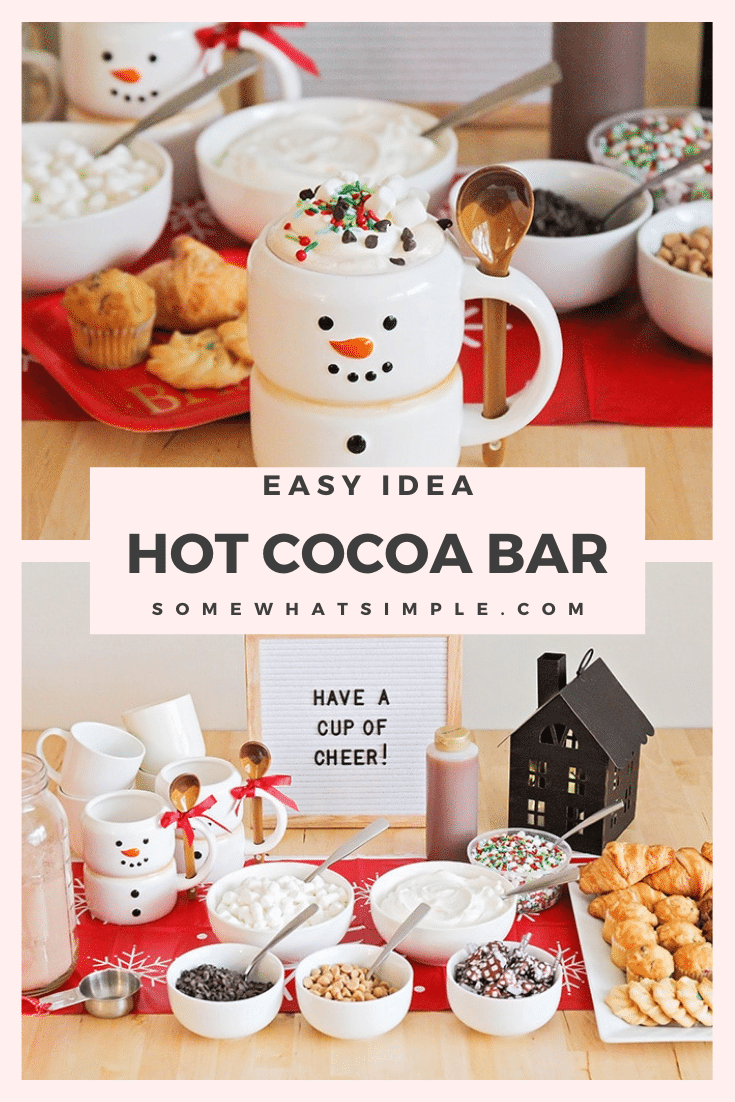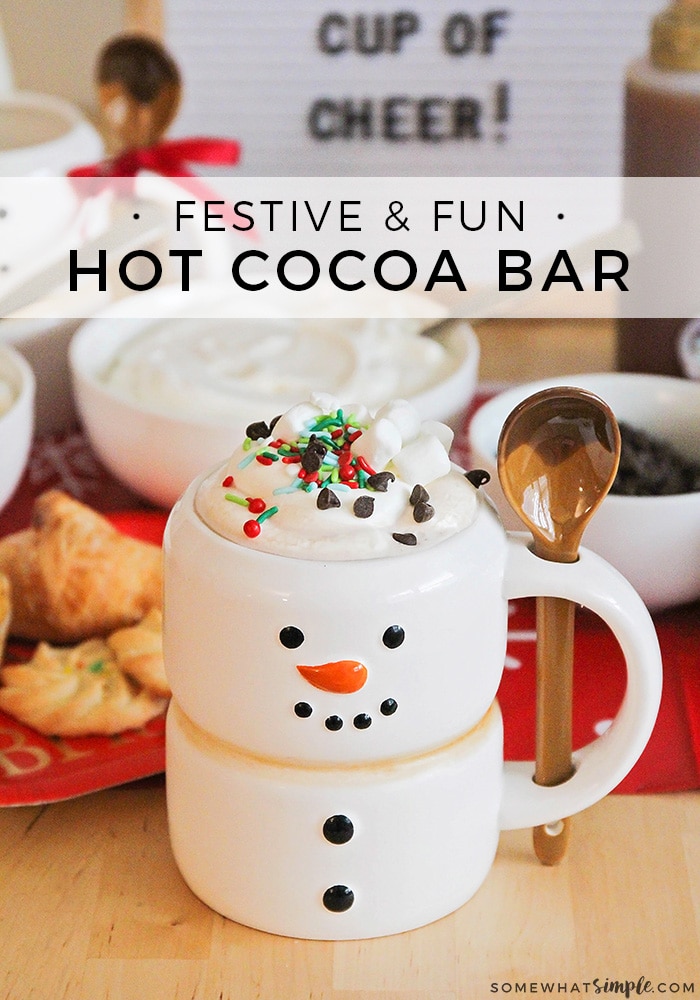 This sweet hot cocoa bar is a fun way to celebrate the season! Set out your favorite mix-ins, serve some treats on the side, and enjoy a cup of holiday cheer!
If you love festive holiday drinks like we do, be sure to try our Holiday Punch, Non-Alcoholic Sangria and this Gingerbread Hot Chocolate,
Hot Chocolate For Everyone
One of my favorite things about winter is that it's hot cocoa season! There really is nothing better on a cold day than a warm mug of hot chocolate. It's so sweet and cozy, and it's just the thing to warm up those cold fingers and toes.
This hot cocoa bar idea is a fun way to serve hot chocolate to a crowd. Just set out your mugs, add some festive and delicious toppings and mix ins, and serve some treats on the side. It doesn't take much effort to put together, but it's practically guaranteed to make everyone smile!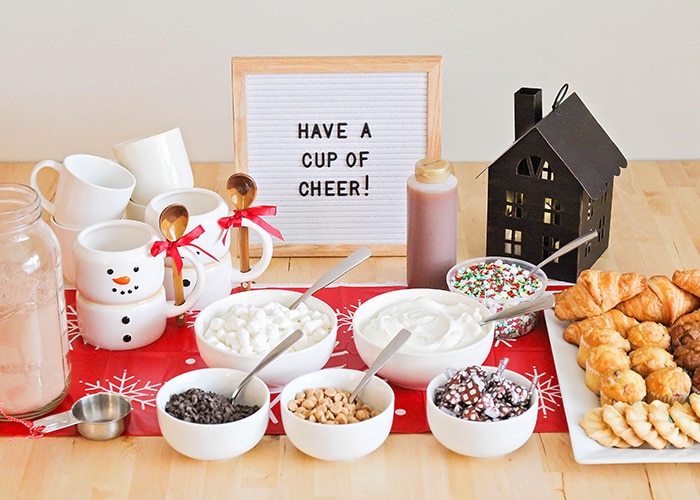 Hot Cocoa Bar Idea
The foundation for your hot cocoa bar is, of course, the hot chocolate! I decided to make life easier and just use store-bought powdered cocoa mix, but I added it to a jar to make it a little prettier and jazzed up my scoop with some festive ribbon. If I'm feeling extra fancy, I'll set out my Keurig with a variety of different flavored hot chocolate K cups.
If you'd like to make homemade hot chocolate instead, this creamy hot chocolate recipe is always a winner! Or you can get even more adventurous with this pumpkin spice hot chocolate or this gingerbread hot chocolate. If you do make your own hot chocolate, I would suggest serving it in a slow cooker on low to keep it nice and warm for your guests. I had a carafe of hot water on hand for my guests to pour into their mugs, and add their cocoa mix to.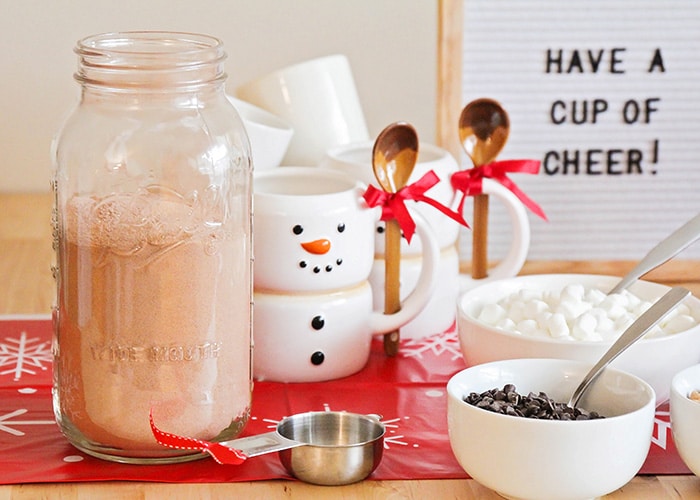 Hot Cocoa Toppings
Once you've got your hot cocoa, it's time for add-ins! I laid out a fun assortment of mini chocolate chips, peanut butter chips, sprinkles, mini marshmallows, fresh whipped cream, and caramel sauce. The possibilities are truly endless!
Some of my other favorite add-ins are cinnamon sugar, peppermint chips, chocolate syrup, and white chocolate chips. The options are truly endless which makes this perfect for everyone!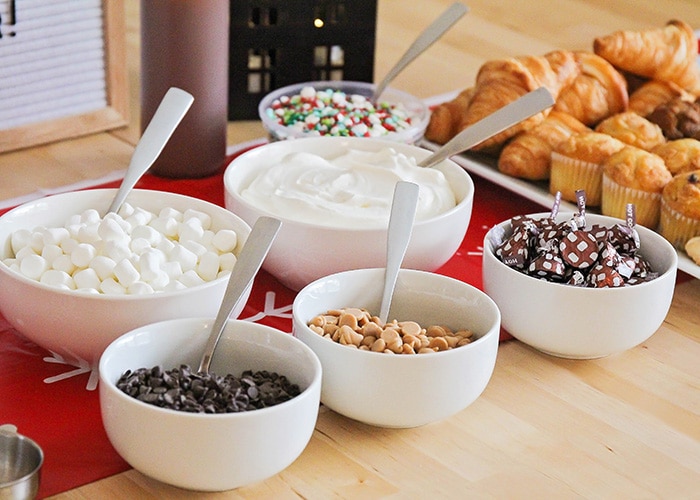 Sides For Your Hot Cocoa Bar
You'll definitely need some tasty treats to serve with the hot chocolate, too! I picked up a few baked goods at the grocery store bakery, and added them to a tray to make the presentation a little more elegant. Easy peasy! As much as I love homemade treats, sometimes it's nice to just give myself a break and go with store-bought.
If you do feel like making some homemade treats, these Melted Snowman Cookies, Christmas Blossoms and Christmas Tree Cookies are fantastic options as well.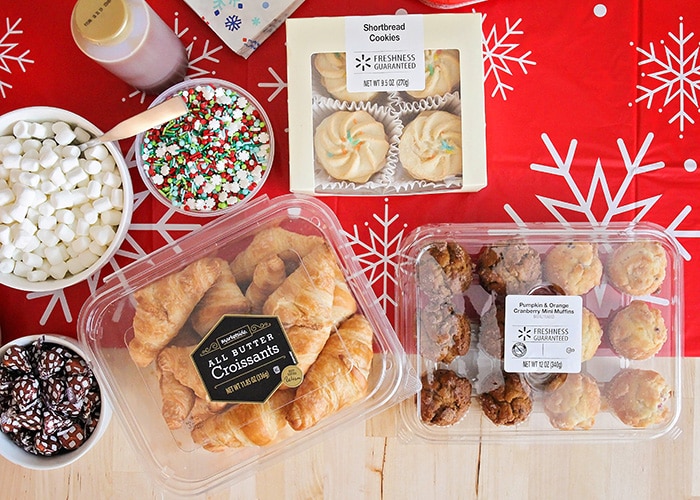 Other Supplies
I added a festive tablecloth and a few cute decorations, and we were all set! As you can tell, I love a darling snowman mug that makes this idea even more adorable! It seriously only took a few minutes to set up, but it's such a fun idea for a party!
This hot cocoa bar is a fun and unique idea for your next holiday party! It's fun for both kids and adults, and allows everyone to make their own perfect cup of cocoa. It doesn't get any better than that!