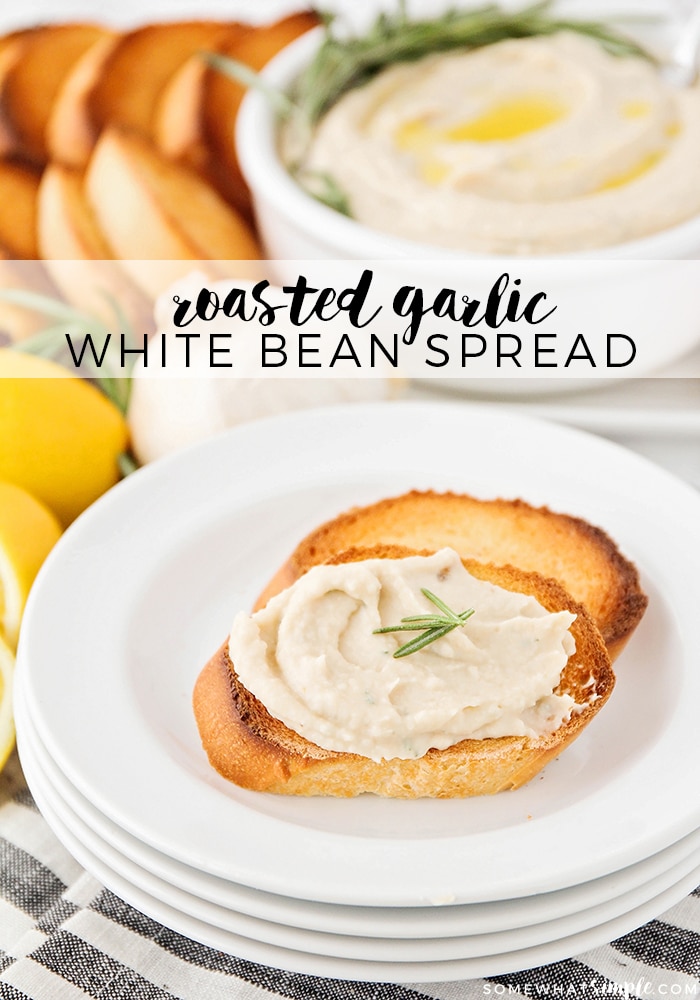 This is a recipe that one-ups traditional homemade hummus. Made with delicious Cannellini beans and roasted garlic, the flavor of this hummus recipe will knock your socks off!
I love to spread this hummus toasted baguettes, bagels or this delicious Artisan Bread Recipe. and serve it as an appetizer during one of our monthly Adult Game nights.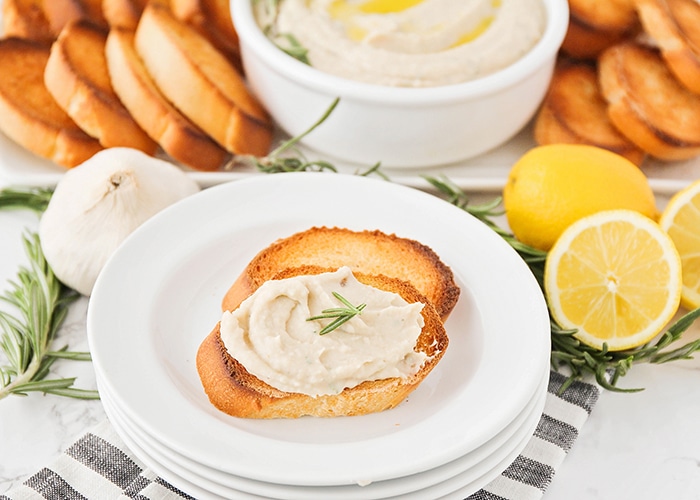 Homemade Hummus
I began experimenting with this homemade hummus recipe after ordering an amazing appetizer at a popular Seattle restaurant. Their version of this spread was so delicious, that I wanted to enjoy it over and over in my own home. I have an easy hummus recipe that I've made several times and I used that as a base, but the roasted garlic and rosemary I added this time around punches up the flavor of the cannelloni beans like no body's business!
What are Cannellini Beans?
Pronounced kan-eh-LEE-nee
Cannellini beans are small white Italian kidney beans that are available year-round. They can be bought canned or dried and are a popular ingredient in many salads and soups. Cannellini beans can be substituted for great northern beans or navy beans.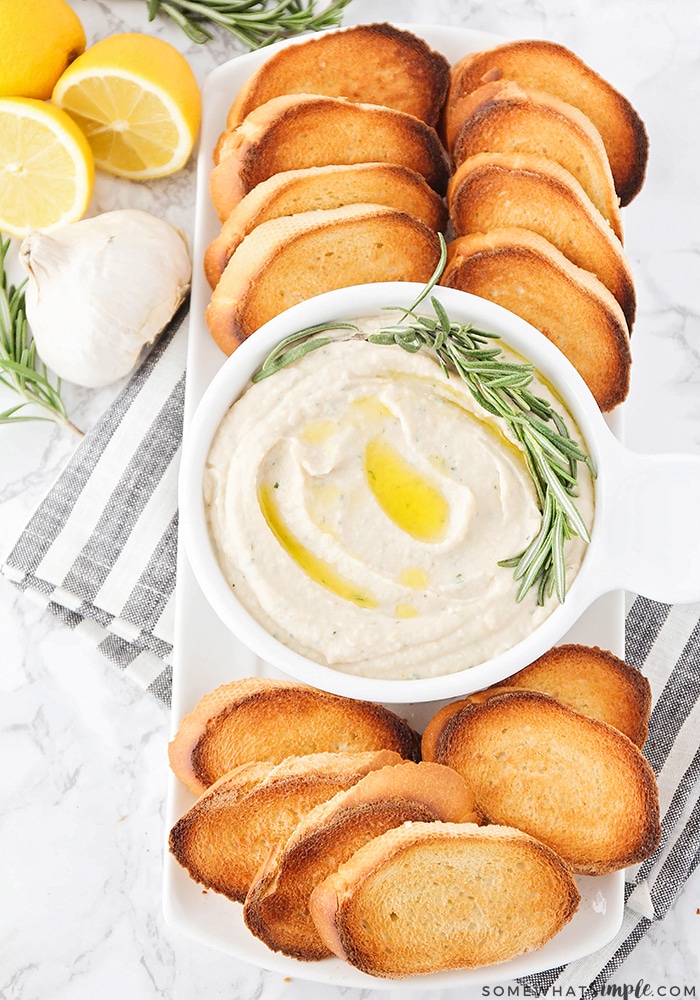 How to Roast Garlic For Hummus
This recipe uses an entire head of garlic, but don't be scared! Roasting garlic is an easy way to mellow garlic's strong flavor and enhance many recipes. Here is how to roast garlic-
Preheat the oven to 400°.
Remove excess paper from the head of garlic.
Slice the tip of the head off so that all cloves are open.
Drizzle 1 tablespoon of olive oil into the head.
Wrap the garlic in a piece of aluminum foil.
Place it in oven safe dish and roast in the oven for about 30 minutes.
Garlic cloves will be soft and slightly browned. Let cool.
How To Make Hummus
Add the roasted garlic made above with the beans, rosemary, salt, pepper, lemon juice and olive oil into a food processor
Process the ingredients until smooth (if you aren't able to get it as smooth as you would like, add a tablespoon of water)
Let the hummus chill in the refrigerator for at least an hour before serving

How good does this look? I could seriously eat it with a spoon!
Is Homemade Hummus Good for You
Unlike most canned vegetables, which can lose quite a bit of their nutritional value during the canning process, white beans maintain theirs. Cannellini beans provide a high protein and fiber content without overloading a dish with calories, and they're gluten and cholesterol-free too! They can help regulate blood sugar levels, contribute to better heart health, aid in weight loss and even help prevent certain cancers.
Can You Freeze Hummus
Yes, you can easily freeze this hummus recipe. Be sure to place the dip in a freezer-safe container and it will stay fresh for up to 4 months. When you're ready to use it, it will take a couple of hours to thaw or just leave it in the refrigerator overnight. My husband loves to take this to work with him to have with his lunch so we usually freeze them in smaller deli containers so he only has to take what he needs.
More Easy Dip Recipes
I love this recipe for homemade hummus so much, but here are a few other dips you might enjoy as well.
Easy Homemade Hummus Recipe
This is a recipe that one-ups traditional homemade hummus. It is easy to make and the roasted garlic flavor will knock your socks off! Leave us a comment below and let us know how much you liked this recipe or tag us on social media so we can see serve this at your next party.
Easy Roasted Garlic Homemade Hummus Recipe
This is a recipe that one-ups traditional homemade hummus. It is easy to make and the roasted garlic flavor will knock your socks off!
Ingredients
1

head of roasted garlic

2

tablespoon

olive oil

1 28

oz.

can cannellini beans

,

rinsed

2

tablespoons

chopped fresh rosemary

1

tablespoon

fresh squeezed lemon juice

1/4

teaspoon

salt

1/4

teaspoon

freshly ground pepper
Instructions
Add roasted garlic, beans, rosemary, lemon juice, salt, pepper and olive oil into a food processor. Process until spread is smooth. *If you're having trouble getting the spread smooth enough, you can add a tablespoon of water.

Chill in the refrigerator for an hour or overnight.

Serve with crackers, toasted baguettes or pita bread.
Nutrition
Other Notes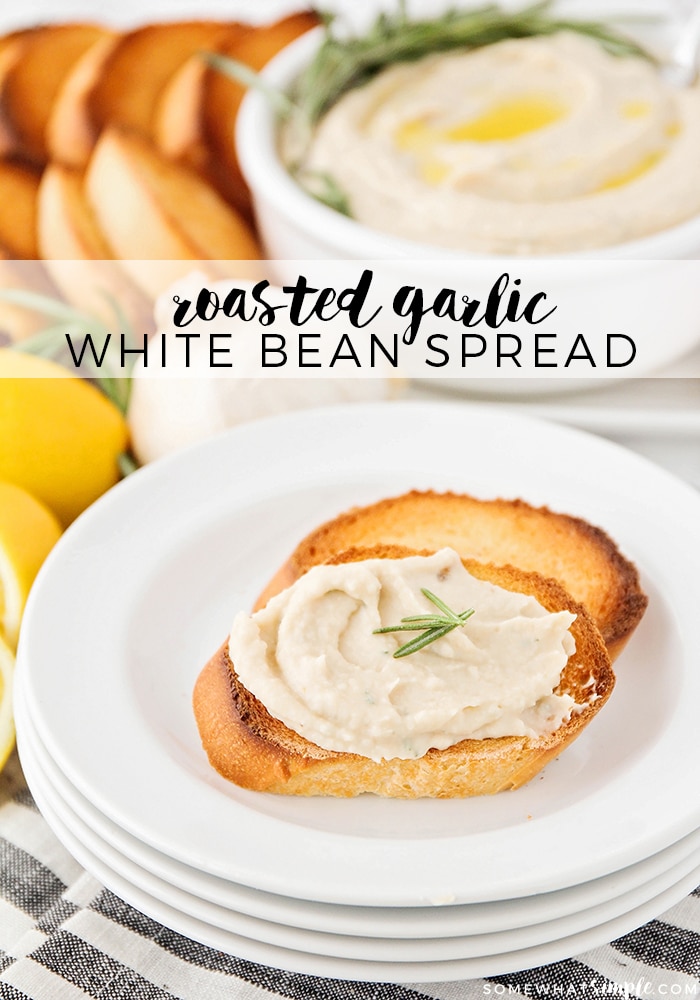 Enjoy!