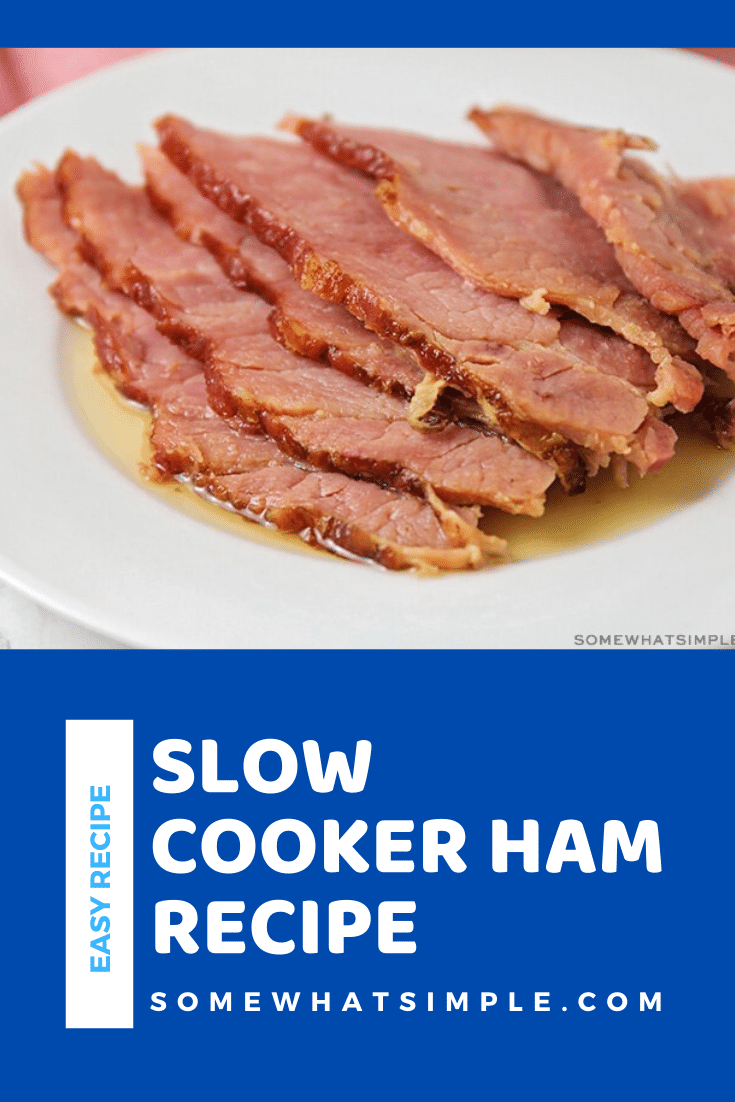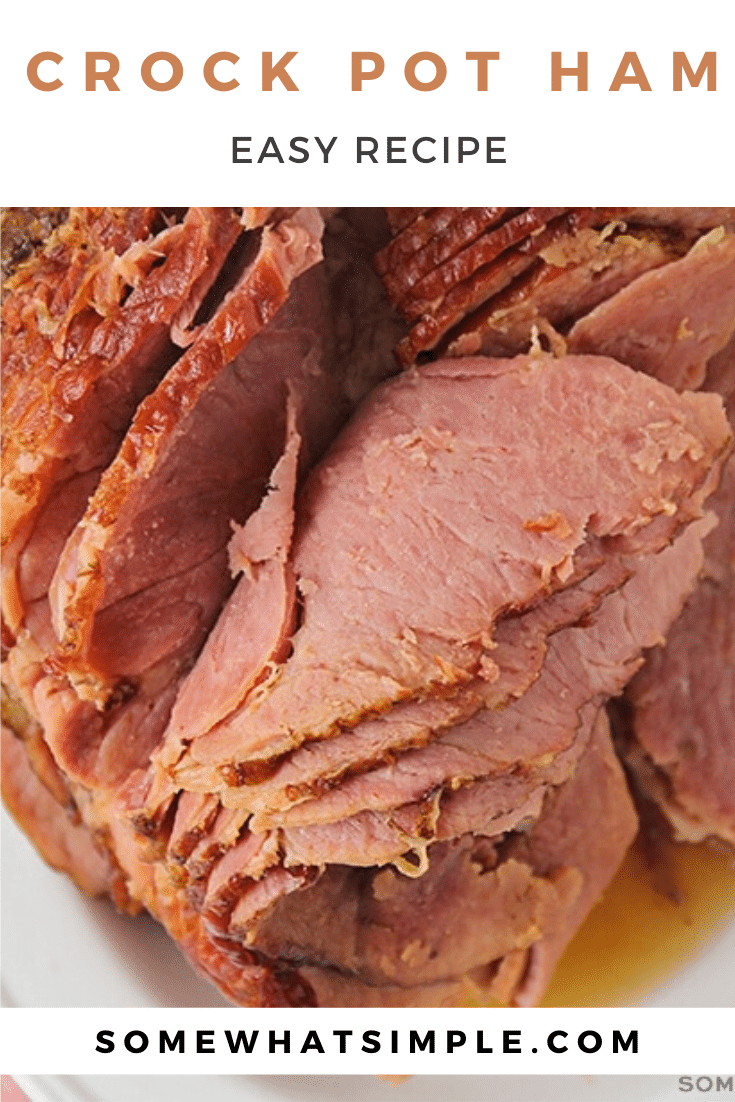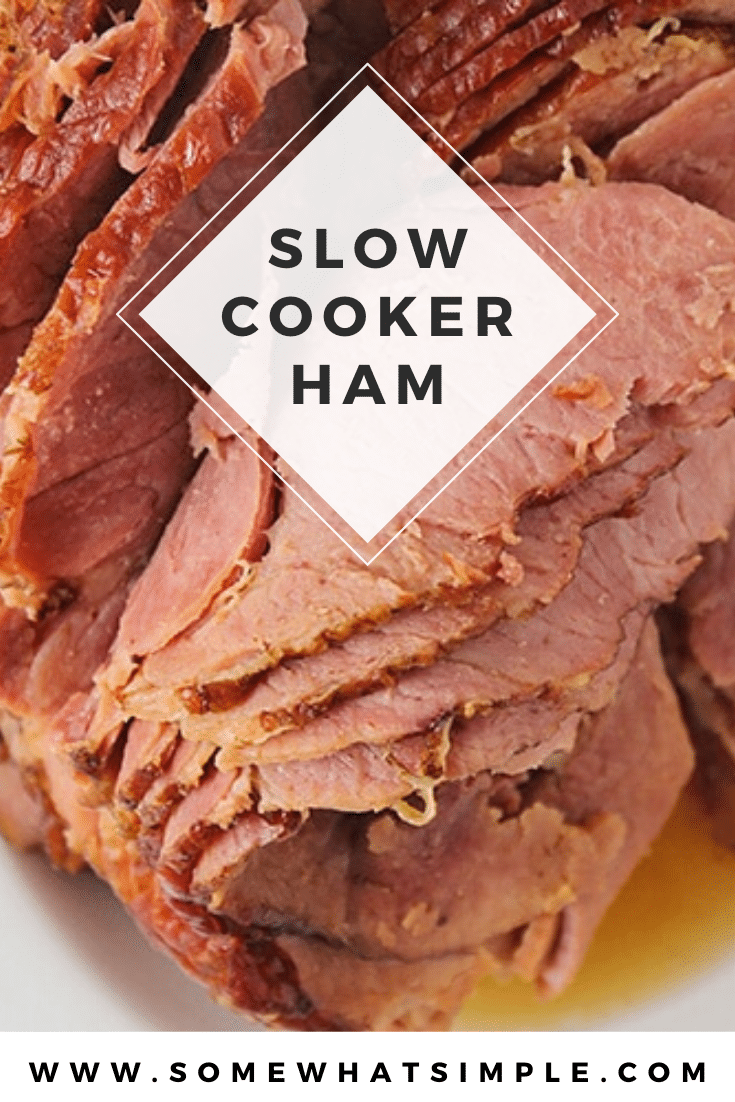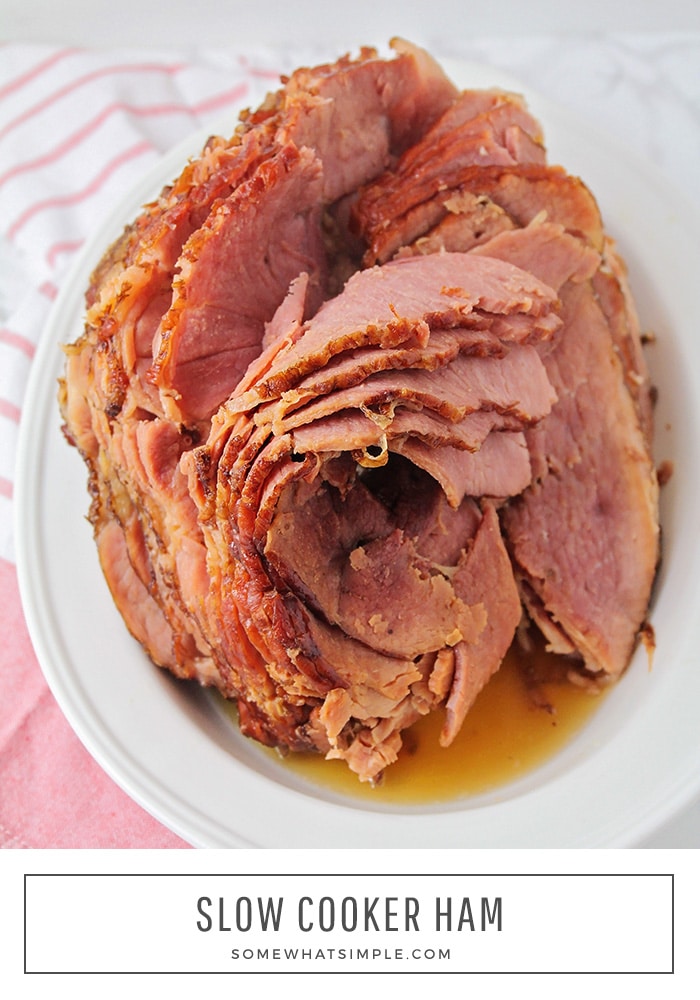 Slow cooker ham is made with just two ingredients and needs only five minutes of prep time! Made with brown sugar, it's super delicious and simple, you'll never make ham any other way!
Once you make this delicious ham using your Crock Pot or Instant Pot, here are a few recipes we love that will use up any leftovers – Ham and Potato Soup, Hawaiian Ham Sandwiches, and Ham and Cheese Quiche.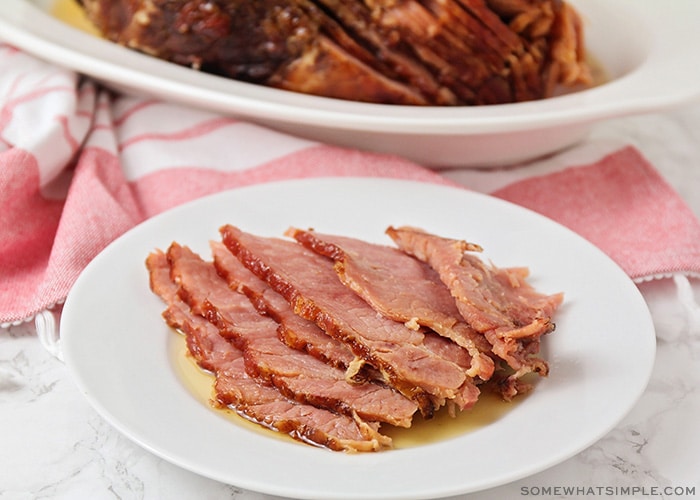 Easy Holiday Ham
I have to confess, until this year I had never made a ham before. I've eaten lots of good ham, of course, but it always seemed really complicated and difficult to make. My sister in law has a fabulous ham recipe that requires basting every hour for six hours, and as much as I love her ham, I just don't have time for that!
I've been trying to find a good recipe for ham that would taste delicious but require very little effort on my part, and this slow cooker ham is it! It takes less than five minutes of hands on time, and has only two ingredients. Recipes don't get any easier than that! Best of all, the ham comes out tender, juicy, and flavorful, and so delicious. It's perfect for your next holiday meal!
How To Cook Ham In A Slow Cooker
This ham could not be easier to make! Just follow these easy steps and everyone will think your spent years in culinary school.
Prep – Spread some brown sugar in the bottom of your slow cooker. Next, place your ham on top, with the flat side facing down. Spread the rest of the brown sugar over the top of the ham. I always use a spiral cut ham so that it's easy to slice and serve. The brown sugar will drip into the spaces between the slices as the ham cooks, making it extra delicious.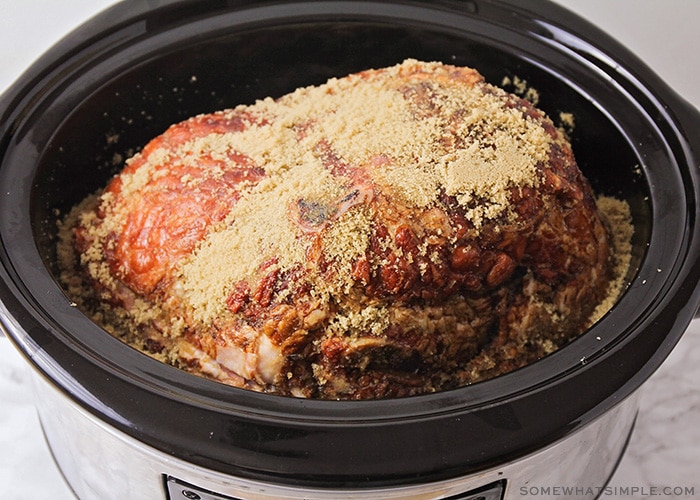 Heat – Cook the ham in the Crock Pot for about 4-6 hours on low heat. Remove the ham from the slow cooker and let it sit for 10-15 minutes before slicing.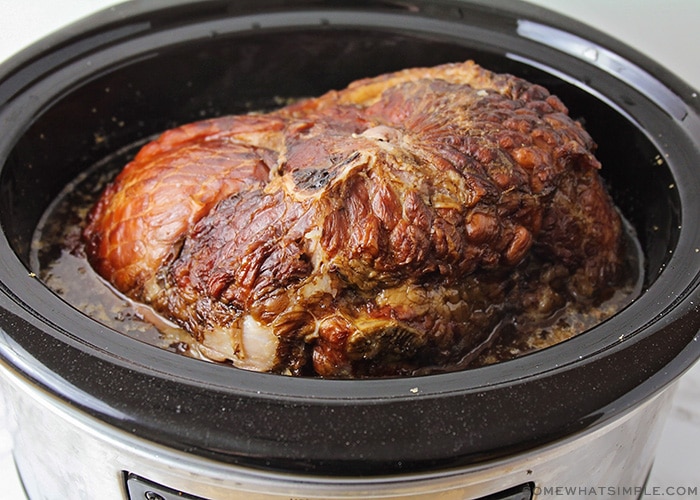 Drizzle & Serve – Be sure to drizzle some of the cooking juice over the ham slices to add even more flavor! This slow cooker ham is so tender and juicy, and has the best texture. I love the brown sugar flavor, too!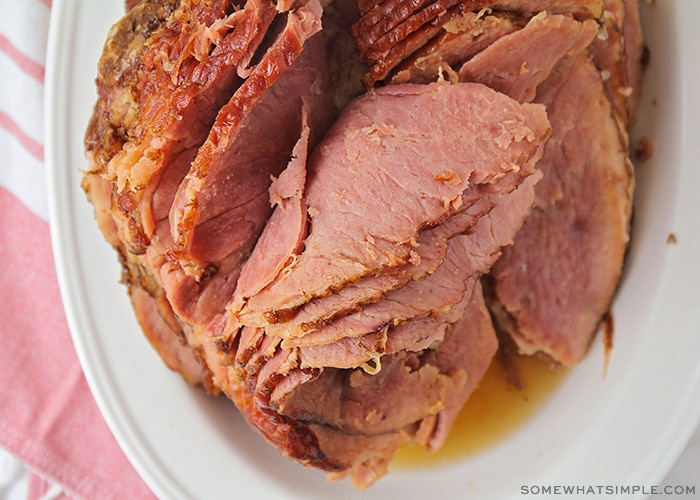 FAQs
What Size Crock Pot Should I Use – A spiral ham is generally pretty big, so I would recommend using at least an 8 quart slow cooker to cook your ham.
How Much Ham Should I Make – I usually plan for each person to eat a little less than a pound of ham. With that assumption, a 7-10 pound ham should serve around 12 people.
When Is It Ready – If you're every unsure if your ham is fully cooked you can use a meat thermometer to check. The ham should have an internal temperature of 140 degrees before serving.
What If My Ham Doesn't Fit In The Crock Pot – If the ham is too big for the lid to fit on top, cover the ham tightly with a piece of aluminum foil and cook.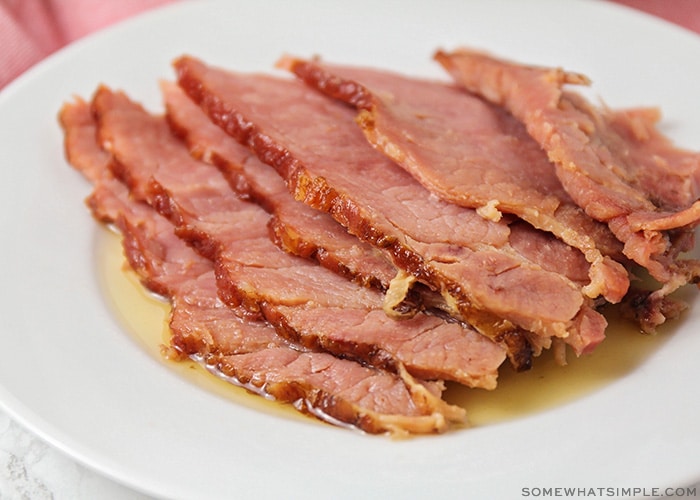 The Best Side Dishes
This slow cooker ham an easy main dish to make for a large crowd. The brown sugar glaze really makes this ham unbelievably good, so you definitely need to give this ham a try! Leave us a comment below and let us know what you think.
Slow Cooker Ham Recipe
Slow Cooker Ham is made with just two ingredients and it only takes five minutes of prep time! It's so delicious and so simple, you'll never make ham any other way!
Ingredients
1

7-10 pound bone-in spiral cut ham

1 1/2

cups

brown sugar

,

packed
Instructions
Sprinkle 1/2 cup of brown sugar in the bottom of a slow cooker. Place the ham, flat side down, on top of the brown sugar. Rub the remaining brown sugar over the top of the ham, covering all surfaces.

Place the lid on the slow cooker, and cook on low for 4-6 hours.

Let the ham rest 10-15 minutes before slicing. Spoon the brown sugar juice from the slow cooker over the ham before serving.
Nutrition
Serving:
8
oz
·
Calories:
140
kcal
·
Carbohydrates:
27
g
·
Protein:
3
g
·
Fat:
3
g
·
Saturated Fat:
1
g
·
Cholesterol:
12
mg
·
Sodium:
35
mg
·
Potassium:
77
mg
·
Sugar:
27
g
·
Calcium:
25
mg
·
Iron:
1
mg
Other Notes