Struggling to find a thoughtful Valentines gift for someone you love? You've come to the right place!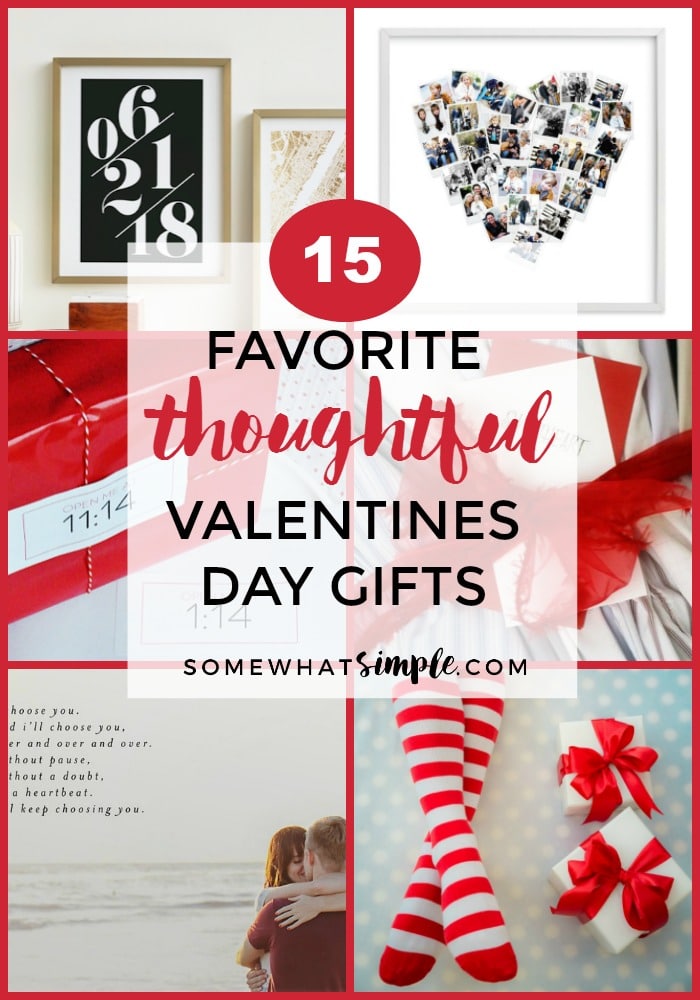 Today we are featuring 15 meaningful Valentine's Day gifts that you can give to your special someone this Valentine's Day!
15 Thoughtful Valentines Gift Ideas
Please note, some of these items will need to be ordered online from Minted.com – one of our favorite online custom gift shops! You'll need to plan ahead though – no last-minute orders will make it in time for the big day! Click HERE to see the holiday shipping cut off dates. The rest of the ideas on our list are procrastinator-approved! 

1 // I have always wanted to make this Heart Snapshot Photo Art, and this year I'm doing it! Personalize it with 30 of your favorite photos and special memories. The PERFECT gift idea!
2 // Special Date Framed Print from Minted. I LOVE the idea of framing 1 or more special dates. Your first date, your first kiss, your wedding day etc. Impress your sweetheart with this thought gift… just make sure you get the date right! (That would be embarrassing!) 
3 // Make a custom print and frame it! I LOVE the idea of making a completely custom piece – your vows (pictured above), custom images showcasing where you met, the location of a special place, etc. You could make a custom silhouette (which can be of children or pets) … all of these can be printed and framed from Minted.com and they would totally make your sweetheart feel LOVED!
4 // A Gift on the Hour, Every Hour, from 30 Handmade Days. Send your sweetheart to work with a bag full of small gifts to open on the "14th" of every hour. If you don't want to do gifts, you could send a card or a love notes each hour.
5 // A Sexy Gift for Him, from Somewhat Simple. Tasteful and tame, but exactly what he wants!
6 // Iron and Press All His Work Shirts, from How Does She. Gather all of hubby's dress shirts and send them to the cleaners to be cleaned and pressed. Valentines Gift?!  Fathers Day Idea!!?  Isn't it BRILLIANT?!

7 // Sweet Treat + Valentine Card. Partner this card with a simple date to go get ice cream or a delicious dessert! Order from Minted.com.
8 // Star Wars Tic Tacs, with labels from Somewhat Simple. A simple gift that's easy to put together and sure to please!
9 // Thumbprint Keepsake, from Simply Kierste. A darling idea that gets the kids involved!.

10 // Top 10 Reasons Why I Love You, from Somewhat Simple. Grab a cereal box and some crafty supplies, then go crazy decorating and being all thoughtful!
11// Hooked on You Pail, from Lil Luna. So fun and easy – and who doesn't like Gummy Worms?
12 // Balloon Gift, from Somewhat Simple. A fun little surprise that is thoughtful and fun!

13 // Made with Love Treat Jar, from Eighteen25. Really want to show your love this year? A jar of homemade chocolate chip cookies should do the trick!
14 // Love Note Valentine Balloons, from Somewhat Simple. The surprise of a room full of balloons plus the simple little love notes is enough to make him feel pretty special. And that is what Valentine's Day is all about!
15 // Framed Picture + Custom Quote, from Minted. Grab a favorite picture and add a sweet quote and you've got a meaningful gift they are sure to LOVE!
. . . . .
There 'ya go! 15 Thoughtful Valentines Gift Ideas!
Which one was your favorite?