We've spent the past few weeks talking about sugar cookies and royal icing tips – have you been baking away and putting these tips to good use? Today we're going to talk about Cookie Gift Ideas and what to do with all of those finished masterpieces.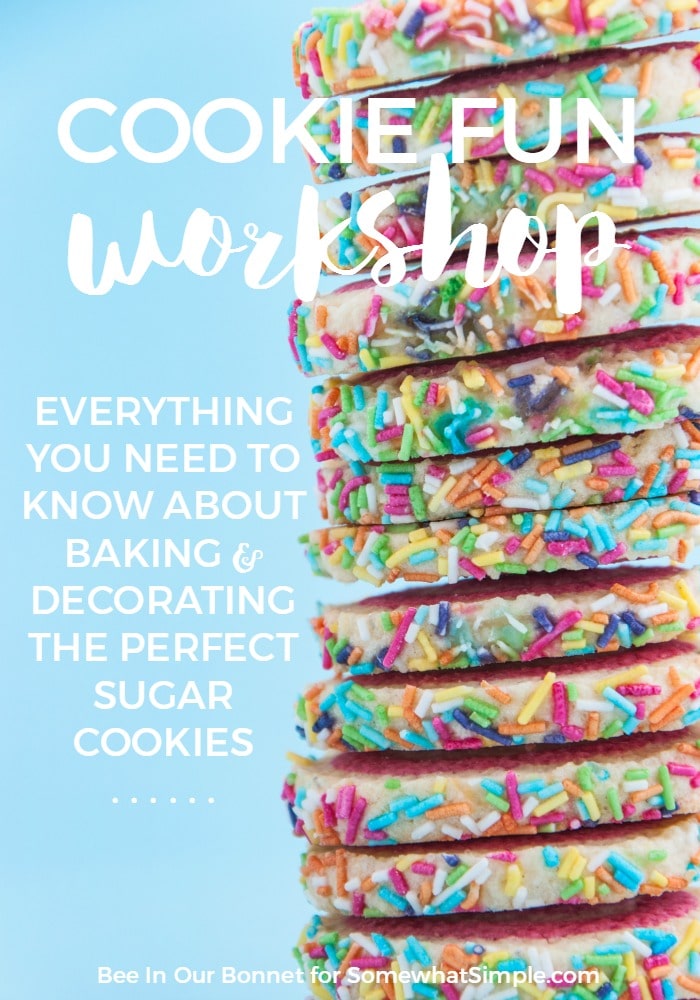 The best thing about using royal icing instead of buttercream is that they are easy to package and give as gifts or favors. The frosting will dry, so you don't have to worry about smudging! I'm a big believer in "presentation", but I am also a big proponent of keeping things really simple. Here are a few cookie gift ideas that fit the bill!
*Amazon Affiliate Links included at the end of this post for your shopping convenience.
Sugar Cookie Gift Ideas
I stand by my philosophy that everything looks great in a cellophane bag with a ribbon and a tag! I stock up and buy these bags in packs of 100. (I think it's a good investment if you plan on making cookies often.) Here is a simple gift idea that my kids brought to their teachers on their 1st day of school: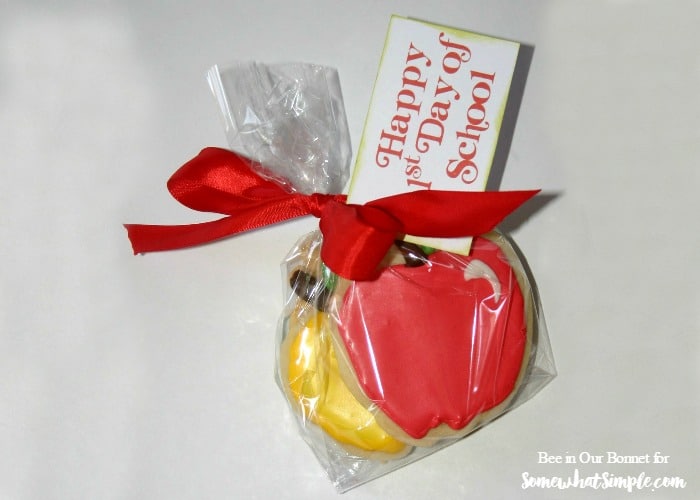 Even a whole basket full of cellophane bags and cookies look cute: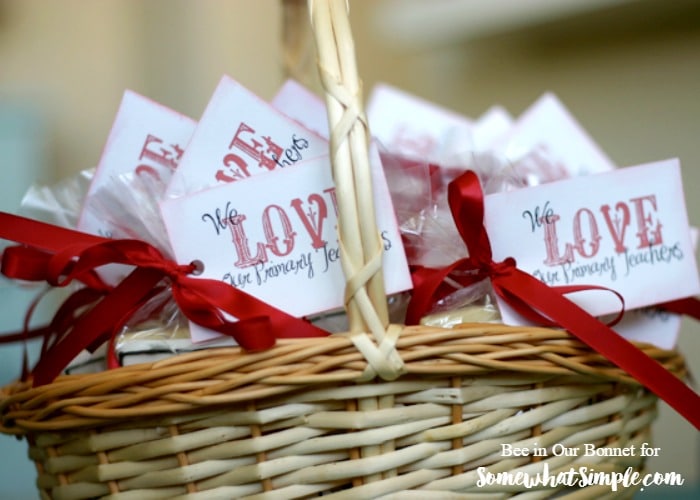 Or, you can skip the ribbon and use the old bag topper technique. Just fold over a piece of card stock and staple: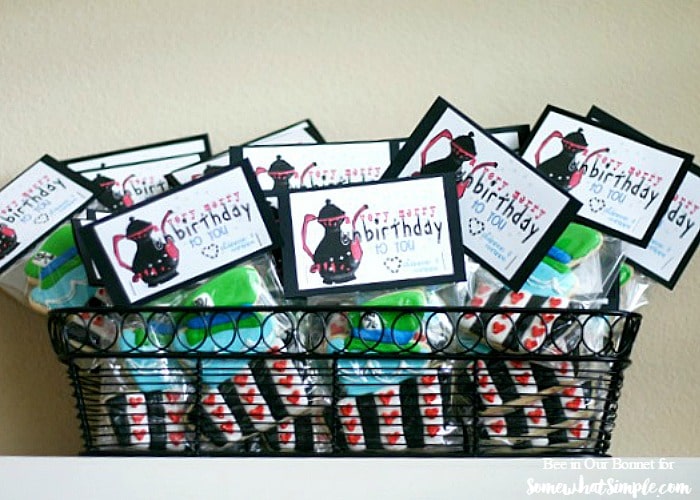 Pastry and candy boxes are also great because they come in all shapes and sizes. I love the clear boxes because they allow you to show off your cookie even more! These wedding ring cookies make great shower favors. Just put the tulle underneath to keep it from shaking and breaking. Even with the lid and a bow you can still see the cookie!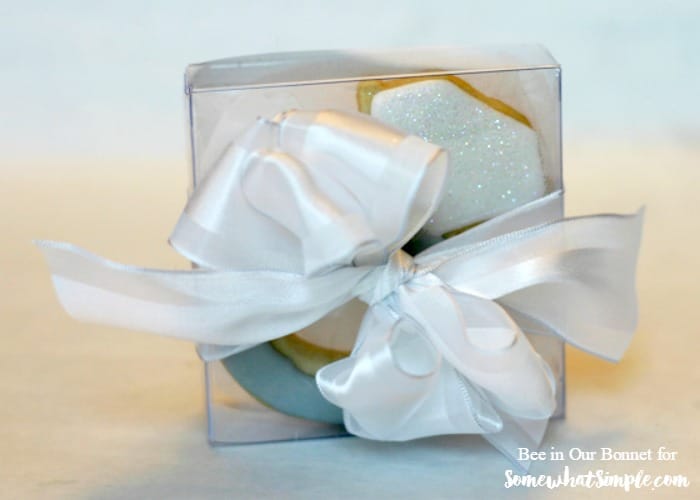 I showed you in THIS post, how to put your cookies on sticks. Put them in before you bake them and you will end up with a cookie bouquet! They can also make a beautiful little gift in a pot or made into an edible centerpiece: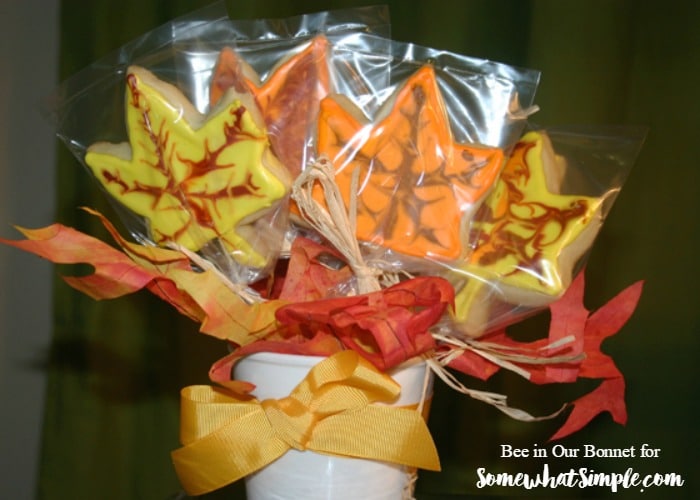 Just walk the aisles of your local craft store and you will find fun things to put your cookies in. Like paint cans: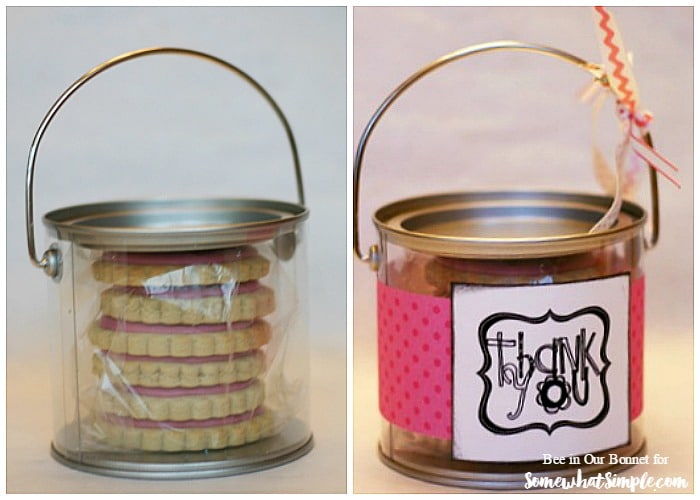 And mail cookies look so much better in a mailbox from the Target Dollar Spot: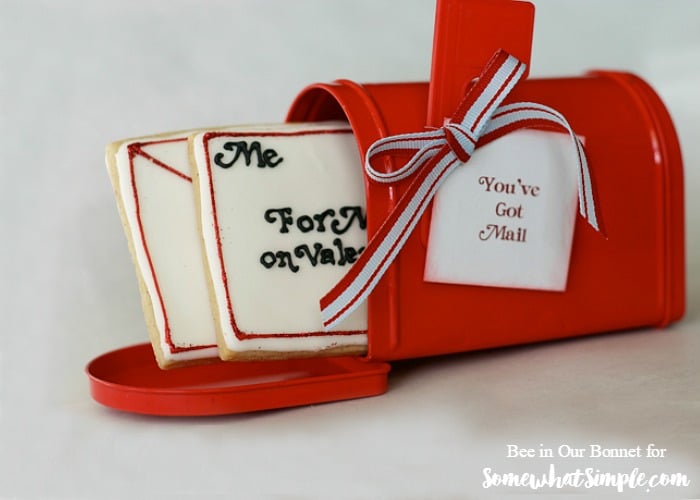 How about a cookie in a party invitation? That will get the kids really excited to come! It's like an advanced party favor!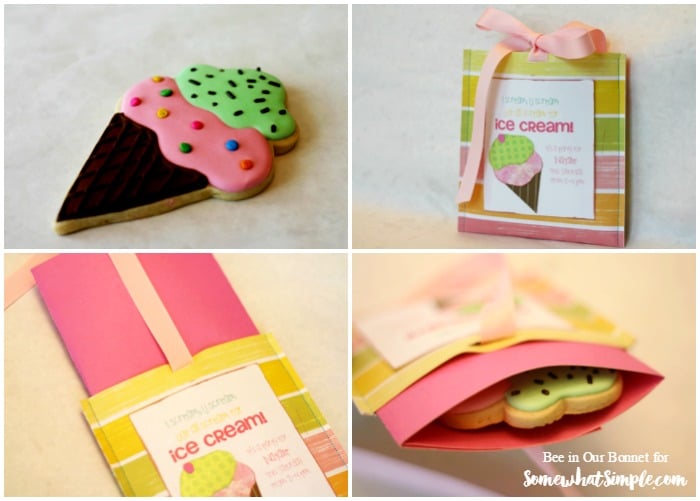 So, don't stop having fun when you're done baking the cookies. A beautifully decorated and packaged cookie can make a thoughtful and creative gift!
HELPFUL SHOPPING LINKS-
. . . . .
ABOUT THE AUTHOR: Ashleigh is a creative mom of three and the blogger from Bee in Our Bonnet. Ashleigh spent a few years blogging on Somewhat Simple as our Baking Contributor.
This post originally published on Crazy Domestic in February 2011. It was imported to Somewhat Simple with the close of that site and updated in February 2016.