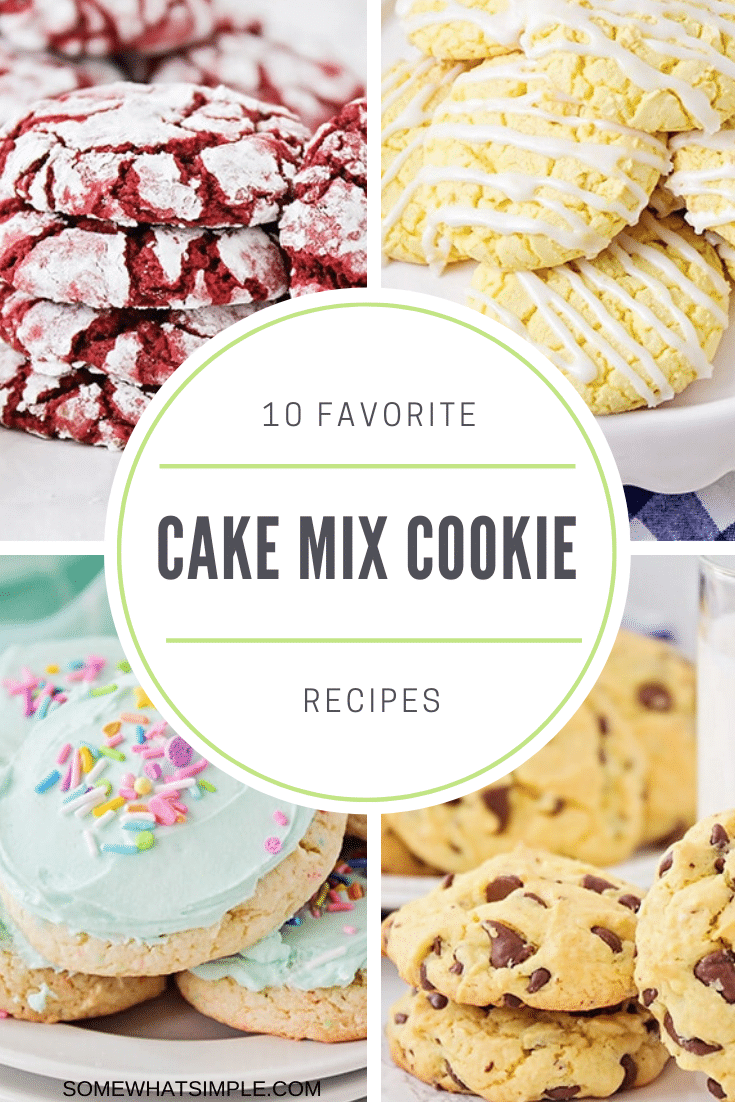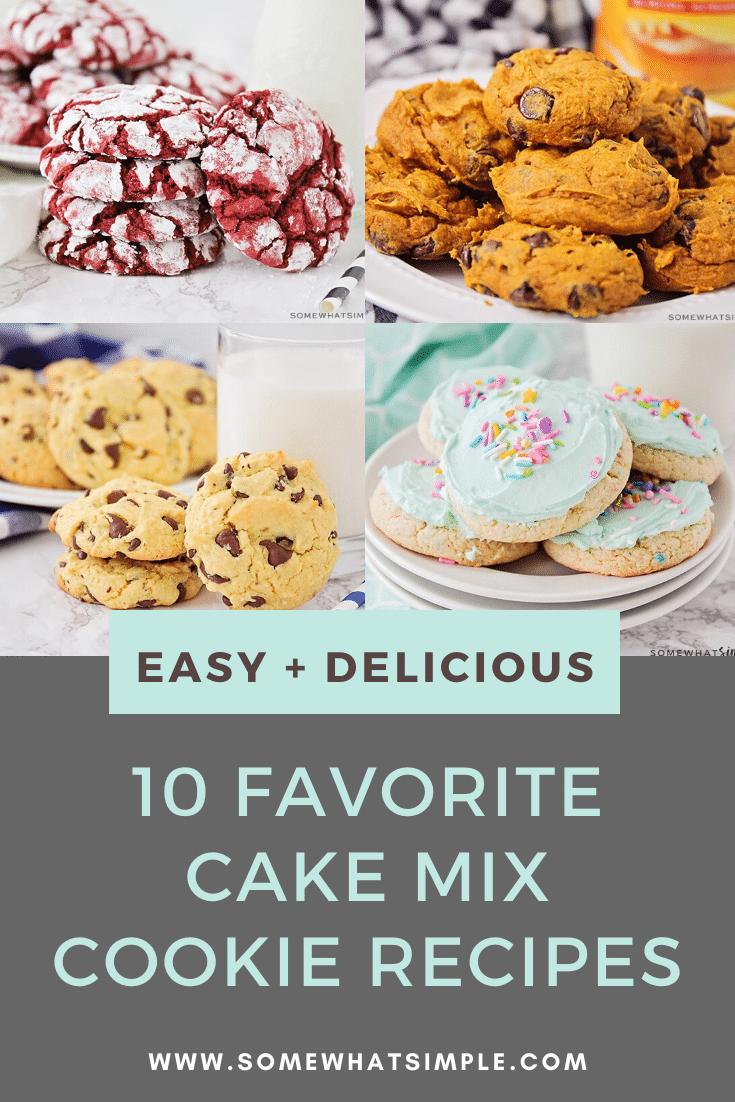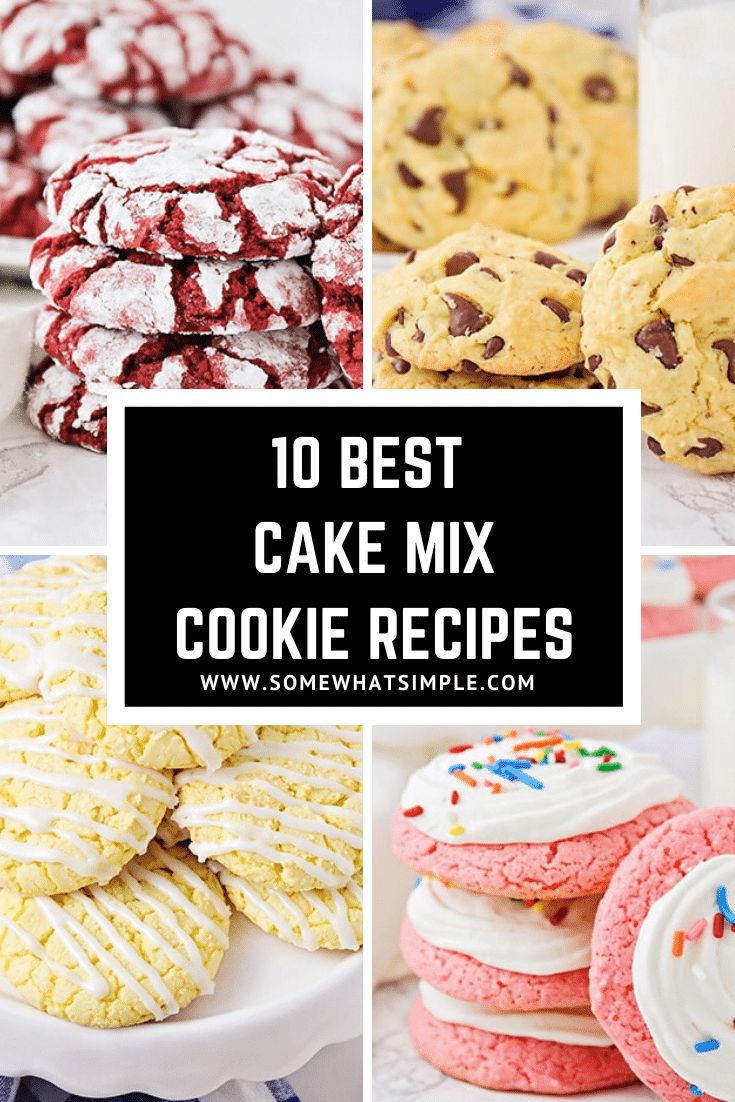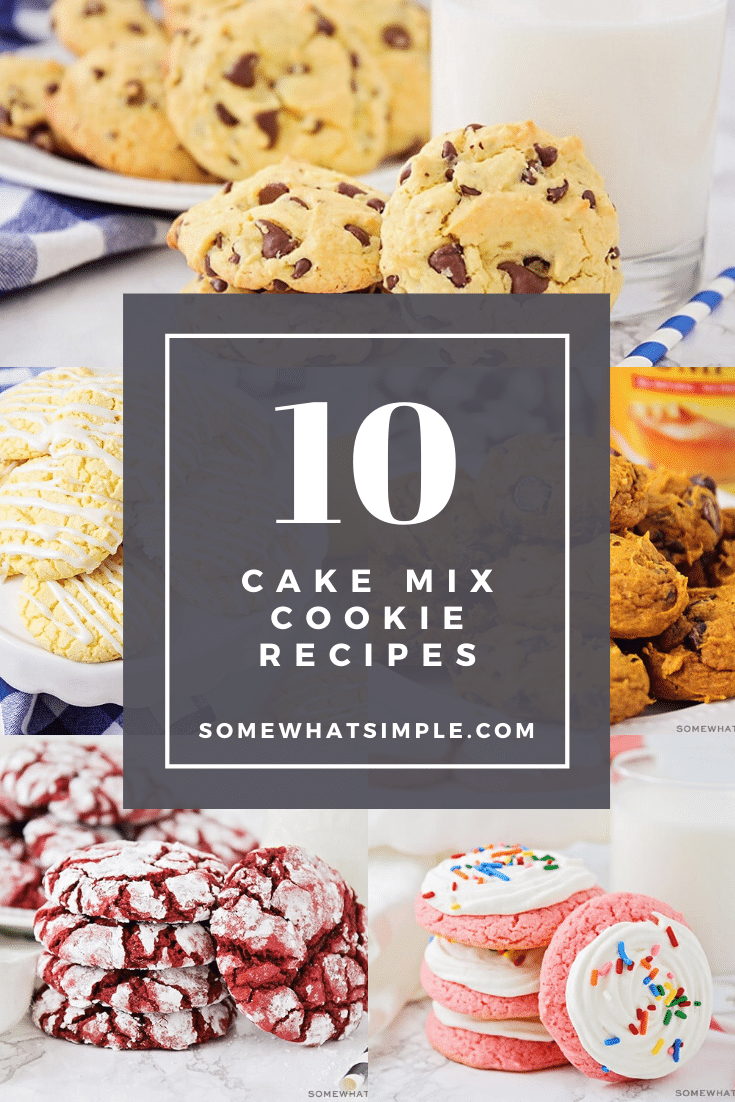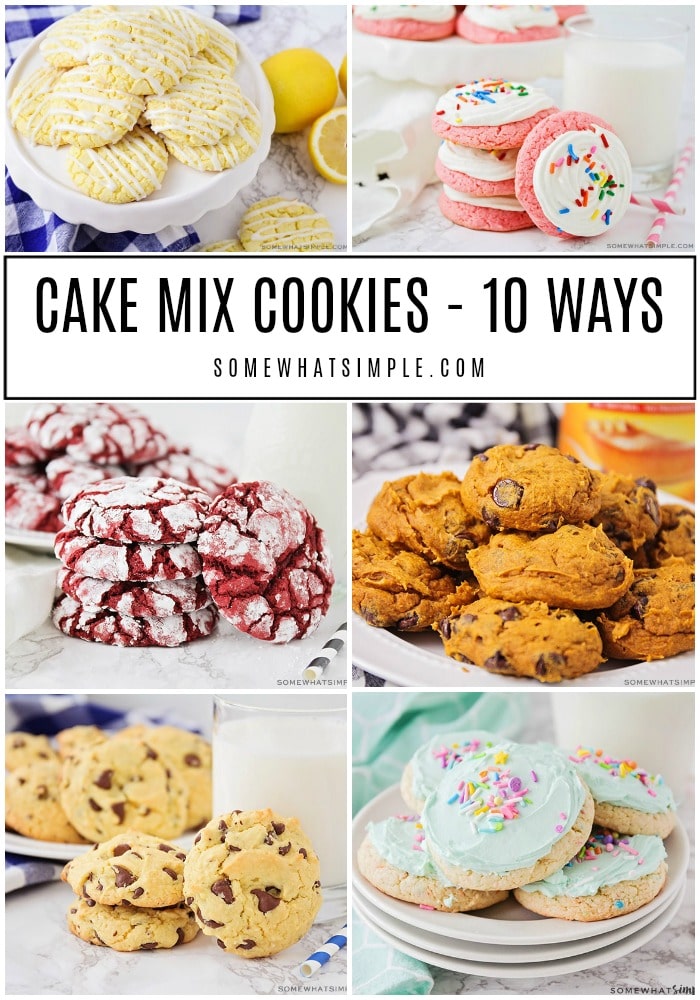 Cake mix cookies are soft, delicious and so easy to make! Made with only 3 ingredients, these cake cookies are easy to customize using your favorite cake flavor and special mix-in's. We'll show you 10 of our favorite recipes!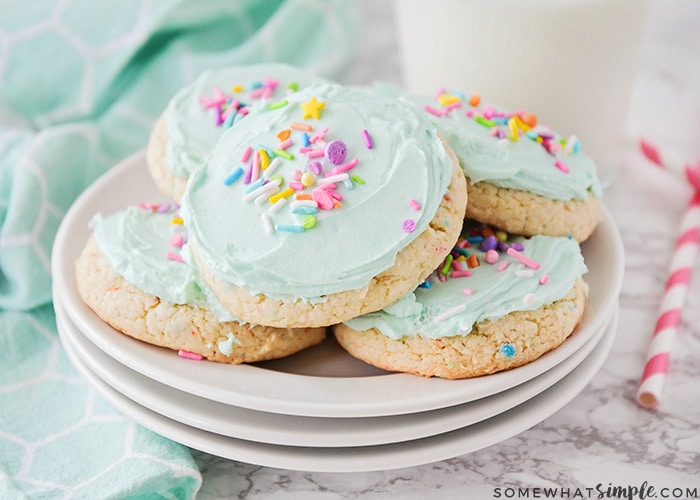 Cake Box Cookies
These cake mix cookies are the perfect treat when you need something easy and quick and when you're limited to ingredients you have on-hand. If you have a box of cake mix, oil and eggs, you can totally make these cookies! Over the years we've shared several cake mix cookie variations that have included Red Velvet Cake Cookies, Strawberry Cookies, and Pumpkin Chocolate Chip Cookies (my very favorite!)
All of those recipes use the same original cake mix cookie recipe, but by using different cake mixes and add-ins, they taste totally different! If you love simple desserts that taste amazing, these cake batter cookies are for you!
We've included a printable recipe card at the end of this post so you can have the original recipe. Feel free to change it up as you'd like!
Cake Mix Cookie Ingredients
This cake mix cookie recipe uses 3 simple ingredients that you can keep on hand and use at a moment's notice –
1 box cake mix
vegetable oil
eggs
(Have I convinced you to try these yet? They are probably the easiest cookie you will ever make!)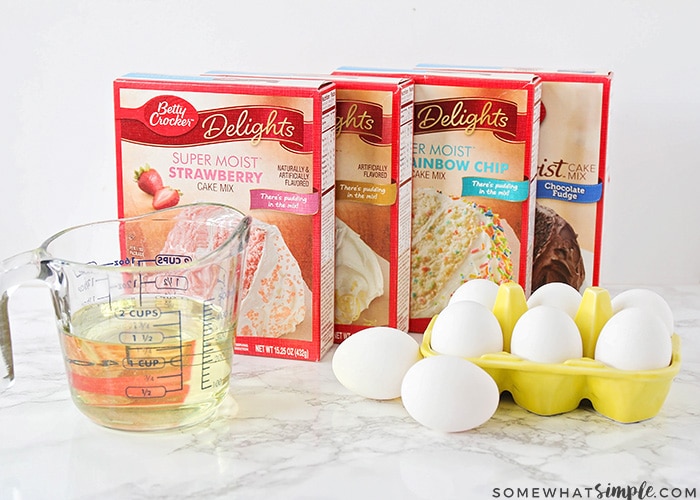 How To Make Cookies From A Box Of Cake Mix
Add a box of cake mix, oil and eggs to a medium sized bowl and mix until well combined. Depending on what flavor cookie you are making, add any mix-in's – chocolate chips, candies etc. The dough will be sticky, so you can refrigerate it for a few minutes so it is easier to work with, but this isn't necessary and I promise the cookies will taste great either way!
Once the dough is ready, scoop out balls of dough and place them evenly on the baking sheet. I like to line the baking sheet with either parchment paper or a baking mat so they don't stick to the pan. Bake according to the directions on the box, but it's usually for 7-9 minutes at 375 degrees.
10 Cake Mix Cookie Variations
Change up the flavor of any box cake mix by adding your favorite candies, dipping in chocolate, or sprinkling with sugar. Here are our ten of our favorite recipe variations you're guaranteed to love!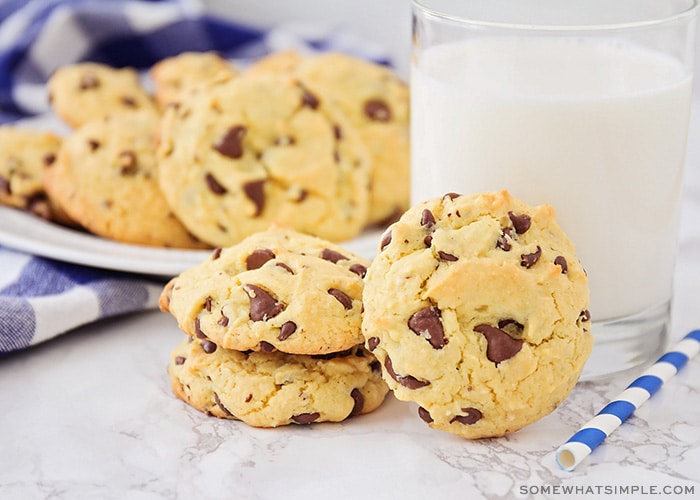 Chocolate Chip Cake Cookies
Everyone has their favorite chocolate chip cookie recipe, but these cake mix chocolate chip cookies are the easiest cookies ever! They're soft and tender, and loaded with chocolate chips!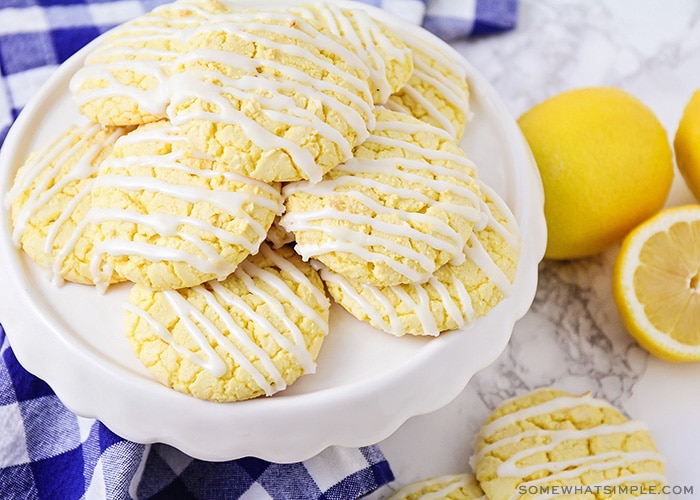 Lemon Cake Cookies
What could be better than a delicious lemon cookie on a warm, summer day? These easy lemon cake cookiees are amazing and super simple! Just pick up a box of lemon supreme cake mix and follow this recipe and you'll be set!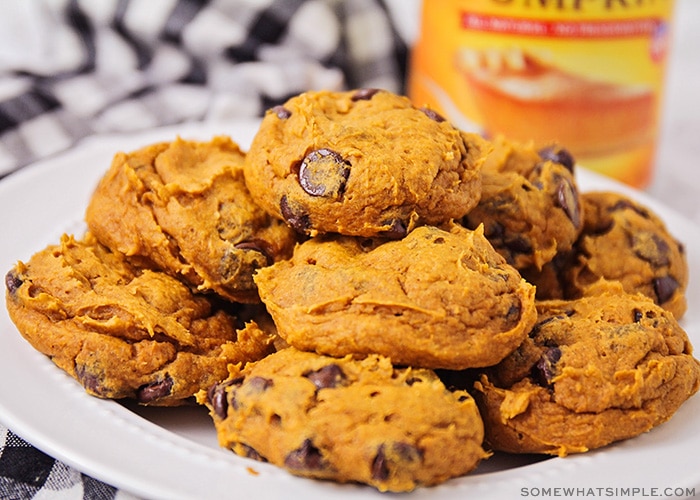 Chocolate Chip Pumpkin Cookies with a Cake Mix
If you like pumpkin recipes as much as we do, be sure to try our Chocolate Chip Pumpkin Cookies for an extra special treat! I have a lengthier version of this cookie, but I make this cake mix version way more often!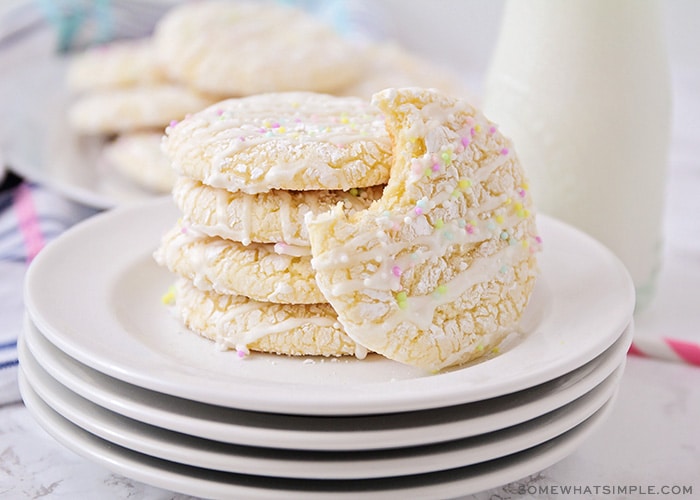 White Cake Cookies with Icing and Sprinkles
White Cake Mix Cookies are as pretty as they are delicious! They come together easily and are perfect for any special occasion!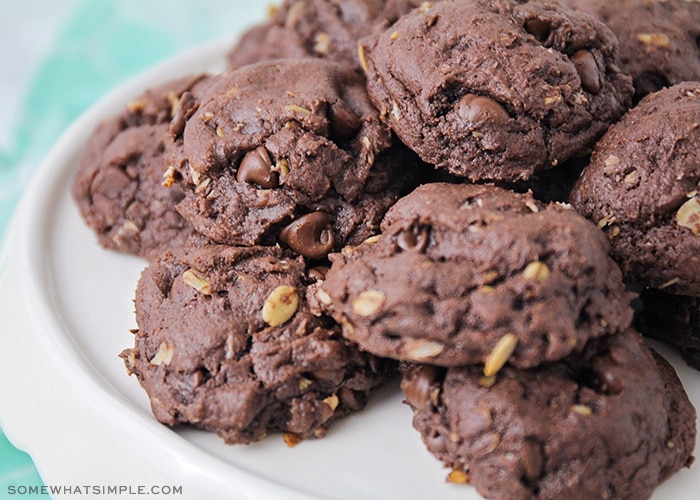 Devil's Food Cake Mix Cookies
Chocolate lovers, this one is for you! Devil's Food Cake Cookies only take a few minutes to make and even less time for them to disappear! Add in a scoop of oats for a little extra flavor in your cookies.

Red Velvet Cake Mix Cookies
There's something so special about red velvet cake… the rich red color, the hint of cocoa flavor, the overall decadence… it's almost magical! These Red Velvet Cake Mix Cookies taste just like luscious red velvet cake, but in cookie form. Serve these with a scoop of ice cream and you'll have a new best friend.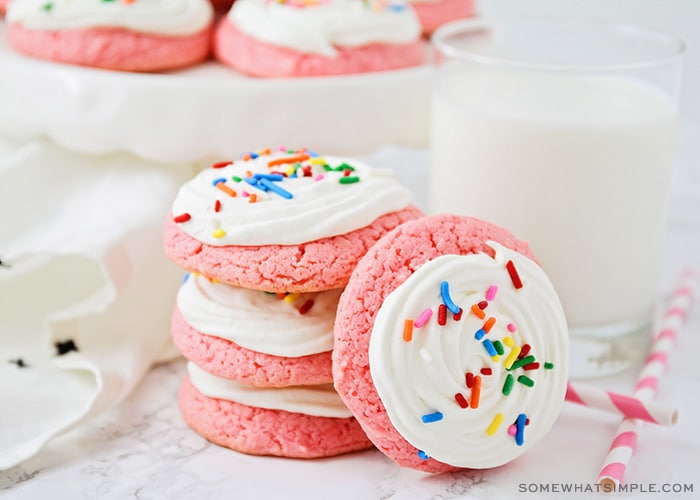 Strawberry Cake Mix Cookies
I love the unique strawberry flavor of these Strawberry Cake Cookies! Strawberry is always one of my favorite flavors, and these pretty pink cookies are the perfect way to show off that flavor. Top these with a delicious cream cheese frosting and you'll be in culinary heaven.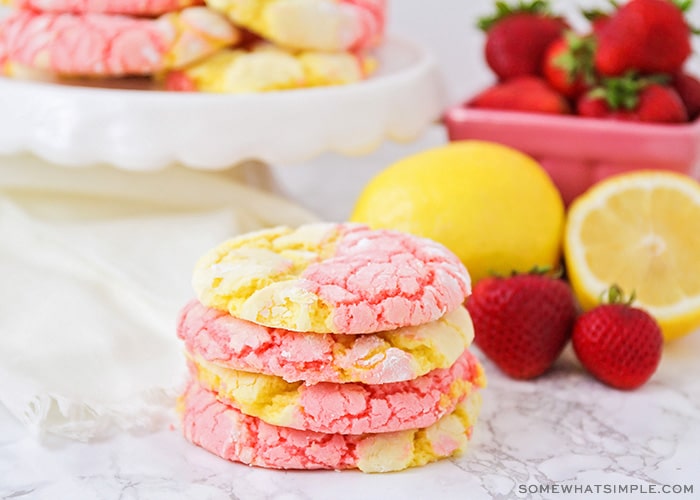 Strawberry Lemonade Cookies
Speaking of strawberry, these Strawberry Lemonade Cookies that are made using both a pink and yellow cake mix. These are the perfect combination of sweet and sour. I love enjoying a batch of these all summer long.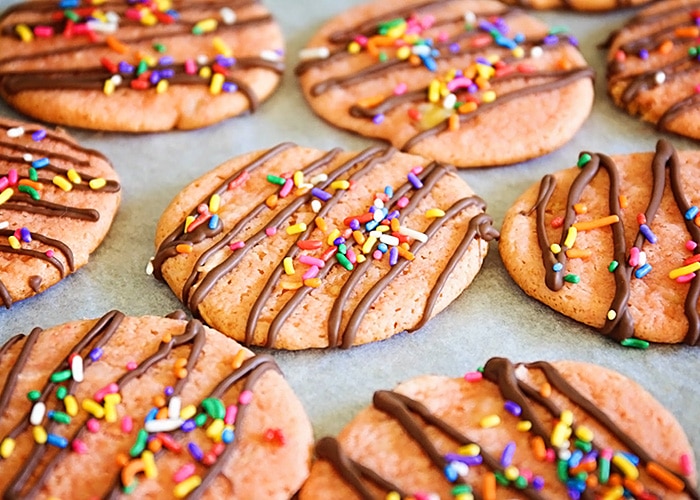 Banana Split Cookies
These Banana Split Cookies are a new family favorite! They taste just like a banana split but in the form of a cookie. Made from a banana mix and topped with a chocolate drizzle, you won't be able to put these down!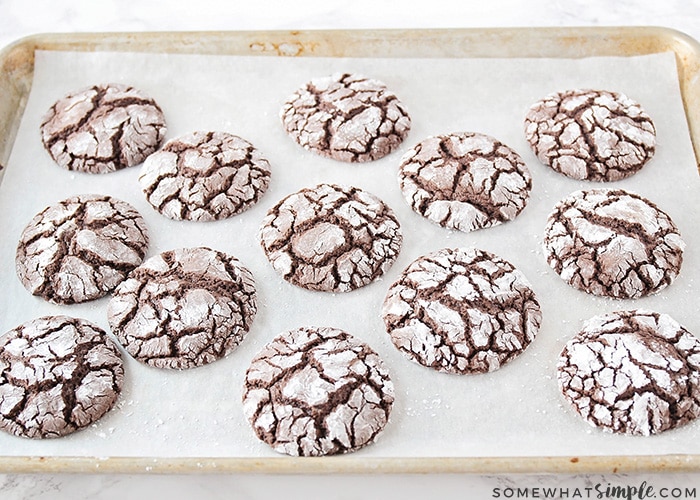 Chocolate Crinkle Cookies
I think this cake mix cookie is my favorite! Whip up your cookie dough using a chocolate cake mix, then roll each ball of dough into some powdered sugar before baking. Bake for 10 minutes and enjoy!
More Dessert Recipes Using Cake Mix
Here is a printable recipe card for you to use as your base for whatever cake mix cookie variation you decide to try. ENJOY! Leave us a comment below and let us know which flavor was your favorite!
Original Cake Mix Cookies Recipe
Use this recipe as a base for all your favorite Cake Mix Cookies! Just add candies, nuts, chocolate chips etc, or dip in chocolate or powdered sugar! 3 ingredients for cookies that are soft, chewy and super delicious!
Ingredients
1

18.25 oz

box of cake mix

,

any flavor

2

eggs

1/3

cup

vegetable oil

frosting, sprinkles, powdered sugar

,

optional
Instructions
Heat oven to 375 and line a cookie sheet with a non-stick baking mat.

Mix cookie ingredients together.

Add any additions to your dough - chocolate chipes, nuts, M&M's, etc.

If your dough is too sticky, refrigerate it for 15 minutes. This step is optional, as even sticky dough will turn out delicious!

Roll cookies into golf-ball sized balls and place them onto cookie sheet.

Cook for 7-9 minutes or until the edges start to brown.

Cool completely, then add frosting and sprinkles, or dust with powdered sugar. For chocolate cake mix cookies, roll your balls of dough through a pile of powdered sugar before baking.
Nutrition
Other Notes