This homemade kettle corn is way better than store-bought and ready in five minutes. Only four simple ingredients and perfect for snacking!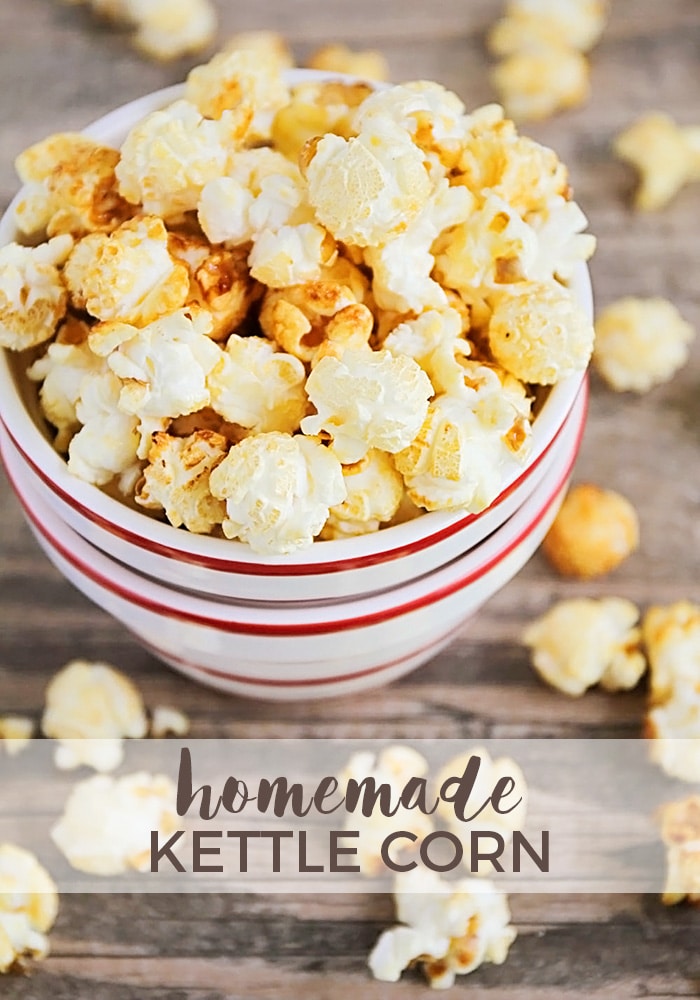 As a family, we are obsessed with popcorn! My girls ask every night if we can have a movie night, just so they can munch on popcorn. I'm not super thrilled about all the chemicals in most brands of microwave popcorn, so homemade popcorn is the way to go for our family. This homemade kettle corn is so addicting and delicious, and so easy to make too!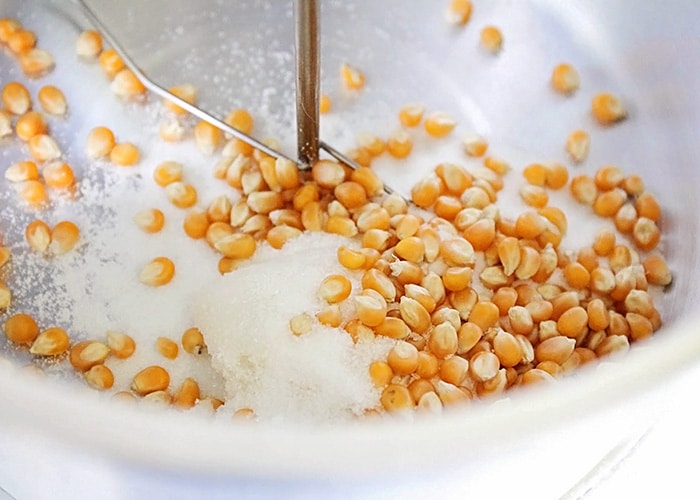 We recently bought a Whirley Pop stovetop popcorn maker, and it has totally changed our life! It makes popcorn so easy and quick to make. My nine year old can add all the ingredients herself and turn the crank while it cooks. I love that the popcorn cooks quickly and evenly, without any burned kernels. It's perfect for making kettle corn, since the constant agitation prevents the sugar from burning to the bottom of the pan.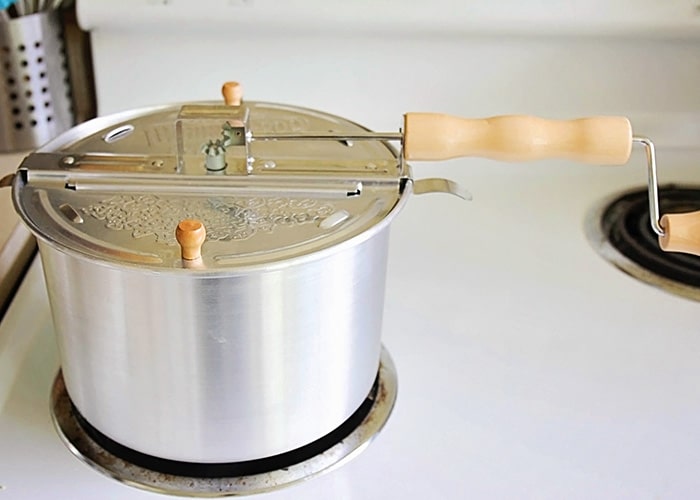 I have to say, I was a little skeptical when making this kettle corn for the first time. I wasn't sure if it could really measure up to the kettle corn we've bought at the farmer's market. It totally does, though! It's sweet and salty, and perfect for those late-night snack cravings.
This homemade kettle corn has definitely earned itself a permanent place in our snack rotation! It was a big hit with both the kids and grown ups at our house, and the whole batch was gone within an hour. I guess we'll just have to make more, and quick! 🙂
Homemade Kettle Corn
INGREDIENTS:
2 tablespoons coconut oil
1/2 cup popcorn kernels (I used mushroom popcorn)
1/3 cup sugar
1 teaspoon sea salt
DIRECTIONS:
Line a cookie sheet with parchment or foil and set aside.
Add all ingredients to a stovetop popcorn popper.
Heat over medium heat, turning the crank constantly. When the kernels start to pop, continue to crank constantly.
Remove from heat when the popping has slowed to every 2-3 seconds, and the lid is starting to lift.
Immediately pour the popcorn onto the prepared cooking sheet and spread to cool.