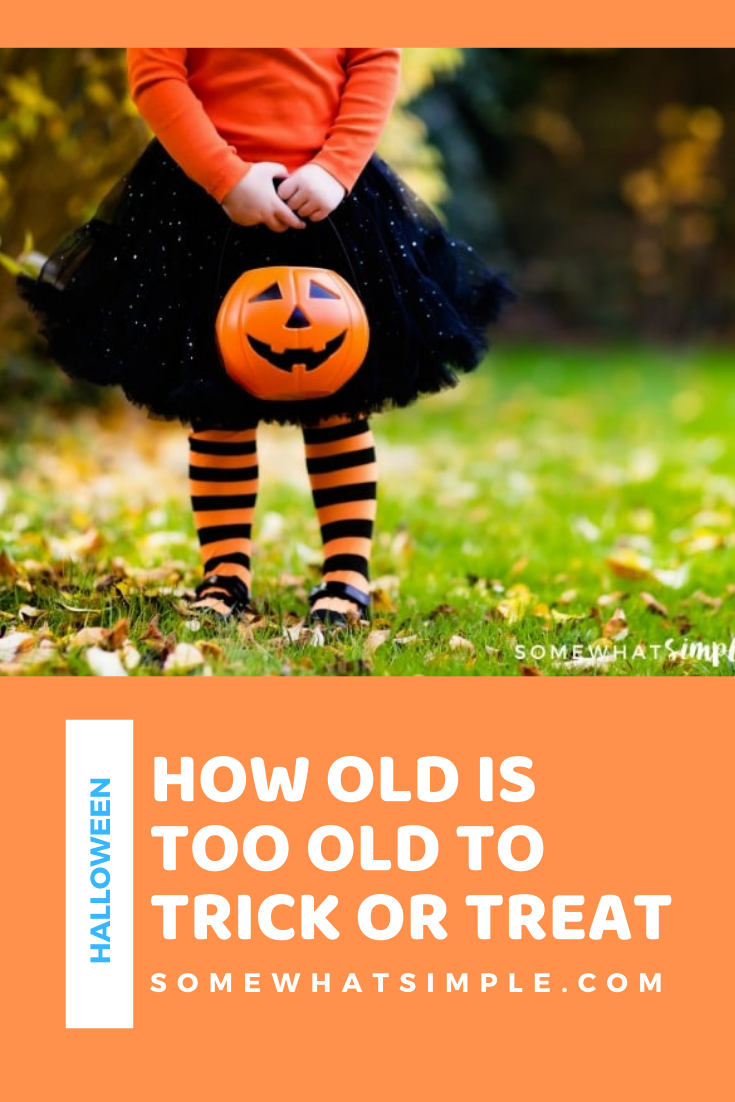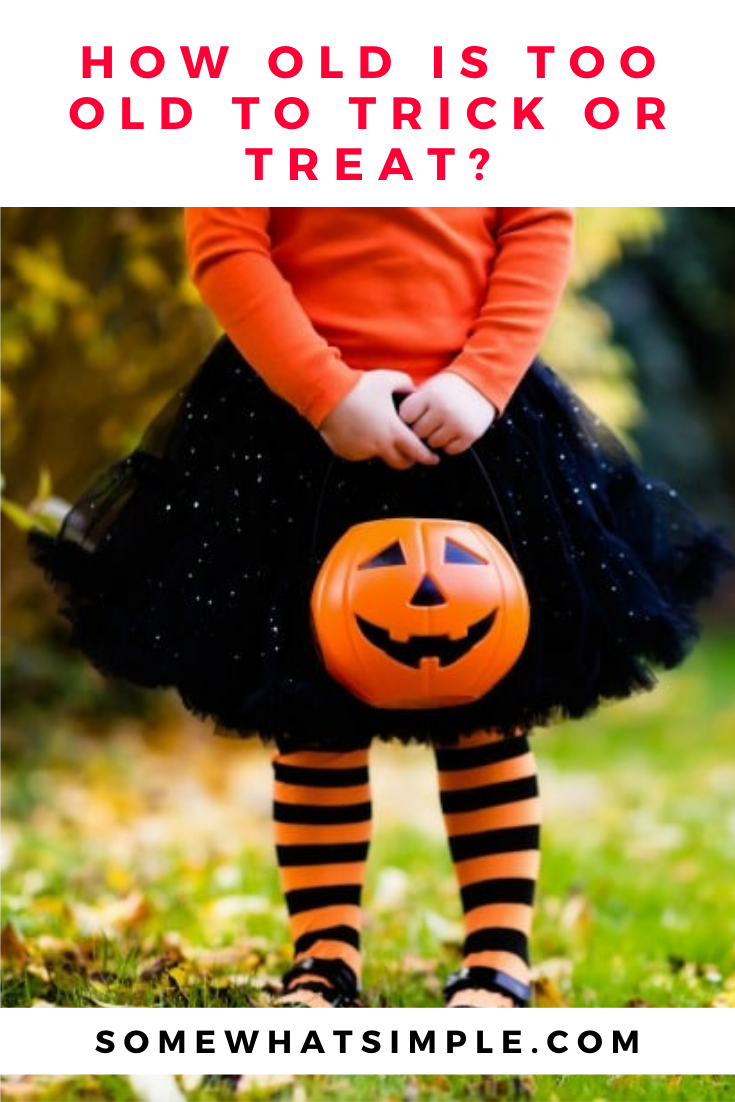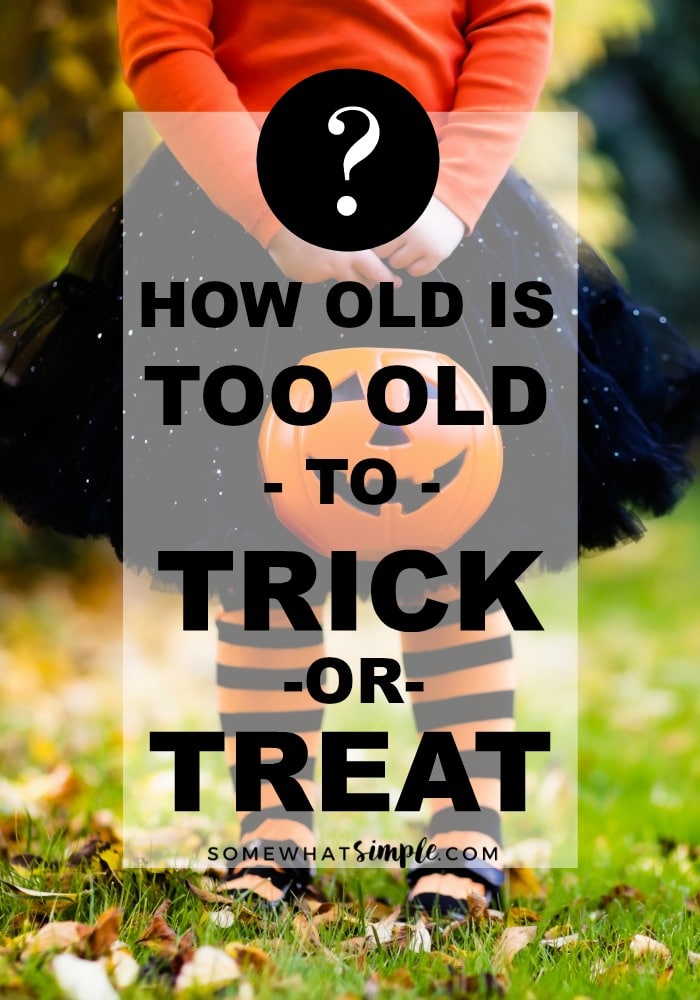 Are you not sure how old is too old to trick or treat? Whether you think there should be an age limit or not, here are a few of my thoughts and how my family answers this question.
Halloween is a fun time of year for all ages. Some of our favorite Halloween ideas are these adorable Juice Box Covers, Dead Man's Body Game and this hilarious Throwing Up Pumpkin Guacamole.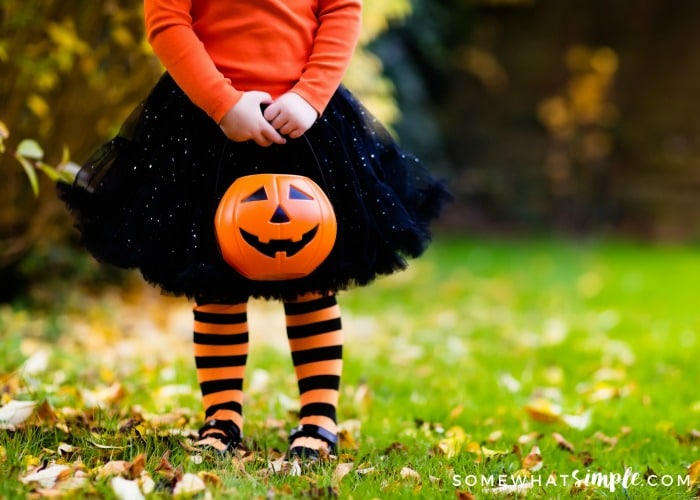 Trick Or Treating Age Limit
Growing up, my mom implemented the rule that once you were 12 years old you were done trick-or-treating. I remember when I turned 12 I was not too happy with this at all. A lot of my friends still went trick-or-treating for a couple more years and I just didn't think it was fair.
Now that I have kids of my own, I kind of agree with my mom!
Even now, as a mom of a teenager, I get a little annoyed at the teenage trick-or-treaters that run around our neighborhood. Not all of them, but a lot of them.
There are definite exceptions to this, but I have found a big majority of trick or treating teens are usually not being supervised (which is fine) but they are also being disrespectful, trampling through yards, breaking decorations, stealing bowls of candy left out on porches, walking in the street with total disregard to cars that might be coming, and they are being silly showing off in front of their friends.
They also come around with their pillowcases full of candy, sometimes after the lights are off and we've gone to bed. Some of them don't even wear costumes and others wear gross costumes or ones that are really revealing! (Why do all the witches costumes consist of mini skirts and tube tops now a days?)
But I digress…
Trick-or-Treating Should Be For Younger Kids
The exception to this would be those who are respectful, dressed in fun costumes, and those who still find fun in the actual act of collecting candy. If your 17 year old wants to go with a group of respectful friends, or if they want to take their younger siblings out while you pass out candy at home – go for it!!!!
We all mature at different times in our lives. For instance, I have a 10 year old who has decided he no longer wants to go trick-or-treating with his friends. He would much rather stay home and hand out candy or have a friend over while his younger siblings are out going door-to-door.
I also have a 13 year old daughter who is super social and loves being with her friends. Each year a group of them get together to go trick-or-treating. Most of the night she will take her younger brother and sister with her around the neighborhood. This experience has shown me that it's an individual decision at that there shouldn't be an hard age limit on when kids should stop trick-or-treating. Once they start asking themselves, "am I too old to trick-or-treat", the end is probably near.
Alternatives To Trick-Or-Treating
Plan a Halloween party
Have them invite friends over to watch a scary movie
If you're feeling really ambitious, have them put on a haunted house for the older kids in the neighborhood
Growing up, we lived close to Disneyland, so we went to the Disney Not So Scary Halloween Party. While this only applies to those in California and Florida, there are other fun Halloween activities close to everyone. Pick something your older kids will enjoy and do that!
There is so much you can do to make Halloween fun!
ALSO….
Can we talk about parents who trick-or-treat for their babies?!
(Your kid is 2 weeks old, this candy is for you and that is pathetic.)
I love Halloween and I have enjoyed dressing my kids up since Ethan's first Halloween when he was 9 months old. Costumes are fun, I LOVE seeing babies in costumes, but sweet-toothed parents ruin it for me.
More Fun Halloween Ideas
How Old Do You Think Is Too Old to Trick or Treat?
Leave me a comment, but please keep it friendly! I know this may strike up some difference in opinions, and that is ok, but let's play nicely! 🙂