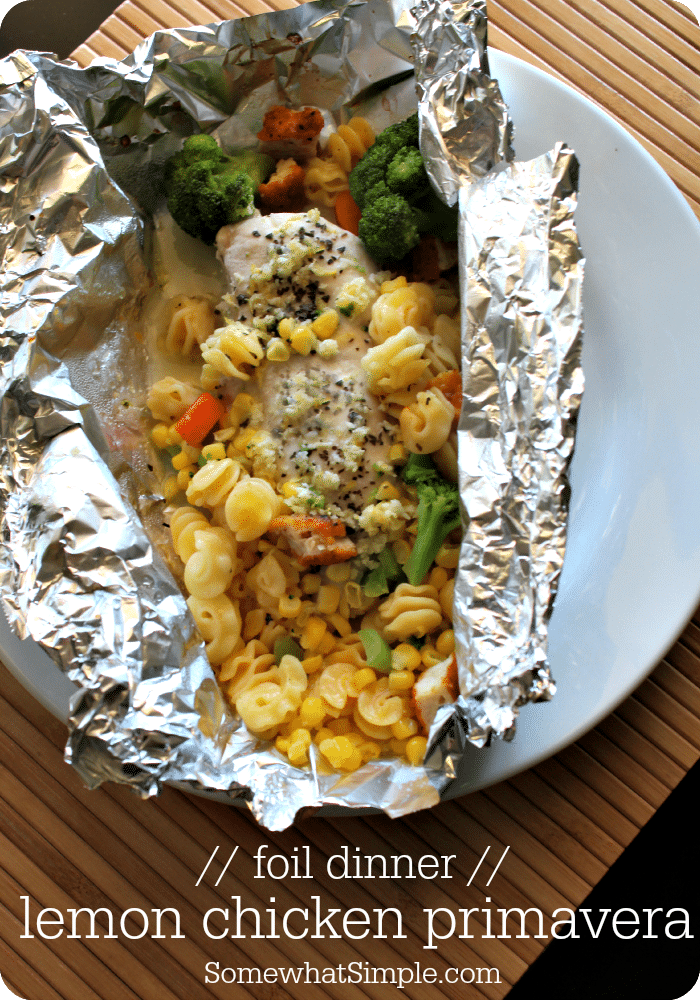 This recipe for Lemon Chicken Primavera was one of the first dinners I made for my husband when we were first married that actually turned out! (If a novice newlywed can make it, everyone can make it!) The original recipe comes from Reynolds, but I've made just a few adjustments. It is not only our family's favorite foil dinner, it is actually one of our most-favorite dinners period.
Never made a foil dinner recipe before??? NO PROBLEM!
I've made a 2-minute video showing you exactly how to prepare the perfect foil packet, including tips for this recipe delicious recipe.
These foil dinners are made in individual portion sizes, so multiply the ingredients below by the number of people you are cooking for.
Ingredients
1 sheet (12×18-inches) foil
1 boneless, skinless chicken breast
1/3 package of frozen stir-fry vegetables with pasta, such as Chicken Voila!
1 tablespoons butter
1 tablespoon water
A pinch of grated peel and juice from 1 lemon, divided
1/2 teaspoon garlic salt
1/2 teaspoon dried basil
Directions
Preheat oven to 450°F.
Center 1 chicken breast on sheet of foil. Arrange stir-fry vegetable mixture around chicken; top with butter. Sprinkle with water, lemon peel, garlic salt and basil.
Bring up foil sides. Double fold top and ends to seal packet, leaving room for heat circulation inside.
Bake 22 to 24 minutes on a cookie sheet.
Squeeze lemon juice over chicken, serve and ENJOY!
You can also grill this recipe using a covered grill at medium/high heat for 10 to 12 minutes.