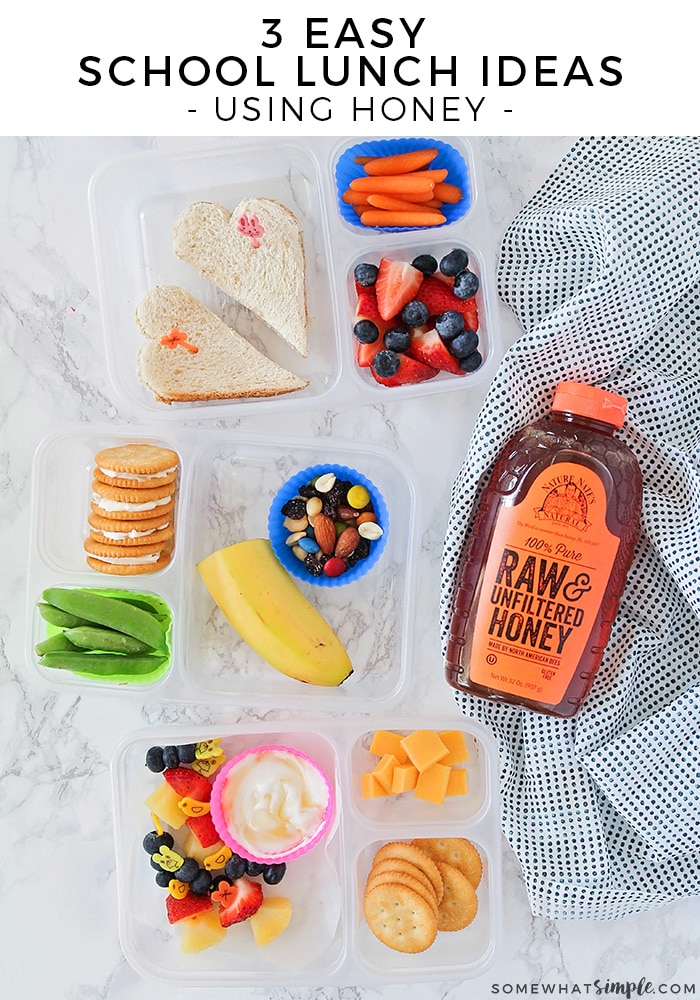 This is a sponsored post written by me on behalf of Nature Nate's 100% Pure, Raw & Unfiltered Honey. All opinions are 100% mine.
These easy school lunch ideas using honey are sure to please even the pickiest of eaters, and make packing school lunches a breeze!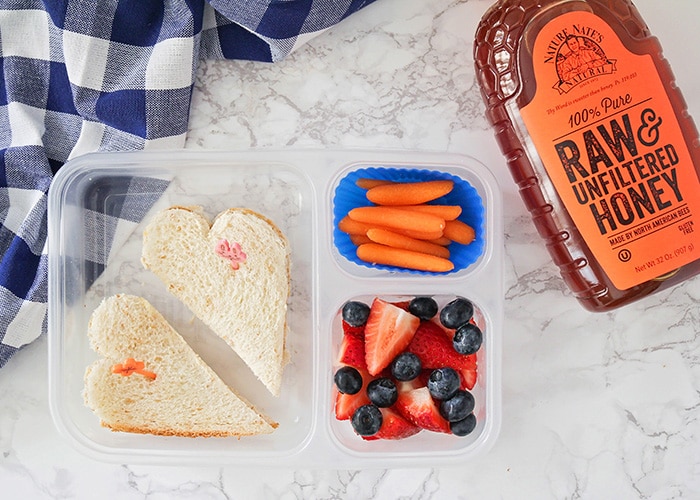 Now that it's back to school season, it's time to start thinking about packing lunches for those little ones! Since mornings at my house are usually pretty busy and chaotic, I need school lunch ideas that are super easy and kid-friendly too. Adding honey to my kids' lunches is a choice that I can feel good about, while also putting smiles on their faces!
Why use Honey?
Honey is a wholesome and great tasting alternative to processed sugar. Raw honey has a lower glycemic index than processed sugar, which means that you can avoid the sugar high, and resulting crash, that comes with processed sugar. My family loves Nature Nate's Honey. It's 100% pure, raw, unfiltered honey – meaning no fillers, corn syrup, or additives. Be sure you're choosing a honey brand you trust in order to avoid corn syrups disguised as honey. Nature Nate's honey is just raw honey, the way nature intended.
Find Nature Nate's products HERE.
In addition to being a convenient and delicious alternative to processed sugar, honey is also very versatile and easy to use in cooking and baking. It's great for pairing with both sweet and savory ingredients, and adds great flavor to your favorite recipes. It's perfect for adding to your school lunches!
School Lunch Ideas
Now that I've told you why you should add honey to your school lunches, here are some of my favorite easy lunches to make with honey:
Lunch idea #1 – Peanut Butter and Honey Sandwich
Swapping in honey in this classic sandwich is a no-brainer and a favorite with kids everywhere. To make things extra fun, cut your sandwich with a cute sandwich cutter or cookie cutter. Add some berries and baby carrots on the side, and you've got a tasty (and easy) lunch!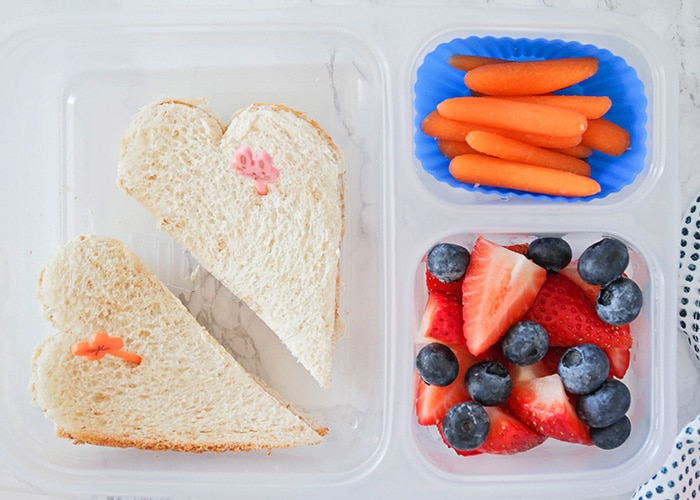 Lunch idea #2 – Cream cheese and honey cracker sandwiches
My kids love these tiny sandwiches, especially because I let them assemble them on their own. Just take two crackers of your choice, then spread one side with cream cheese and drizzle with honey. Add the second cracker on top, and you're all set! I like to serve these with snap peas or baby carrots, fruit, and a little cup of trail mix.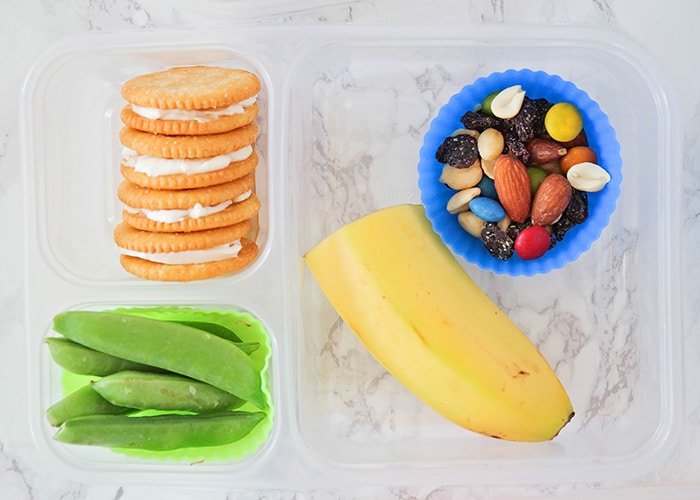 Lunch idea #3 – Fruit skewers with honey yogurt
For whatever reason, my kids will eat pretty much anything if I serve it to them on a stick. They love any kind of kebab or skewer! These fruit skewers are so fun, and a great way to get kids to eat fruit. I love to serve them with a simple dipping sauce of plain yogurt drizzled with honey. I add crackers or pretzels on the side, along with a few chunks of cheese. My kids love these!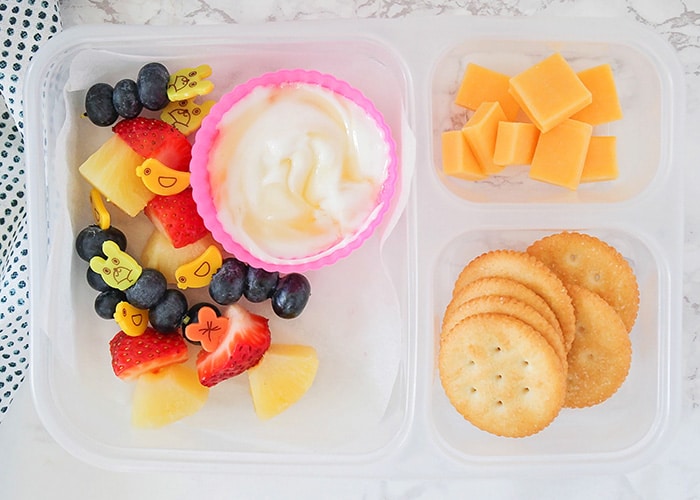 I hope you'll try these fun and easy school lunch ideas as you are packing lunches this year!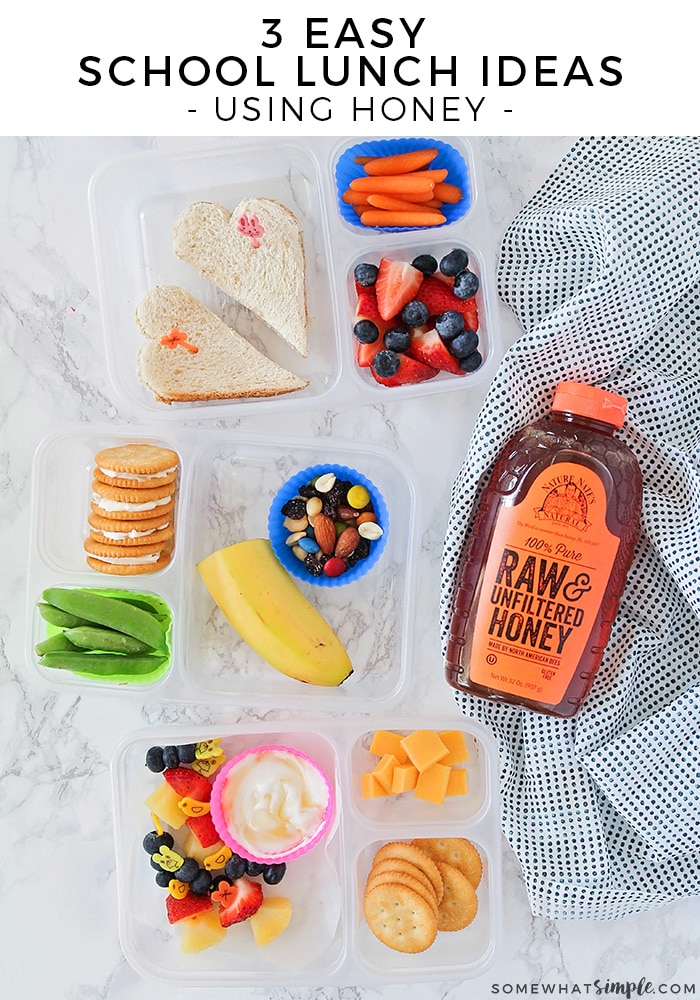 To make those school lunches even more fun, be sure to check out some of our favorite lunchbox printables: