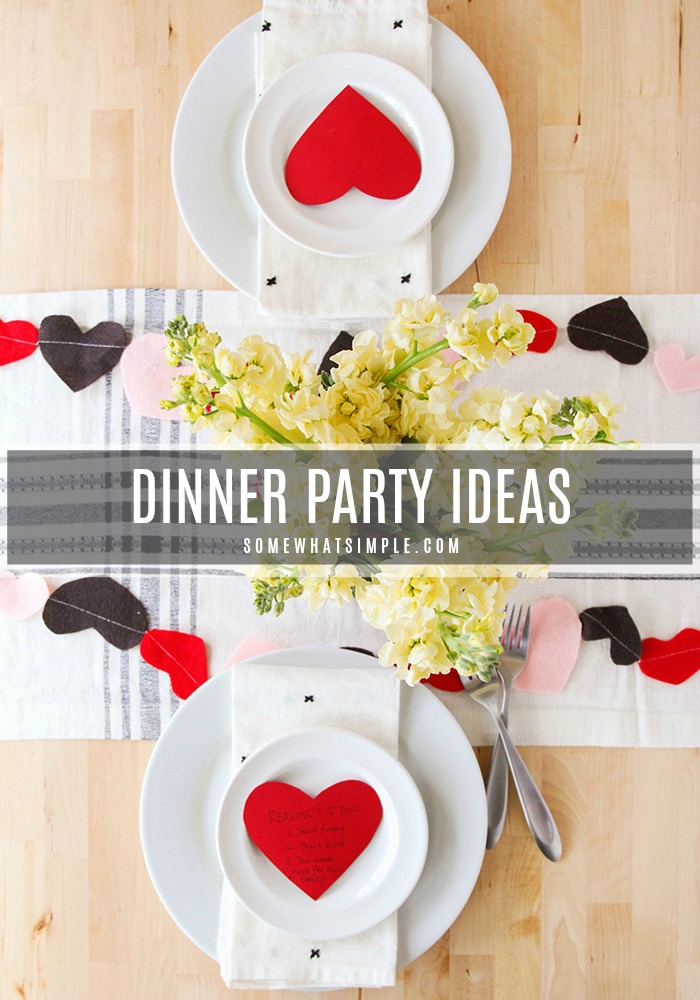 Throwing a couples dinner party is a great way to spend an evening with friends! We're sharing our favorite dinner party idea to make your night a smashing success!
For a few more fun date night ideas, be sure to check out our Pizza Date Night, this Indoor Date Idea, and our Valentine's Day Picnic.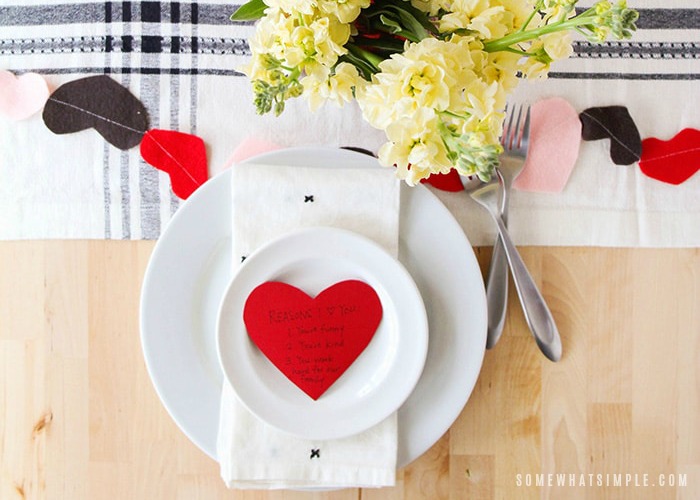 Easy Dinner Party Ideas
Each year my husband and I host a couple's Valentine's party. We've done several themes, including a High School Reunion Party, a casual Adult Game Night, and a fun White Elephant Gift Exchange. But this Valentine Dinner Party still ranks as one of my favorite parties of all time. Good, clean, fun with friends, and yummy food. What's not to love?
Dinner Party Invitations
The invitation asked guests to bring $10 and 2 boneless, skinless chicken breasts. Kind of random, but there was a purpose!
The Dinner Party
Guest arrived at our home and we gathered them together to announce what the night would entail. All the men were given their directions outside (out of listening distance for the ladies) and the women stayed inside for their directions.
The men were told to take their $10 and head to Wal Mart. (We wanted a one-stop place with lots of variety & cheap prices.) They were told to buy the following 3 items:
Something for them and their spouse to drink for dinner that night.
Something in the store that reminded them of their spouse
Something in the store they wanted their wives to wear that night!!!
They were told they could spend as much money as they wanted to, but the reason for the $10 was to make sure everyone had at least some money for the activity and in all actuality, not many people broke the $10 budget.
While the men were shopping, the ladies were at my home cooking a fantastic dinner!!! If this sounds like it's not fair to have the girls in the kitchen slaving over a meal while the boys are out playing around, then you have obviously not gotten together with some great girlfriends and cooked before! Each person had a job so things ran smooth and we chatted and laughed and had a great time, just the girls!!!
Easy Dinner Party Recipes
The chicken breasts they brought were used for the main dish, and the rest of the ingredients I bought ahead of time. Here is what we made –
More Entrees and Delicious Desserts –
Build Your Own Pasta – You will need a variety of the following:

Noodles – Spaghetti, Ziti, Macaroni, etc.
Sauces – Marinara, Tomato Sauce, Homemade Alfredo, Cajun Cream Sauce, etc.
Proteins – Chicken, Beef, Sausage, Prosciutto, Bacon, etc.
Veggies – Peas, Peppers, Onions, Broccoli, Corn, Kale, Green Beans, Carrots, etc.
Toppings – Red Pepper, Parmesan Cheese, Parsley, Basil, Rosemary, Garlic, Butter, Sour Cream, Goat Cheese,

Build Your Own Pizza – (Click for details.)
Num Num Cookies (These are my FAVORITE!)
Lemon Cheesecake Bars (I love the flavor of these!)
Raspberry Puff Pastry
(… save your leftovers for me, pretty please!)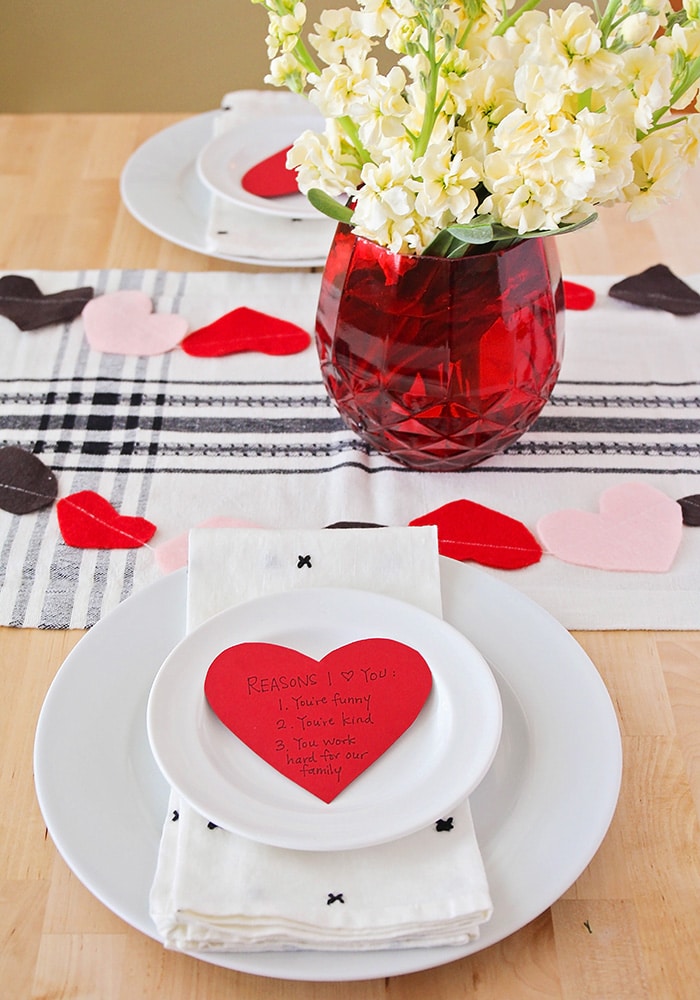 Dinner Party SetUp
We did all the cooking at my house, then met the boys at a banquet room at a golf course (lucky for us, my husband's company owns it, so we get to reserve it for free!) We just wanted everyone to have a place to sit, and my house was not big enough to accommodate everyone at a table. (We had about 25 couples).
Dinner Party Decorations
We kept the table settings simple –
We used a fabric runner with white place settings and cute napkins.
The heart garland is just felt hearts sewn with a straight stitch that you can use year after year.
Some fresh flowers in festive vases are an easy, but gorgeous centerpiece.
Don't forget the candles to set a romantic mood!
Paper hearts with love notes from the wives served as name cards and sweet party favors for the night.
Dinner Party Games
While eating, we had each guy (one at a time) get up and show-and-tell the items in his bag that he bought at the store. We were laughing so hard at some of the items the men bought- it was the perfect entertainment for a perfect meal! This was the only thing we ended up doing because it took the entire night to get through 25 different guys, but if you are planning to have a smaller group, you might want to consider planning a few Couple's Party Games as a backup.
After dinner, dessert was served and we mingled a bit and that was that! Party over, but certainly not forgotten!
We hope you have a blast at your next dinner party!