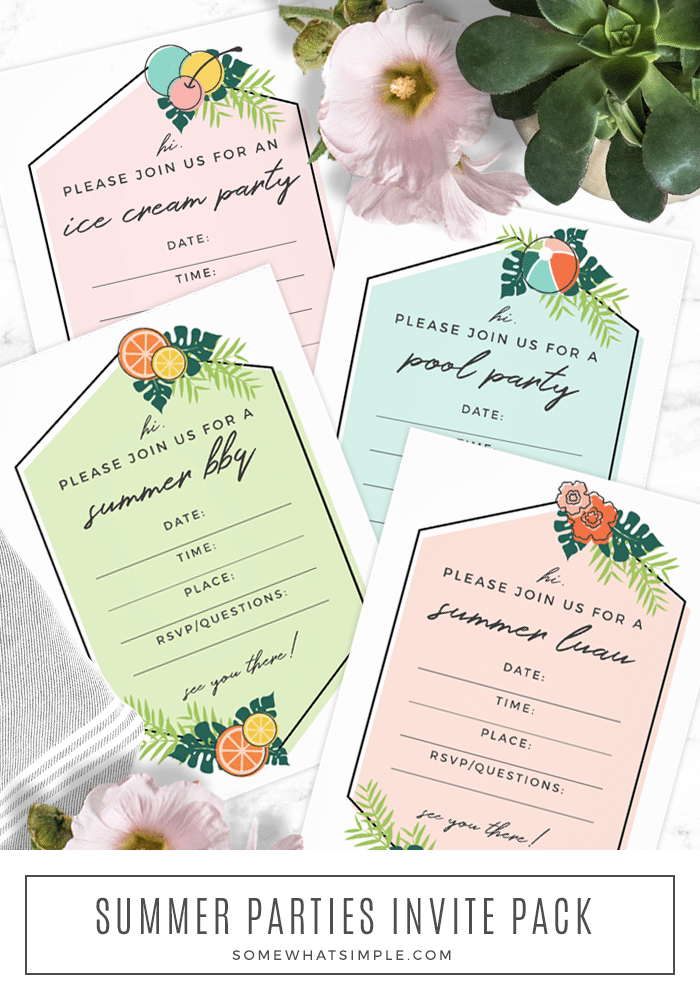 Download our FREE Summer Party Invitations and get ready for an amazing summer full of ice cream parties, BBQs, luaus, and gatherings at the pool!
Looking for more summer printables? Here are a few of our favorites – "Mom, I'm Bored" Jar, Printable Summer Schedule, and Summer Journal Kit.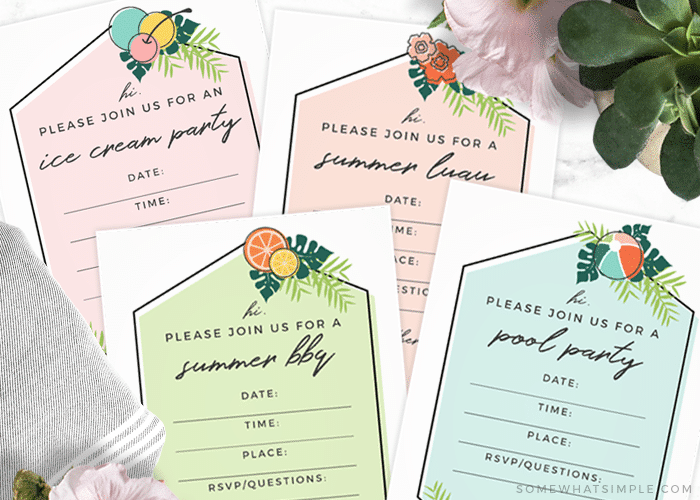 Gather your family + friends and get ready for some delicious food and fun activities! Today we're sharing 4 free summer-themed party invites for every sunny occasion and event. (If you're in the mood to throw a summer party, you've come to the right place!)
Summer parties are kind of my favorite. I mean, I love parties year round, but you just can't beat the laid-back nature of parties in the summer time, right? Other times of the year, especially the holidays, things are already so crazy, it seems, so chilling out with friends at a BBQ or swim party is kind of my jam!
Summer Party Ideas
The 4 printable invitations we are sharing today are the perfect way to invite friends over for a BBQ, an Ice Cream Party, a Pool Party, or a Summer Luau. And if you're looking for more summer party inspiration for any of those themes, here are some of our favorites –
Summer BBQ –
And a few favorite recipes –
Ice Cream Party –
Pool Party –
Summer Luau –
Free Summer Party Invitations
Let us know if you use these party invitations by leaving us a comment below, or by tagging us on social media!
MATERIALS –
invite printables (download below)
paper + colored printer
pen or marker
envelopes, optional
DIRECTIONS –
Download and print the summer party invitations of your choice.
Fill out the information about your gathering.
Send out, or hand out your invites!
… who doesn't love a good summer party?
Download Your FREE Invitations Below
These invites are 4.5″ x 7.5″, so you can fit 2 on a page. 🙂
We hope your next summer gathering is amazing! Cheers!