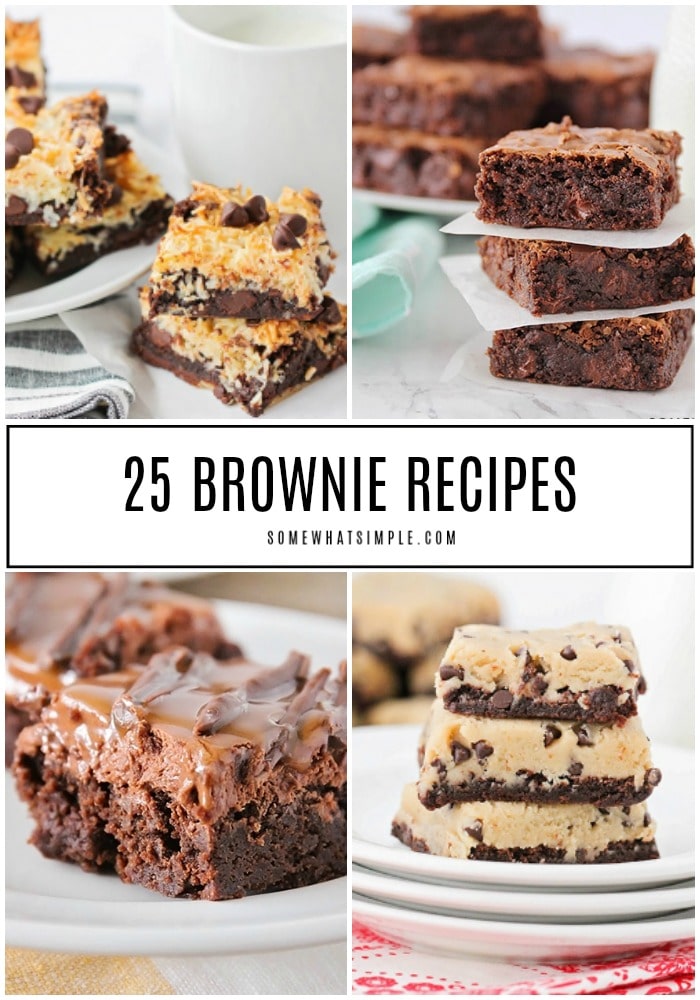 Homemade brownies are one of my favorite dessert recipes of all time! They can be made with just delicious chocolate fudge or you can include a countless number of add-ins but either way they're amazing! Now you can satisfy your chocolate cravings with 25 of the best brownie recipes on the internet! (You'll never buy a box brownie mix again!)
Hi my name is Stephanie, and I am in love with chocolate. I'm not totally partial to which form I get my chocolate fix – chocolate tarts, chocolate lava cake, chocolate peanut butter cupcakes… they're all amazing! BUT, I must admit, I don't think I've ever turned down a warm brownie with ice cream! It is definitely my FAVORITE indulgent treat!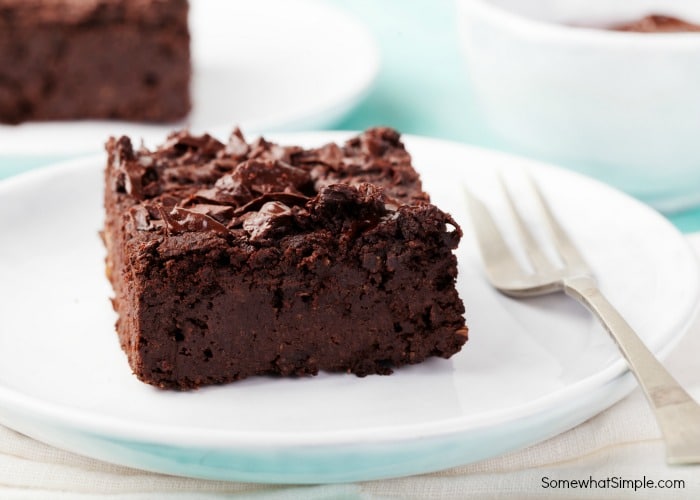 Homemade Brownie Recipes
Like your favorite homemade cookies, brownies are one of those baked goods where it's totally acceptable (and even encouraged) to have more than just 1 favorite recipe. There are so many variations, and depending on your mood and cravings you can have a completely different flavor whenever you feel like baking.
Fudgy brownies made with melted chocolate, cake-like brownies made with cocoa, brownies with nuts, vegan brownies, protein brownies and MORE! Here is a list of 25 brownie recipes, all that we have personally tried and many that we have made over and over again! Ready to start baking?!?!
Best Brownie Recipes
If you have brownie recipe, leave us all a link in the comments. I'd love to give them a try!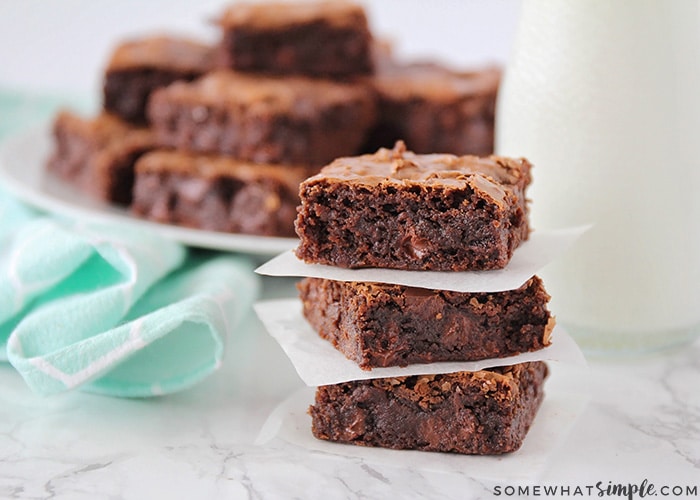 The BEST Homemade Brownie Recipe – Not only decadent and delicious, they are also super simple to make!
This Creme De Menthe Brownie recipe just might be your new favorite treat!
Loaded with salted pretzels, smoky bacon, salted nuts, and whiskey caramel, this Ultimate Crave Brownie is not for the weak.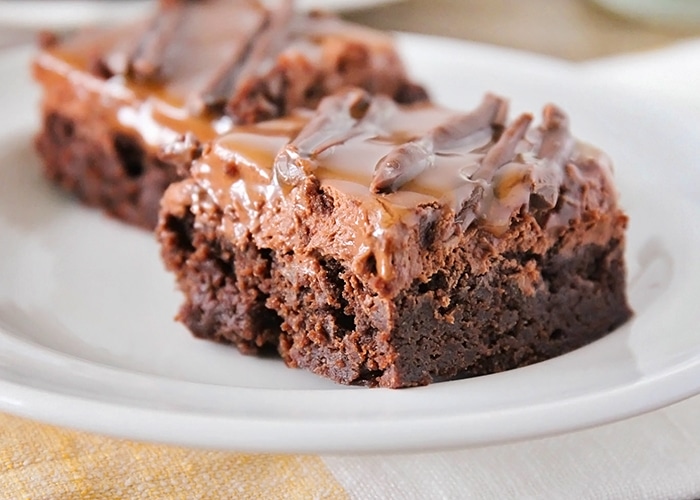 Milk Way Brownies are an indulgent treat for any chocolate lover!
Red Velvet Brownies are super easy and fast to make. Just stir three (that's right, only three!) ingredients together and you're ready to bake!
A Peanut Butter Cup Brownie is by far my best dessert using candy as an ingredient. If you like peanut butter cups then you're in for a treat!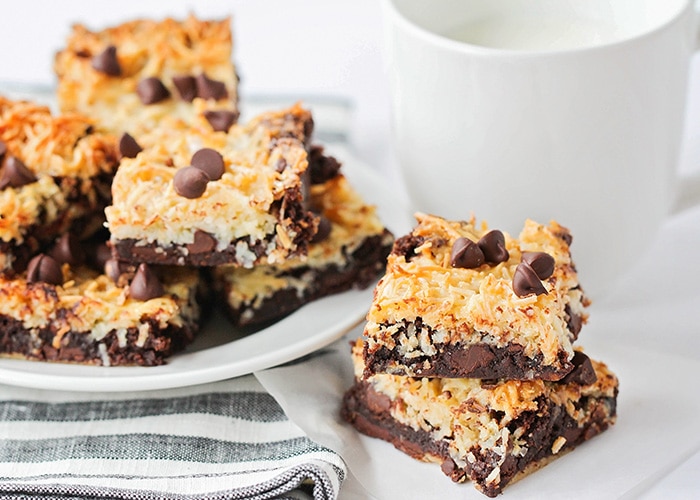 Toasted Coconut Dark Chocolate Brownies are the perfect contrast of flavors and textures!
A Chocolate Protein Brownie is a delicious and easy "brownie" filled with protein. A tasty (and healthy) chocolate treat that you don't have to feel guilty about eating!
Healthy and brownies rarely belong in the same sentence, but a few years back I perfected a recipe for a Healthier Brownie that's totally going to change that!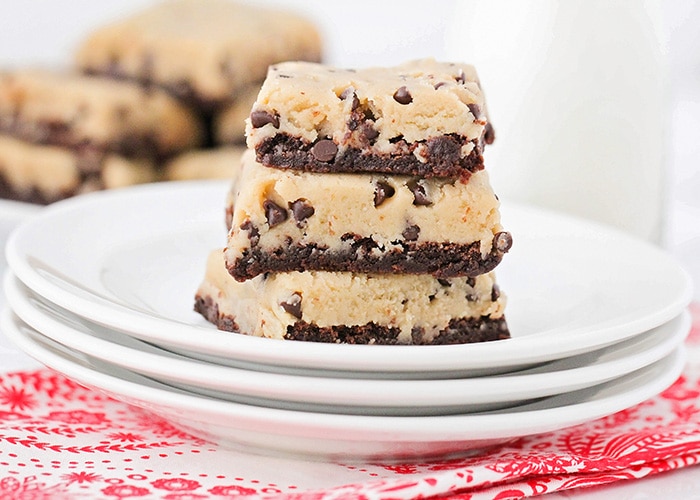 A fudgy chocolate brownie layer topped with eggless cookie dough, these Cookie Dough Brownies are an unforgettable dessert!
This Gluten-Free Double Chocolate Nutella Brownie is simple and delicious. And you'd never guess there's no gluten in this recipe!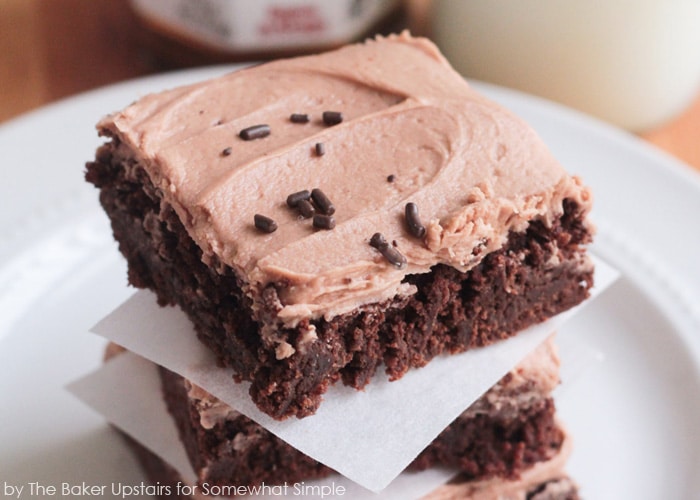 The only way to make brownies better is to add some awesome chocolate hazelnut brownie frosting! This frosting is pretty much the best thing ever, and it's all I can do to stop myself from just eating it with a spoon. Yum!
These Buried Treasure Brownie Bites are a delicious treat with a fun surprise inside!
If you are a chocolate/peanut butter purest, you will love these Brownie Peanut Butter Cups!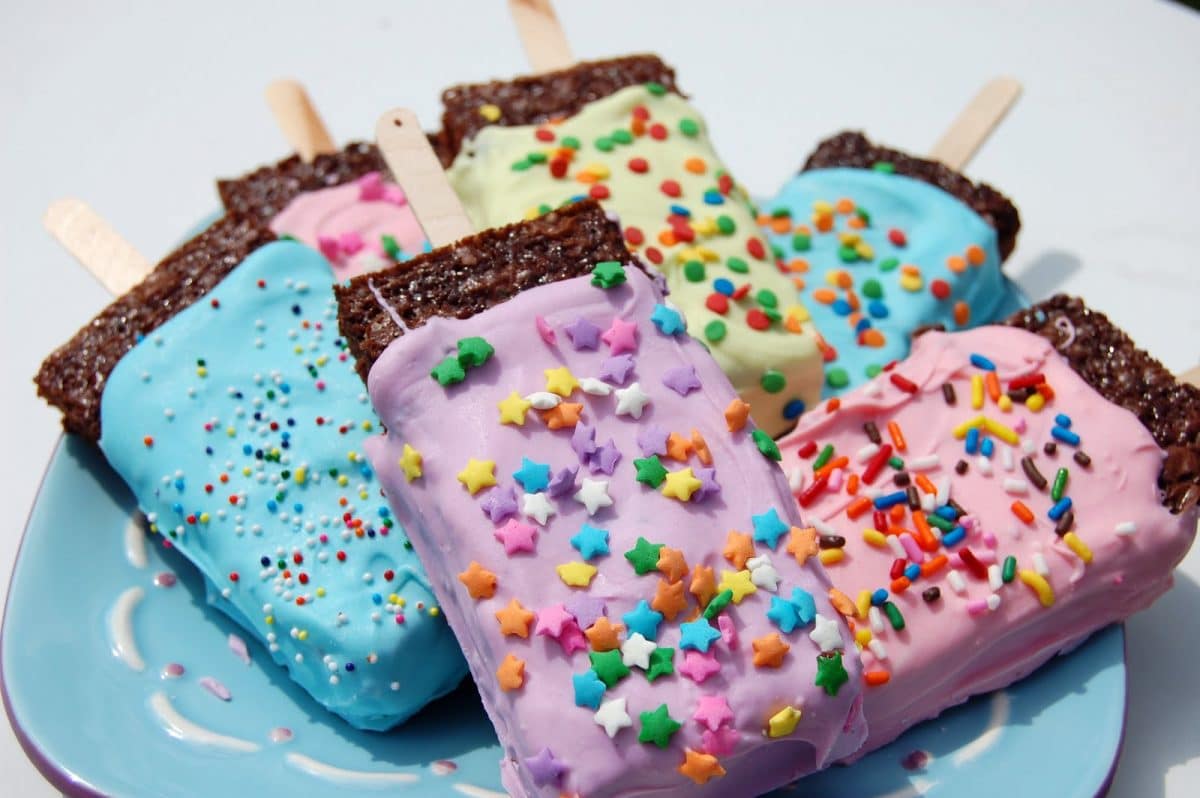 Popsicle Brownies are a super fun and easy idea for kids or for a summer party!
Marshmallow Krispy Brownies might change the way you make brownies forever. Fudgy chocolate brownies topped with creamy marshmallows and chocolate crispy goodness – what is not to love???
Chocolate and caramel are like a marriage made in heaven. Add some pecans to the mix, and you have an unbeatable Chocolate and Caramel Brownie that is perfect for any occasion.
Best Blonde Brownie Recipes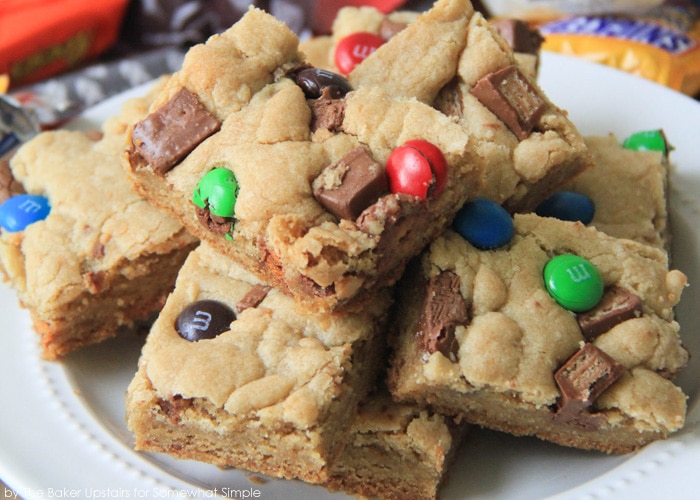 Easy Candy Bar Blondies Recipe – A great way to use up Halloween and Easter candy!
White Chocolate Chip Biscoff Blondies – Grab a glass of milk and get ready for an indulgent treat!
This Pretzel Crusted Banana Bread Brownie recipe is the definition of ooey, gooey goodness. You can never go wrong with a sweet and salty flavor combination in my book!
Other Easy Brownie Recipes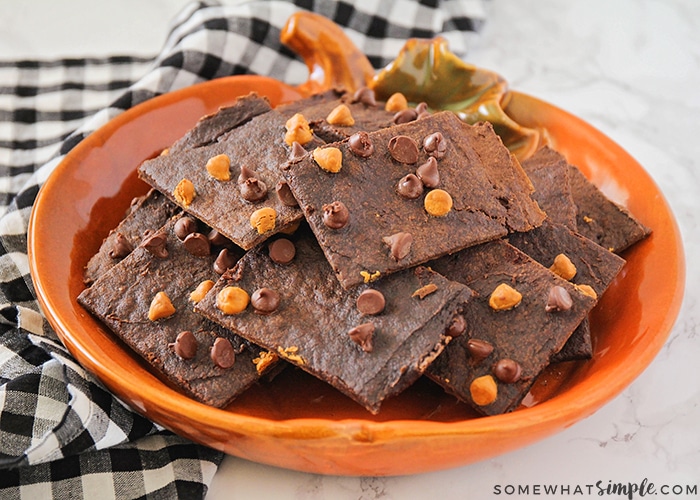 Rich chocolate flavor with a crisp cookie crunch – this Brownie Brittle recipe will satisfy your sweet tooth in no time at all!
This rich and fudgy homemade brownie mix is so easy to make, and perfect for holiday gifts!
This German Chocolate Brownie Pie is decadent— not for the faint of heart, my friends! Don't even touch it if you don't have a glass of milk near by.
These Black and White Brownie Cookies have a rich and buttery dark chocolate base , and are filled with white chocolate and dark chocolate chips. The dough is so thick that the cookies stay domed after baking, which means the inside is warm and soft and the outside is just slightly crisp.
. . . . .
Next time your brownie cravings strike, you'll be ready! ENJOY!