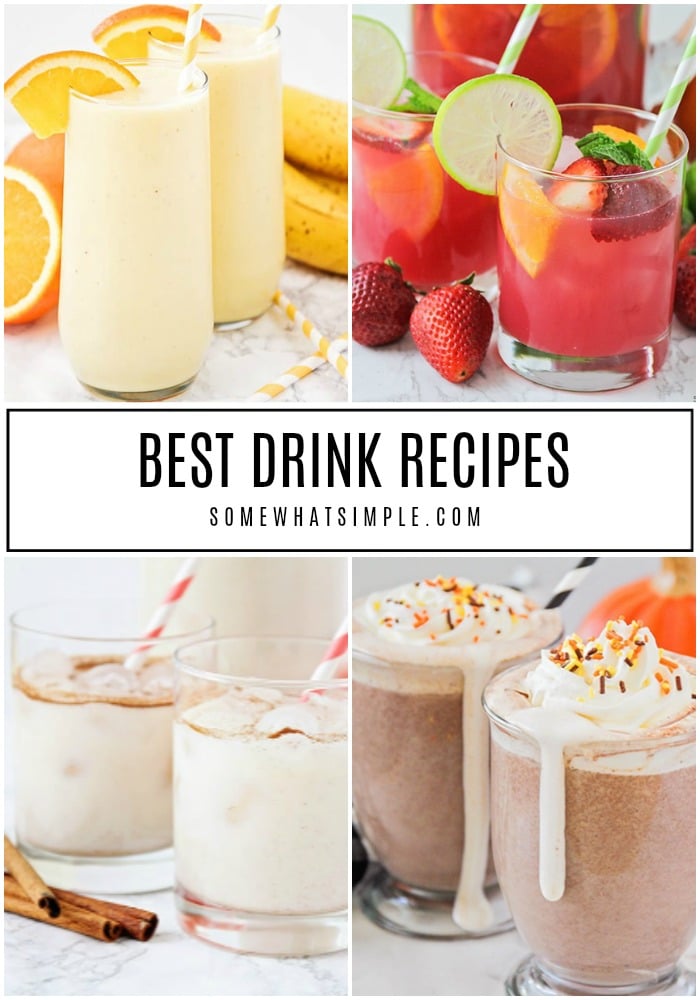 From lemonades to mocktails and punch recipes for kids, there's literally a drink for every occasion! Cool down or warm up with our 30 favorite drink recipes!
Whether you're looking for warm winter drinks to sip on, or you're in need of a refreshing summer cool down, we've got you covered! Browse our repertoire of 30 tried and tasty drink recipes in all varieties –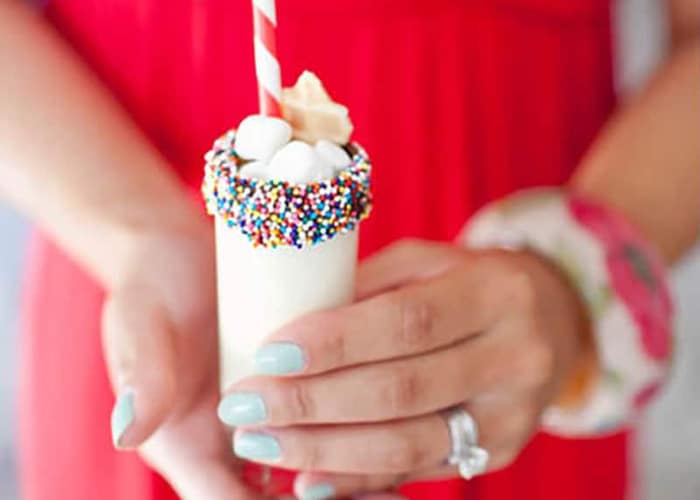 Mocktail Drink Recipes
1. Sweet, delicious little Milkshake Shooters are beyond perfect for your next celebration! (Because what could be cuter than mini milkshakes?) From Pizzazzerie.
2. This non-alcoholic dirty monkey drink recipe is based off of the Virgin Dirty Monkey Mocktail I enjoyed on a recent Princess cruise. Made with bananas, cream and chocolate, this frozen drink recipe is a tasty option for a sunny day.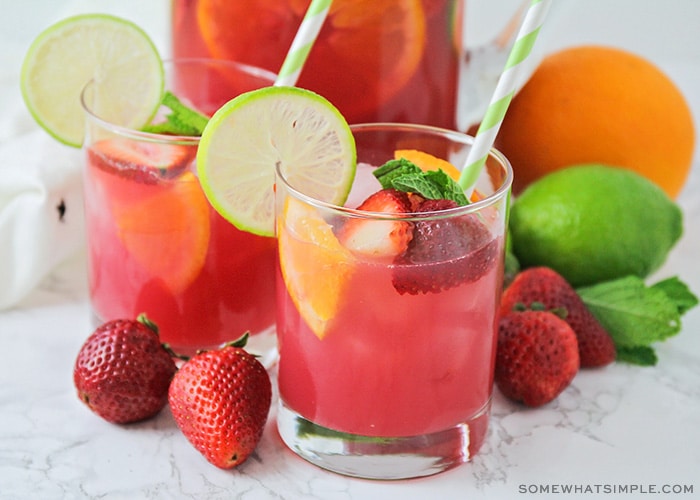 3. Whether you're sitting by the pool or having friends over for a party, this easy Non-Alcoholic Sangria punch is the perfect drink to serve.
4. Add a little firecracker spark to your mocktails with these fun Pop Rocks Rimmed Cocktail glasses, from Pizzazzarie.
5. You don't need a major holiday or event as an excuse to invite family and friends over! Set up Italian Soda Bar and keep it as casual as you want it!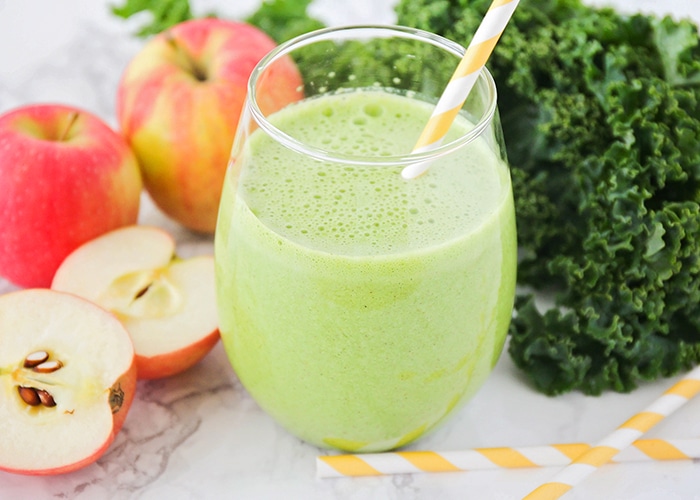 Smoothie Recipes
6. This simple green smoothie recipe is made with apples, kale or spinach, nutmeg and cinnamon. It can be made both vegan and gluten free and it is nutritious and delicious!
7. Throw some simple fresh ingredients in a blender for about 30 seconds and you'll have a creamy and refreshing Peach Smoothie that your taste buds will crave!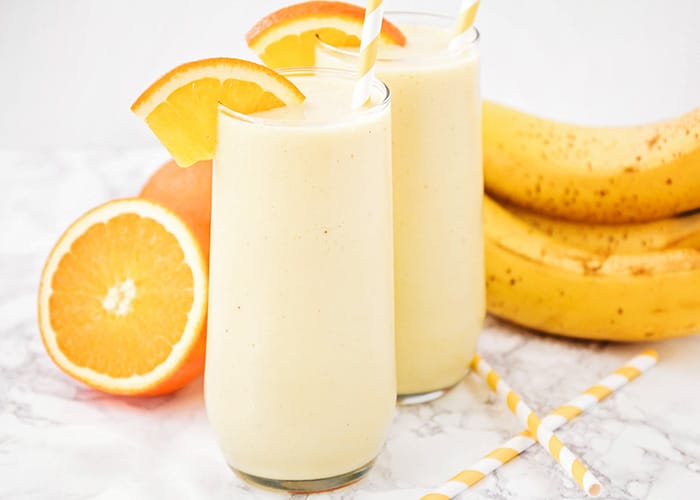 8. This sweet and refreshing orange creamsicle smoothie is perfect for an easy breakfast or afternoon snack! Filled with fruit and yogurt, it's a healthy and flavorful way to enjoy your favorite frozen creamsicle drink!
9. Filled with fresh fruit and other simple ingredients, this Blueberry Pomegranate Smoothie recipe is a delicious way to get your vitamins.
10. You can use various ingredients for the BEST Breakfast Smoothies, depending on your taste preferences or whatever you happen to have on hand. We'll show you how to do all the prep work ahead of time making, smoothie packets that sit in the freezer until you are ready to use them!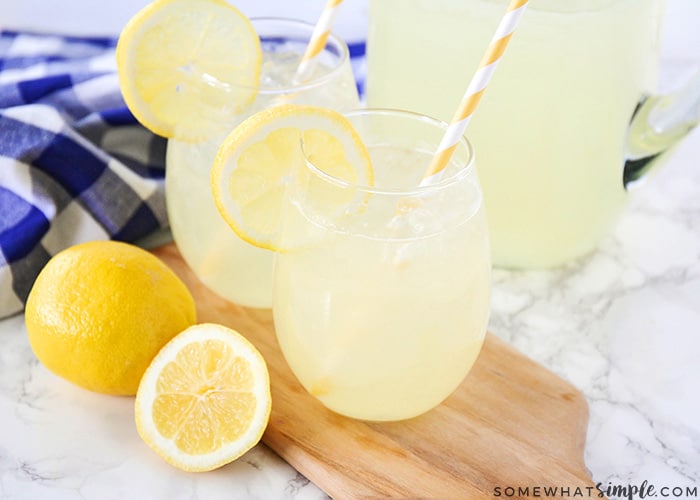 Lemonade Recipes
11. Delicious, refreshing and SUPER easy to make, this homemade lemonade recipe needs to make an appearance in your kitchen TODAY!
12. This cherry lemonade slush is the perfect drink for a warm summer day! Made with fresh cherries and a couple simple ingredients, this slushie is both delicious and refreshing!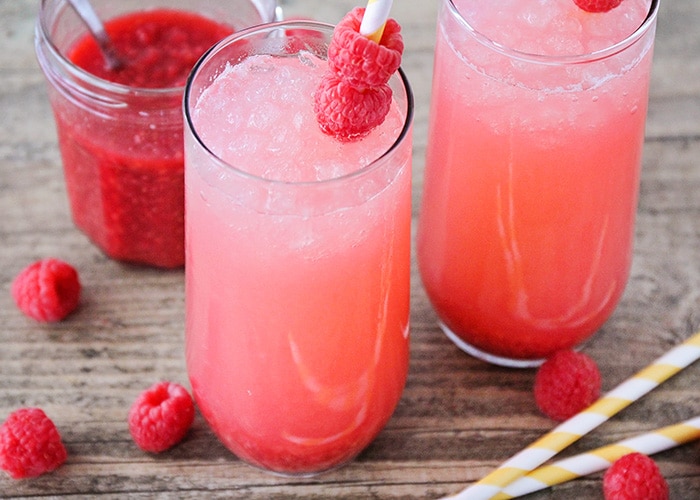 13. This sweet and tangy, made from scratch, raspberry lemonade is so refreshing and delicious. The perfect treat to enjoy all summer long!
14. This refreshing and sweet Peach Lemonade only takes ten minutes to make and is the perfect drink to get you through the hot Summer!
15. This Chick-fil-A Copycat Frosted Lemonade recipe is so refreshing and delicious. Only a few simple ingredients, and it's ready in a snap!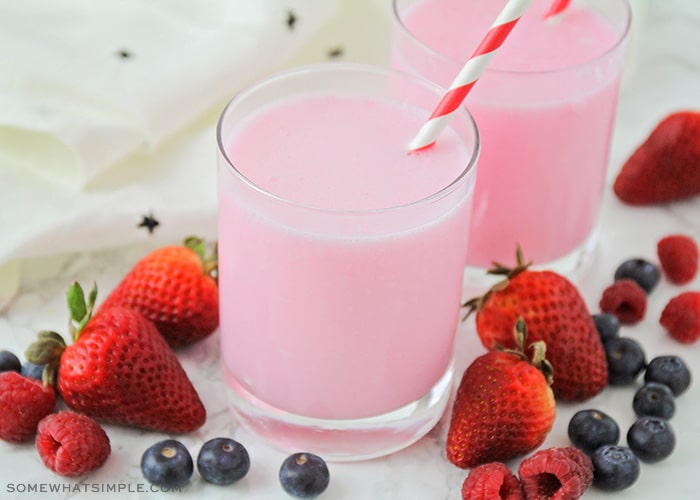 Fruity Drink Recipes
16. Fizzy yogurt drinks are a fun and refreshing summer drink recipe. Made with only 2 ingredients, these drinks are perfect for any occasion!
17. There is nothing is more refreshing than a great Strawberry Julius on a hot summer day!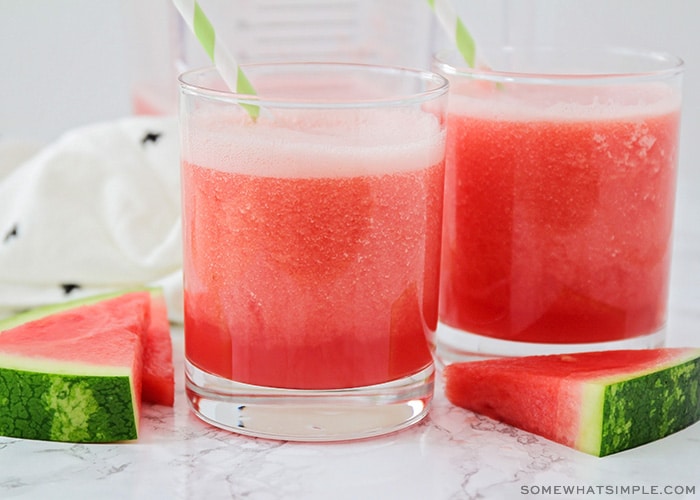 18. This watermelon cooler recipe is made with frozen watermelon chunks and is naturally sweetened. Ready in just minutes, this slushy drink is absolutely perfect for a hot summer day!
19. Vanilla ice cream and lemonade in a blender creates a smooth, Lemon Drop Shake you'll want all spring and summer! From The First Year Blog.
20. This Orange Lemon Shake-up is sweet, refreshing, and perfect for Summer! From Love Grows Wild.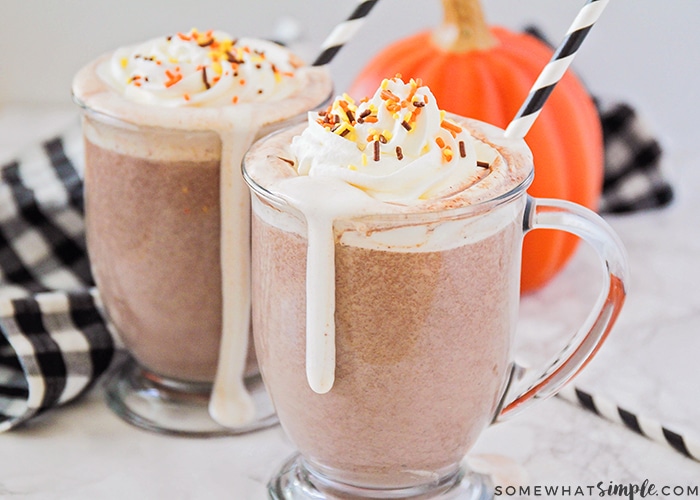 Cocoa + Cider Recipes
21. Pumpkin Spice Hot Chocolate is the perfect cozy treat to enjoy this fall! It's made from scratch and tastes amazing!!!
22. This Hot Cocoa Milk Shake just might change the way you make Hot Chocolate forever!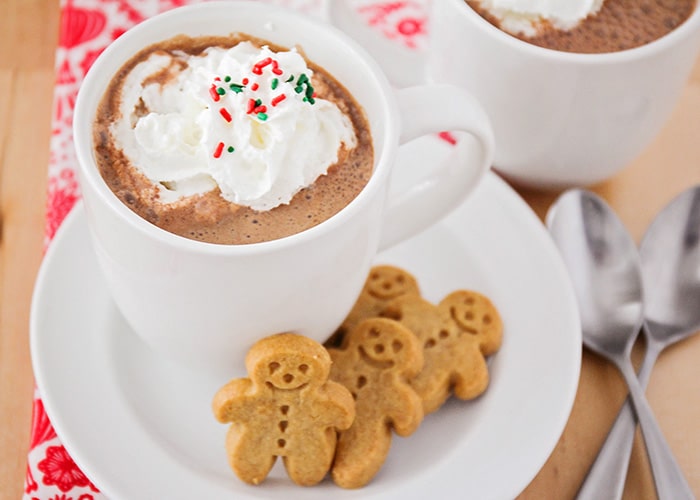 23. Gingerbread Hot Chocolate is the perfect warm drink to sip on this holiday season! So creamy and smooth with a sweet gingerbread flavor!
24. My favorite Hot Chocolate recipe – you are going to LOVE this Creamy Hot Chocolate!
25. This Caramel Apple Cider recipe is a delicious twist on your everyday cider – it's sweet and fragrant!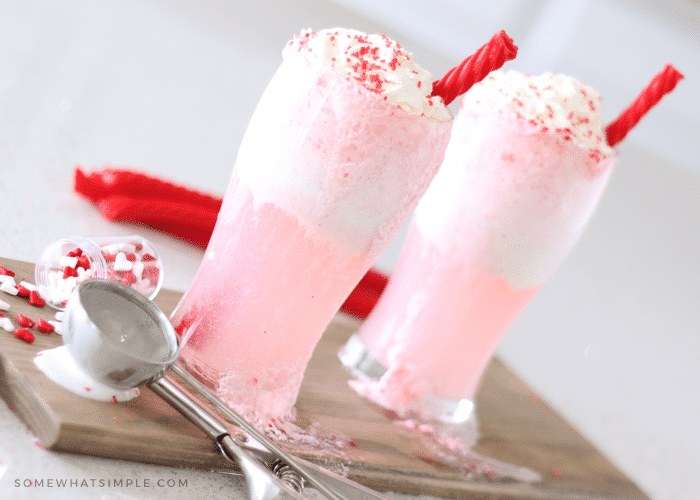 Holiday / Seasonal Recipes
26. Made with just a couple easy ingredients, Cupid Floats are a fun and festive way to celebrate Valentine's Day.
27. Shamrock Floats are a festive St. Patrick's Day drink that is perfect to make at home or for a school party. Filled with green sherbet, lemon lime soda and a special ingredient, you have to try this delicious green St. Patrick's Day drink.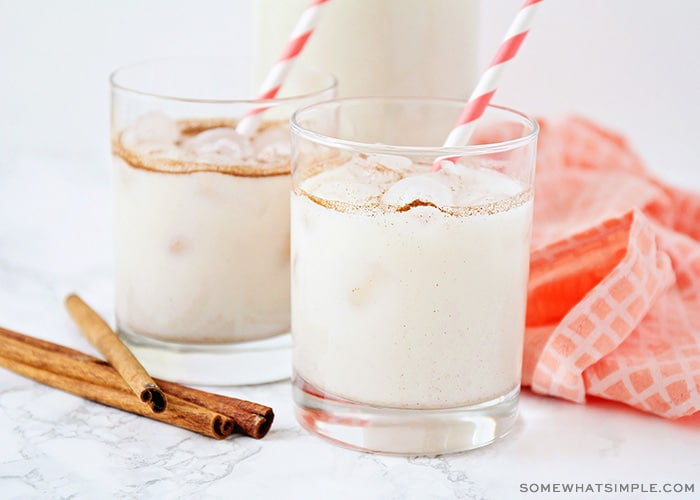 28. Made from the delicious combination of milk, cinnamon and rice, this traditional Horchata is both creamy and refreshing. It is perfect for your Cinco de Mayo celebrations!
29. These 4th of July Drinks are a fun and festive beverage to serve at your party or barbecue. With red, white and blue layers this drink is a patriotic way to enjoy the Fourth!
30. This EASY Holiday Punch Recipe is made with only 2 ingredients! It is so easy to make and perfect for Christmas!