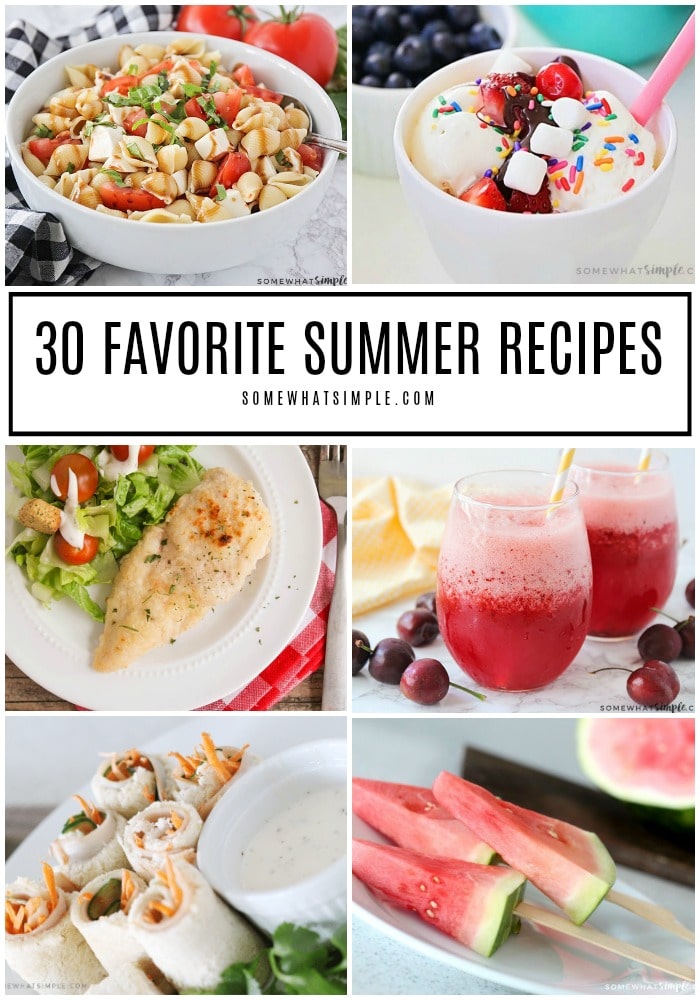 Looking for some new summer food ideas to feed your family while it's blazing hot outside? Take a look at 30 of our favorite summer recipes!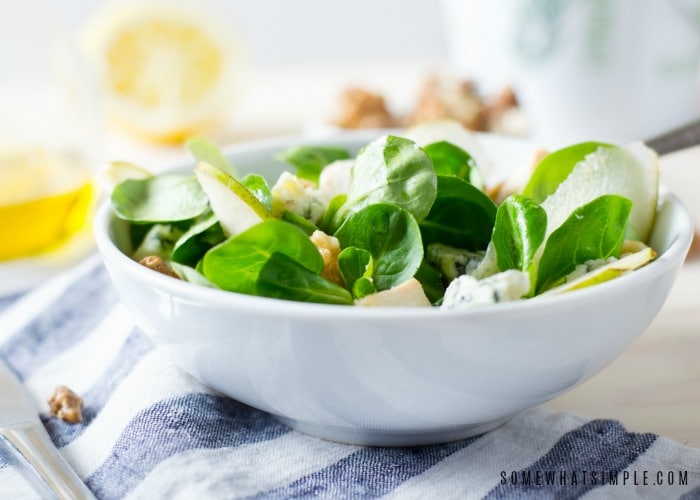 Summer Food
Ahhhhh summer. I love you and I hate you.
I love lazy sunny days. I hate triple-digit Arizona heat.
I love fresh foods. I hate heating up my house by turning on the oven.
Do you have a love/hate relationship with summer too???
I'm an adult, I should be able to eat ice cream for every meal if I want to, right? But I have these 5 little shadows running around my house that need to eat too. And sugar is probably not the best thing for their growing bodies. (For my body, it's totally fine.) 😉
And so, I cook. I cook meals that are filling, but fresh. Meals that are delicious, but easy. Meals that make my kids happy, and meals that don't heat up my entire home. Because then my ice cream would melt right from my hands. And melted ice cream is not my favorite.
If you're like me and on the look out for meals that feed your family in the dead heat of summer, here is a list of tried and true summer recipes that work well in my home.
And if you're looking to exist solely on ice cream recipes, click HERE for my favorite homemade ice cream recipes. (And you're welcome.)
Summer Recipes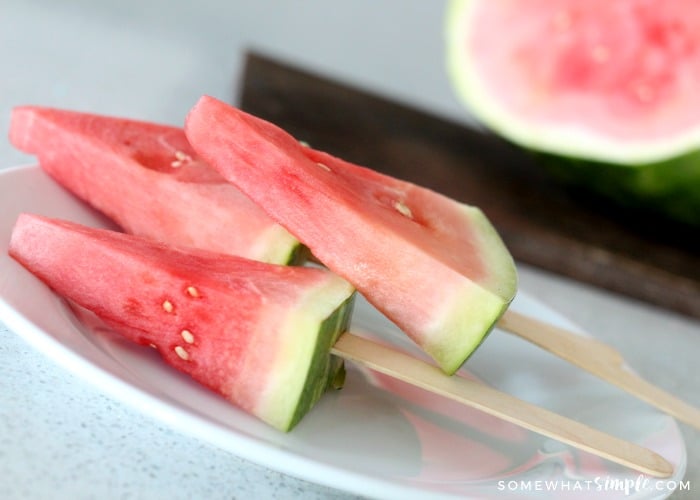 summer snacks
1. Watermelon on a Stick – Watermelon on a stick is a simple way to make eating this delicious summer treat a whole lot more fun!
2. Silly Citrus – These jello filled citrus bites are a fun twist on the tasty fruit! These were fun and fairly simple to make.
3. Lemonade Chex Mix – This easy Lemonade Chex Mix Recipe is a perfect snack to serve at a party or to eat all by yourself! This Chex Mix recipe is the perfect blend of sweet and sour that you won't be able to resist.
4. Apple Cracker Sacks – These easy healthy snacks were a nice little break in the day that helped our minds and our tummies recharge!
5. Fruit Kabobs – These Magic Wand Fruit Kabobs are fun, fresh and delicious!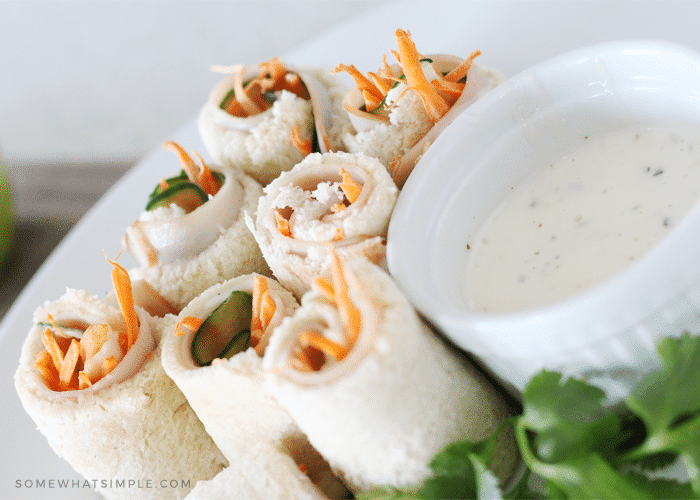 summer appetizers
6. Sandwich Sushi – A Sandwich Sushi Roll is fresh, healthy and delicious! A simple snack or lunch that the kids will love!
7. Texas Caviar – This Texas Caviar is going to knock your socks off!! Grab your favorite chips and make this delicious avocado salsa, stat!
8. The BEST Mild Salsa – The perfect blend of fresh veggies and savory spices – this mild homemade salsa is easy to make and tastes amazing!
9. Kickin' Chicken Cups – Kickin' Chicken Cups are healthy snacks and they are so easy to prepare. A perfect appetizer or afternoon snack and they taste delicious!
10. Cream Cheese Roll Ups – Looking for some easy appetizers for your next social gathering? These Cream Cheese Roll Ups will be the first empty platter at the party!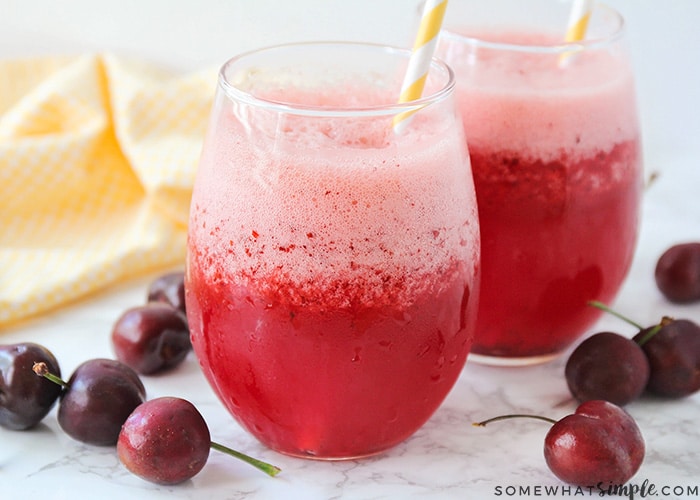 summer drinks
11. Cherry Lemonade Slush – Refreshingly delicious and super simple to make, this fresh cherry lemonade slush is perfect for a warm summer day!
12. Frosted Lemonade – This Chick-fil-A copycat frosted lemonade recipe is so refreshing and delicious. Only a few simple ingredients, and it's ready in a snap!
13. Dirty Monkey Mocktail – This non-alcoholic Dirty Monkey is my very favorite mocktail!!
14. Italian Cream Soda Bar – We recently served Italian sodas at a family gathering, and everyone raved about them. (Who knew something so simple could make everyone so happy?!)
15. Peach Lemonade – This refreshing and sweet Peach Lemonade only takes ten minutes to make and is the perfect drink to get you through the hot Summer!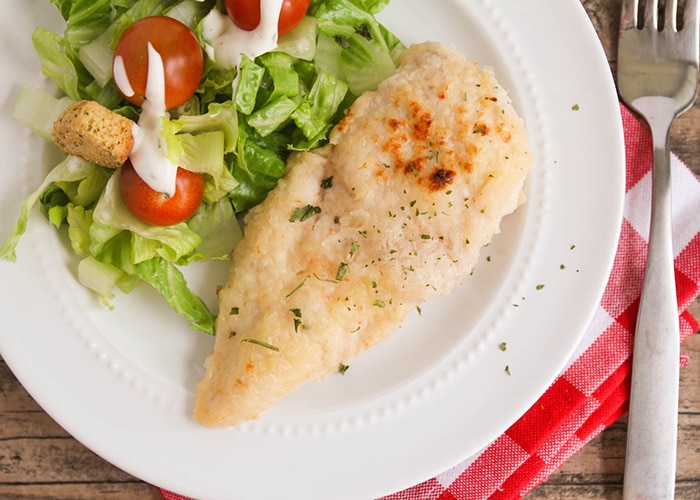 summer dinner ideas
16. Crispy Italian Baked Chicken – This Crispy Italian Baked Chicken is not only delicious, it is also super easy to make! It is prepared using only 3 ingredients that you probably have on hand – so add this to your weekly dinner menu, it is definitely a crowd pleaser!
17. Classic Cobb Salad with Homemade Ranch Dressing – This classic Cobb salad is so fresh and delicious – it is the perfect summer meal! It's loaded with protein, and it's quick and easy to make.
18. Teriyaki Chicken Lettuce Wraps – Chicken Teriyaki Lettuce Wraps are a quick and easy dinner idea that is jam-packed with fresh, delicious flavor!
19. BBQ Chicken French Bread Pizza– This BBQ Chicken French Bread Pizza needs to make an appearance on your dinner table, STAT!
20. Pork Chops with Peach Onion Relish– If you need a simple recipe that will amaze your summer guests (or your three year old!) look no further.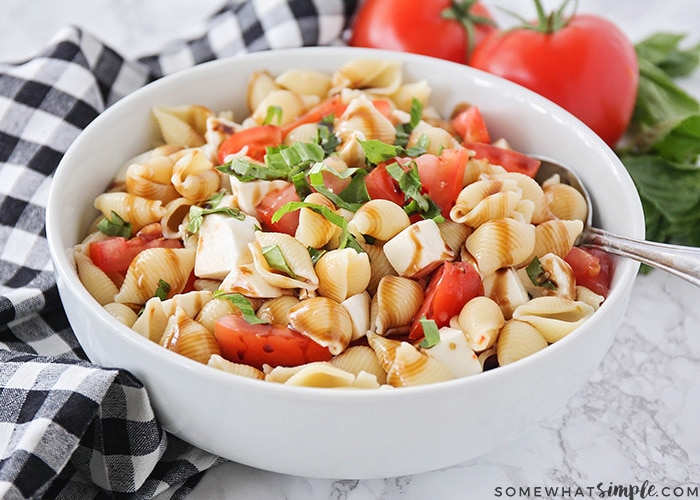 summer side dishes
21. Caprese Pasta Salad – This simple and delicious caprese pasta salad is so fresh and easy to make. It's the perfect side dish for any summer potluck or barbecue!
22. Mexican Corn Salad – This Mexican corn salad is bursting with fresh juicy corn, cotija cheese, lime, and cilantro. The perfect easy side dish for a summer meal!
23. Summer Spinach Salad – This spinach salad is the perfect side dish for an outdoor party or BBQ!
24. Creamy Pasta Salad – This creamy pasta salad is a family favorite! It is simple to toss together and the flavor is amazing!
25. The Best Potato Salad – This potato salad recipe is a family favorite!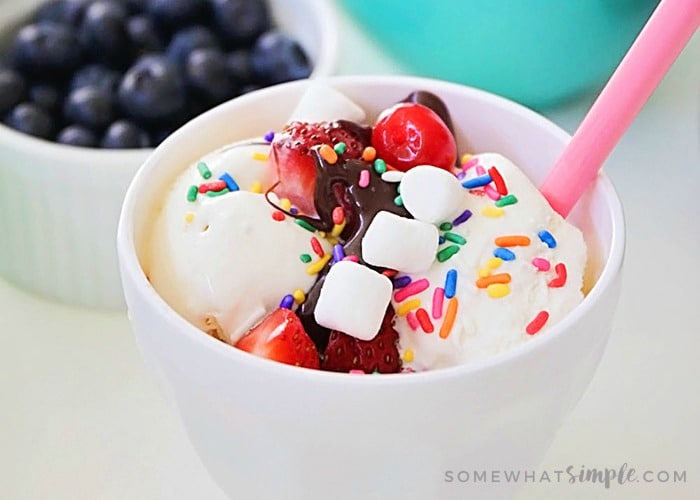 summer desserts
26. Homemade Hot Fudge Sauce – Grab a bowl of ice cream or your pancake recipe and get ready for the best homemade hot fudge sauce EVER!
27. Mini S'Mores Tortes – Nothing says Summer quite like a mouthful of sticky s'mores!
28. Camp Out Cookies – These cookies have all the yummy flavors of classic s'mores, but they are all wrapped up in cookie form.
29. Heavenly Strawberry Cake – This Easy Strawberry Cake recipe is deliciously creamy and full of sweet strawberry flavor. It is hands-down the best strawberry cake recipe I've ever made. If you're looking for an easy strawberry cake recipe, this is it!
30. 3 Ingredient Cake Mix Cookies – 3 Ingredient Cake Mix Cookies are soft and chewy and super delicious!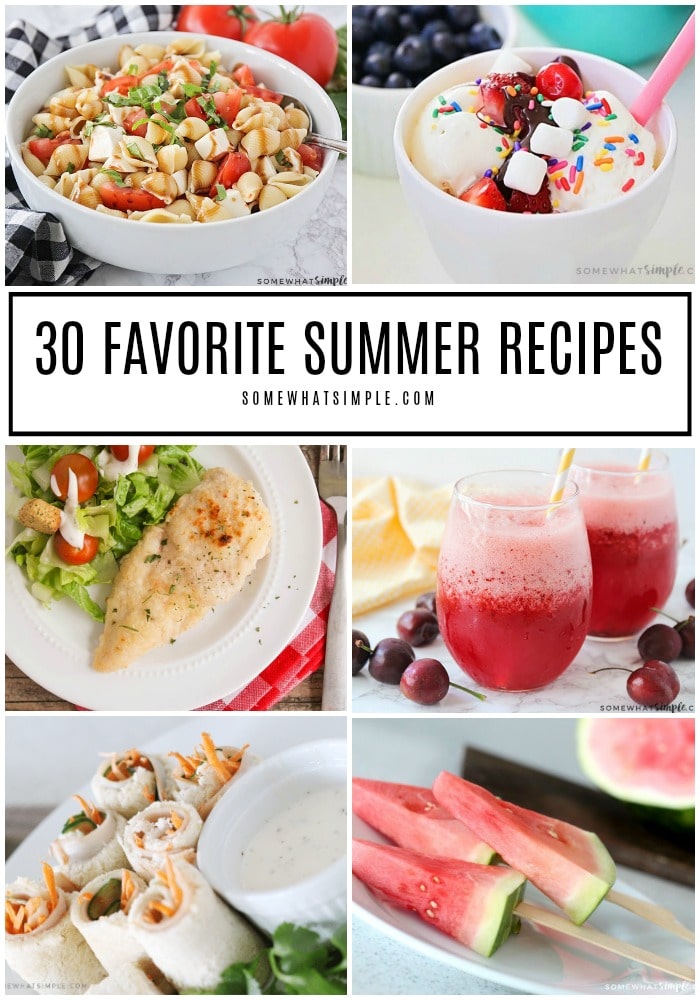 If you're looking for more summer food ideas, you might also like these suggestions –
SaveSave
SaveSave
SaveSave
SaveSave
SaveSave
SaveSave
SaveSave
SaveSave