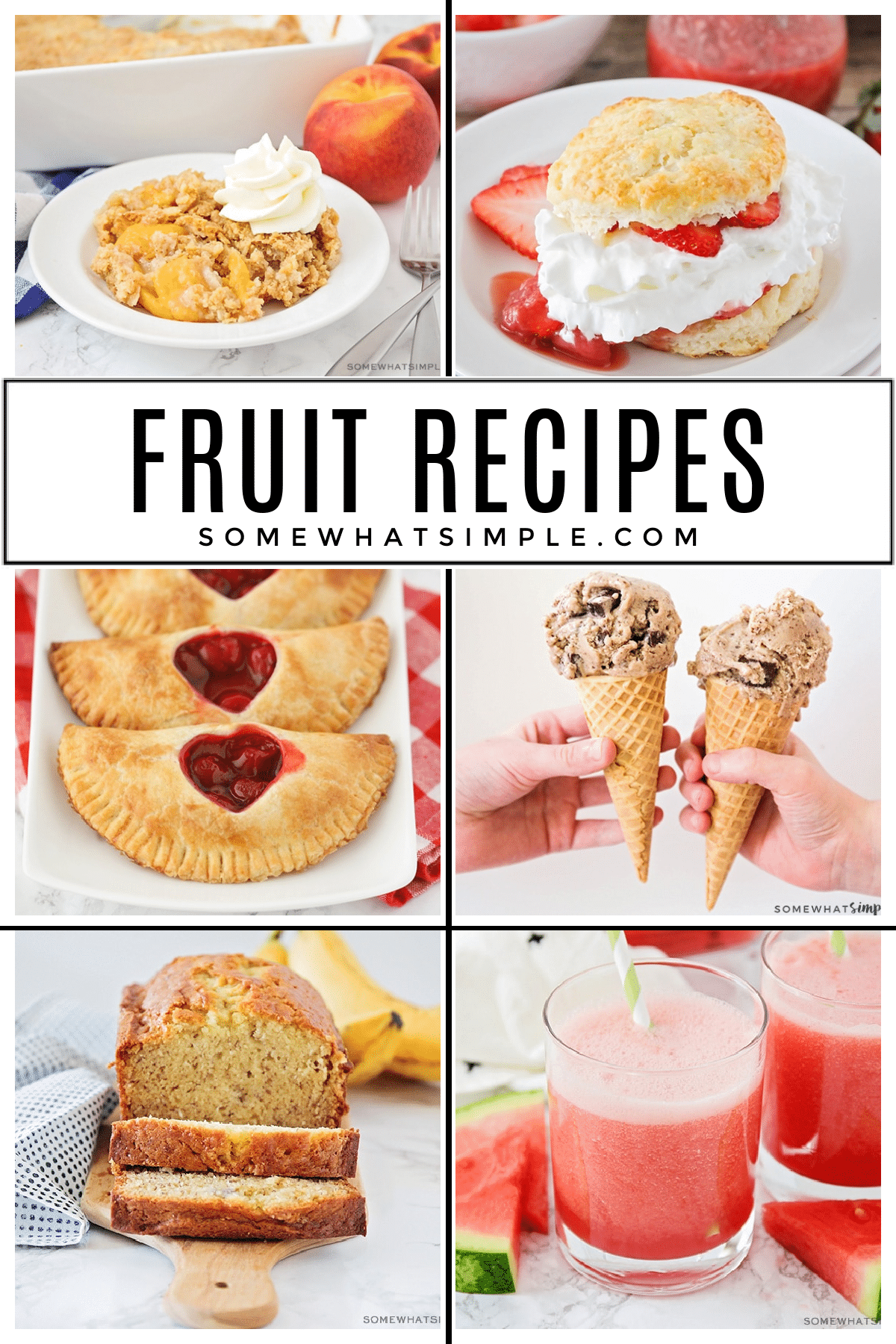 Fruit salads, fruit smoothies, fruit baked goods, and MORE! Here is a list of over 100 favorite fruit recipes that will use up your ripe fruits before they go bad!
Be sure to try our Marshmallow Fruit Dip Recipe or this Caramel Apple Dip for your favorite fresh apples and berries!
100+ Favorite Fruit Recipes
Calling all fruit lovers- today's list is for YOU!!!
There are few things I enjoy more than a piece of fresh fruit in the summertime, especially on a HOT day! But if your garden is overflowing, or your kids didn't eat as much produce from your shopping trip as you thought they would, baking or making a delicious fruit recipe is definitely the way to go!
Fruit Recipes are great for summer because they're usually simple, delicious, fresh, and cool! They are perfectly satisfying for a hot, lazy afternoon, and equally impressive to serve at your next summer soiree! Here's a list of our favorites –
Mixed Fruit Recipes
If you have a variety of fruits you're trying to use, try one (or TWO!) of these –
Apple Recipes
Not only for the fall but perfect apple recipes year-round!
Banana Recipes
They get ripe FAST, but they sure taste great in baked goods!
Blackberry Recipes
Not as common as blueberry or raspberry recipes, but one of my very favorite berries!
Blueberry Recipes
My kids eat blueberries by the handfuls! They're like nature's candy!
Cherry Recipes
Is there anything better than fresh cherries on a summer day? Maybe these delicious cherry recipes!
Cranberry Recipes
Seasonal favorites that look pretty too!
Grape/Raisin Recipes
Probably my kid's least favorite fruit, but these recipes are delicious!
Lemon Recipes
Sweet, refreshing, and deliciously tart! Lemon-flavored ANYTHING is always a good idea!
Lime Recipes
A favorite citrus flavor that tastes amazing in so many dishes!
Orange Recipes
Makes me miss our delicious orange tree in California!
Peach Recipes
Might be my favorite fruit of the summer! Nothing better than a fresh, ripe peach!
Pomegranate Recipes
Make sure you watch our video on the easiest way to deseed a pomegranate! (You'll wonder where this hack has been your whole life!)
Raspberry Recipes
One of my favorite fruits to use in the kitchen!
Strawberry Recipes
I can eat just about anything with strawberries in it!
Watermelon Recipes
The most classic summer fruit!
Less-Popular Fruit Recipes
Not as popular, but still delicious!
If you've made it. to the end of this list, I am PROUD of you! 🙂 What's YOUR favorite fruit?